This week we started out with our "Feature Game", Walk the Plank!.  This is a fun, light-hearted little game with a lot of chaos and not a few kamikaze pirates.  The board is set up with a "ship", three plank segments and "the sea" and each player starts with three pirate meeples on the ship.  At the start of a round, everyone chooses three cards from their hand and places them face down, in front of them.  Each card has an action:  "Shove Anybody", "Retract the Plank" and "Extend the Plank", for example, enable a player to push another persons meeple closer to the sea, shorten and extend the plank respectively.  Each round then consists of each player taking it in turns to turn over the top card and do what card says.  Because players choose the cards and the order they will play them in at the start of the round, by the end of the round everyone is just trying to make the best of an increasingly worsening situation, and rounds often end with a lot of pirates perched on the end of the plank waiting for the last card to seal their fate.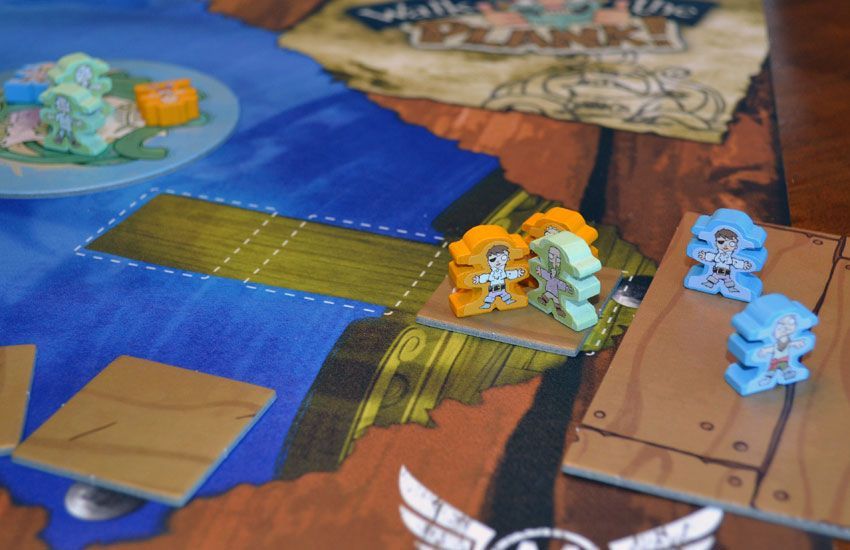 – Image by BGG contributor TheBoardGameFamily
Blue and Green's fate was sealed first in a manic pirate suicide pact, shortly followed by Red.  With a two pirates to one advantage, newcomer Orange always had the advantage over Yellow.  As Yellow shortened the plank, the end became inevitable and, although Yellow took one of Orange's meeples with him, Orange chalked up her first victory.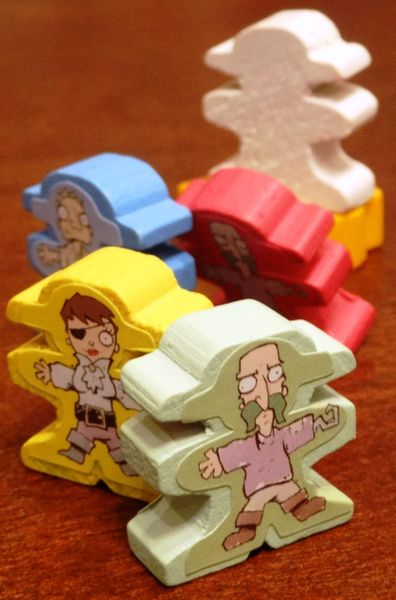 – Image by BGG contributor onorc
After a lot of debate about what to play next, Blue suggested Ra, as she'd never played it and it is a classic and is supposed to be one of the best (if not the best) of the auction games available.  Green said he'd played it once, a very, very long time ago and hadn't liked it, but was happy to give it another go and see if that opinion was justified.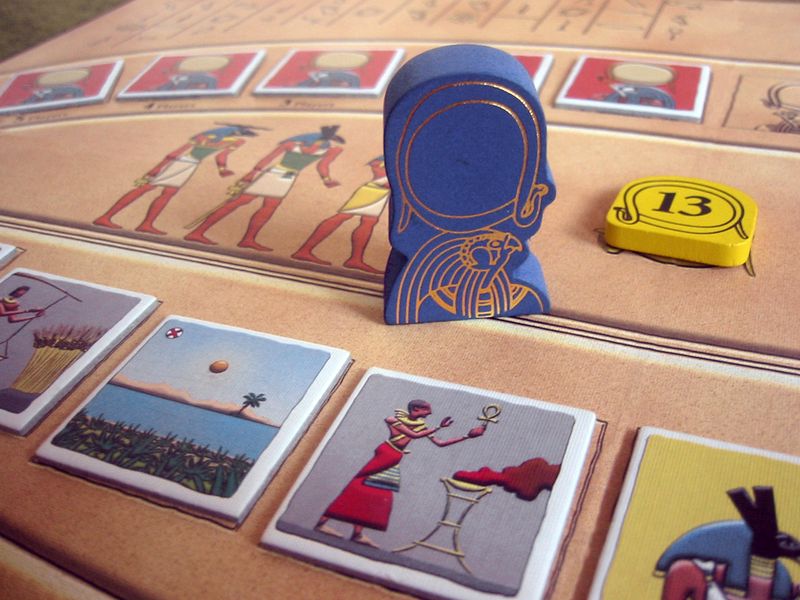 – Image by BGG contributor Stas
This game is an unusual and very clever auction game.  Basically, players take it in turns to pull tiles from a bag and tiles can be good, bad, or they can be "Ra" tiles which start an auction.  The auctions themselves are curious affairs: each player has three tokens that they use for bidding, each with a unique number.  Thus, the person with the highest value can always win if they choose to, but once the auction is over, the token is placed in the middle and effectively becomes part of the stash for the next auction.  The game comprises three rounds, each with ten to twenty auctions, however, each player can only win a maximum of three  in each round (i.e one with each token).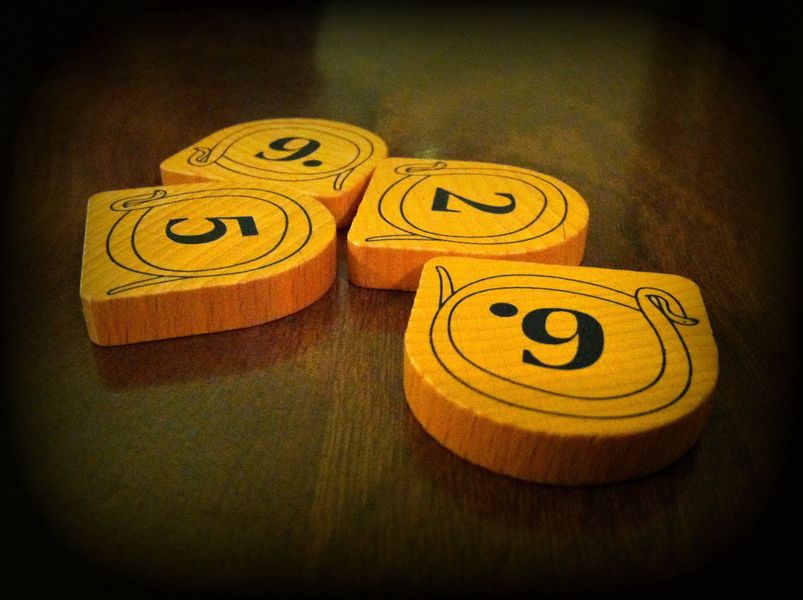 – Image by BGG contributor blakstar
Those who had played it before had a better appreciation of the importance of the high value tokens.  Blue didn't and squandered the higher tokens she started with.  With little or no choice in the auctions, she resorted to "turtling", which in this context involved trying to minimise the effect of the higher tiles.  Instead of drawing a tile from the bag, the active player can also call "Ra!" and start an auction and this is what Blue did.  A lot.  An awful lot.  As the bidding starts with the next player, this meant blue would bid last, but Blue was committed to bidding if no-one else did.  With some of the lowest tokens, she had little to lose if forced to bid, and set her sights low, going for a "try not to loose points" strategy coupled with a small number of river tiles and trying to stay ahead with green Pharaoh tiles.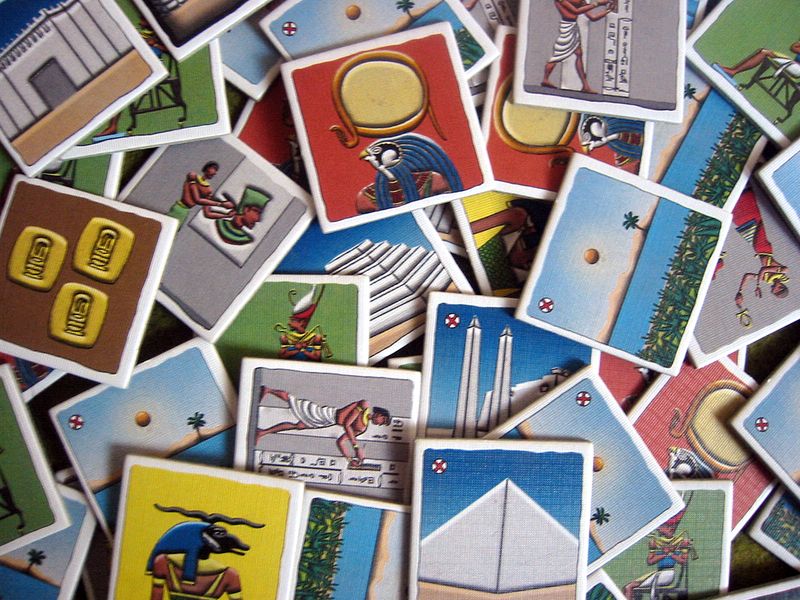 – Image by BGG contributor Stas
Moving into the final round, Red was collecting monuments, Yellow had built up a sizeable river, Green was going for Civilisation tiles and Orange was trying to do a little bit of everything.  Meanwhile, Blue was still calling "Ra!" at almost every opportunity, hoping to win something useful with her "one".  Thanks to Yellow failing to get a "flood" tile to activate his enormous river (there was one left in the bag at the end), Yellow didn't accrue the massive score expected and surprisingly, Blue nearly made it.  However, although her strategy had overall not been a bad one, on reflection, the game was probably ruined by Blue's repeated small auctions.  Although Green was slightly more enamoured by the game than he was the first time he played it, the overwhelming opinion seemed to be in favour of not playing it again soon.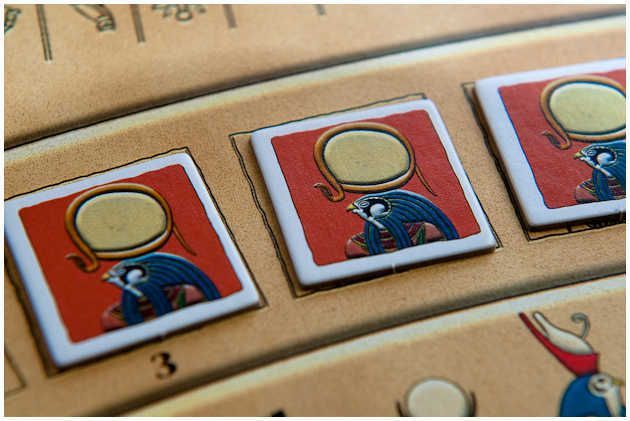 – Image by BGG contributor usagi-san
We cheered ourselves up by finishing with an old favourite, Bohnanza.  Also universally known as "The Bean Game", we've played this quite a bit, so it was relatively quick to get started.  Only Orange was new to it, and as the rest of us know it so well, it was a very close game.  Blue started off strongly but slowed towards the middle of the game when Orange got the hang of it and Yellow and Red started trading efficiently.  The game finished with only a couple of points between the places and Green ran out the winner, only one point ahead of Red and Orange who tied for second.
– Image by boardGOATS
Learning Outcome:  Sometimes an otherwise good strategy can ruin a game for everyone.