According to an article published in the Medical Journal of Australia's Christmas issue,1 the trick to beating your husband at boardgames is to play Australian Rock Music.  The study was carried out in May by Daisy Fancourt and co-workers from the Centre for Performance Science at the Royal College of Music and Imperial College London and won the journal's "Christmas Crackers" competition.  Three-hundred and fifty-two members of the public were randomly chosen to listen to either the sound of an operating theatre, rock music or classical music while using surgical tweezers to remove three of Cavity Sam's organs from the game Operation.  Researchers recorded the time taken to remove the pieces; the number of mistakes made in performing the surgery, and any perceived distraction.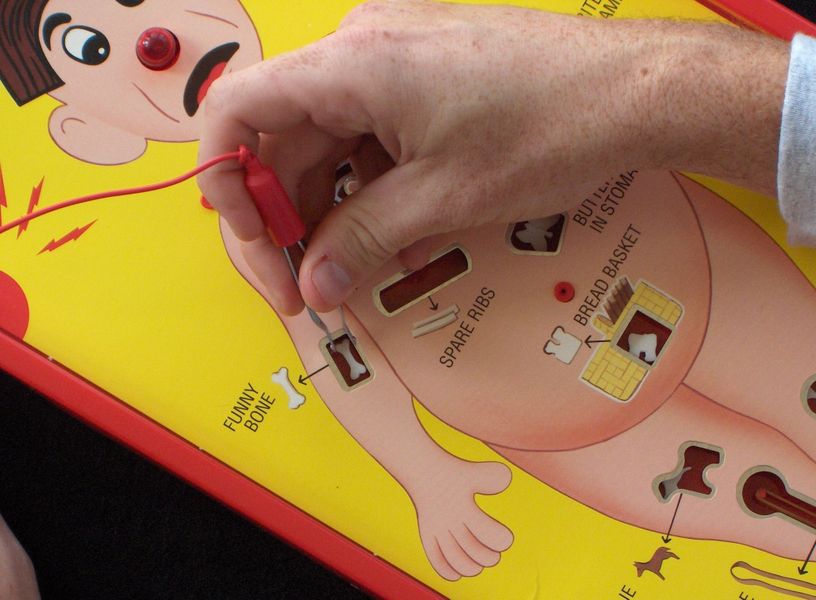 – Image used with permission of BGG contributor IronMoss
The researchers found that rock music (specifically the Australian AC/DC) impairs the performance of men, but not women when undertaking the "complex surgical procedures".  It leads to increases in the time taken to operate and a trend towards more surgical mistakes. Classical music, on the other hand, was associated with lower perceived distraction during the game, but this effect was attenuated when factoring in how much people liked the music, with suggestions that only people who particularly liked Mozart found it beneficial.  The authors concluded, "Men are advised not to listen to rock music when either operating or playing board games."
1 Fancourt, D., Burton, T. M. W. & Wlliamon, A. Med J Aust. (2016), 205(11), 515; doi:10.5694/mja16.01045.