Blue was the first to arrive, together with Pink on one of his rare visits.  The bar was busy, so they decided to get in a couple of quick rounds of Mijnlieff before ordering food.  This is a very simple "naughts and crosses"/Connect 4 type game, with the twist that each piece a player places restricts where their opponent can play.  Blue started out getting early revenge for the various defeats over the weekend, winning the first game four points to three.  Pink quickly leveled the score, however, taking the second game two points to one.  Since Black and Purple had arrived, they settled on a draw and decided to order food before beginning a quick game of …Aber Bitte mit Sahne (aka Piece o' Cake).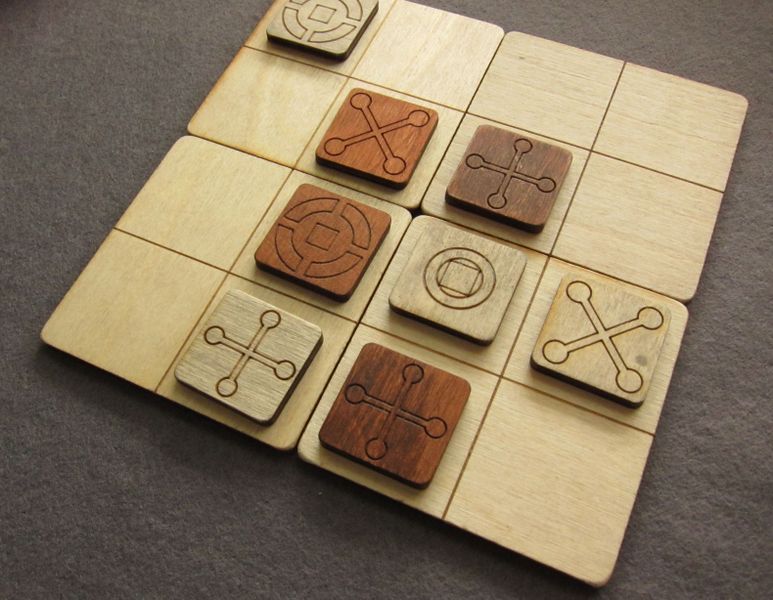 – Image used with permission of BGG contributor thepackrat
…Aber Bitte mit Sahne is a very simple little game of "I divide, you choose", with a side order of set collecting.  Played over five rounds, the "Master Baker" divides the eleven slices of the pie into pieces and each player takes it in turns to take a piece (leaving the Master Baker with whatever's left).  As players take their share, they can choose to keep slices or eat slices:  eating a slice guarantees points (equal to the number of blobs of cream on top), while saving it gives the opportunity for more points if the player has the most of that type stored at the end of the game.  Blue started out collecting Chocolate cake which can be highly lucrative, but as there are more slices available can be tough to make pay.  Pine, on the other hand, played safe and opted for eating his Chocolate slices and tried to make Pea Pie (or was it Gooseberry?) and Blackberry pay.  Purple had other ideas though and competed for both just shutting Pine out of the Gooseberry, and finishing in a three way tie for the Blackberry pie with Blue (all three score in full).
– Image by boardGOATS
It was a tight game with Black's love of Strawberries, Purple's Goose-goggs and Pine's whipped cream fetish leaving them all within a point or so of each other.  Pink had also played safe and eaten amount of cake, but also kept his Cherry and Kiwi pies and scored both.  It wasn't quite enough though, as Blue managed to keep her nose ahead in Chocolate and with Blackberry and Plum as well and some cream to top it off she finished with twenty-eight, four ahead of Pink in second.  With that over and the arrival of pizza (and Ivory) we had to decide what to do next.  Everyone was very keen to play the "Feature Game", Power Grid, but although it would play six, we knew that would make it longer and it would perhaps be tight to finish in time.  Nobody was keen to play anything else though, so we decided to go for it with everyone's agreement that we would have to keep it moving.
– Image by boardGOATS
Power Grid is a slightly older game that is now nearly fifteen years old and was itself built on the slightly older Funkenschlag.  So, it is something of a classic, but only Black had actually played it before.  Although it seems complex, the game is actually a fairly simple auction game where players are power moguls building power plants and trying to supply cities with juice.  At the start of each round, players bid for power plants which have different fuel requirements and supply different numbers of cities.  Players then fuel to power their cities before adding cities to their network.  Finally, players decide how many power plants they are going to activate and thus how many of the cities in their network they are going to supply, which dictates their income for the round.  The clever part that really takes a little bit of thinking to understand, is the market.  Each power plant up for auction has a different number from 01 to 50, with the higher numbers generally the more efficient plants.  The deck of power plant cards is shuffled and the top eight cards revealed.  These are then sorted with the four with the lowest number put out for auction and the others put in the reserve row.
– Image by boardGOATS
Once a plant has been bought, another card is revealed and, if it's number is higher than the lowest card in the reserve, it goes into the reserve and the lowest is made available for auction, otherwise it goes straight into auction instead.  The reason this is clever is that it provides variety between games, while effectively preventing the extremely unbalanced case where one exceptionally efficient plant is won very early.  This is particularly important because each player can only win one auction per round, thus, the last player to bid could be bidding unopposed.  Getting an efficient plant cheaply is really quite key because money is tight and there is lots of demand for it.  Firstly, there's fuel to power the plants:  the cost of fuel ebbs and flows depending on demand.  If there is a lot of demand, the price increases and, in the extreme case, especially if players are hoarding, it can become unavailable. If possible, it is best to find a niche in the market and buy/build power plants that use a different fuel-stock to everyone else because money is also needed to pay for the infrastructure to supply cities.
– Image by boardGOATS
This is another key part of the game:  Each player starts with a foothold in one city.  To extend their network, they need need to pay for the infrastructure within another city, but also the connections to it.  In the early part of the game, each city can only support one "power generator", so positioning is key.  While it's not possible to actually get cut off, if someone else has already built in all the adjacent cities, it is necessary to pay two (or more) connection fees as well as the city infrastructure fee.  Once at least one player has connected a given number of cities to their power network, the game enters the second phase and cities can support a second power generator.  Although players cannot build a second generator in a city they already supply, it does mean players can extent their network more easily. Buying a second generator in a city is more expensive than the first however, and later in the game when it becomes possible to buy a third, it is more expensive still.
– Image by boardGOATS
The end of the game is triggered when at least one player has connected a given number of cities (or more) in his network.  The final scoring is slightly unusual as the winner is the player who has sufficient resources and power plants to power the most of their connected networks.  Thus, if a player mistimes their ending and has run out of money to buy sufficient fuel they can squander a promising position.  We played with the deluxe edition of Power Grid, which has slightly updated graphics and a few minor rules tweaks as well as some nice wooden pieces to represent the fuel resources and generators.  A lot has been  written about the differences between the two versions, but the most obvious is probably the replacement of "rubbish" with natural gas, though the rule changes are actually more significant, though they are small.  The deluxe edition comes with a double sided board, Europe and USA, and there are slight variations in the rules for each.
– Image by boardGOATS
Our first decision, therefore, was which map to use.  Since the rules suggest USA is easier for beginners, despite a general preference for Europe (as Europeans), the shortage of time meant we decided to start there.  We then had to choose which areas to use, so we went for the central five, missing out the mid-Atlantic states and the north western states (Alaska, Idaho, Oregon, Washington).  Random draw put Blue first, followed by Ivory, but as Black pointed out, going first is not necessarily an advantage.  It meant that Blue had the opportunity to choose which power plant should be auctioned first, and might get it cheap if nobody else fancied a punt.  On the other hand, if there was nothing she fancied, she might get landed with something less popular with the chance that something better might be drawn to replace it.  Worse, losing means having to have another try, while going last means the there is no-one left to compete and any power plant can be bought at the minimum price.
– Image by boardGOATS
Since we were using the USA map, there was a slight modification where a discount token was placed on the smallest power plant  before the auction to signal that the minimum bid for this plant is reduced to one Elektro (independent of the actual number of the power plant).  This is supposed to help prevent players over-bidding for rubbish.  There was worse to come for Blue and Ivory though, as buying resources and choosing starting cities for networks are done in reverse player order, making them last and making the resources most expensive and the ensuring the most flexible places had already gone.  Black began in the deep south while Pine and Pink began building his network in the mid-west.  With Purple beginning in Las Vegas and Ivory starting in Columbus, Blue had very little space to move so she decided to go for the only double city available – Mexico City.  For the most part, we managed to keep the game moving, and if anyone stopped to think for too long, everyone reminded them that the clock was ticking.  Although Blue was able to make a quick start, despite being the sole user of uranium, she quickly began to struggle and gradually slid down the ranking.  Meanwhile, Ivory, who found himself with a nice un-congested corner to work began to pull ahead.
– Image by boardGOATS
As play continued, Pine spread into Tennessee and Purple began something of a monopoly along the western seaboard.  Black and Ivory discovered the value of wind power, while everyone else was trying to work with coal and gas fired power stations (Pine's gas is famous apparently – well, he is a vegetarian!).  As time ticked towards pumpkin o'clock, the game progressed into the final stages and we finally allowed people a little extra thinking time.  Ivory eventually triggered the end of the game when he added his fourteenth city to his network.  He could see the writing on the wall, but try as he might, Ivory was not able to stop Black taking a clear lead with fifteen cities.  This only left the question as to how many people were able to provide all their cities with power.  In the event, everybody was able to serve their entire network, which left Black in first place, one ahead of Ivory and three ahead of Pine (who's gas obviously wasn't all it was cracked up to be).  There was just time to take a quick snap of Black's Glorious Win before we packed it away, discussing the game as we did so.  On reflection, we decided that although Black had a nice mix of powerful power sources, it was number 36 that was probably made the difference as it served five cities and, as it was green, there was no running cost.  Nobody will let him get that cheaply again!
– Image by boardGOATS
Learning Outcome:  Pine's gas is powerful, but wind is better for the environment…