In 1990 the German magazine "Die Pöppel-Revue" introduced The Deutscher Spiele Preis, or German Game Prize, which is now awarded annually at the Internationale Spieltage, Essen.  While the Spiel des Jahres rewards family games and is awarded by a panel of judges, the Deutscher Spiele Preis is awarded based on votes from the industry's stores, magazines, professionals and game clubs.  For this reason the Deutscher Spiele Preis tends to reflect "gamers games" and is usually more in line with the Kennerspiel des Jahres.  This year the award went to Terraforming Mars with the winner of the International Gamers Award, Great Western Trail, as runner up.  The 2017 Spiel des Jahres winner Kingdomino was joint sixth with the Kennerspiel des Jahres nominee Raiders of the North Sea.  Ice Cool, winner of the this years Kinderspiel des Jahres, also won the Deutsche Kinderspielepreis.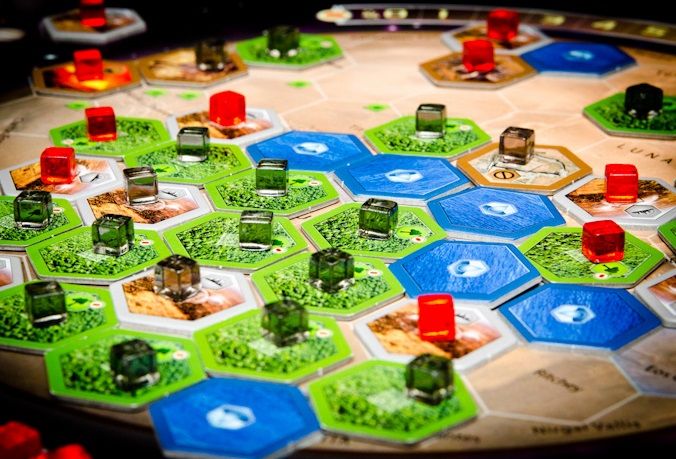 – Image used with permission of BGG contributor punkin312
In Terraforming Mars, players take the role of giant corporations, sponsored by the World Government on Earth, to initiate huge projects to raise the temperature, the oxygen level, and the ocean coverage until the environment on Mars is habitable. Players then buy project cards into their hand and later, when they have the resources needed, they can play the cards and ultimately place tiles on Mars itself. There are three different types of cards: Red cards provide actions that have an instant effect and are then discarded until the end of the game; Green cards have a one-off effect but their "tags" are retained, and Blue cards have an ongoing effect and/or an action that can be activated once per round. It is building these card combinations that is at the core of what we have found to be an interesting game.
– Image by boardGOATS