Our next meeting will be on Tuesday, 21st August, at the Horse and Jockey pub in Stanford-in-the-Vale.  As usual, we will be playing shorter games from 7.30pm as people arrive, until 8pm when we will start something a little longer.
This week the "Feature Game" will be Lancaster, a worker placement game set in the time of Henry V.  Players develop their knighthood, deploy individual knights in the counties of England, work on their own castle, and send them off to the wars in France.  We've played Lancaster a few times, but it's a good game and it's been a little while since it last got an outing.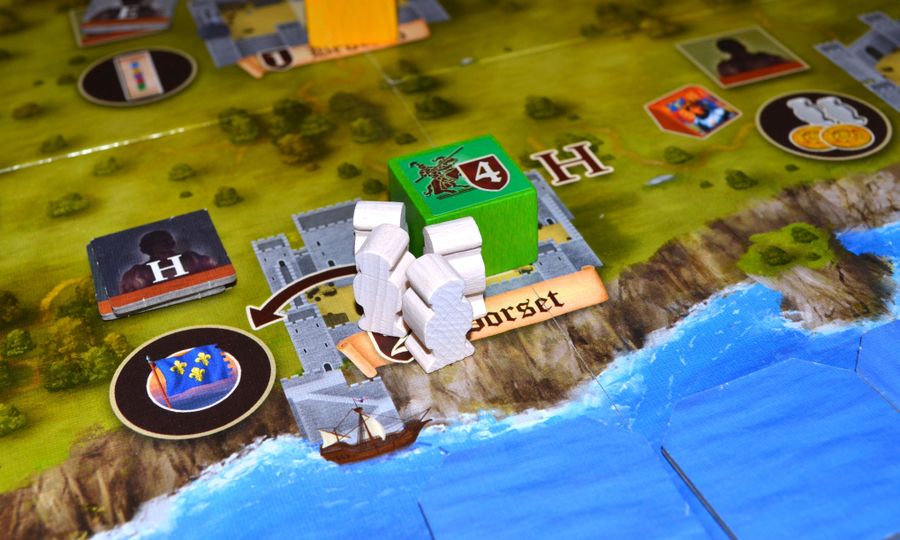 – Image used with permission of BGG contributor kilroy_locke
And talking of Plantagenets…
Jeff was visiting a friend in Leicester when he came across the Richard III Visitor Centre.  He had never been much good at History at school, so before paying the entry fee, he wanted to know what it was all about.  The volunteer on the gate was very keen to explain, "Richard III was the last of the Plantagenet Kings who died at the Battle of Bosworth Field in 1485, but nobody knew where he was buried."
Jeff was puzzled, "So how did you know he'd died then?" he asked.
"Oh," replied the guide, "We've found him now, we found him a few years ago, in a carpark, and he's been reburied in Leicester Cathedral."
"Oh right," answered Jeff, "I'd have thought he'd have been flushed down the toilet like all the other Richard III's…"