Our next meeting will be on Tuesday, 16th October, at the Horse and Jockey pub in Stanford-in-the-Vale.  As usual, we will be playing shorter games from 7.30pm as people arrive, until 8pm when we will start something a little longer.
This week the "Feature Game" will be Greed, a card drafting game where players are crime lords trying to earn more money than anyone else through clever use of their cards.  The game is very quick to play, giving us lots of time to play other games depending on who comes and what mood they are in.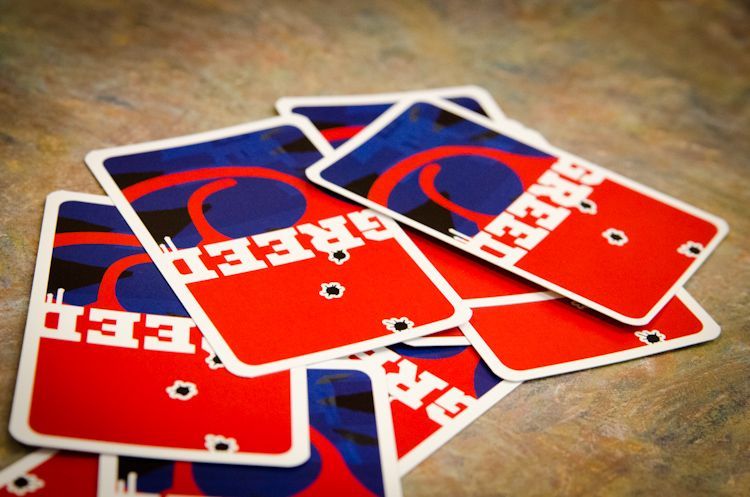 – Image used with permission of BGG contributor punkin312
And speaking of greed…
When Jeff met friend in the street, Joe was horrified to find him looking very morose and almost on the verge of tears. Joe asked,, "Hey Jeff, what on earth's the matter mate, d'ya want to tell me about it over a pint?"
Joe began, "Three weeks ago, my uncle died…"
"I'm sorry to hear that," interrupted Joe, "I guess you were close then?"
Jeff looked a little confused, "Not really he replied, but he left me £50,000 in his will."
"That's amazing," said Joe.
"Hold on, I'm just getting started." continued Jeff. "Two weeks ago, a cousin I never knew kicked-the-bucket and left me £95,000, tax-free to boot."
"Wow," said Joe, "Well, that's great! I could really do with a windfall like that."
Jeff went on, "And last week, my grandfather passed away and I inherited close on £1,000,000."
There was a pause; Joe knew Jeff was always short of money, and eventually said, "So why are you so glum?"
Jeff answered, "Well all that and then this week…I got nothing…"