Our next meeting will be on Tuesday 3rd March, at the Horse and Jockey pub in Stanford-in-the-Vale. As usual, we will be playing shorter games from 7.30pm as people arrive, until 8pm when we will start something a little longer.
This week, the "Feature Game" will be the Hellas map from the Hellas & Elysium expansion to Terraforming Mars. In Terraforming Mars, each person takes the role of a giant corporation, sponsored by the World Government on Earth to initiate projects to raise the temperature, the oxygen level, and the ocean coverage until the environment on Mars is habitable.  The Hellas map presents a new areas of Mars to explore: the Mars' south pole and the enormous seven-hex Hellas crater that just begs to become a giant lake. Building around the pole gives placement bonuses in the form of heat and possibly even water.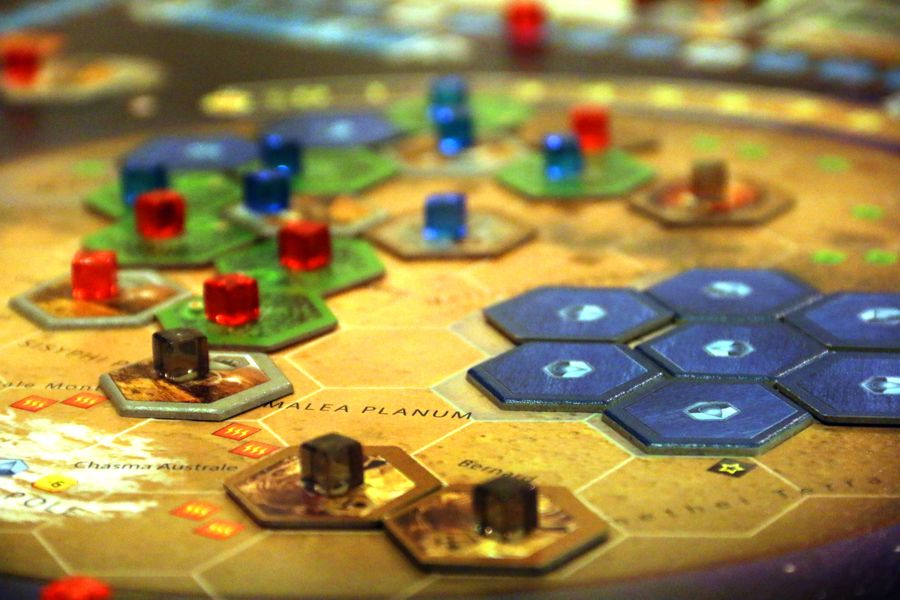 – Image used with permission of boardgamephotos
And speaking of Mars…
Jeff got off the space ship to start the first day of his holiday on the red planet.  Looking around he decided he could really do with a drink, so headed for the nearest bar.
Waiting in the queue to be served, he picked up a bar towel and started chewing the corner. The barman looked a bit concerned, so asked, "Are you all right sir?  Maybe I could get you a beer instead…?"
"Oh," replied Jeff, "That'd be great".  And he ordered a pint, found a table, and sat down to enjoy his beer.
After a bit he started gnawing on the back of one of the chairs. Eventually, the barman came to the conclusion he had to do something; after all, Jeff was beginning to worry the other customers. He approached Jeff and asks what on earth (or perhaps Mars) he thought he was doing?
Jeff looked bemused.  "I'm really sorry," he said, "I thought this was a Mars Bar…"