Maybe it was the really hot weather, or perhaps it was the prospect of playing something we all know and love, but people seemed in a slightly brighter mood this week.  Pine commented that every time Purple moved her head he could see the swastika on the box for Escape from Colditz behind her and he was finding it disconcerting.  After she had shuffled her seat, Purple commented that it was hers and Black's fifteenth wedding anniversary, leading to a chorus of "Happy Anniversary" from everyone.
– Image by boardGOATS
From there the conversation inevitably moved on to the news that pubs will reopen on 4th July, and specifically the fantastic news that the Horse and Jockey will be one of them.  Clearly there is a long way to go before we can return to playing games there, but it has to be good news for our friends whose livelihoods depend on the place.  There was a lot of concern at the suggestion that people will have to leave their personal details in pubs and what other purposes these may be put to; this was followed by the suggestion that there might be an awful lot of visits to the pub by "Dominic Cummings"…  With that, it was 8pm and everyone had arrived, so we started with an explanation of the differences between Las Vegas Royale and our old favourite, Las Vegas.
– Image by boardGOATS
The underlying game is much the same, in that people roll dice and choose which of six, numbered casinos to place them on.  As usual, the active player must place all the dice of one number on the casino of that number and when all dice have been placed, any ties are removed and the winnings are awarded to the owners of the remaining dice, with the largest money card going to the player with the most dice.  In the new Royale version, the casinos are arranged in a circle which is quite nice, but more importantly for us, there is no Slot Machine.  This is a shame, but in the event, we didn't really miss it.  The new game is played with the "Biggun" from the Boulevard expansion, as standard, which suits us as we always include it when we play.
– Image by boardGOATS
Aside from the new artwork and layout, there is a subtle change to the setup for Las Vegas Royal.  In the original, the money cards, each with a value of $10,000 to $100,000 are distributed so that each casino has a minimum fund (dependant on the number of players).  This means some will have many winners and others only a single jackpot.  In the new version, each casino has just two cards, each with a value between $30,000 and $100,000.  We thought this might have a large impact on game play, and although it changed things, it wasn't worse, just different.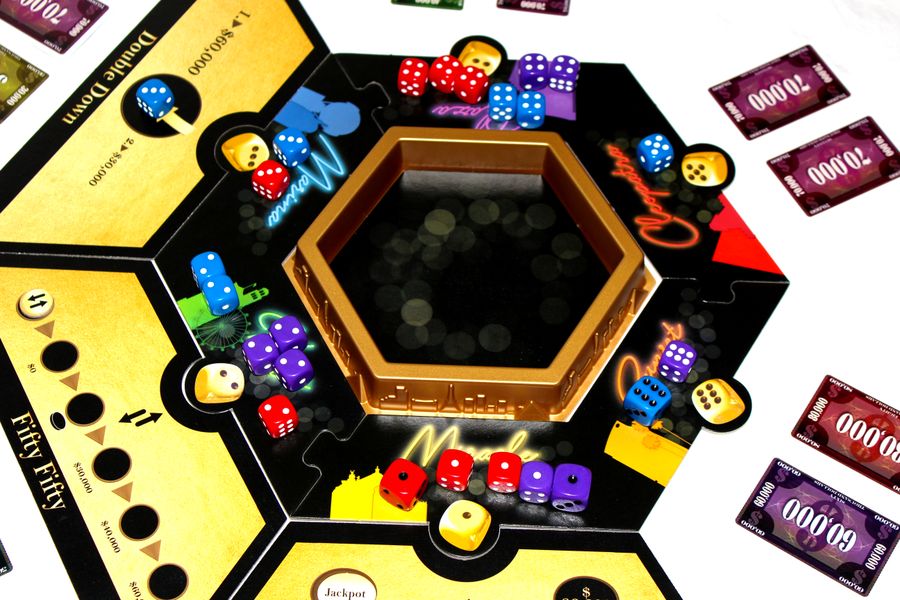 – Image by BGG contributor kalchio
The biggest differences though, were the inclusion of "jetons" and the additional effects associated with some of the casinos.  The jetons are tokens that players can use to pass during the game, when their dice roll is unhelpful.  The additional actions are added to three of the casinos and usually take effect when a player places dice in that casino.  We chose to start with "Lucky Punch" on Miracle Casino (Casino 1), "Prime Time" on Kings Casino (Casino 2) and "High Five" on Marina Casino (Casino 3).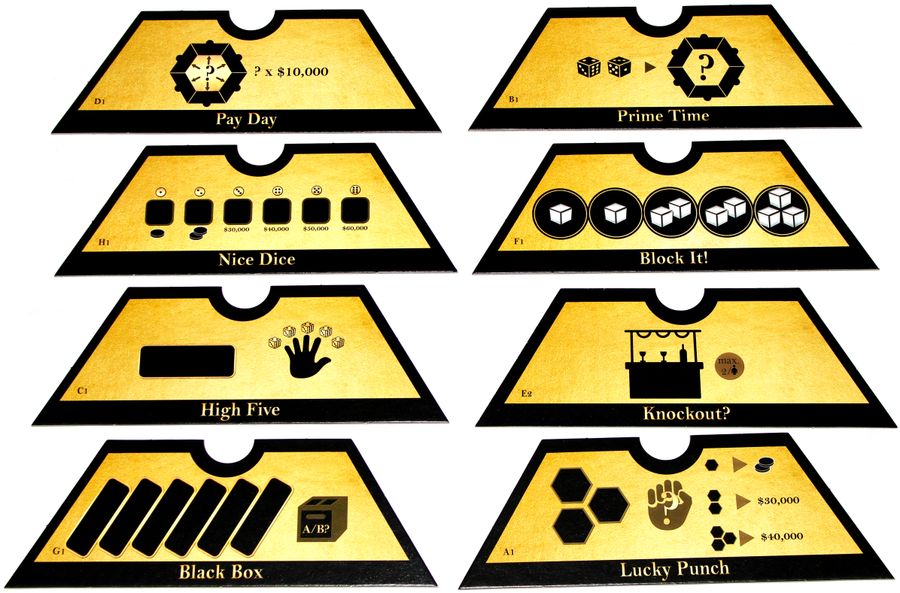 – Image by BGG contributor kalchio
It is possible to add extra actions to all six casinos, but for our first play, we decided to stick to the rules and add them to three only.  One area which were we weren't able to follow the rules in, however, was the player count:  the new version, specifies two to five players and there were ten of us.  This change is likely because the new features lengthen the game, so additionally, the number of rounds is reduced from four to three.  We usually play just three rounds, so we played with two teams of two and decided to make a decision as to how many rounds we would play at the end of the first round.  Blue and Pink had set the game up in advance and, like our first remote game back in March, Las Vegas, everyone else followed using Microsoft Teams.
– Image by boardGOATS
Lime started, followed by Burgundy, who rolled five threes and placed them on the Marina Casino activating the "High Five".  This has a token worth "$100,000" on it to be claimed when someone places their fifth die on that casino, and Burgundy duly claimed it.  Purple went for the Miracle Casino (1) and the "Lucky Punch" action at the first opportunity.  With this action, the active player takes one, two or three tokens into their hand and the next player (in this case Team Greeny-Lilac) have to guess how many tokens they have in their hand.  An incorrect guess would give Purple two jetons, $30,000 or $40,000 depending on how many tokens she was holding.
– Image by boardGOATS
So, Purple turned on her camera and held out her paw in such a way that nobody could see it until Black pointed out that the camera was over the other screen.  Maybe that was just enough information for Team Greeny-Lilac or maybe they were just lucky, but they successfully guessed Purple had two dice in her hand and, as a result, she won nothing.  Burgundy was the next to have a go at the "Lucky Punch", and it was Purple's turn to guess.
– Image by boardGOATS
Purple guessed three and Burgundy's simple reply of "Bugger" told the whole story—this was especially funny since he didn't have a camera and we were all trusting him to be honest!  The "Lucky Punch" proved really popular: Pine was next to have a go and Pink (playing as a team with Blue) had to guess.  Although Pine was holding out his hand, Pink couldn't see the screen from where he was sitting so just guessed three and Pine's response was just as clear as Burgundy's.  With three out of three failures, people began to wonder whether if we were all psychic.
– Image by boardGOATS
Burgundy was the first to be successful at the "Lucky Punch", adding $30,000 to his $100,000 from the "High Five".  That wasn't the opening of the flood-gates though and Ivory's attempt was blocked by Black and then Black's was blocked by Lime.  Purple was eventually successful, taking $30,000 and Ivory also managed to sneak a couple of jetons,  though Pine's attempt at palming a tree-eeple and a duck-eeple (from Christmas crackers at previous unChristmas Dinners) were spotted by Team Bluey-Pink.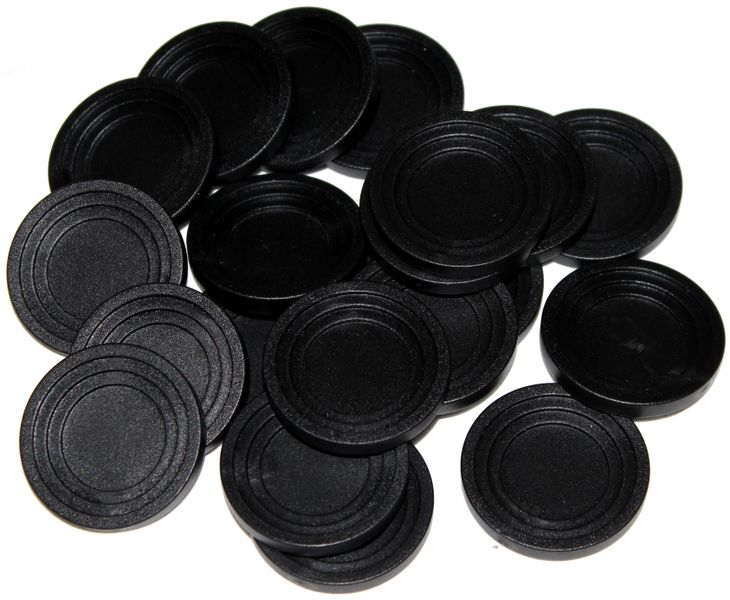 – Image by boardGOATS
Meanwhile, Team Bluey-Pink were the first to use a jeton, followed soon after by Lime.  Egged on by everyone else and much to Ivory's disgust, Black engaged in a battle for Cleopatra Casino (5), eventually leaving Pine to take the $80,000 with just one die.  Lime won the Kings Casino, but his "Prime Time" bonus meant he could roll two dice and place them if he wished, though unfortunately they had no impact.  The clear winner of the round was Burgundy, however, largely thanks to his $130,000 of bonuses.  Time was marching on, so the group decided that there would only be one more round.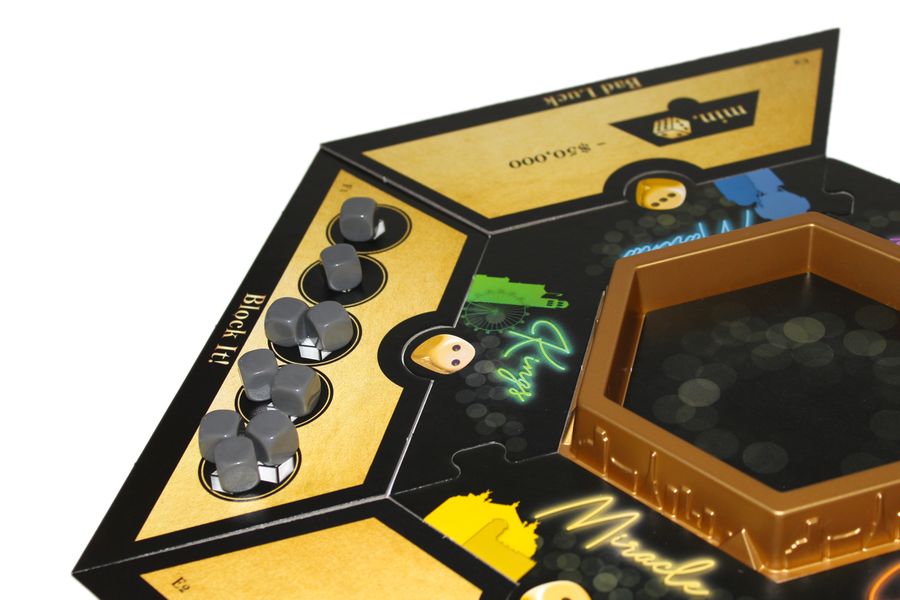 – Image by BGG contributor kalchio
Normally, all the additional actions are swapped, however, there were a lot to choose from and swapping them all would have been a significant task.  The group decided to swap out "High Five" though, and after rejecting "Bad Luck" as "very evil", the group opted for "Block It!".  This action enables players to mess with others by placing cubes on casinos where they would be scored in the usual way, but act as an inanimate player.  Pine went first in the second round but was immediately obstructed by Team Bluey-Pink who were the first to try the "Block It!" action.  First, they moved three neutral dice into the Kings Casino (2) pushing Pine into second place.  On their next turn they start moved more neutral dice onto the Sunset Casino, and with Team Greeny-Lilac's help, made Ivory's life more difficult and effectively scuppered Burgundy's plans.
– Image by boardGOATS
Pine eventually won $40,000 on the "Lucky Punch", but Black was not so lucky when Lime correctly called him holding two tokens.  Team Greeny-Lilac took $30,000, Black took $40,000, and then Purple did too.  It looked like people had worked out how to escape the jinx until Team Greeny-Lilac tried again and Pine guessed correctly.  The odds were certainly moving towards the expected two out of three though, especially as Purple and Pine picked up $30,000 each towards the end of the game and Team Bluey-Pink picked up a couple of extra jetons.
– Image by BGG contributor kalchio
Those extra jetons that Blue and Pink had acquired nearly proved very useful when Green and Lilac placed their fifth dice on the Marina Casino (3) leading to a tie for first place.  Unfortunately for both, despite several re-rolls, the tie remained and both pairs missed out on both first and second place ($80,000 and $90,000).  Green got his just desserts when he ended up in another tie for Miracle Casino (1), this time with the unfortunate Pine who got caught in the cross-fire.
– Image by boardGOATS
In the final tally, the winner was Burgundy, largely thanks to that $100,000 bonus for the "High Five" at the start.  Team Greeny-Lilac weren't far behind though and neither were Pine and Purple who tied for third place.  Though it could all have been so different, had Burgundy not picked up that obvious windfall so early, everyone else might not have worked so hard to spoil things in the second round and he may well have picked up more money by other means.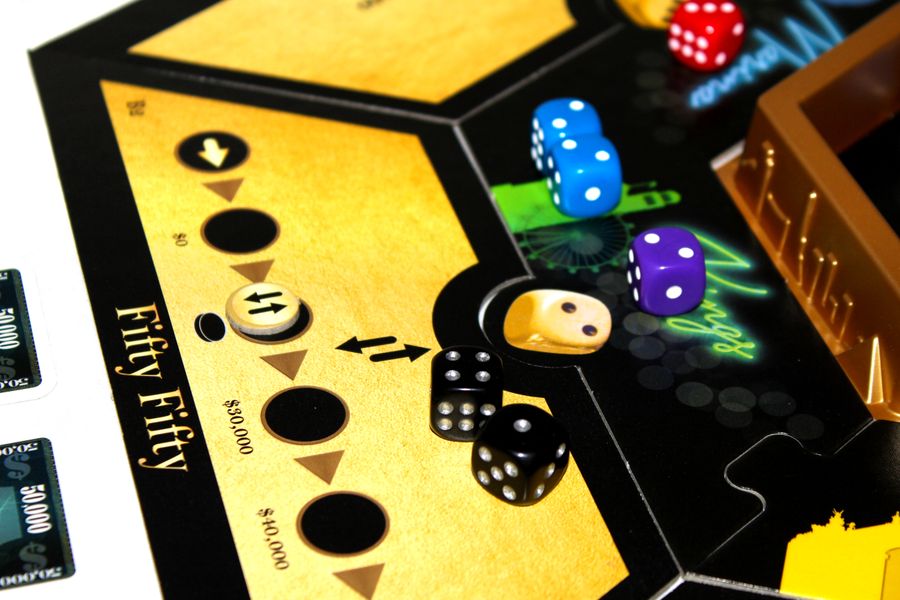 – Image by BGG contributor kalchio
As usual, we had a great time with this fantastic game.  The changes to the payout distribution were neither good nor bad, just different.  The group had mixed feelings about the new additional actions, though on balance, they were positive.  We had a load of fun with the "Lucky Punch" and online it was even more fun somehow.  In our game "Prime Time" had little effect and didn't really influence players, but was very quick to implement and may have more impact at lower player counts.  "Block It!" affected the game more, and certainly influenced the game in the second round.  "High Five" was the huge game-changer though, certainly in this game.
– Image by boardGOATS
The rules are not completely clear on how this should be used, saying, "When you place your fifth die … in this casino, take the token".  It is not entirely clear whether the $100,000 is available to everyone who places five dice in the casino, or if the first person is the only one who can claim it.  Before the game, we had decided to go with the latter and Burgundy's freaky first roll of five threes effectively ended the competition for the Marina Casino (3) in the first turn.  Had the values for the payouts been different and if Burgundy hadn't rolled all five in one go, this might have played very differently.
– Image by boardGOATS
On reflection, however, there is another way to play this which might have worked better increasing competition, and may have be the designer's intention too.  If each subsequent player to reach five dice were to take the token from the current holder it would increase competition and add a nasty edge to the game.  This could also make it a target for using the jetons which otherwise got a bit of mixed reception.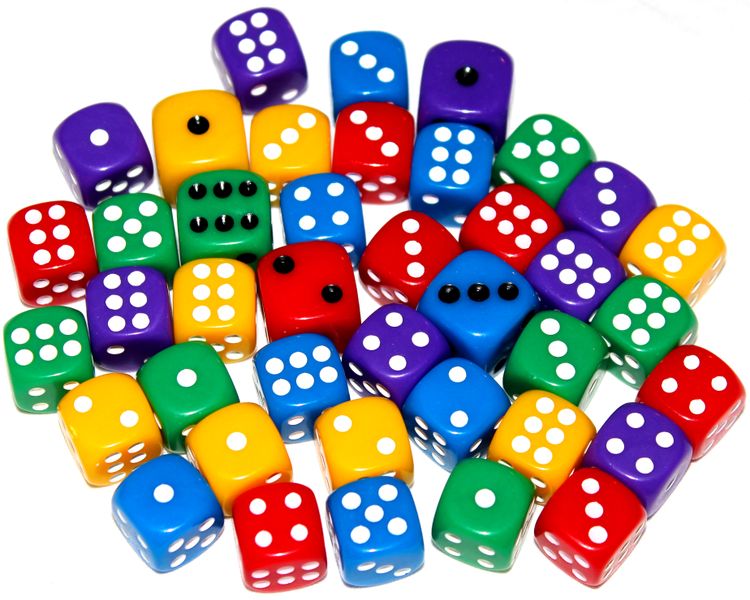 – Image by BGG contributor kalchio
At the end of the game everyone seemed to have too many jetons left and decided to spend them adding a lot of time to the game, mostly for little reward.  Several suggestions about how to improve it were made, including forcing players to exchange them for cash at the end of the round, and/or topping people up to a maximum of two at the start of a new rounds, or maybe giving players one or even none at the start of each round thus making any gained from the "Lucky Fist" that bit more precious.
– Image by boardGOATS
The combination of the extra actions, the large number of players and the effect of playing online meant the game had taken a long time, so Lime, Ivory, Green and Lilac took their leave.  Although it was late in the UK, it wasn't in California where Mulberry joined us from her balcony at 38 °C in the mid-afternoon for a game of our old favourite, 6 Nimmt!.
– Image by boardGOATS
6 Nimmt! is such a simple game which keeps everyone involved throughout and the Board Game Arena implementation is so good, that it is often a fall-back for when nobody can be bothered to think.  Players simply choose one card simultaneously, then, starting with the lowest value card, they add them to one of the four rows.  If the card is the sixth card to be added, the player takes the five cards and the new card becomes the new first card in the row.
– Image by boardGOATS
As always, people complained about the cards they had, though Blue felt she was particularly hard done by this time with one, two and three in consecutive hands and almost nothing above fifty for most of the game.  Given that, she didn't do too badly in the end.  There was no beating Pine though.  After the game, Pine left and everyone else made it their business to investigate how many games Pine had played on Board Game Arena. There were over a thousand, of which nearly a hundred had been 6 Nimmt!, winning around 30% of games against all comers!  And with that, it was time for bed.
– Image by boardGOATS from boardgamearena.com
Learning Outcome:  If voting Donald for US President, many people would prefer the Duck!