Our next meeting will be Tuesday 9th August 2022.  As usual, we will start playing shorter games from 7.30pm as people arrive, until 8pm when we will start something a little longer (table is booked from 6.30pm for those who would like to eat first).
This week the "Feature Game" will be Alubari: A Nice Cup of Tea.  This is a re-implementation of the popular worker-placement game, Snowdonia.  The underlying mechanisms are essentially the same, but it has a smoother feel and of course, the setting is Darjeeling (in the Indian state of West Bengal) and it has addition of Chai, which players get from harvested tea leaves and adds to their actions.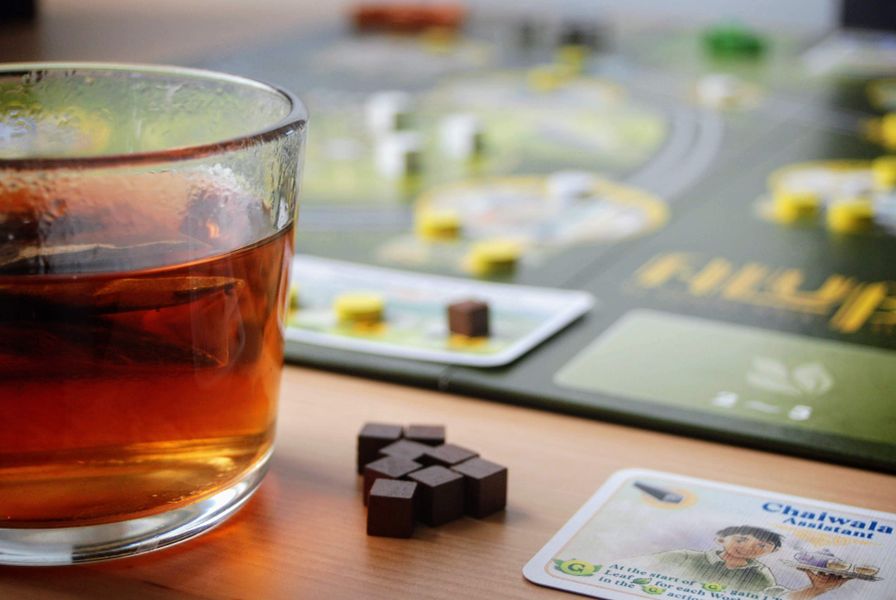 – Image by BGG contributor LordBalder
And speaking of a nice cup of tea…
One day, Jeff phoned his girlfriend, Jemima, and said, "Can you come round please? I have a killer jigsaw puzzle, and I can't work out how to get started."
Jemima asked, "What is it supposed to be when it's finished?"
Jeff replied, "According to the picture on the box, it's a rooster."
So that afternoon, Jemima went round to Jeff's flat and Jeff showed her where he had the puzzle spread all over the kitchen table. His girlfriend studied the pieces for a moment then looked at the box.
She turned to Jeff and said, "First of all, no matter what we do, we're not going to be able to assemble these pieces into anything resembling a rooster."
Then Jemima gently took his hand, "Secondly, I want you to relax. Let's have a nice cup of tea, and then…" she said with a deep sigh, "We can put all these Corn Flakes back in the box."