It is arguable that in the last forty years, the game designer, Klaus Teuber had the single biggest influence on the world of modern board games.  Certainly, he was among a small number of designers and industry professionals in the eighties and nineties that brought modern, Euro-style, designer games to a wider audience, ultimately making the hobby as popular as it is today.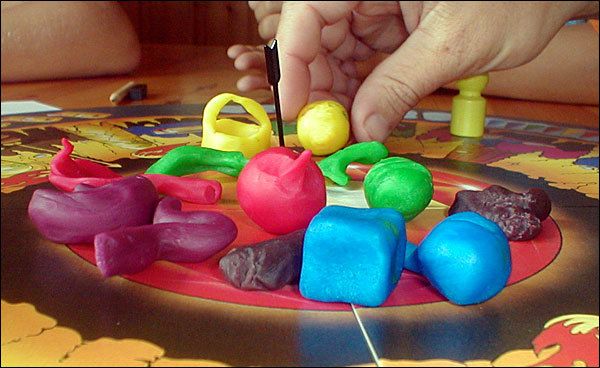 – Image by BGG contributor binraix
The first game he published was Barbarossa, in 1988.  According to the designer, it was inspired by Patricia McKillip's Celtic mythology themed Riddle-Master trilogy, in which wizards are devoted to the creation of riddles and riddle solving tournaments.  Players begin the game by making objects out of modelling clay.  They then take turns to move around the board with the spaces landed on determining actions:  players can gain points or clues, or take a guess as to what an object is to win more points.  Barbarossa was innovative and won the Spiel des Jahres Award that year, but although it was a critical success and has had several reimplementations since, it was not as popular nor as long-lived on the public's gaming tables as some of Klaus Teuber's later games.
– Image by boardGOATS
Barbarossa was quickly followed by Adel Verpflichtet (aka Hoity Toity) and Drunter und Drüber (aka Wacky Wacky West), both of which also won the "Red Poppel" Award, and Der Fliegende Holländer and Löwenherz which both won the Deutscher Spiele Preis.  The success of these winners paled into insignificance compared with 1995 Spiel des Jahres and Deutscher Spiele Preis winner, The Settlers of Catan (now simply known as CATAN) which has sold over forty million copies world wide.  The success of this fourth and final Spiel des Jahres winner meant Klaus Teuber could give up his career working for his company Teuber Dental-Labor and in 1998 he took up game design full time.  Although Klaus Teuber released over two hundred games and expansions in his lifetime, "Settlers" was effectively his final game as almost all his more recent releases were variants or expansions set in the world of Catan.
– Image by Rogi Lensing
This week, it was sadly announced that Klaus Teuber, had passed away on 1st April aged seventy, after a brief, but severe illness.  He will be greatly missed by his friends and family, but has left a very positive mark on the world for the rest of us to appreciate for many years to come.