The evening began with news—the landlord of our beloved Horse and Jockey , Charles, and his wife Anna, who have been trying to retire for years, are finally succeeding.  This time next month, the pub will be under new management.  In due course, we will find out what this means for our little group, but in the meantime, we Keep Calm and Carry On Gaming.  And Blue and Pink, who were first to arrive started off with a quick game of NMBR 9, with Pink aiming to get his revenge for last time (before the Quiz).
– Image by boardGOATS
NMBR 9 is a very simple tile laying game, but the pieces cleverly fit together, except when they don't.  The idea is that tiles must be placed in layers with pieces placed on higher levels worth more.  Each tile is a stylised number and the number multiplied by the "storey" is its score.  Each numeral, zero to nine appears twice in the deck of cards, so players can place each twice during the game, with the order dictated by the order the cards are drawn.  This time, Pink scored more than last time and Blue scored less, but sadly for Pink, even with Burgundy's assistance, he was unable to beat Blue's score of eighty-eight.
– Image by boardGOATS
Blue, Pink and Burgundy were joined by Pine who'd had a particularly tiring week, and was therefore delighted to be able to avoid cooking.  As they finished, Green popped up and started setting up Praga Caput Regni.  In this game, players take the role of wealthy citizens who are organizing various building projects in medieval Prague. By expanding their wealth and joining in the construction, they gain favour with the king. Players choose from six actions on the game board, the "action crane".  The actions are always available, but are weighted with a constantly shifting array of costs and benefits. By using these actions, players can increase their resources, improve the strength of chosen actions, build "New Prague City", the Charles Bridge, the city walls, or participate in the construction of St. Vitus Cathedral.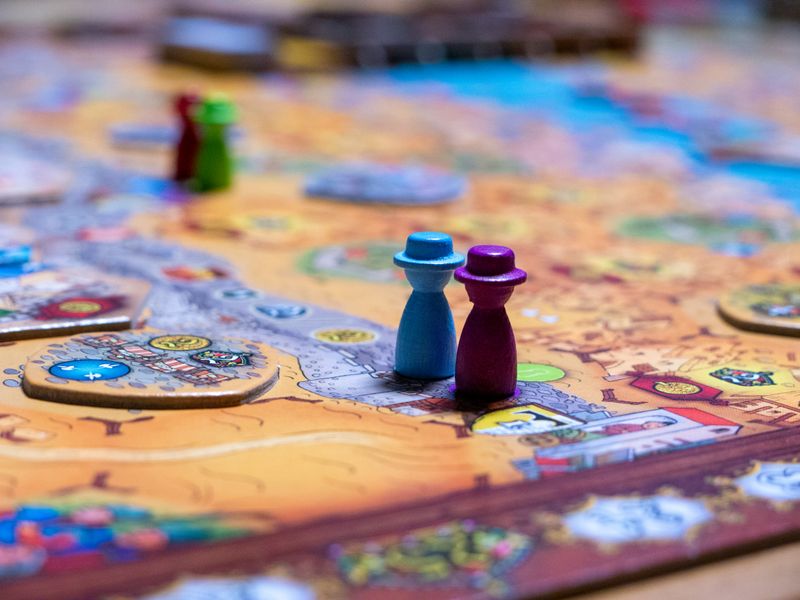 – Image by BGG contributor PZS69
Praga is one of those games with lots of pieces and takes a little while to set up.  Green had agreed to play it with Ivory and Lilac in advance, but were one person down and there was less enthusiasm to play it from the others, so in the end there were just three with Black joining in.  There was quite a lot to explain:  Green had played a few times and Ivory had watched a video, but Black came into it completely cold.  When the game finally started, random selection gave the first turn to the least experienced player, Black.  Although there a lot of things that can be done in this game, each turn usually only provides a small choice (unless you want to pay for the chance to do something specific that isn't available for free).  With a little advice Black was able to make his choice reasonably quickly and the game was underway.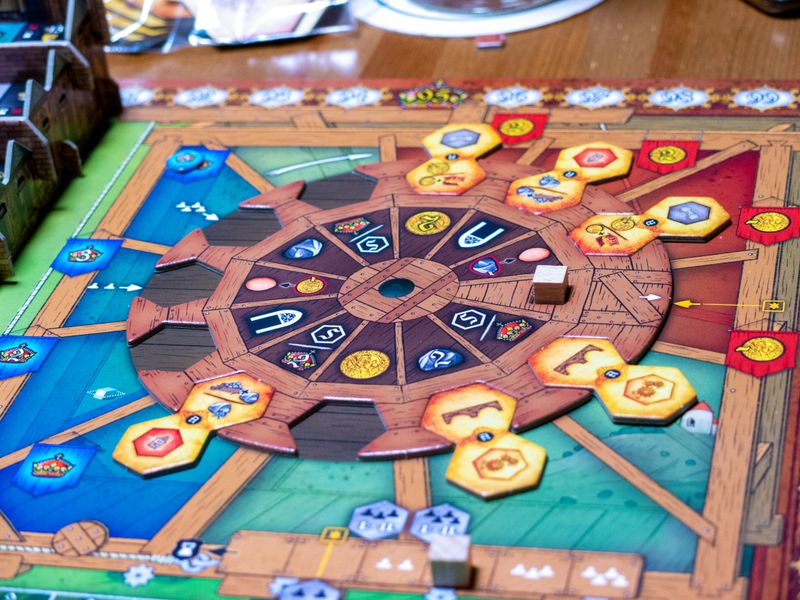 – Image by BGG contributor PZS69
Black's game was a tactical one, trying to do the best that he could each turn rather than following a recognised strategy.  With only one upgrade to his actions tile (building The Kings Road), he ended up with four wall tiles and made it to the top step of the City Walls.  Although he had upgraded his Kings Road tile it was late in the game and he only managed the third step along the road, not quite reaching the Charles Bridge. He did not try for the education tracks, but his mines progressed reasonably well.  Green tried to go for a City Walls/Cathedral strategy, but didn't manage it very well, reaching only the second tier of the Cathedral and only one step on the City Walls.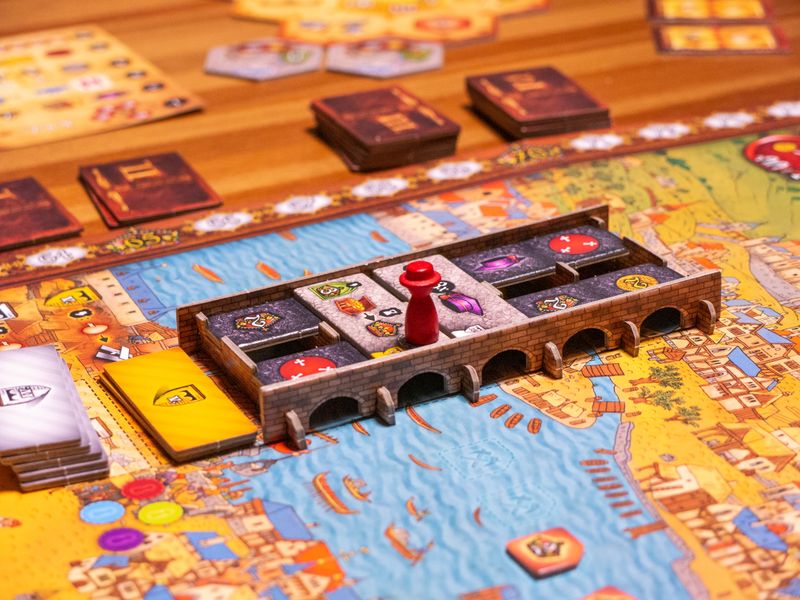 – Image by BGG contributor PZS69
As that strategy just wasn't working Green switched to completing the King's Road and managed to get his piece onto the final step of the Bridge.  He upgraded a couple of actions, stone mine and (much later) Town tile actions, but could only manage two walls (rather surprising considering he built his first wall early on). Green did manage to reach the top of the University track and half way up the Knowledge path though.  In contrast, Ivory went very quickly for the Kings Road strategy, which he completed as well.  Like Black he ignored the Learning tracks, but did manage to get his Gold mine to the top, although (strangely) never managed to unlock his six gold bonus cube.  He also only did one Upgrade (the Gold mine action), but completed three walls.
– Image by boardGOATS
Ivory also concentrated on the City Walls and manage to climb to the top tier, but completely ignored the St. Vitus Cathedral.  Within the Town, Green placed most tiles, but only two plaza's were ever completed, and no one built on the Old Town section North of the Road.  Ivory won the game, with Green a second on a tiebreaker.  Everyone kept forgetting the extra point bonuses from the Upgrades and Books, but it was clear that Ivory was the victor.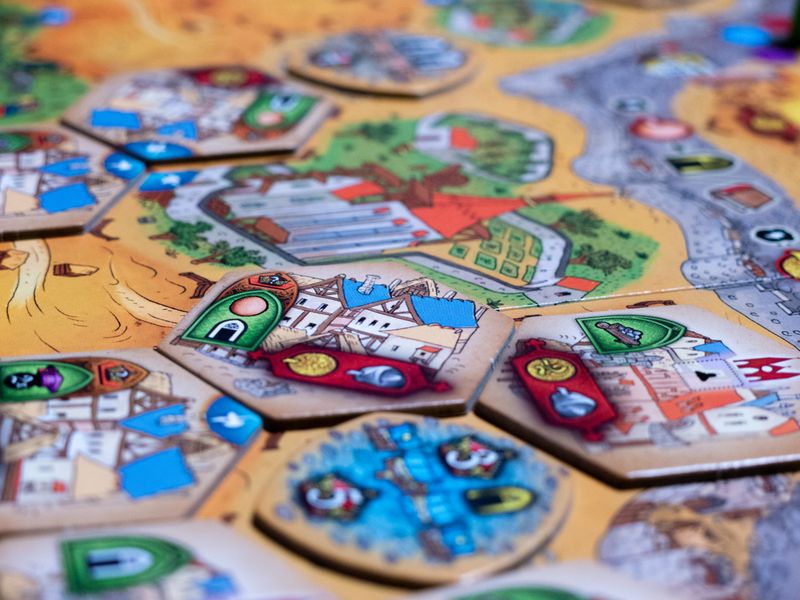 – Image by BGG contributor PZS69
Everyone enjoyed the game, Black in particular liked it much more than he thought he would. Ivory also liked it as did Green though the fact that players seem unable to do very much through the game frustrates him.  Overall it appealed to the group's idea of strategy planning. Although it seems complex with lots that can be done, it is actually relatively straight-forward to play, with the complexity coming from working out what they want to do and which route will provide the best outcomes later in the game.  It is possible that the key is getting the Golden Arches and therefore extra free actions, but they seemed very lacking this time.
– Image by boardGOATS
The prior arrangement to play Praga meant there weren't enough people to play the "Feature Game" (Nusfjord), particularly as neither Pine nor Purple fancied it.  Unfortunately, there was no alternative mid-weight game that everyone felt up to playing, so, after half an hour of debate, Pine insisted on sitting out leaving the rest to play what is now a bit of an old favourite, Wingspan.  We've played this a lot as a group since it was released two years ago, but Pink and Blue had not yet had the opportunity to play the newest, colourful birds expansion, Oceania.
– Image by boardGOATS
Wingspan is a fairly straight forward, card driven engine-builder with players collecting bird cards and playing them into their reserve.  To play bird cards in their reserve, players need to encourage them to stay by providing the right food as payment.  Thus there are four actions that players can take on their turn:  Play a card; Collect food, Lay eggs and Pick up cards.  The last three of these are associated with habitats.  Each card has a special power, some come into force when they are first played, some when the habitat is activated, and others when another player carries out an action.
– Image by boardGOATS
In addition to special powers, each bird card also gives points and holds eggs.  At the end of the game players receive a smorgasbord of points for each bird, for "tucked cards" (those placed under their bird cards as part of an action), for food stored by birds on cards (also as part of an action), for eggs laid on cards, all added to any end of round bonuses achieved and any bonus points from character cards.  The first expansion, with European birds, additionally adds cards which take effect at the end of each round, some of which are very powerful, and the new Oceania Expansion adds a new food type—Nectar.
– Image by boardGOATS
Nectar can be used as a substitute of any other food type, but it is used in a different way and cannot be carried over from one round to the next.  There was no need to go through all the rules because everyone was familiar with the game, it just needed a summary of how Nectar worked and how the game changed, including the scoring with players who use it the most picking up bonus points at the end.  The expansions mostly add more cards, and although these change the flavour of the game they don't significantly add to the complexity, so both expansions were included this time along with the cards from the Swift-Start Promo Pack.
– Image by boardGOATS
This time, there were almost no birds of prey cards in the game, which was unfortunate for Pink because his Black-Billed Magpie went hungry.  He had the help of Pine, however, who stayed long enough to see his favourite bird, the Black Woodpecker put in an appearance, landing in Blue's reserve.  Pink went on to concentrate on using Nectar and Character cards, the Omnivore Expert and Fishery Manager, both of which give points for the type of food birds eat.  Burgundy also focused strongly on his bonuses from Character cards (Citizen Scientist and Bird Counter) and both he and Pink scored more than twice Purple's and Blue's bonuses.
– Image by boardGOATS
This is a relatively small part of the scoring, however.  Purple concentrated on making sure she had plenty of eggs at the end of the game and the purpleness of her reserve with all it's purple eggs was a sight to behold.  Everyone made good use of Nectar, but Pink cleaned up winning two of the three categories and coming second in the third.  Burgundy took a lot of points for his tucked cards and had lots of his scoring birds in his reserve.  Blue had more birds and more valuable ones too, nearly filling her reserve.  The question was whether her huge pile of eggs was enough to offset the points others had taken elsewhere.  In the event it was, and she finished with just enough to knock Burgundy into second place, slightly ahead of Pink.  And with that, it was home time.
– Image by boardGOATS
Learning Outcome:  Don't put all your eggs in one nest.