We started off with our "Feature Game", which was the card game, Saboteur.  We've played it a few times before, but basically the idea is that the group is split into two teams:  Dwarves and Saboteurs.  The aim of the game for the Dwarves is to lay cards forming a tunnel that leads to the gold, whereas the Saboteurs job is to stop them.  So players take it in turns to play cards.  These cards could be tunnel cards, which are added to the play area and, although they generally extend the tunnel, there are also dead-ends which can be used by Saboteurs to upset the Good Little Dwarves' plans.  Alternatively, there are action cards, which come in several types.  There are broken tool cards, which allow players to prevent other players from laying path cards (useful if you suspect there is a Saboteur about); mended tools which are used to repair broken tools (useful when a Saboteur has been trying to slow everyone down by smashing up their tools); map cards (useful when a nasty Saboteur has been misleading everyone telling them the gold is in the wrong place), and rock-fall cards which can be used to remove tunnel cards (useful when an evil Saboteur has been causing havoc).  The round ends when the draw deck is depleted and gold cards are allocated to the winning side.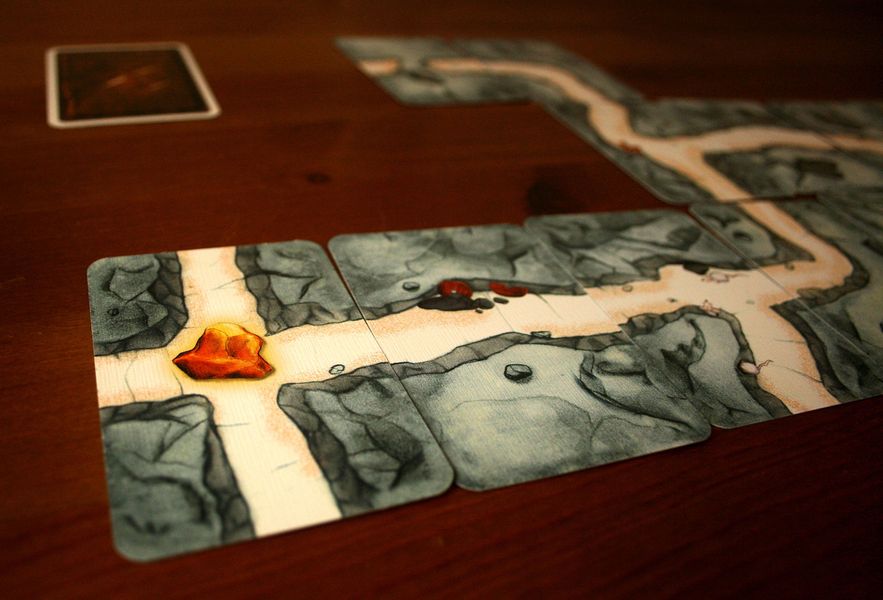 – Image used with permission of BGG contributor mikehulsebus
As people arrived, Blue explained the game to the people unfamiliar with it and pointed out that, despite his protestations, Green was always a Saboteur.  At which point, in walked Green, commenting, "Whatever Blue may have said, I'm NOT always the Saboteur…!"  Needless to say, it quickly became apparent that Green was very definitely a Saboteur, but despite his best efforts (assisted by Yellow and Cerise), the dwarves found the gold, though it was pretty close at the end, coming down to the last few cards.  The second round was under-way with Burgundy indicating that the central target card was gold (a fact disputed by Grey) when Black and Purple arrived.  Since they'd missed the start they began a game of Patchwork.  This is a recently released two-player game where players compete to build the most aesthetic (and high-scoring) patchwork quilt, buying Tetris-like patches with buttons.  The patches are laid out in a circle round the central time board, with a cotton reel marking the start.  On their turn players can purchase one of the three patches immediately following the cotton reel; they then pay the cost in buttons shown on the patch, and then add it to their personal "quilt board".  In addition to the cost in buttons, the player must also advance their time token on the central time track: if the active player's time token is behind or on top of the other player's time token, then they take another turn, otherwise play passes to the opponent.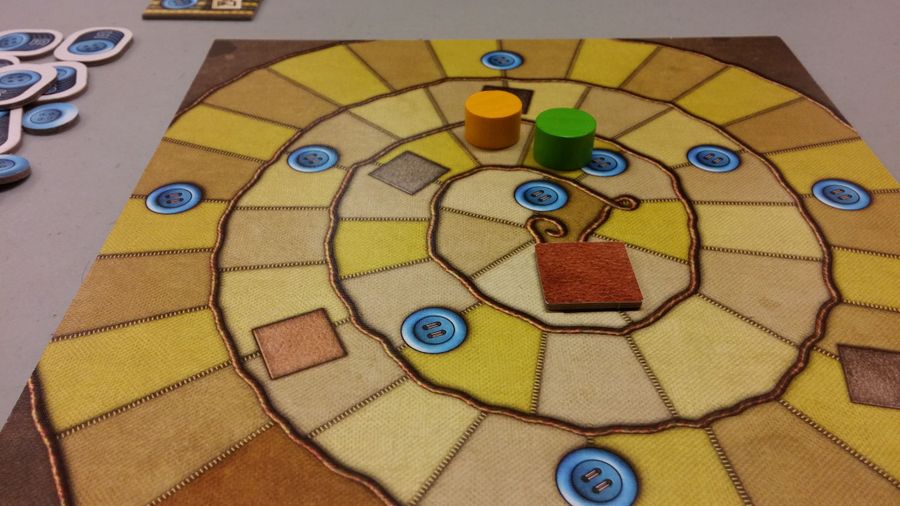 – Image used with permission of BGG contributor Percatron
Instead of purchasing a patch, players can also pass, in which case, they move their time token to the space immediately in front of their opponent's time token and take one button from the bank for each space moved.  Players can place their patches anywhere on their quilt so long as it doesn't overlap any other patches.  This is not the only way to get buttons; in addition to a button cost and a time cost, each patch also features 0-3 buttons.  When a player moves their time token past a button marker on the time track, they sum the number of buttons on their quilt and get this number of buttons from the bank.  The game ends when both players are in the centre of the time track.  Each player then loses two buttons for each blank square on his game board and whoever has the most buttons wins.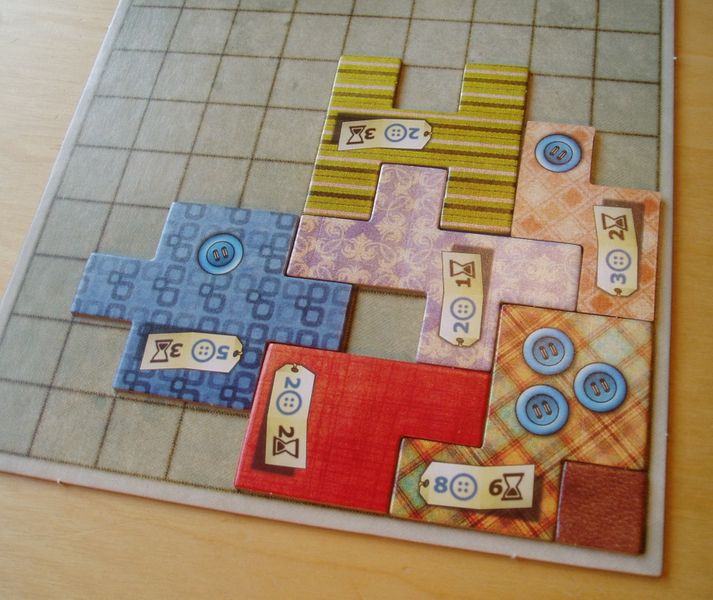 – Image used with permission of BGG contributor
greetingsfrombergen
Meanwhile, on the first table, the second and final (third) round of Saboteur had both finished with the Saboteurs making almost no impact on Dwarves' ability to find the gold.  When the teams are drawn, there is always one card more than there are players, so one card is always left out.  The idea is that this introduces an element of ambiguity, however, we felt that this also unbalanced the teams.  For example, with eight players, the teams go from five Dwarves and three Saboteurs to six Dwarves and two Saboteurs, making it almost impossible for even a vaguely competent team of Dwarves to lose.  We discussed the options including whether it would be better to have a set-up phase where the everyone closes their eyes and the Saboteurs open them and look at each other (similar to Werewolf or The Resistance), but we felt this would give a large team of Saboteurs too much power.  In the end, we decided it would be better to remove the spare card and ensure there was the maximum number of Saboteurs.  Since Black and Purple were still going, we decided to play one extra round.  This worked much better, and thanks to a horrid distribution of cards for the Dwarves and some brilliant play by the team of Saboteurs led by Burgundy, there was nothing the Dwarves could do.  It was fitting therefore, that Burgundy finished one gold ahead of his closest competition.  On reflection, we decided there were definitely a couple of House Rules we would implement next time we play.  Firstly, we would remove the extra card when allocating players to teams, this definitely seemed to create a much more balanced game.  Secondly, we would probably also play several separate rounds and not worry about allocating gold at the end of the game.  This way, we could play one or two rounds and stop when the game had outstayed its welcome, rather than feeling that we should play to the end.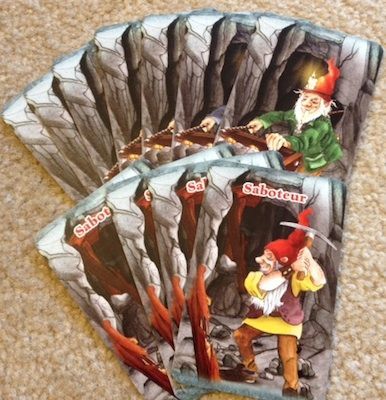 – Image by BGG contributor ckhiew
Patchwork was also coming to a close; scores there were quite close until the final scoring, when it turned out that Purple had more "gaps" in her quilt which lost her more points, leaving Black to take the victory.  With both games finishing we had a slight shuffling of seats, with the first group playing Mascarade.  This is a "micro" game, albeit with big cards.  The idea is that each player begins the game with a character card, but after a brief spell with them face up, everyone turns them face down and that's the way they remain for the rest of the game.  So, the game is all about deducing which player everyone is, while trying to collect enough money to win the game.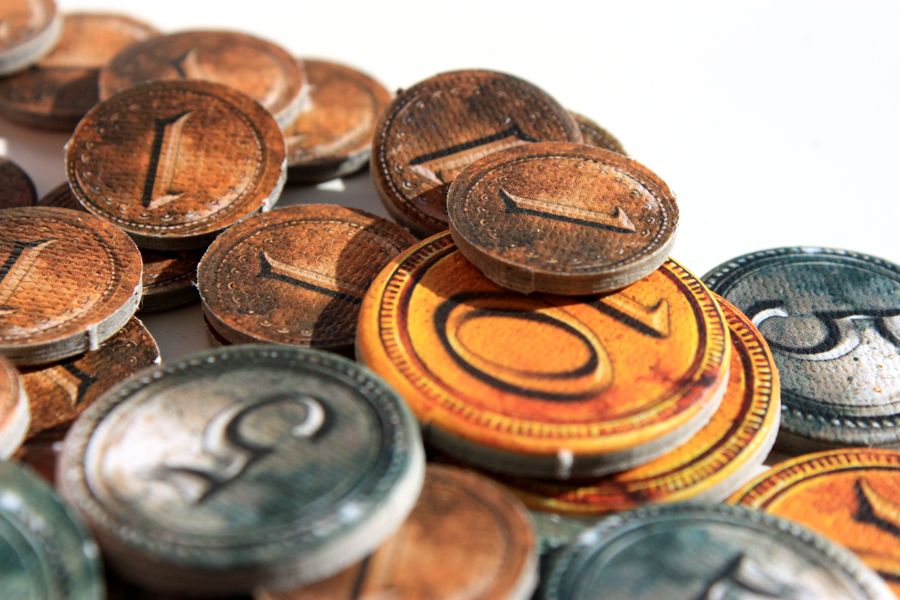 – Image used with permission of BGG contributor henk.rolleman
After some initial trading, on their turn, each player can do one of three things.  Firstly, the active player can declare that they are a particular character, say, The King.  If nobody objects they can then carry out the action associated with The King, unmolested (in this case, take three coins).  On the other hand, another player may protest and claim that they are actually The King, in which case all players claiming to be The King must show their cards and whoever is correct, gets to take three coins from the bank, and all the others pay a fine of one gold coin.  A player's second option is to "swap" their card with that of another player; since the actual exchange is done under the table, it is possible that there is no swap at all, and only the active player will know either way (or not, since everyone always seems to immediately forget which card is which).  The final option a player has, if all is complete confusion, is to look at their own card.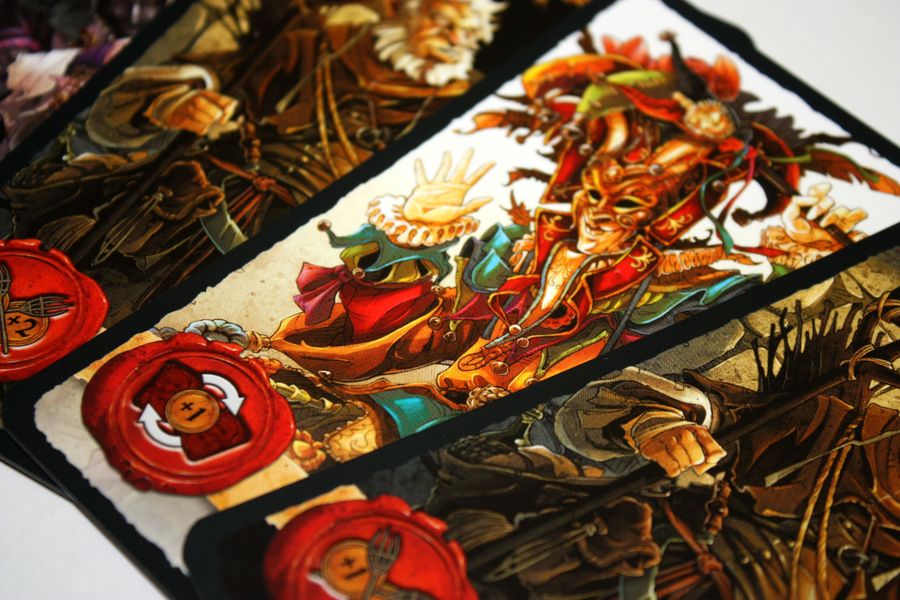 – Image used with permission of BGG contributor henk.rolleman
It always takes a little while to get the hang of the characters in play, and with people unfamiliar with the game, it was slow to get going. Orange was happy to be The Queen and collect her two gold each round, as did The King.  After a couple of turns, however, Red realised the power of The Witch and swapped her somewhat diminished fortune with that of Blue, who, as The King had managed to build a reasonably sized pile.  Meanwhile, the fines had built up and then the Judge became of interest and suddenly, the game clicked with everyone around the table, and people tried to manipulate the card they got and call others on their declarations.  Gradually, some of the piles started to get perilously close to the magic thirteen coins, especially since The Cheat was in play (if declared correctly, that player needs only to have ten coins to win).  The game finished somewhat abruptly, when Red declared that she was The Bishop and, as everyone knew she was right, there was nothing we could do.  And then it was home time for some.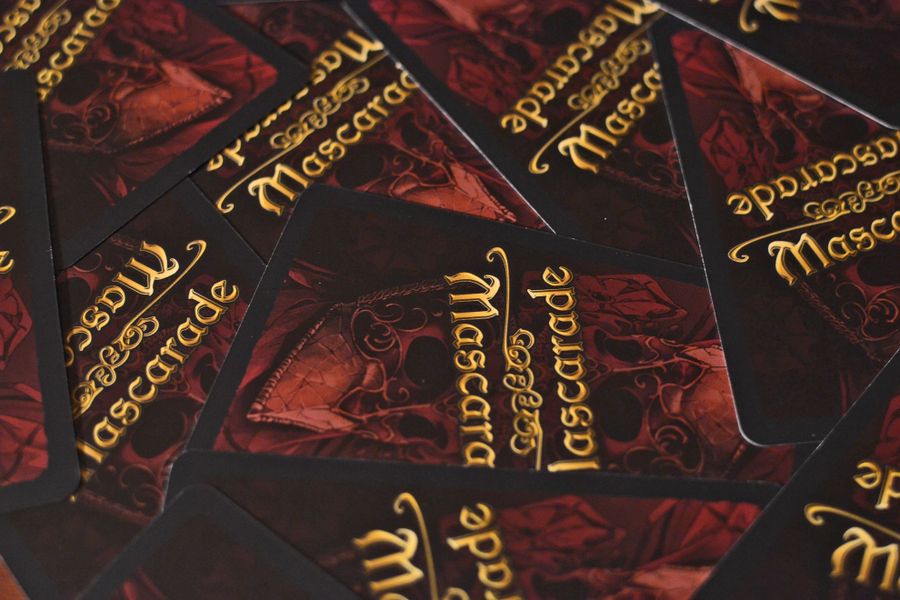 – Image used with permission of BGG contributor pan_satyros
and pelnapara.znadplanszy.pl
Meanwhile, the second game was still going.  They were playing Colors of Kasane, one of our "Essen Specials", but one we've not got round to playing until now.  It is a Japon Brand game, and they have a bit of a reputation for creating little, yet interesting games:  as Black commented, "They have a different way of thinking."  They also have a bit of a reputation for rules that are difficult to understand; even when they seem clear, it often turns out that they aren't, and we've fallen foul of this one before, most noticeably with Secret Moon (the sequel to Love Letter).  Colours of Kasane was no exception in this regard which may go some way to explaining why its taken so long to play it!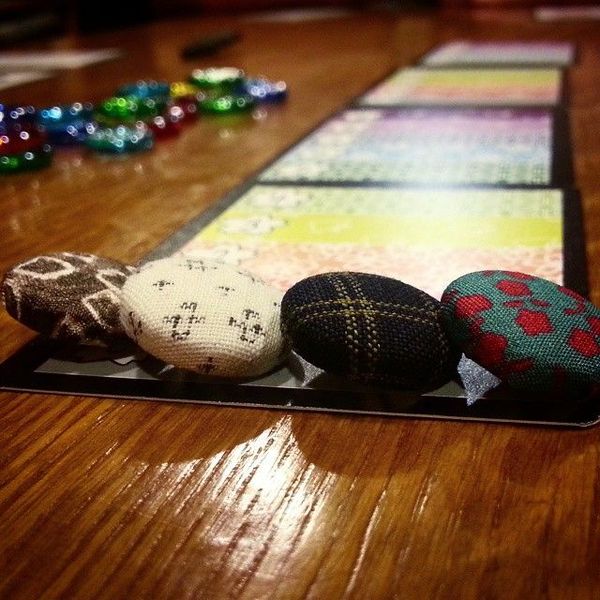 – Image used with permission of BGG contributor punkin312
Nevertheless, the game itself is reasonably simple and beautifully rendered with pretty little Japanese fabric buttons used as player markers, reflecting the theme of a festival held at the Emperor's court for which the players must make their own beautiful robe.  The game play is a mix of hand management and set collection.  The idea is that players take one card from the four available, and then, from their hand the active player may lay cards.  However, the cards can never be rearranged (similar to Bohnanza) and sets can only be laid from the most recent end (i.e. a "last in, first out" system) and may also include the last card laid.  Any cards laid must meet the requirements shown on one of the target cards, which also indicate the amount scored:  the more challenging the target, the more it is worth.  These target or scoring cards allow players to place of groups of even numbered cards, groups of odd numbered cards, melds with the same number, ascending or descending sets of cards, cards summing to ten etc. etc..  The key thing is that once a specific combination has been played, a glass bead is placed on it and no other player can score it.  This means it becomes increasingly difficult to play cards and score points, worse, someone else might claim something you have been building towards and render all the hard-work useless.  This is one way that players can mess with each-other's plans, another is when picking up cards:  cards are laid out in columns so that players can see all the cards, but only the card at the bottom of each column is available to take.  Since the cards laid must necessarily include the card just picked up, a player's plans can easily be blown out of the water by an opponent who watches carefully.  The winner is the player with the most points, with bonuses awarded for players who succeed in playing more than eight cards and either used a lot of different colours or who colour coordinated their "robe" and also for any players who managed to play all twelve of their cards.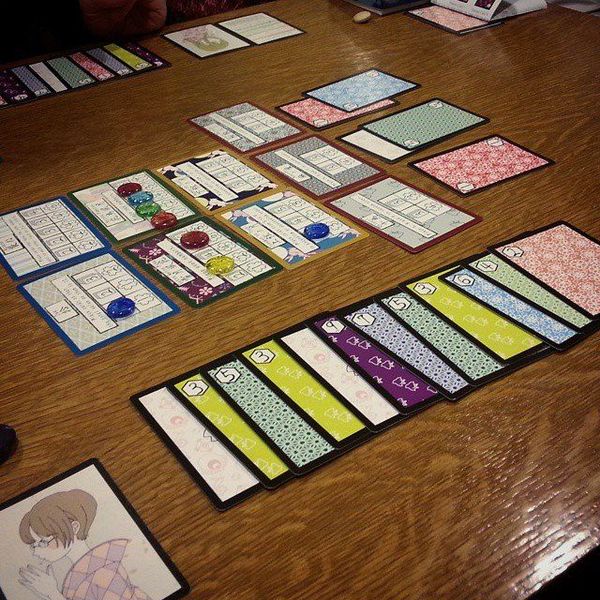 – Image used with permission of BGG contributor punkin312
The game began with everyone groping their way through the the first round trying to get an idea of how the game played and how players and cards interacted and what strategies should be employed.  By the time Blue joined to sneeze and spectate, it was clear that all the best plans had gone horribly awry.  Black, who had brought the game and taught everyone the rules, was struggling, but he was not alone in that.  Green and Purple were also finding other players obstructing their plans, and even Burgundy (the eventual winner) was having difficulty placing the cards he wanted.  The challenges posed by the game were reflected in the fact that nobody got the bonus for playing all twelve cards:  definitely a game that requires a second try.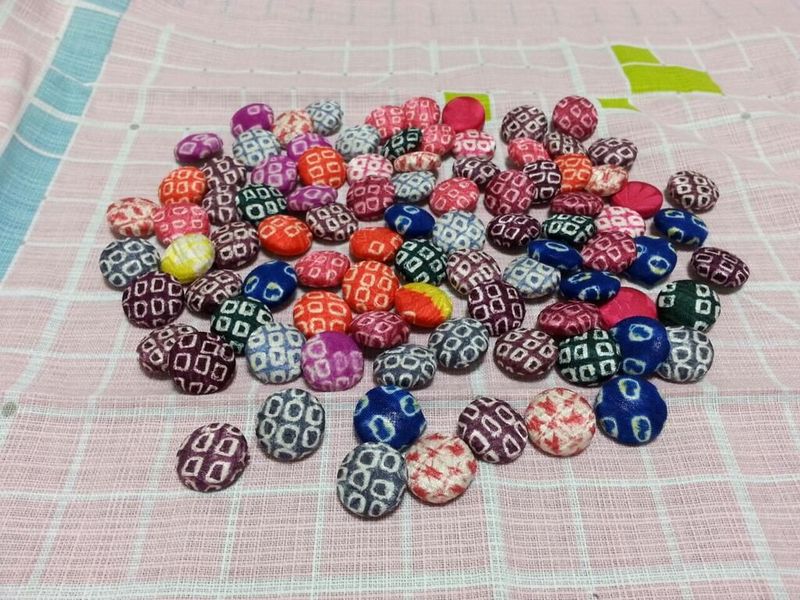 – Image by BGG contributor matador
We finished with Istanbul, a game we've played a couple of times recently, so didn't require too much in the way of rule revision.  Since Burgundy was the only person who  had not played it before and everyone else had previously played it with the "short track layout", this time we used the "large number layout".  This puts all the Warehouses together and a long way from the Mosques, and puts the money making a long way from the Wainwright.  Black started and went straight to the Post Office before expanding his cart with a trip to the Wainwright.  Purple also made several visits to the Post Office, coupled with a few trips to the Warehouses while Burgundy and Blue attempted to improve their success rates with visits to the Mosques.  Green on the other hand, paid several trips to the Caravansary to collect bonus cards in the hope that a few of these would help him out later on.  It is unquestionably a more interesting game with five players and useful things further apart, but that didn't stop Black delivering the rest of us a sound thrashing.  All of a sudden, he ended the game as he collected his fifth gem when nobody else had more than two.  On inspection, other players were closer than it seemed:  Green collected his third gem on his final turn, Burgundy had loads of Lira and everyone else was well on the way to getting everything they needed, however, they needed several more turns to do it.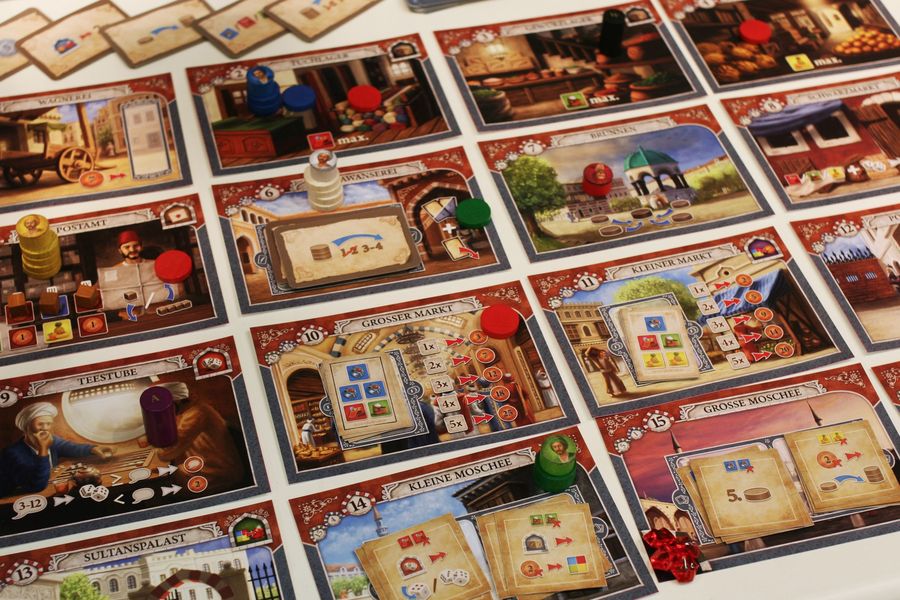 – Image used with permission of BGG contributor duchamp
Learning Outcome:  It's true, Green always IS a Saboteur!