Since Blue was late ordering her pizza we were late starting our first game.  It was a relatively quiet evening, but we began splitting into two groups, the first of which played the "Feature Game", Dominion.  This is a card drafting game where the players are monarchs, ruling a small pleasant kingdom of rivers and evergreens trying to build a bigger and more pleasant kingdom, with more rivers and a wider variety of trees – a Dominion in fact.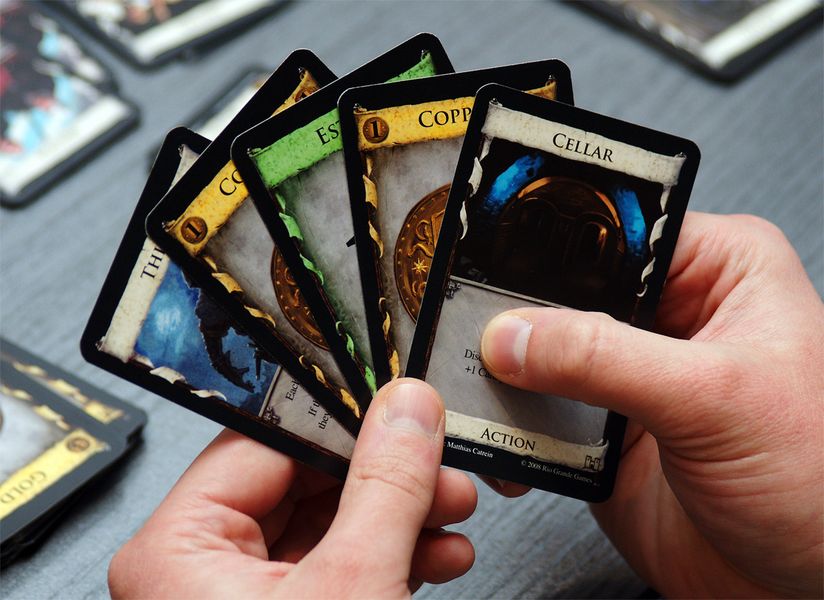 – Image by BGG contributor Filippos
Basically, each player starts with an identical, very small deck of cards from which they draw a hand of five.  On their turn, players do three things:  play an action card, buy cards, then discard any cards they have left and draw an new hand of five cards.  The aim of the game is to have the most points at the end.  Experience is clearly a big advantage, as the balance of the deck is critical to a player's success.  It was no surprise, therefore, that Burgundy and Green were fighting it out for first place.  Green squeaked in ahead having picked up a lot of duchy cards in the last few rounds.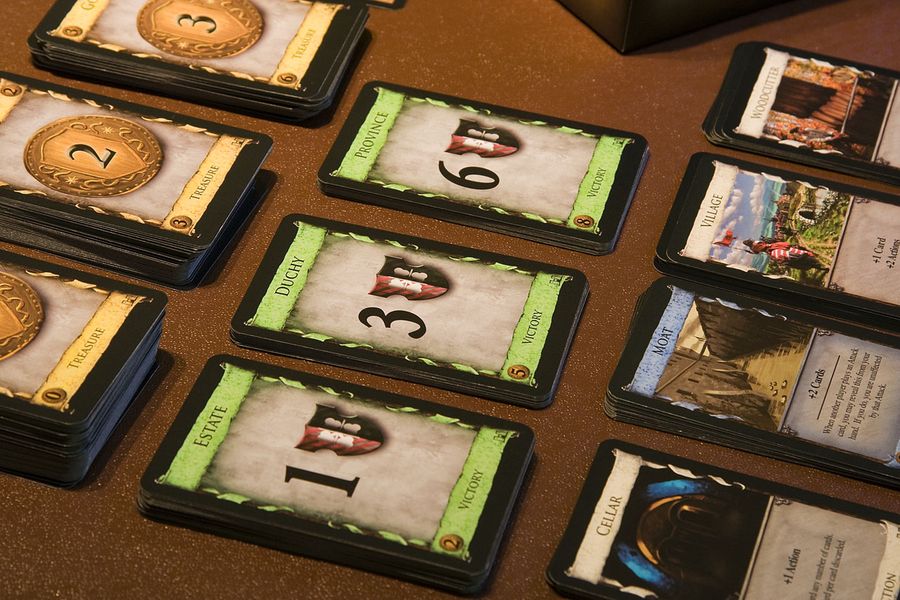 – Image used with permission of BGG contributor garyjames
Meanwhile, Purple and Black played Patchwork.  This is a cute little two-player game that was first played on a Tuesday in January.  The idea is that players compete to build the most aesthetic (and high-scoring) patchwork quilt, buying Tetris-like patches with buttons.  The last time Black won, so Purple was hoping to redress the balance, but sadly, it was not to be.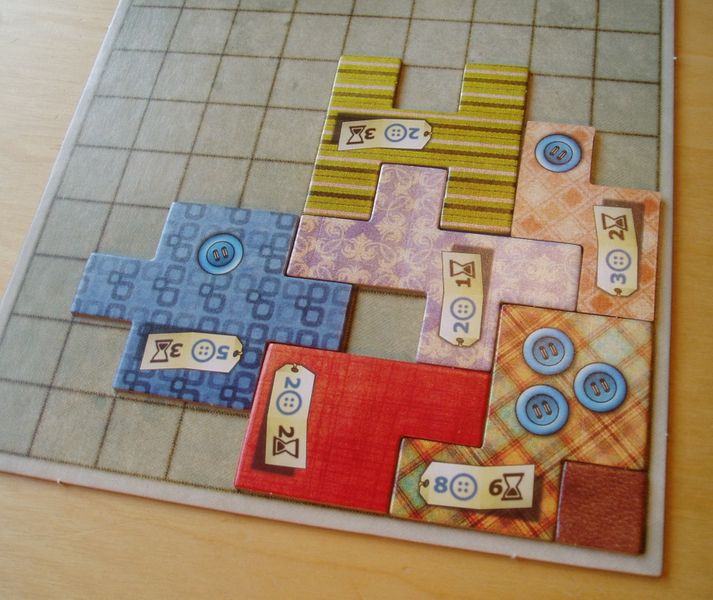 – Image used with permission of BGG contributor greetingsfrombergen
Both games finished pretty much simultaneously, leaving us with the decision: play one six player game, or two three player games.  There was only one real six player option and that was Keyflower.  Green offered the decision to Grey who, much to Blue's obvious delight, opted for the large group game.  We've played Keyflower an awful lot (especially considering it is one of the heavier games that we play), but only once with the full six players.  On that occasion, Blue had managed to squander a winning position when she misjudged Green's strength – something she was determined not to do again.
– Image by boardGOATS
Winter tiles were handed out and Green announced that he was just going to play what came up rather than play to a strategy.  Everyone else said that that was what they always did because there was always someone else who broke any strategy they had.  And that is pretty much exactly what happened  to most players this time too.  Grey went for the Green Keyples in a big way and Black went for tiles.  Purple tried to control the game with the start meeple while Burgundy ended up with a glut of yellow Keyples so decided to try to do something useful with them by turning them into more Keyples.  Green meanwhile was struggling to do anything and Blue, who was the only person with any supply of iron, managed to pick up the Blacksmith to go with it and quietly began producing iron and moving it onto the Blacksmith tile.
– Image by boardGOATS
As we moved into winter, everyone was so mesmerised by Grey who managed to completely exhaust the supply of green Keyples and Burgundy who was amassing a huge number of points, that nobody spotted Blue and her Blacksmith or Black and his tile collecting.  Eventually, Burgundy stopped pulling Keyples out of the bag and we moved into scoring, and it turned out to be a surprisingly close game.  Blue's iron meant she finished six points clear of Burgundy who took second place with Black and Grey close behind.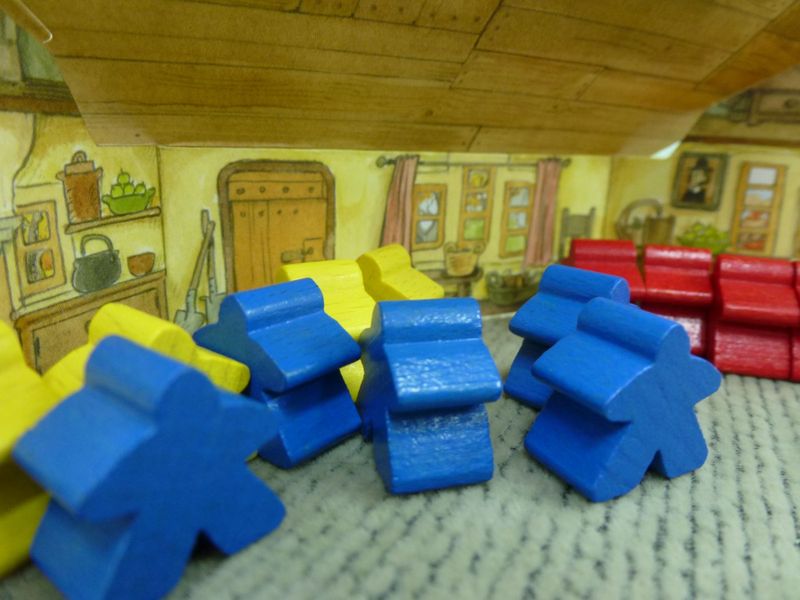 – Image used with permission of BGG contributor ilogico
Learning Outcome:  If you usually win, don't be surprised if you lose when you change the way you play.