Red and Blue were late thanks to a ridiculous queue at Frilford Crossroads, so food had only just been ordered when Green and Pine turned up.  We hadn't seen Grey and Cerise for a while, so when they arrived the evening descended into gossip.  Pine manfully resisted the chips, but when he eventually succumbed, he ended up with more than he bargained for as they'd all stuck together…  Amid chips and chat, eventually, someone suggested a game and everyone else agreed, so we started with the "Feature Game", Pandemic: Contagion.  The original game, Pandemic, is a very well known cooperative game where everyone plays together to defeat the tide of disease that is overcoming the world.  Pandemic: Contagion is a lighter game and almost the complete opposite:  players are the diseases and compete against each other to be the most effective and take over the world.
– Image by boardGOATS
The game itself is fairly straightforward.  Cards are drawn to represent cities – these are coloured and are under attack from disease.  On their turn players can do any two of three possible actions: place cubes or "infect" a city, draw cards or mutate their disease.  Placing cubes cost cards and the cards must match the colour of the city they are infecting.  The number of cubes they can place or cards they can draw depend on the characteristics of their disease, and both can be increased by mutation.  Like infection, mutation must be paid for with cards, though the number of cards used depends on the level, thus going from an infection level three to level four is much more expensive than going from level one to two.
– Image by boardGOATS
A city becomes overrun with disease when the total number of cubes placed on the card equals or exceeds the population.  At this point, the city is scored and the players with the most cubes get points (in the event of a tie, the disease to infect it first wins).  The person who placed the last disease cube additionally gets a bonus action that depends on the city.  At the start of each round an event card is drawn which either alters the rules of the game for the duration of that round, or otherwise disrupts everyone's plans, by for example, causing them to lose cards or reduce their infection rate etc. etc..  Some of these cards also have a symbol on them either a city indicating that a new city should be added, or a skull and crossed bones after every second of which points are awarded to the player with the most disease cubes in each city.  The game ends when either, there are only two cities left, or the game has proceeded through all twelve event cards.
– Image by boardGOATS
The game went very slowly with everyone falling for "group think" and going for the cities with the largest populations which therefore score the most points when completed.  Unfortunately, this left the game somewhat mired in treacle as everyone did pretty much the same thing for the first three rounds collecting cards and infecting cities.  Blue picked up a few points at the first interim scoring, but otherwise it was pretty dull and we were all wondering what we were doing wrong.  Then it dawned on us that our disease cubes weren't doing very much:  for all the large cities, one player had a significant majority, so there was no incentive to compete for it; worse, the winner was reluctant to commit more resources to the cause, but that meant their cubes were just sitting there, waiting.
– Image by boardGOATS
Burgundy tried to get things going by increasing the number of cards he could draw, but that back fired when an event card forced him to dispose of half his cards (much to his horror, rounded up!).  It was then that everyone began to look for other things to do and attention turned to finishing off some of the smaller, weaker cities.  We'd sort of forgotten about the bonuses that come when cities are scored and it turns out that some of them are very powerful indeed.  This was amply demonstrated when Blue finished Milan that gave her a card for every city she had infected, which turned out to be quite a few.
– Image by boardGOATS
With a little grease to oil the wheels, she was now able to use her newly liberated disease cubes to infect other cities in an effort to finish them.  Everyone else joined in and finally the game began to look a little better, however, before we'd had time to really start to appreciate it, the game was over and it was time to score the remaining cities.  Blue took the win with sixty-one points with Cerise some fifteen points behind behind just fending off Burgundy and taking second place, but everyone was frustrated at what had looked like a promising game, but had fallen so spectacularly flat.
– Image by boardGOATS
On reflection, as Blue commented (much to Green's amusement as he listened in from the next table), "If we'd played it differently it would have been a very different game."  Although that sounds like a stupidly obvious thing to say, the problem was that everyone tried to play the same way and everyone fell into the same trap which dragged the game down badly.  If we'd realised the value of the bonuses and gone for some of the smaller cities first, the game wouldn't have dragged so much and would have been much more enjoyable and interesting.  Unfortunately, as Pine succinctly put it, he'd enjoyed everything he'd played with us and would be happy to play any of them again, "except that."  Which means it's unlikely to get a second chance very soon.
– Image by boardGOATS
Meanwhile, Green and Grey had decided they fancied playing something a bit more "piratey" together.  With Pandemic: Contagion supposedly taking "just half an hour",  they decided to give Port Royal a go.  Although Green had played it a couple of times, Grey was completely new to the game.  We've played it quite a bit recently, but in summary, the game combines "push your luck" with strategy, the idea being that players turn over cards until there is something they want, or they go bust.  Once they've taken a card, the other players have their pick of what's left (for the cost of one coin).  This means that in a two player game, the strategy changes quite a bit as players have to watch what they leave as well as be careful about taking a card and paying their opponent for the privilege.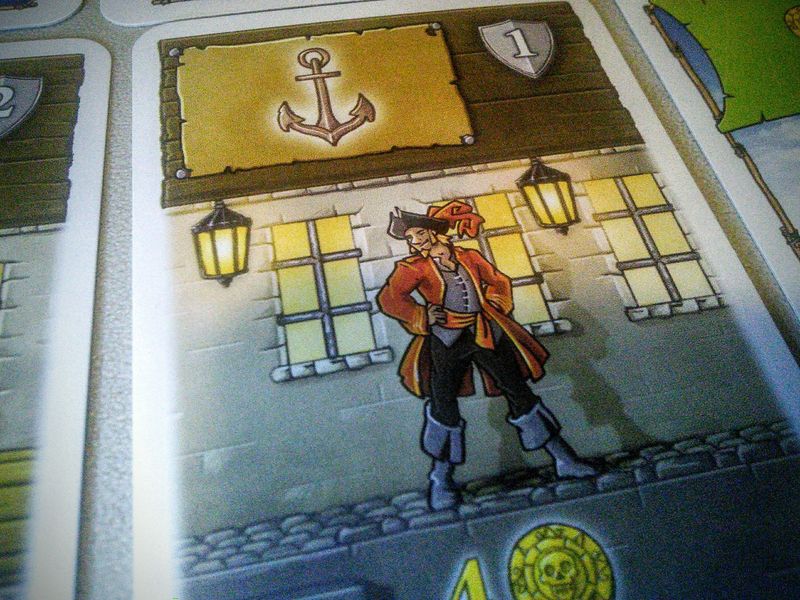 – Image used with permission of BGG contributor joeincolorado
Green decided to aim to complete "expeditions", while Grey took a more tactical approach, just doing what seemed best at the time; neither player decided to protect themselves by picking up pirate cards.  Both players really enjoyed it and the fickle hand of fate was much in evidence:  there was much hilarity when three of the four tax cards came out in the same round.  Fate wasn't done yet either and when Green pushed for four ship cards (in order to be able to buy two cards in the round), almost two dozen cards had been drawn before he finally went bust by revealing a second of the same colour.  With no pirates in his arsenal to repel the attack, the whole lot was wiped out, much to Grey's annoyance as he had his eye on a particular card.  In the end Green won convincingly with his expedition strategy, but he had the advantage of having played it twice before.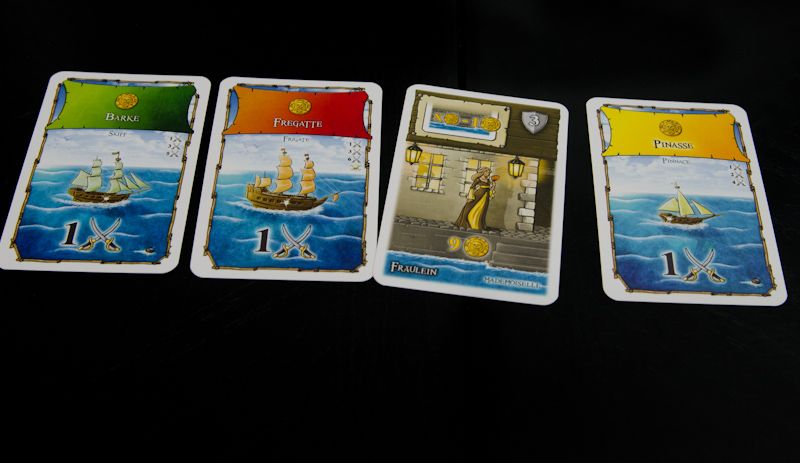 – Image used with permission of BGG contributor punkin312
Since the larger group were still playing Pandemic: Contagion and only about half way through, Grey and Green decided to give Port Royal another go. This time both players decided to mitigate some of the luck by picking up pirate cards and it was generally a very close game.  Pirate ships were repelled left, right and centre and more than once two cards were purchased in one round.  In the end Grey brought the game to an end by exchanging cards for an expedition causing him to exceed the magic twelve points, finishing on fourteen.  Since Grey had started, Green got one more round.  With eleven points, Green needed four to win.  As only two card purchases would do, he went for a four pirate line. With a fighting total of six he could easily repel anything except the skull ships.  With the odds in his favour managed to get to the necessary four ships so that he could buy two cards, but his meagre finances stopped him getting the four points and had to settle for three, leaving him with fourteen points, level with Grey.  Unfortunately for Grey, he had no money left to buy anything, and it all went down to the tie-breaker.  The rules state this is by money, and since Green had just one coin left, he took his second victory of the night.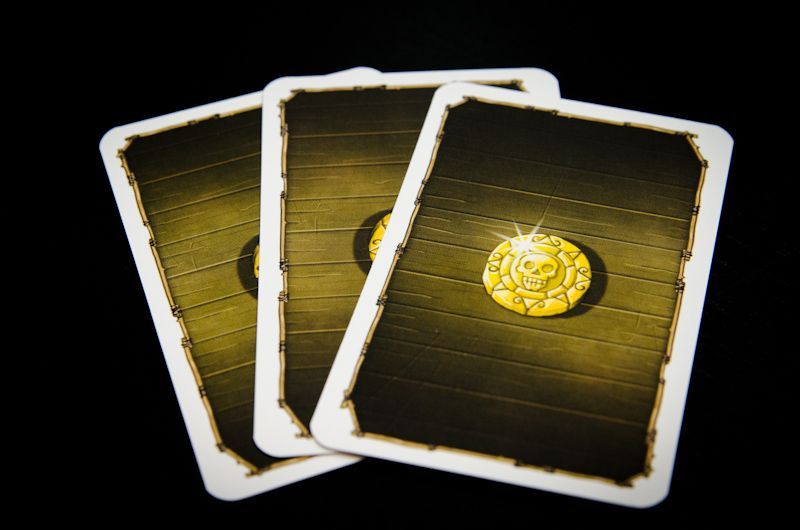 – Image used with permission of BGG contributor punkin312
With Pandemic: Contagion STILL going (yes, it really DID drag on, though it was near the end by this time…) Green and Grey decided to play a very quick game of Pick Picknic. This is another game that was new to Grey, but he proved to be a natural at.  A sort of early version of one of our current favourites, Om Nom nom, the game combines simultaneous card selection with bluffing and a good slice of luck.  The idea is that there are six farm  yards of different colours, if someone plays the only chicken card of a given colour, they get all the grain at that coloured farm.  If multiple players go for the same coloured yard, then players can either agree to share the corn in any way that is mutually acceptable or roll the die for all of it.  Foxes don't eat corn, however, they only eat chickens, so if someone plays a fox card, they will eat any chicken cards of that colour, and before long Grey was happily gobbling his way through Green's chickens adding to his pile of captured corn.  In the end Green managed to get more corn, but the birds captured by Grey's hungry foxes more than made up for the missing corn and Grey ran out a clear winner. Both players agreed that they preferred Pick Picknic to Om Nom Nom.  Although it doesn't have the great dice of the newer game, they game doesn't have the feeling that it's all over after one poor move.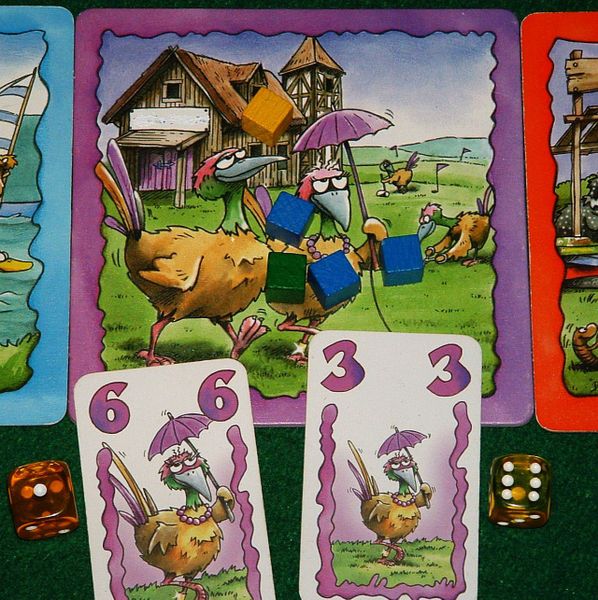 – Image used with permission of BGG reviewer EndersGame
With Pandemic: Contagion finally finished, Cerise and Grey headed off, leaving Burgundy, Green, Pine and Blue with a little over an hour to play.  After a little bit of thought, we decided to continue Pine's "boardgame education" and introduce him to The Settlers of Catan (or simply "Catan" as it is now known).  Playing with Green's fourth Mayfair edition, there were the inevitable comments on the new colour scheme.  Blue outlined the rules to Pine while Burgundy and Green set up the board.  At its basic level, the game is one of resource management and civilisation building.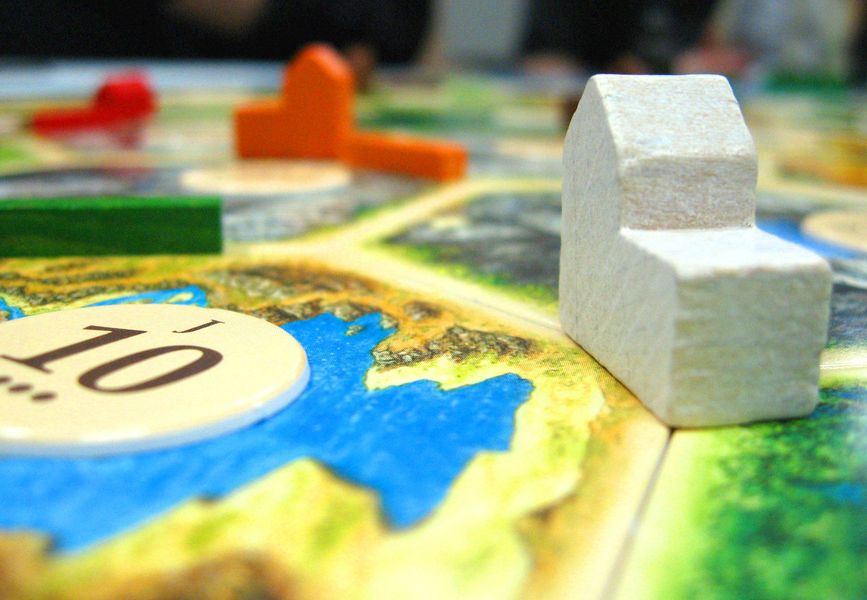 – Image used with permission of BGG contributor kilroy_locke
Players start with two roads and two settlements.  These are placed along the edges and on the corners of the hexagons of the modular board.  Each hexagon has a number on it, and on each player's turn, first they roll both dice and resources are awarded to players with settlements on the corners of the hexagon that  corresponds to the total rolled.  Once the resources have been handed out, the active player can trade resources with other players and use them to build more roads and settlements, develop their settlements into cities or buy development cards.  Victory points are awarded for settlements, cities and the longest continuous road as well as via development cards (both as straight victory points and for the player with the most soldier cards, i.e. the Largest Army).  The random set up had the desert off centre and almost all the specific ports a very long way from good supplies of the necessary resources.  After much debate, we decided to let Pine go first and try to make sure he ended up with decent starting positions.  Green, who went third, decided to try something different and explore the coast hoping there would be less competition there, leaving Blue two reasonable positions in the centre of the board.
– Image by boardGOATS
As usual with "Settlers", resources were poorly distributed amongst players and after a brief flurry of wood, it disappeared for the rest of the game.  On the other hand, Green was awash with ore, and Blue, who had quickly upgraded one of her settlements to a city after an early glut of wheat, suddenly found she had more brick than she could possibly work out what to do with.  Pine, once more attracted animals and had an enthusiastically breeding flock of sheep while Burgundy persistently rolled sixes – just about the only number he didn't have a settlement on. We had a big debate as to whether a four-for-one trade with the bank had to be four identical cards.  After checking the rules, we found they should be identical, though neither Burgundy nor Blue remembered playing that way in the past.  Since we were a little tight on time, we decided to house-rule it to "any four resources" this time, though on reflection, it probably wasn't really necessary.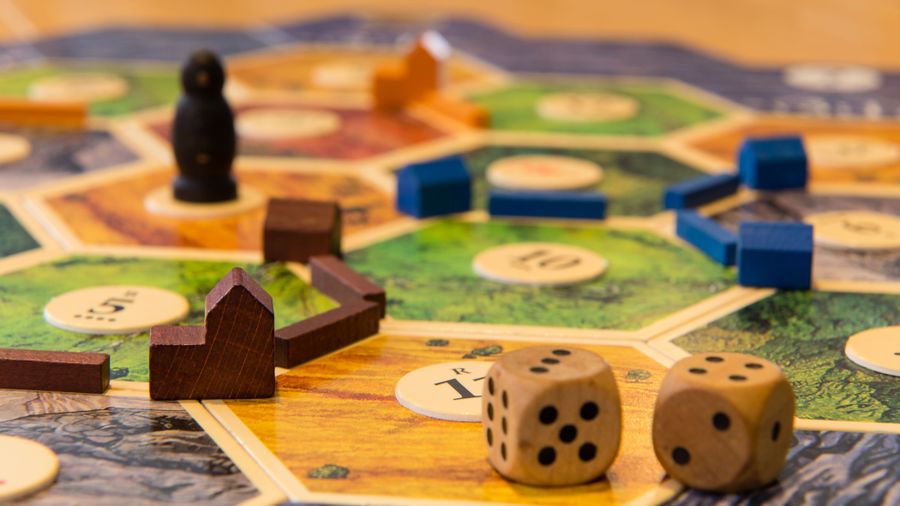 – Image used with permission of BGG contributor
thephantomhennes
Burgundy picked up the Longest Road tile and joined Pine in the sheep farming business.  Having ensured Pine's starting placements were reasonable, he was making an excellent job of building on it and had found a nice little bit of space to work in, building a couple of new settlements and threatening to take the Longest Road card.  Meanwhile, Green discovered that he was a bit stuffed, with few good options despite having tried to place his starting settlements to avoid being cut off.  With good access only to ore and occasional wheat, he started buying development cards and used the robber effectively to cut off the wood supply.  Blue, with a sudden influx of cards, managed to get her nose in front with a couple of settlements which she was able to upgrade quickly when she got another sudden influx of grain and brick.
– Image by boardGOATS
Just passing the hour mark, Blue hit eight points and was looking to extend her road and take the Longest Road from Burgundy, or build a couple more settlements.  In the event, the dice rolled in her favour and she picked up a stack of cards with no sign of the robber, which meant she was able to do both giving her eleven points.  This brought the game to a swift and sudden end and the score belied how close the game actually was.  Since we'd finished a little quicker than expected we decided to play something quick.  The suggestion of Red7 scared off Burgundy, but after some consideration, Blue and Green decided to continue Pine's boardgame education with a quick game of Love Letter.
– Image by boardGOATS
Love Letter is a game we played a lot a year or so ago, but not so much recently.  The first of the so-called "micro games" it is played with just sixteen cards.  Each player starts with one card and on their turn, draws a second card and then plays one of them.  Each card has a value (one to eight) and an action (discard a card, swap cards with another player, compare cards, etc. etc.).  The object of the game is to have the highest card when the deck has been exhausted or, be the last person remaining, which ever is soonest.  The rules say the winner is the first player to take a set number of hands, however, we tend to play far a few rounds and then decide how far to take it.  In this case, Green, Blue and Pine had one point each, so we went for one final round, which Pine took with much aplomb.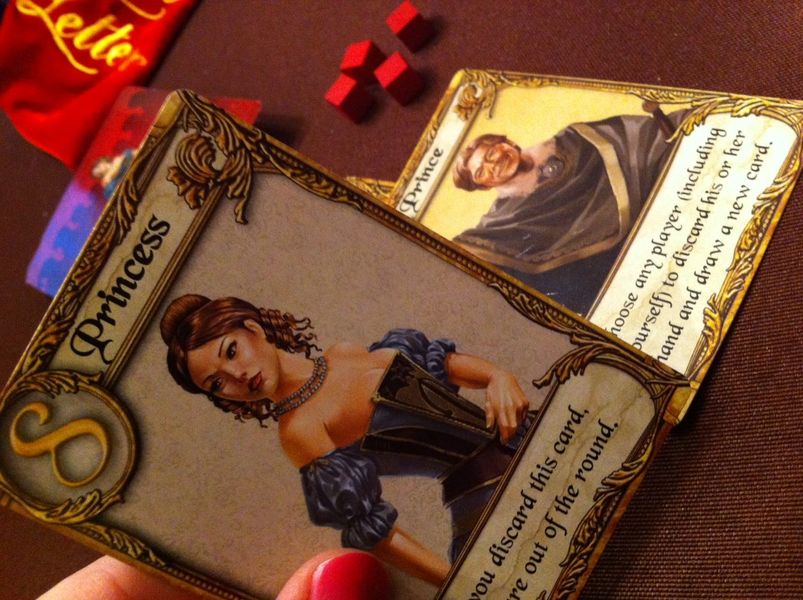 – Image used with permission of BGG contributor thatmadgirl
Learning Outcome:  Sometimes it is the way that you play that makes a game enjoyable.