It seems to be the year for anniversaries: arguably 2015 celebrates significant anniversaries for two of the greatest games in boardgaming history.  We are not talking about Monopoly here (though there has been a lot written about the 80th anniversary of the brand).  The games in question were both released in Germany in 1995:  The Settlers of Catan and El Grande.   The first of these, Klaus Teuber's The Settlers of Catan, is widely known amongst gamers and many non-gamers, and is often cited as being responsible for the "gaming revolution".  The base game of "Settlers" (or "Die Siedler") and its expansions have appeared in thirty languages and sold more than twenty-two million copies worldwide.  At Spielwarenmesse, The International Toy Fair at, Nürnberg, Kosmos and Mayfair unveiled a new look for the entire line of Catan games.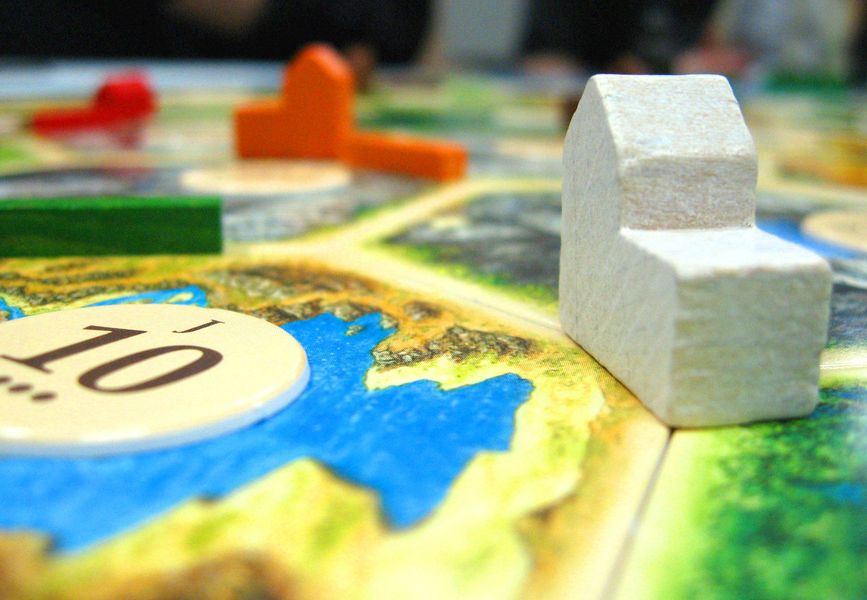 – Image used with permission of BGG contributor kilroy_locke
The press release explains, "The new look will strengthen the Catan brand both domestically and internationally.  The new cover art utilized by all partners will provide a visual continuity throughout the world.  This new look is more vibrant and alluring with overall improved presentation and splendidly clean branding. The new packaging cries out… CATAN!"  It goes on to say, "As part of the growing expansion of the Catan® family of products, the base game will simply be called CATAN® in all countries and languages, along with a unification of the game's graphic design in all territories and languages."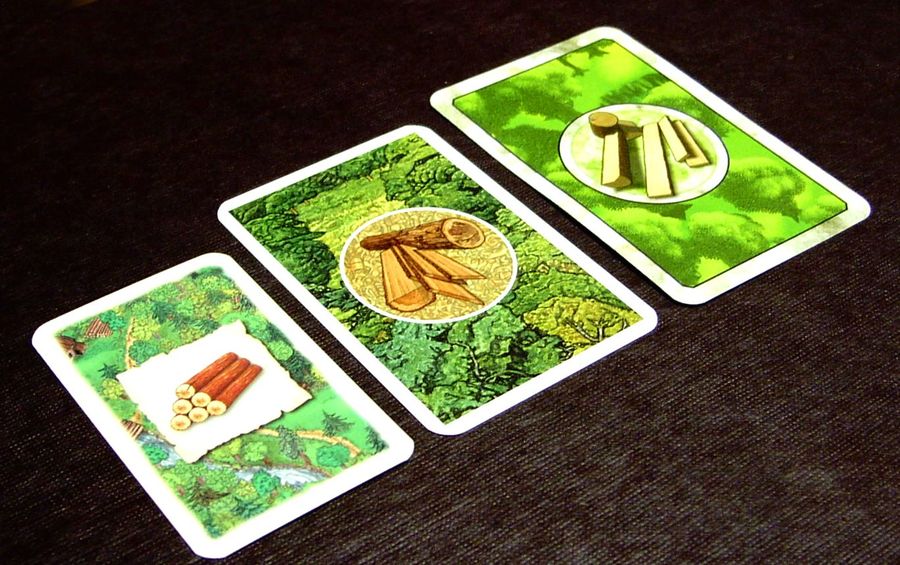 – Image by BGG contributor herman_the_german
There are a couple of curious things about this, firstly, when Kosmos released the game twenty years ago, it was just going to be called "The Settlers" (or rather "Die Siedler" since it was released in German first).  That was until Blue Byte published a computer game by the same name, so Kosmos decided they wanted something more unique and identifiable and made up "Catan".  Secondly, aside from the the editions released in English by Mayfair Games (who went its own way with original art and component design), the brand has already been "unified" in its look!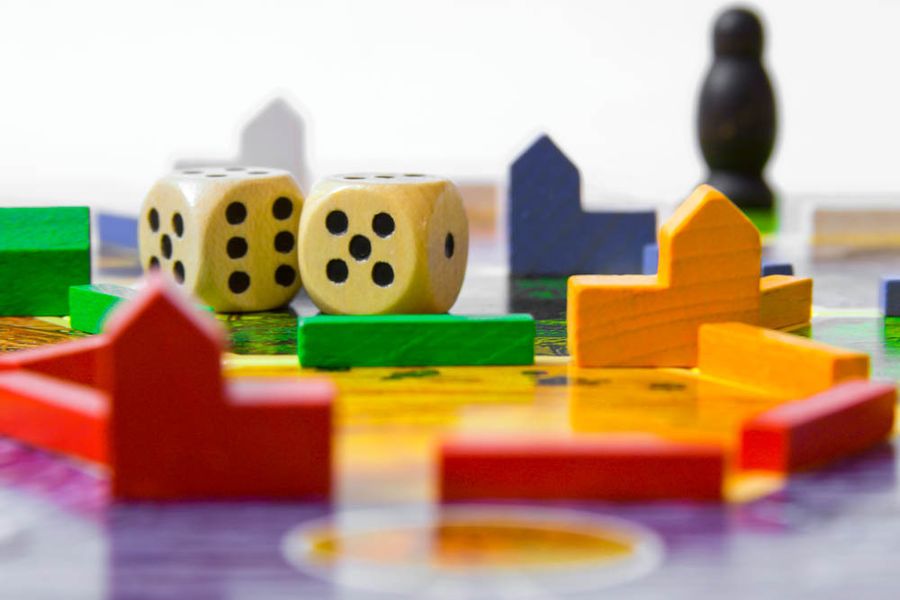 – Image by BGG contributor degamer
The second of the games mentioned above is El Grande, which was first published in Germany by Hans im Glück.   Like "Settlers" the year before (or "Catan" as we must now call it), in 1996, Wolfgang Kramer and Richard Ulrich's El Grande was awarded both the Spiel des Jahres and the Deutscher Spiele Preis.  Although it is less widely known than its predecessor, El Grande is hugely respected by gamers often cited as "still the best area control game".  It is so highly thought of that it continues to be higher on the BoardGameGeek ranking than The Settlers of Catan and many other well known and hugely popular games including Carcassonne, Ticket to Ride, Pandemic and Dominion.  These games are all continuously reprinted, but sadly, the nature of boardgames means that many good titles go out of print.  Unfortunately, El Grande is one such game; it had fallen out of favour with its publishers and has not been reprinted in English or German since the Decennial Edition, ten years ago.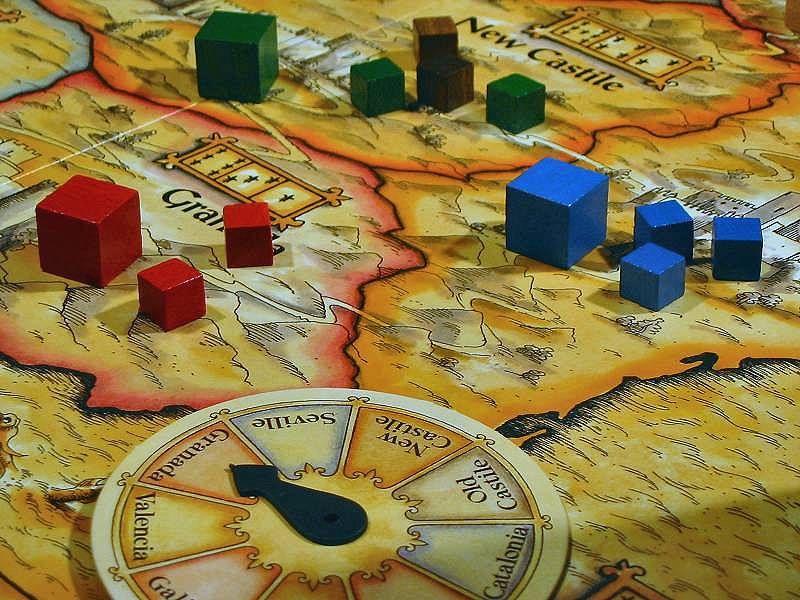 – Image used with permission of BGG contributor garyjames
There are a number of reasons why games like this go out of print.  Firstly, much as we hate to admit it, boardgaming is a niche market:  Hasbro recently proudly announced that Monopoly has sold 275 million copies over the eighty years, but compare this with the estimated 450 million Harry Potter books sold in a fraction of the time.  In turn, these make Catan's 22 million copies look positively paltry by comparison and for games that fail to make the jump to the wider market, the first print run is often only a few thousand.  Whether or not one of these games gets a second print run depends on demand and sale-speed of the first impression, and ultimately, whether or not the publisher thinks it can secure a good return.  Factors that affect this, obviously include the mark-up and the Recommended Retail Price (or RRP, sometimes known as Manufacturer's Recommended Sale Price or MRSP).  Games that have language dependent components usually suffer here.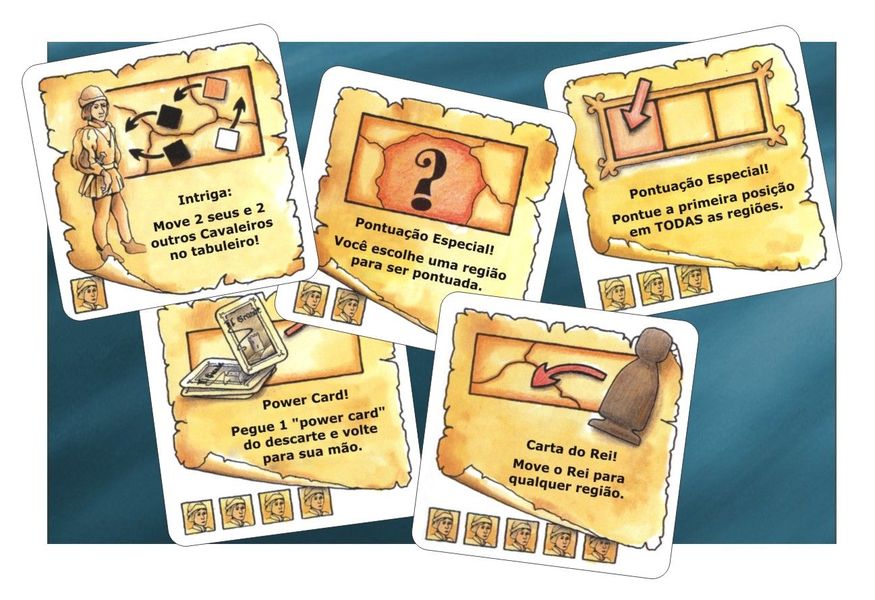 – Image used with permission of BGG contributor DrGrayrock
There are two main markets:  Germany and USA.  We in the UK benefit from the fact that the USA nominally speak the same language as us, but otherwise, the UK boardgame market is relatively small-fry.  Anyhow, for this reason, games are commonly released primarily in English and German, however, the margins are clearly much larger if the same game can be released to both markets with minimal reworking, and companies like Z-Man Games have made a name for themselves translating the best European games for the English market.  Other companies (e.g. Zoch, Queen and R&D Games) release games as "international" editions which include language independent components and rule booklets in multiple languages.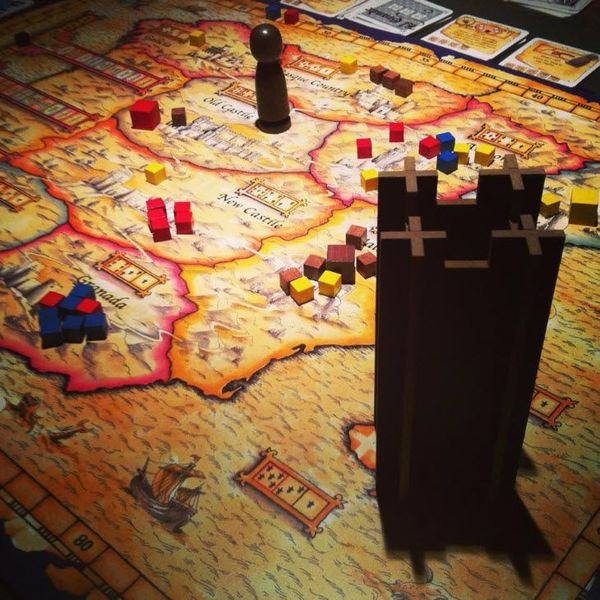 – Image by BGG contributor Domostie
Obviously, it is much more difficult to release a multi-lingual edition if key components include significant text.  It is also much easier to translate a game if the only change needed is the box and the rules; El Grande clearly fell foul of this.  However, so did The Settlers of Catan, and that didn't do so badly.  So there are obviously other factors, including game play, accessibility, approachability, appearance and marketing.  There is no question that the trading dynamic and controlled randomness in Catan are key parts of its success as they keep everyone involved between turns, but timeliness is probably the real key:  it was perhaps just the right time for a family game that felt a bit different.  So, by the time El Grande came along, well, everyone was playing Settlers, and as a result, El Grande didn't make quite the same impact.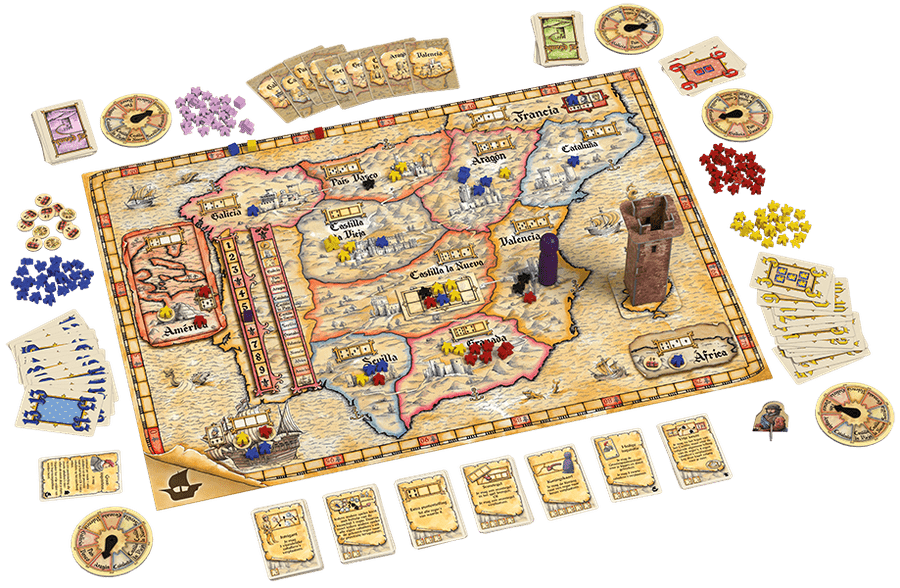 – Image by BGG contributor Bernaar
That doesn't mean it is less of a game though, so it is great news that Hans im Glück has recently announced the long-awaited return of El Grande, this time in the form of a Big Box with upgraded components.  The Big Box is a collection that, like the Decennial Edition ten years ago, will contain all the expansions that have been officially released over the years.  Z-Man Games has also confirmed that it will release a parallel Big Box in English; Dutch publisher 999 Games will be doing the same in Dutch and have also mentioned a "Jubileumuitbreiding", or "anniversary extension".  Clearly anniversaries are to be celebrated, especially if it means older, well-loved games become available once more.