For the first time since he and Cerise's new arrival, Grey turned up.  Everyone was really pleased to see him, and as he fancied a "nasty" game, he joined the group playing the "Feature Game" which was Vanuatu.  On the face of it, this is a fairly straightforward role-selection and worker placement game, but with more than the usual amount of interaction.  The aim of the game is to obtain prestige in the archipelago of Vanuatu, by moving tourists and goods, fishing, and drawing sand pictures.  The game structure is simple enough:  players start by choosing a character, then they choose actions they would like to carry out, before the actions are resolved.  There are one or two nasty elements that became more apparent as the game progressed.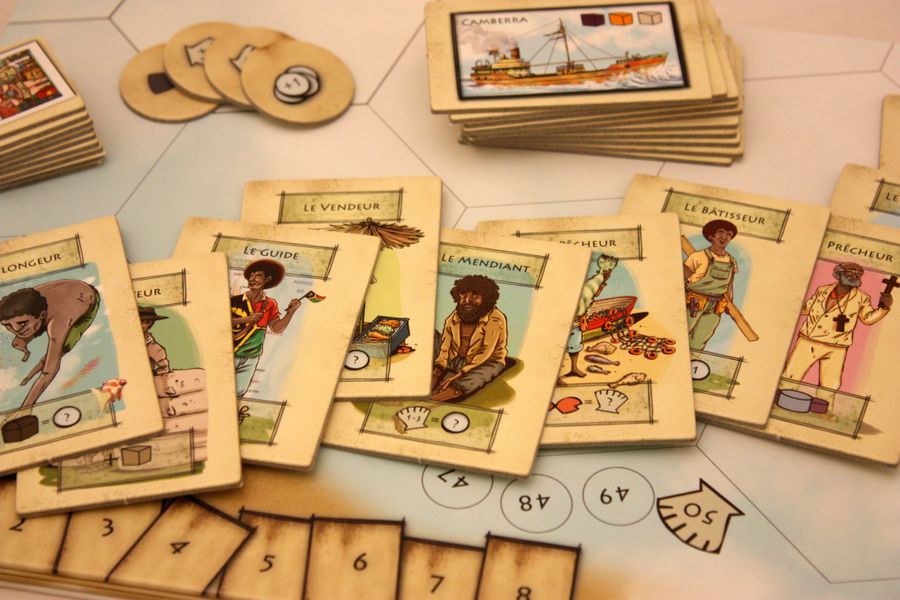 – Image used with permission of BGG contributor henk.rolleman
The way the actions are chosen and then resolved is particularly unusual.  Starting with the Start Player, players take it in turns to place one or more of their action selection tokens.  Everyone starts with five tokens and can place tokens on any single action space.  Players cannot pass, but if they don't place all their tokens on their first pass they get another turn to place one or more tokens, and play continues in this fashion until everyone has placed all five tokens.  The actions are then resolved with players choosing which actions to take. In order to carry out an action, however, the player must have the most tokens on the action space (with ties resolved using turn order as a tie-breaker).  In the event that the player doesn't have an eligible action to take, they must remove their tokens from a space without taking the action.  This makes it particularly nasty as, where a player has multiple options available to them, they can use this to delay other players from taking actions and sometimes cause them to miss actions altogether.  In extreme cases players can end up doing nothing for a whole turn.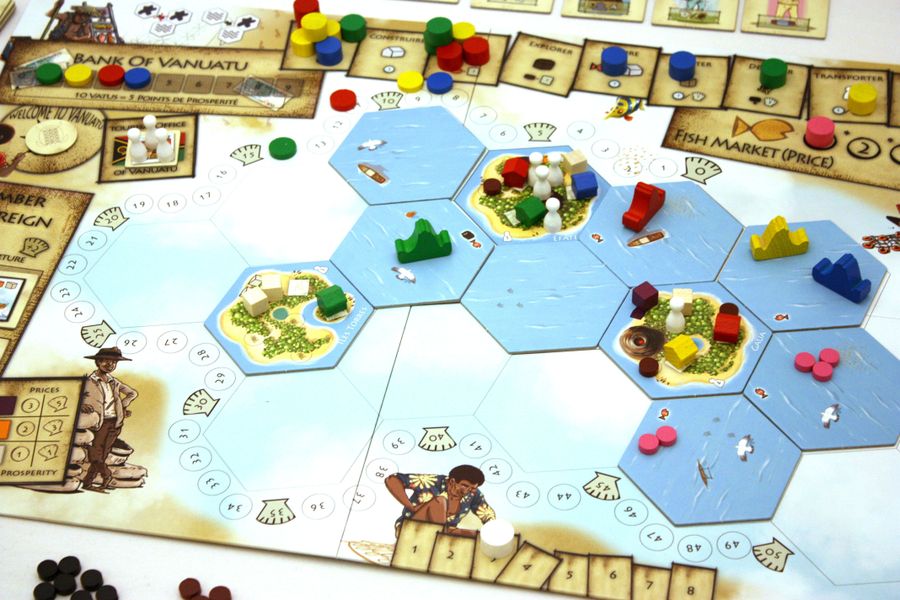 – Image used with permission of BGG contributor henk.rolleman
In the first round, Blue showed how to score points, garnering a massive fifteen points by using the Collector to enable her to pick up extra beef which she was then able to ship immediately completing a vessel that Burgundy had started.  Unfortunately, this left her with no money which meant her game then stalled such that four rounds later she had failed to even double the score she'd had at the end of the first round.  Burgundy had watched some video reviews and had a good idea of how the game played, as such, he was the only one who really appreciated what an unusually large haul Blue had managed to take in that first round.  Despite the massive deficit, he began to steadily ship visitors and buy huts, something everything else made the mistake of letting him get on with.  Black on the other hand, was discovering first hand just how nasty the game can be and really struggled to string actions together and turn them into points.  Meanwhile, Blue and Grey engaged in an extended scrap over some fish.  Blue came off worst since Grey had a spell as the start player, though he didn't exactly come off unscathed either.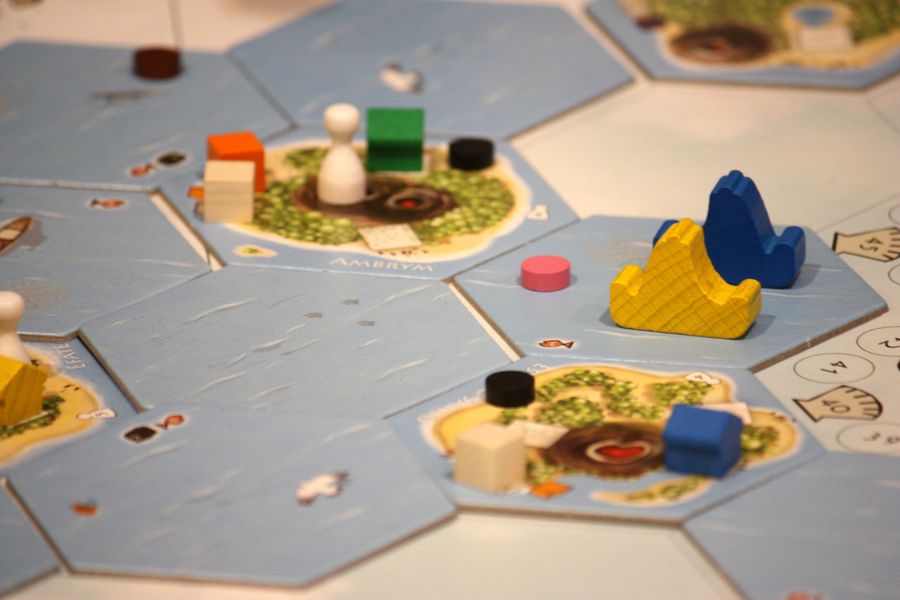 – Image used with permission of BGG contributor henk.rolleman
In the closing rounds Black finally managed to build himself a hut; Blue finally managed to get her fish, sell them and then took the start player.  This enabled her to disrupt Burgundy's plans by first nicking the character he wanted (Diver) and then pinching the high value treasure from under his nose.  It was all way too little and much too late.  Although Black had found himself pushed out in the first half of the game and Blue struggled to make good on her early promise (crippled by the exhausting fish wars and a lack of money), the game was quite tight between first and second.  In the event, the deciding factor in the game was an almost missed moment when Grey bought resources and shipped allowing Burgundy to follow suit and also pick up the bonus for completing the vessel.  With a small difference between first and second (by our scoring) that could easily have given Burgundy the game.  In the final scoring, Grey liquidated his huge pile of treasure, though it didn't yield quite as much as expected leaving Burgundy the winner, six points ahead of Grey.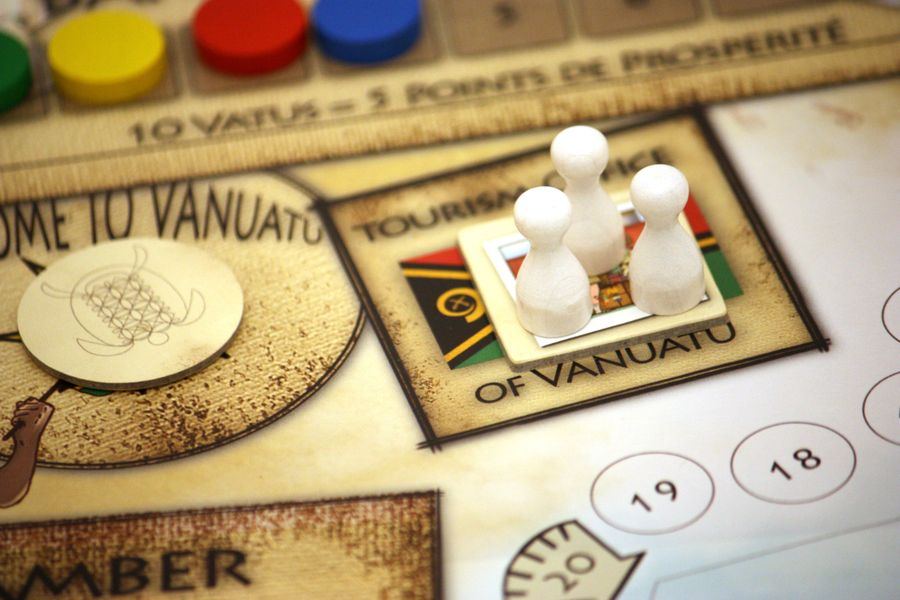 – Image used with permission of BGG contributor henk.rolleman
Delivering tourists to islands is fundamentally very important in this game, which is something we didn't really appreciate until we got to the final rounds.  The rules state that each player scores "two prosperity points for each of their stalls, for every tourist pawn present on their island".  The example in the text clarifies that a player with two stalls on an island where there are four tourist pawns scores eight points per stall, or sixteen points in total.  We hadn't appreciated the extra multiplier, so we evaluated the scores twice using the rules and our original understanding.  In the event, it had no effect on the placings, just increasing Burgundy's majority. It did give us a better understanding of how tough the game is though.  The harshness also leads to a lot of "analysis paralysis", since each move is so very critical.  That said, we all enjoyed the game and, by the end could really see how clever it is.  An unusually nasty game, this is definitely one to try again soon and is well deserving of its new release.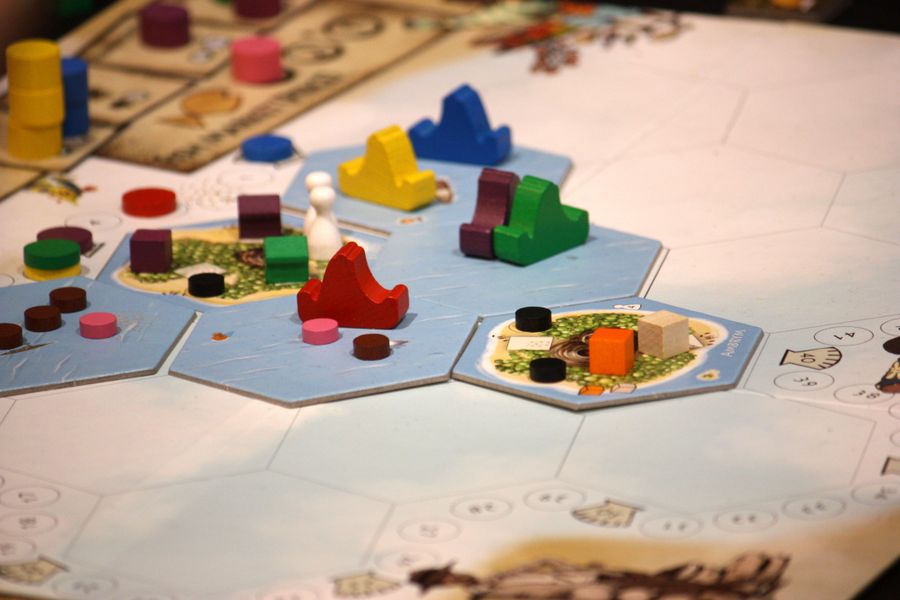 – Image used with permission of BGG contributor henk.rolleman
Meanwhile, the other table were playing Ivor the Engine.  This is a great little game that Purple had been itching to play for some time and, since Pine likes sheep, Green was happy to join in. The idea is that players are travelling round Wales collecting sheep and the person with the most sheep at the end of the game is the winner.  A single sheep can be collected whenever you start your turn on a town or village with sheep in it, however, more sheep can be collected if you are in a town or village with NO sheep and perform a task to "help Ivor".  Helping Ivor comes at a price, however, as in order to do this you have to play one of the dual-purpose cards from your hand, which means you cannot use it to help you in other ways.  At the end of your turn you add one card to your hand from the face up displayed cards, however, when the chosen card is replaced from the draw-pile, the game has a sting in the tail:  mixed in with the errand cards are event cards, and these can be nice, or nasty…
– Image by boardGOATS
The game features the iconic art-work from the Ivor cartoons as drawn by Peter Firmin and little wooden sheep.  We have variously called the "square five sheep" pieces "flat pack" sheep or "squashed" sheep, however, Pine's commented that if you get five sheep, you get enough to make a rug!  With only three playing we began the game quite spread out. Green and Purple stayed near their starting location to collect the last sheep and thus pick up the lost sheep bonus (an extra two sheep), but Pine got caught out by a double space. He had thought it was only a single space with one sheep and was expecting a bonus which disrupted his plans.  Aside from that, it was a fairly quick start and we had all gathered in a number of sheep. Pine was the first to use a card action on somebody else and with both Green and Purple having a similar number of sheep, he let chance decide who was to lose two of their flock.  Unfortunate for Purple fate decided it was she who must lose.  In the very next round, Green was able to claim his second Grumbly Town card for four more sheep, so perhaps Pine/chance chose the wrong player to kibosh.
– Image by boardGOATS
To compound this mistake, the first event card to turn up resulted one sheep being lost from every region. This left Pine and Purple in cleared regions (good for claiming the cards, but not good for claiming the two-sheep bonus). For Green, however, one sheep remained. This helped him to get the 2-sheep-bonus and the location card.  From this point on it was another "Get Green" game. Unfortunately for Purple and Pine, they had little opportunity to do this and the events (which came all together) were fairly benign.  Green had one more "nasty" action card to use, which he played on his nearest competitor (well it would be unfair to play it on the losing player), so Purple lost another two sheep.  In the end Green claimed his twenty-fifth sheep with a five sheep town card. His event card bonuses brought his total up to thirty-three with Purple close behind with several end of game bonuses.  Overall it was a bit of a baaa-rmy game…
– Image by boardGOATS
With the fishing wars still underway in the South Pacific, Purple, Green and Pine moved onto Alhambra, another of of Purple's favourites and also new to Pine. This is a tile laying game where players are building their city.  Basically, on their turn, the active player buy coloured tiles with different coloured money cards and add them to their Alhambra. If they can pay with exactly the correct amount, they can buy another tile, but if they over-pay, they get no change and their turn ends. While this all sounds simple enough, there is the little problem that most of the tiles have walls along one, two or three edges, and when placed, these must match up without partitioning the Alhambra.  These walls are critical as poor play in the early stages can mean it is possible to get backed into a corner later in the game.  We've played Alhambra a few times as well as its predecessor, Stimmt So!, so we decided to play with a couple of expansion modules: The City Gates, which can be placed where there are two adjacent parallel walls enabling the player to build behind the wall, and The Magical Buildings, which provide one tile extra of each type which can be placed in any orientation.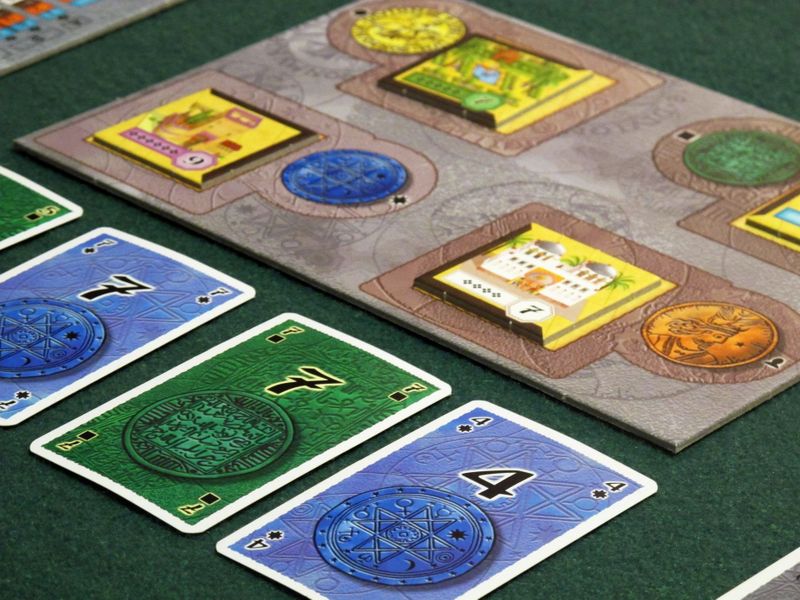 – Image used with permission of BGG contributor EndersGame
Purple went for the Purple Towers. She was able to come so dominant in towers that Green was not able to attain any, and Pine only got 3.  It seemed that whenever a tower tile came out the bag, it was just before Purple's turn, and she was not averse to over-paying for them, though often she did not need to. It happened so regularly it was funny and she before long she had to buy the tile just to maintain the magic, even if it was detrimental to her actual game plan!  Green went for the Green Garden tiles. He also quickly became dominant in them and was going to stop when he had the unbeatable majority, but when the Garden tile without a wall came out it was such a good fit for his Alhambra that he just had to go for it. Green also took the first two White Palaces, but was unable to get his hands on the others. Pine and Purple snapped them up to equal his two and Purple surpassed Green into the lead, which she then maintained, despite a last minute battle for the last couple of tiles.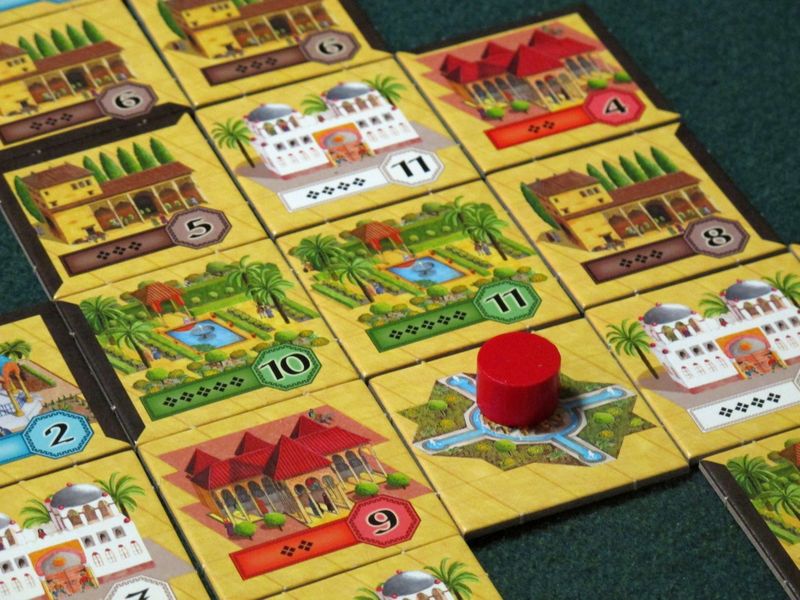 – Image used with permission of BGG contributor EndersGame
Red and Brown tiles were in very limited supply at the start of the game. Pine managed to collect a single one of each, and that was all he needed to maintain supremacy in these colours for quite some time. In the second half of the game everyone managed to get one red tile so the real battle for red did not happen till the final few turns. The final market board had three red tiles on it, so Green and Pine shared the category.  The brown tiles were also loaded towards the end of the game, and Green took the lead briefly before Pine took it back again.
Blue tiles were fought over by Pine and Green. Both had two by the first scoring round and had to share one point (meaning they scored nothing); this was a tight battle, but Pine just clinched ahead at the end. Purple managed to place her Alhambra with some very long walls. She had a 17 point wall by the second scoring, but then had to do several re-designs as she found herself blocked with not enough gates to help her out.  In the final scoring, Green romped home with nearly a hundred and fifty points, leaving Pine and Purple to fight it out for second place. For a while, it looked like Pine might take it, but Purple's Towers and long wall clinched it in the end, in what had been a much tighter game than the scores suggested.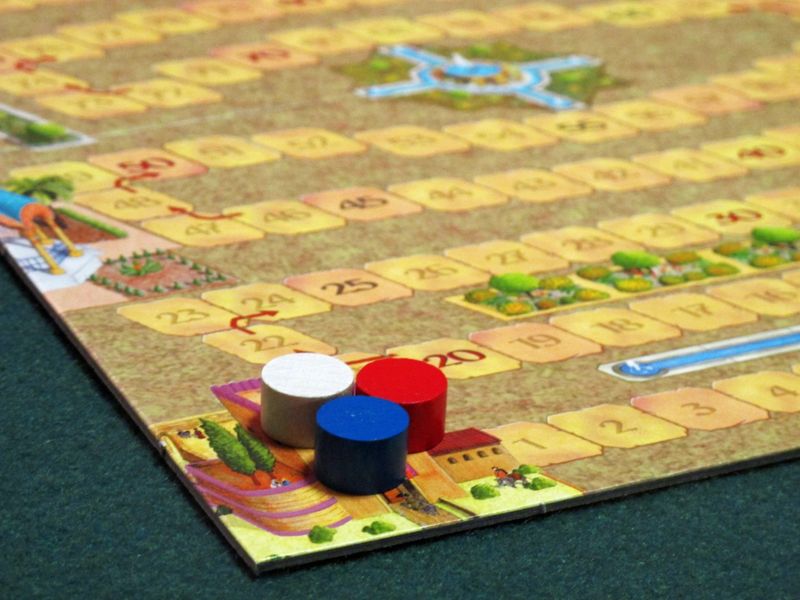 – Image used with permission of BGG contributor EndersGame
With the knife-fight in a phone-box that was Vanuatu finally over and not enough time to play anything else really, we degenerated into chit chat.  Blue commented that she really wanted to like Alhambra , but found that she preferred the game play of the simpler Stimmt So! and Black concurred though that was far from the majority opinion and the expansions certainly added a bit too.  Green had taken two of the gatehouses and used only one as he had been very carefully building his Alhambra not to box himself in. Pine and Purple took and used only one each though Purple could certainly have used an second as she had several re-designs.  She didn't want to "waste" anymore actions "just" taking a gate though.  Everyone used and loved the Magical buildings though, Pine got the most (three of them), while Purple used two and Green was only able to get his hands on one.  In this game though, we found concentrating on only the highest scoring items is not always a guaranteed route to victory, but should stop you coming last!  We finished with a quick discussion of our plans for the weekend, which included a visit to the NEC in Birmingham for several of us who were going to the UK Games Expo.  Should be a good weekend!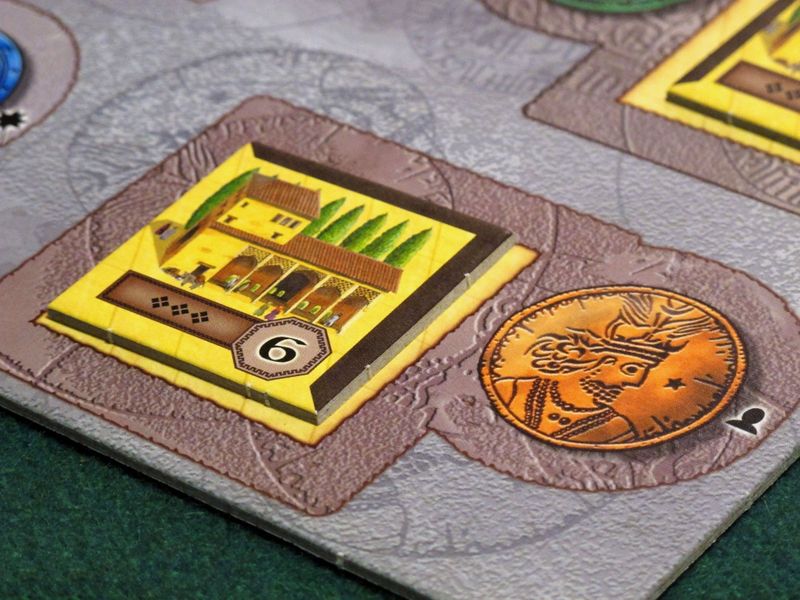 – Image used with permission of BGG contributor EndersGame
Learning Outcome:  Nice or nasty, tight games are the most fun!