The evening started off with players discussing pirate copies of games, inspired by a copy of The Game of Life (slightly reluctantly provided by Little Lime).  From there, Green popped in just long enough for everyone to sing "Happy Birthday" to him, and for him to tell people about his new car before putting up with lots of comments about how nice his new Alfa Romeo would look on the side of the road while he was waiting for the AA to turn up…
– Image by boardGOATS
Once Green had left to open the last of his birthday pressies and eat his Birthday tea, everyone else settled down to start the "Feature Game", the River Expansion for the "Roll and Write" game Railroad Ink.  This is a fairly simple game that we've played a couple of times and really enjoyed.  The idea is that four dice are rolled and players have to add all the features rolled to their map.  These features include straight and curved sections of rail and road as well as flyovers and road/rail interchanges.
– Image by boardGOATS
The game lasts seven rounds and players earn points for connecting together the entrances marked on the edge of the map, but also for their longest sections of road and rail, and for filling the nine spaces in the centre of the board.  The River is one of two expansions that come with the Deep Blue Edition of Railroad Ink, and adds rivers to the railway, road and intersection options.
– Image by boardGOATS
Unlike the white dice in the base game which have to be used, the two blue dice are optional.  They also do not have to be connected to the main network.  Pine asked why anyone would use the river because it just restricts what you can do with the rest of your network, but as Burgundy pointed out, it has the potential for giving extra points.  Most obviously this is because points are awarded for the longest section of river each player makes.
– Image by boardGOATS
Additionally though, some of the faces of the river dice include road and rail sections (crossing the river).  Using these can help the main network reach more of the entrances, something that is important because the game is one round shorter when played with the expansion.  However, any unconnected river sections, like any unconnected road or rail sections, i.e. any "hanging ends", cost points, one per unconnected end.  So, players who decide to ignore rivers do so at a cost.
– Image by boardGOATS
The game hadn't been going long before someone said, "I've just created a junction".  This was almost inevitably followed by the reply, "You never thought that would happen…" and the response, "What, with you and the girl from Clapham…?"  After a couple of verses and the odd chorus of the Squeeze hit, the conversation segued smoothly on to the fact that "Those Were the Days" was actually originally a folk song.  The game only resumed after Pine had shared a version called Davni Chasy by The Wedding Present.
– Image by boardGOATS
With only six rounds with the expansion, the game did not really take very long, and everyone seemed to enjoy the added challenge of including the river.  It was a tight game with just three points covering the three podium positions, Ivory just sneaked victory, two points ahead of Pink and Pine in third.  Lime had been up since 4am and had another early start the following day, so went for a well earned early night, but everyone else carried on to give Patchwork Doodle another outing.
– Image by boardGOATS
Patchwork Doodle is a fairly simple game Tetris-based game where players try to fill their player player-board with Tetris shapes shown on cards.  Although the game is similar to Second Chance, it is played over three rounds with eight cards displayed at the start of each round with six played according to a die roll.  This means that players know which cards are coming up, but not the order they will appear in.
– Image by boardGOATS
Each player begins with their own individual shape.  Black had the embarrassing one, which led to a discussion about how a photographer had taken revenge on Philip Green for his poor behaviour towards a journalist.  Everyone had a good laugh once someone had found the photo and shared it, then we began playing.  The end of round scoring also makes the game a little more challenging than Second Chance with players scoring most of their points for the largest contiguous square area at each point during the game.
– Image by boardGOATS
Pink and Ivory got off to a flying start with five-by-five squares, giving them twenty five points in the first round.  As the rounds progressed, other players started to catch up, but those early points were hard to off-set.  Blue, remarkably managed to fill every square of her grid giving her eighty-one points in the final round.  Unfortunately for her, it wasn't quite enough to catch Pink who took victory with one hundred and thirty-seven.  That didn't stop Blue claiming the "moral victory" for the perfect finish though, even if she was three points short.
– Image by boardGOATS
With that, Ivory took his leave, and everyone else moved to Board Game Arena.  As people logged on, they all received "Trophies" to mark six months active on the platform.  While this is clearly an achievement of sorts, it was bitter-sweet as it also highlighted just how long we've been playing online.  We decide not to stop and think about it though, and moved on to choosing a game.  With six players, there were several options.  Pine didn't want to finish too late, while Blue was keen to play something a little different and with help from others, persuaded him to play Alhambra.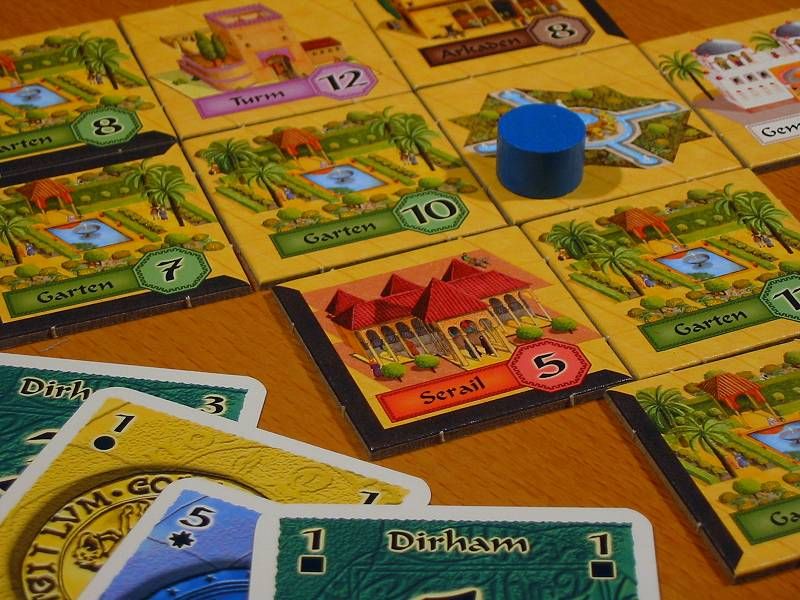 – Image by BGG contributor garyjames
Alhambra is a classic gateway, tile laying game, based on the slightly older title, Stimmt So!.  The idea is that on their turn, players can either buy buildings (or shares in the original), or take a money card.  The catch is that there are four currencies in the game.  Players pay with whatever cards they have, but if they don't have the exact amount they must overpay.  Obviously, it is advantageous to pay with the exact amount, but not only because they save money.  Players doubly gain when they pay with the right amount, because they get an extra turn and can make another purchase (again getting yet another turn if they pay exactly) or take money.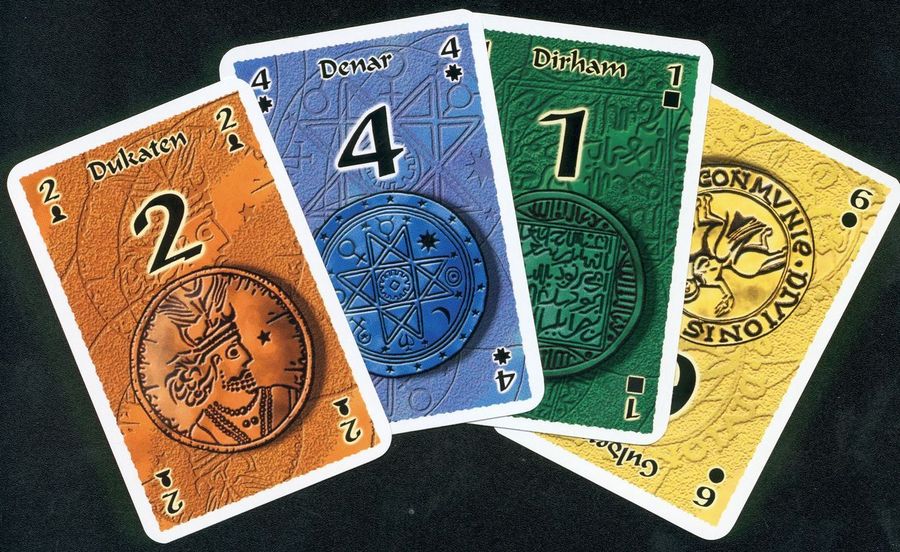 – Image by BGG contributor garion
There are two scoring phases during the game, and one at the end.  In these, players with the most buildings of each of the different types score points, with the number of points depending on the type of building and the frequency of it in the game.  There is one significant difference between Alhambra and Stimmt So! that goes beyond the theme.  Some of the buildings have a wall along one, two or three sides.  Players score points for their longest external "wall" section within their complex, but the wall also has a big impact on how a player places their tiles.
– Adapted from Image by BGG contributor Zoroastro
Players must be able "walk" from their starting tile to all the other tiles in their complex, so walls are placed round the outside.  If a player is not careful, this can severely limit their ability to place other tiles and get them into a terrible mess.  The Board Game Arena implementation ensures that players can't inadvertently make mistakes, but that makes the game quite unforgiving.  There is a get out clause—players can place tiles in their reserve or move tiles at a later date, but as the game is all about efficiency, this can be very costly.
– Image by boardGOATS from Board Game Arena
The game started very cautiously with people feeling their way.  Pink tried to build a long wall and got himself into a tangle with a very small complex surrounded by a tight wall; Blue just failed to score any points until the end of the game.  It was quite close in the fight for second place, but the runaway winner with eighty-one points was Purple.  She had the most Garden buildings and Palaces outright, shared the lead in Seraglios and Chambers and scored points in almost every other category too, positively storming to victory.
– Image by boardGOATS from Board Game Arena
Unfortunately, Alhambra is not at its best with six and, although the game can trot along at quite a pace with players that know what they are doing, it took quite a lot longer than it really should.  Although some had played the game before, others were new to it and even those familiar with the game were a little rusty.  The game would have been a lot quicker if people hadn't insisted on thinking too, but as a result, it finished a lot later than planned and when it was over that was pretty much it for the evening.
– Image by boardGOATS
from Board Game Arena
Learning Outcome:  If you buy an Alfa Romeo you should expect jokes about it.