Blue and Red arrived first, with Red telling the tale of her exciting weekend.  It wasn't long before Burgundy, Pine and Green had arrived so, at Blue's behest, Red began telling it all over again.  She had been part of a teem entered into to a twenty-four hour "jigsaw-a-thon" in Belgium.  The Unofficial World Jigsaw Puzzle Championship is held every year in a place called Hannut and includes teams from all over the world.  This year, there were one hundred and twenty four teams, each fielding four active members at any one time (though as many interchanges as required were allowed).  Each team was competitively "jigsawing" in a little pen, Red explained, and when a puzzle was finished the team involved cheered madly and set off a klaxon.  Red's team came a very creditable fifty-ninth, which was particularly remarkable as they had primarily gone along to have a good time where other teams took it very seriously and were exceptionally well organised.  Everyone was quite taken with the idea though, so much so that Green suggested entering a GOATS team next year.  It remains to be seen whether that actually happens…
– Image from 24hpuzzle.be/flickr.com
Green had his own exciting tales to tell about his visit to Millbrook Proving Ground and Burgundy had been to Wembley to see the season's last American Football match of the NFL International Series which had turned out to be "a great game for neutrals".  Consequently, it was gone 8pm before we realised that Black and Purple still hadn't arrived and nobody knew whether they were coming or not.  Texts followed just as Black and Purple walked in commenting how great the NFL match had been.  Needless to say, we were late starting as we chatted on about that again.  Eventually, we split into two groups, with Green, Black and Burgundy settling down to play the "Feature Game", Batavia.  Batavia was the Dutch colonial name given to the Indonesian city of Jakarta from the seventeenth century.  Batavia was also a ship of the Dutch East India Company (Vereenigde Oost-Indische Compagnie, or VOC) that was built in Amsterdam, and shipwrecked on her maiden voyage in 1629 off the Western Australian coast.  The game, Batavia, on the other hand, is concerned with shipping commodities from the spice islands in the seventeenth century and features both the city Batavia and the ship Batavia.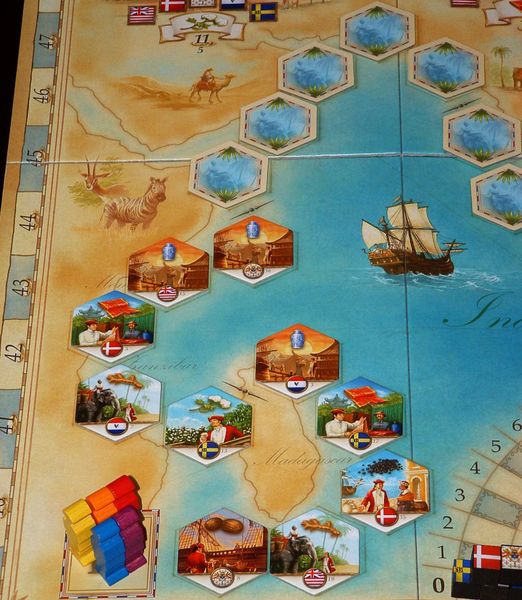 – Image used with permission of
BGG reviewer EndersGame
Batavia is played over several rounds on a map of Asia featuring the central islands of the spice trade route.  Players are merchants visiting trading posts of the five East India Companies throughout Asia, gaining "majorities", which earn the right to different commodities, which in turn translate into money that wins the game.  Each round consists of two phases:  an auction phase and a movement phase.  In the first phase, a die is rolled to determine how many cards will be auctioned.  Then, players bid using their promissory notes increasing the bid until everyone has passed with the highest bidder winning the cards and the right to go first.  The interesting part is that the winning bidder does not pay the bank, instead paying the other players by dealing the promissory notes round the table.  This is a very clever balancing mechanism, because it means the total number of promissory notes in circulation remains unchanged throughout the game.  Players who fail to win an auction also have in increased chance of winning the next time, and promissory notes are worth bonus points at the end of the game, giving them an intrinsic value in their own right.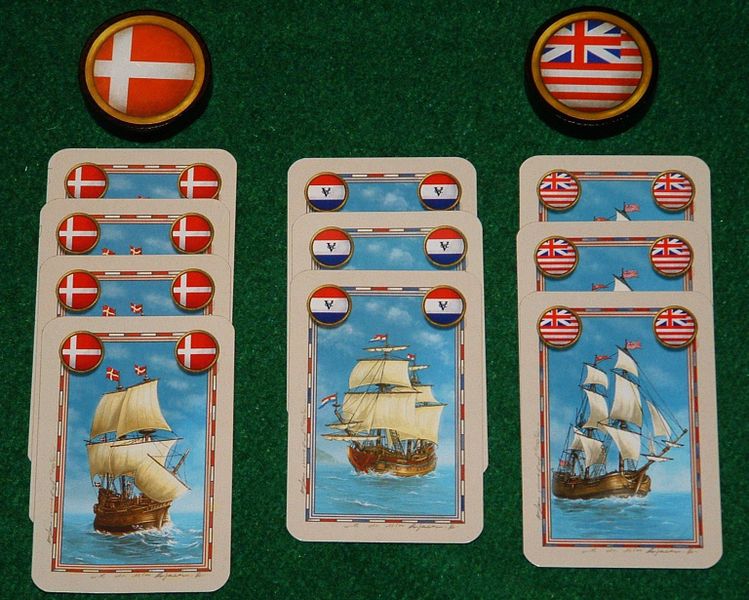 – Image used with permission of BGG reviewer EndersGame
One the auction has been completed the auction winner begins the movement phase.  Each player has a choice, they can take two cards or play ship cards and move their merchant figure to get a new trading post counter.  Ship cards can only be played if the active player has, or can can achieve a majority of cards in one of the five trading companies – cards are played into a tableau and the player with the most cards of a particular shipping company gets the corresponding Company Seal which indicates possession of the majority in that company (and can be taken from another player if necessary).  Thus a player with a Company Seal can play any cards they wish, but if they do not have a Company Seal, they must play enough cards to earn the right to get one, and then can play additional cards as well.  In other words, if a player does not have any of the Company Seals, and can't play enough cards to get one, then they must draw two cards instead.  Once the active player has played cards and has at least one Company Seal, they may move their Merchant figure along the hex-track to a trading post counter that corresponds to one of the Company Seals they own.  They take this tile which represents gaining the matching commodity from that trading post and is marked by placing a wooden Crate in the appropriate warehouse for that commodity.
– Image by boardGOATS
Once a player has played their cards and moved their Merchant, they may, if they wish, turn their hex-tiles into points (or Gold).  The commodities on the tiles are of no significance, but the tiles traded must be from different companies; the more a player trades, the better the return, i.e one tile gives one point, but five tiles (from each of the five different companies) yields a massive fifteen points.  There is a catch though, trading is prohibited if the hex-tile just acquired comes from a company that the player already had a counter for.  Worse, trading post tiles cannot be turned into points at the end of the game, which means decisions can be tense, especially towards the end of the game.  There is another catch though.  Every time a ship card is played, the token that corresponds to that shipping company is moved along the Pirate track, as is the Pirate cannon.  When the cannon reaches a certain point, players forfeit all cards that correspond to the shipping company token that has made it the furthest along the Pirate track.  This fulfills many functions, including ensuring the number of cards in play doesn't become unwieldy and preventing one player from getting an unassailable majority as well as encouraging players to diversify.  The game end is triggered when one player reaches the end of the trading post track and the round is finished to ensure everyone gets an equal number of turns.
– Image by boardGOATS
We had nearly completed the set up when we discovered several pieces missing from the box that had been used elsewhere and not returned.  Rather than abandon the game though, we scavenged bits for the company seals and 'navigator' pieces from other games, primarily Vasco da Gama (at least some part of that game is being played).  With that sorted, we were quickly under way.  The early rounds of the game were characterised with high dice rolls, meaning that there were a lot of cards available for each auction that both Burgundy and Green paid handsomely for.  While Burgundy and Black made steady progress, laying claim to a few different commodities, Green raced ahead concentrating on just nuts and vases, the two highest valued commodities available in the game at that point. Black, on the other hand, won so few auctions that he had to miss his turn twice, collecting just two cards instead.
– Image by boardGOATS
During the early part of the game we discussed the optimum number of trading post hex-tiles to a swap for points.  The more a player trades, the better the return, i.e one tile gives one point, but five tiles (from each of the five different companies) yields a massive fifteen points, but more is correspondingly more challenging.  Burgundy explained that he felt that three was a good number as four was rife with risks of not being able to get one of the two remaining companies available. He stuck to his guns and exchanged after just three chits, while Green and Black both managed a four relatively easily.  Elsewhere in the  game, Cloth and Coffee were conspicuous by their absence, until about half way when Cloth materialised creating a veritable textile market quarter.  Coffee didn't become available until the second half of the game and two thirds turned up in the final ten spaces, but by then Green was so far ahead of the other two that neither of them stood much of a chance to even get a foot-hold in that particular racquet.
– Image by boardGOATS
In the end, although Burgundy had placed more crates overall, he only had the majority in one commodity, while both Green and Black managed the majority in two each. However with Green snatching the most valuable majorities and the end Target Token he was a clear winner. Black, who had seemed to be on the back foot for most of the game, just snatched the bonus for finishing with the most promissory notes (everyone must have been pretty even handed about their assumptions of card values, to finish with almost exactly the amounts we started with).  When Green snatched that final trading post hex-tile, Burgundy and Black were both a long way behind and plans were scuppered, but it did mean they had a reasonable choice to gather a final useful token.  Ironically, Burgundy placed a final crate in Cotton, which removed Black's majority there. If he hadn't done that, Black would have beaten Green by one point. It just goes to show that the player to watch out for isn't always the most obvious one.
– Image by boardGOATS
Meanwhile, on the next table, after a short debate about what to play, Blue, Red, Pine and Purple started on Kerala: der Weg der Elelfanten, "the way of the elephant".  This was one of the games that came back from Essen and, as a light tile-laying game got its first outing last time.  Pine and Purple had enjoyed it and Red had missed out last time so was keen to give it a go.  The idea is that on their turn, the active player draws the same number of tiles from the bag as there are players and then chooses one to add to their display of tiles.  The everyone else takes it in turns taking a tile and adding them to their own display.  Play is mostly simultaneous as players puzzle over where to add tiles according to the fairly simple rules.  Tiles must be placed next to a tile with an elephant on it and the elephant is then moved onto the new tile.  It can be placed in an empty space, or on top of a previously laid tile.  However, a large part of the game is to finish with exactly one contiguous region of each colour (except the player's own colour which can have two regions) as any extras must be removed and each tile taken away scores minus two points at the end of the game while any missing colours score minus five.
– Image by boardGOATS
Blue drew with Black drew last time, thanks to a large number of "apron" tiles which score five points each when placed so that the apron matched the correct colour.  This time, everyone else was wise to how valuable these were and Blue had to fight harder for points.  In this game, positioning elephants and choosing suitable tiles (or leaving everyone else with poor tiles) is everything.  Both Purple and Pine and pine got themselves in a bit of a tangle with multiple regions of the same colour.  For the most part though, by the end of the game they had managed to connect the relevant areas and minimise the number of points lost.  It was Red, playing for the first time who got the best of the tiles.  She was no doubt helped by the fact that Blue (sat to her right), got herself in a terrible tangle and ended up trying to build her way out of trouble by placing tiles on top of others.  The problem was that no sooner had she fixed one problem than another came along, which meant she was more concerned about choosing the best tiles she could for herself than leaving tiles that were difficult for the next players.  Once again, the game finished in a tie, but this time it was Pine and Red who finished in joint first place, nearly ten points clear of the others.
– Image by boardGOATS
Batavia was still underway, so the group moved onto a nominally quick little card game, called Fleet Warfside.  Although the game is about the fishing industry and uses the same artwork as the original Fleet card game, the game play is quite different.  The idea is that Wharfside is the sequel, with players buying and selling fish (caught in the original Fleet).  Players begin the game with a handful of fishy goods cards which they can use as currency or trade for points.  In ascending value, the goods cards each represent shrimp, oyster, tuna, swordfish, lobster or king crab.  Thus, two oyster cards are worth more than two shrimp cards and two king crab are worth more than two of anything else.  However, an extra card will always be worth more so three shrimps for example is worth more than two of anything else, even the valuable king crab.  Over-paying is allowed, in fact, it is over-paying that means the game works as, at its core, Fleet Wharfside is a set collecting game, and players need to be able to cover all the bases as prices are constantly changing.
– Image by boardGOATS
On their turn, players can either carry out a Market action or use the Wharf.  Market action involves buying contract or building card from the face up Market.  The price of each of the four individual cards is set in advance and is given by an indicator card immediately above the contract cards.  When a card is bought, the price of one of the four cards will change as the indicator card is rotated (usually increasing the price).  The Market affected depends on the replacement card drawn.  Instead of carrying out a Market action, players can instead visit the Wharf.  This allows them to do a variety of actions including: use any special abilities that come with the contract cards; assign a maximum of two goods to contracts and store king crab for scoring at the end of the game.  If a contract is completed during this phase, the assigned goods cards are placed on the discard deck and the completed contracts removed from the player's tableau and placed in their scoring pile.  Bonus points cards are awarded for the first and second contract of each type to be completed.  A Wharf action is finished with a visit to the Wharf where players can take two cards from one of the two pools of face up cards.  There is a hand-limit, but players can choose which cards to discard after they have picked up.

– Image used with permission of BGG reviewer EndersGame
The game end is triggered when a player completes a set number of contracts and the round completed so everyone gets the same number of turns.  Points are scored for completed contracts/buildings (at face value); stored king crab (at a rate of one per card plus a bonus for the player with the most); contract completion bonuses; the largest set in-hand at the end of the game (one point per card), and the player's personal Captain Bonus (each player gets a random Captain card at the start of the game which depicts one type of goods and the player scores one point per speciality on their completed contracts).  Blue and Pink played Fleet Warfside on their way to Essen last month, but otherwise it was new to the group.  Although it is a great little card game, it is not really like anything else we've played on a Tuesday, and as a result, everyone struggled a bit.   Things were made worse by the fact that nobody really used the ability to over-pay, nor did they use the any two for one, which when judiciously used can speed things a long quite a bit.  When explaining the game, Blue commented that although the goal was to finish contracts, in actual fact it was generally better to try to keep the maximum of three contracts for as long as possible, as each contract has a spacial power and as soon as a contract was fulfilled, its power was lost.  Although this comment was well-meaning, it only succeeded in confusing Pine and Purple further.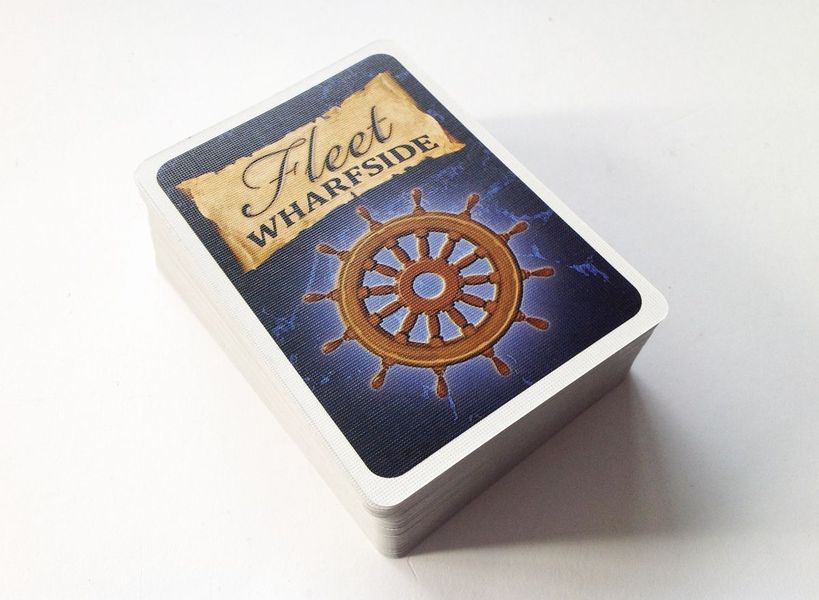 – Image used with permission of BGG reviewer EndersGame
The effect was an endless stream of questions and queries and repeated questions and queries which gave Red a fit of the giggles. The advertised time for Fleet Warfside is twenty to thirty minutes, but although Blue was expecting it to take longer, even she wasn't expecting it to drag on as long as it did.  The problem was made worse since its sweet-spot is probably three players and with people agonising over what to do and questioning what the options are, the effect was even worse than it was.  Unsurprisingly given that she was the only one to play it before, Blue finished as the winner five points ahead of Red in second place.  Sadly, although it is a clever little game, with this group it was not a great success this time.  Actually, it may be that the more abstract, less visual nature of card games is the problem, since the same people struggled with Port Royal Unterwegs last time and with Oh My Goods! the time before – perhaps something to keep in mind for the future.
– Image by boardGOATS
Since Batavia had finished, Green, Burgundy and Black looked round for something to play that might fill the time while Fleet Wharfside ground on.  Green's eye fell on Isis & Osiris, a little game that Blue and Pink had brought back for him as a present from Essen.  The pieces  needed removing from their frames and nobody had played it before so there a flurry of rules reading, though in truth it was a simple enough game.  The game comprises elements of strategy and memory.  At the start, players are dealt a pile of tiles, face down, and get a handful of octagonal wooden blocks in their colour.  Game play is very simple: on their turn, the active player can either place a tile face down, first showing it to everyone else, or they can place a block.  At the end of the game, all the tiles are turned face up and players score points for those tiles orthogonally adjacent to their blocks.  The catch is that the tile values range from minus four to plus four (with no zeros), i.e. are both positive and negative.
– Image by boardGOATS
After the inevitable terrorism comments, we started.  The skill in this game is to not only remember where all the best scoring tiles have gone, but also to work out when and where to place your own piece in order to maximise those tile placements: if someone turns up a high negative tile they certain to try to place it next to your piece and away from their own.  While playing we soon realised that a real quandary was when to place the four wooden pieces. Placing them early ensures they are out and gets a large part of the board covered.  Alternatively, waiting until near the end gives a better idea of where the scores are, but leaves less spaces in which to actually get those points. On reflection it seems that it really needs to be a balance, going early or late will probably end up with being boxed out of controlling your own destiny (not that you feel like you have much control normally anyhow).
– Image by boardGOATS
We were unsure what kind of scores we would get. We had the feeling it was one of those game where negative scores would be all too common, and even a single point might be the winning score In the end the scores were a little higher than that at four, five and eight.  Burgundy admitted to forgetting where the scoring tiles were very early, on but still went on to win. It's not clear what that says about this game, though we would need to play it a couple more times to find out how "random" it really is. With good players with good memories it could be a very challenging game.  Still it did only take the twenty minutes claimed (including set up, explanation and confusion during scoring) which makes it a good filler, which is more than could be said for Fleet Warfside on the next table which was still going.  It was obvious they would be another half hour or so, so with no messing our old favourite Splendor was out of the box and ready to go.
– Image by boardGOATS
In Splendor, players have just three options on their turn:  collect gem tokens, buy a gem card using gem tokens (and/or cards), or reserve a gem card and receive a gold (wild) token at the same time.  Players can have a maximum of ten tokens, though unlimited cards and the cards act as permanent tokens.  Thus, at its heart Splendor is an engine building game built on a set-collection mechanism.  Players score points when they buy some gem cards and for attracting Nobles which are awarded to the first player collect certain combinations of gem cards; the game end is triggered when one player reaches fifteen points and the player with the most at the end wins.  One of the fun things about this game is that, despite its relative simplicity, each game plays differently.  This time it seemed to be a token-heavy game, in other words everyone did a lot of token hoarding, keeping several key colours out of circulation, making progress in a particular colour tricky for everyone.  As a result a number of gold tokens were taken for very lowly cards, several level twos and even a couple of level one cards. Indeed, Black took gold several times for want of anything better to do, since nothing else looked helpful.  The lack of tokens seemed to weigh particularly heavily on Burgundy in the early parts of the game, giving Black and Green a little optimism that maybe this time they might be able to topple him for the first time in four games.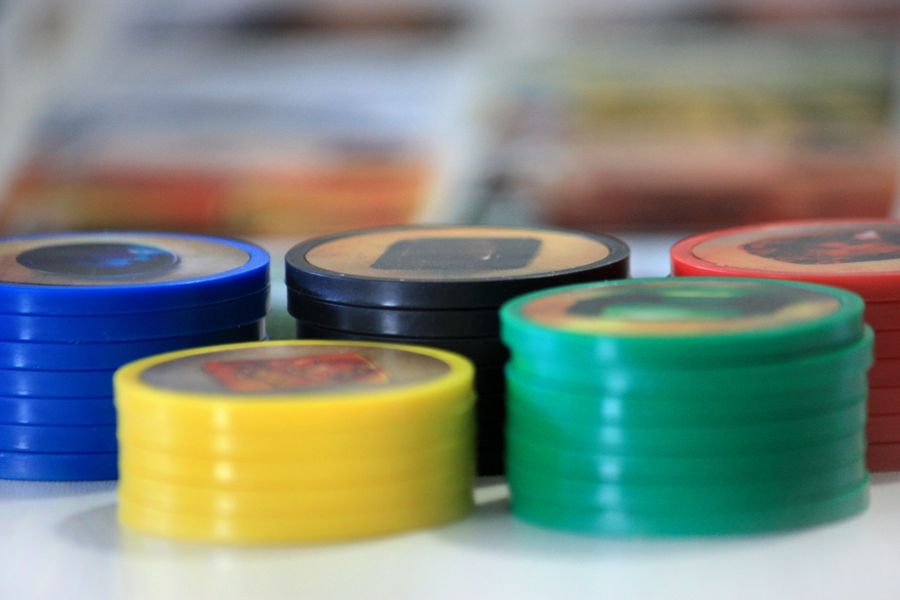 – Image used with permission of boardgamephotos
Overall it was a very tight game. Burgundy, in spite of his protestations of having nothing he could do, managed to take the first Noble card. Black quickly got another with a high scoring card, leap frogging him into a strong lead and Green wasn't far behind in gathering his first Noble.  Burgundy was able to build on his first Noble (one with three cards in each of three colours) by adding just two more cards to give his second Noble and put him within a whisker of ending the game with fourteen points. At this point, Black recognised that this could be his last turn, but he needed two turns to complete his plan. He did the best he could and also reached fourteen points.  Green went next, but his plan worked out just in time, and he placed a reserved card worth three points giving him his second Noble in the same way that Burgundy had and helping him to fifteen points triggering the game end making it the last round.  Unfortunately,  thanks to the turn order, Burgundy got one final turn and it didn't take a lot of effort to find a way to gather two more points to maintain his Splendor crown, albeit with a warning shot across his bows: next time we'll get him, maybe.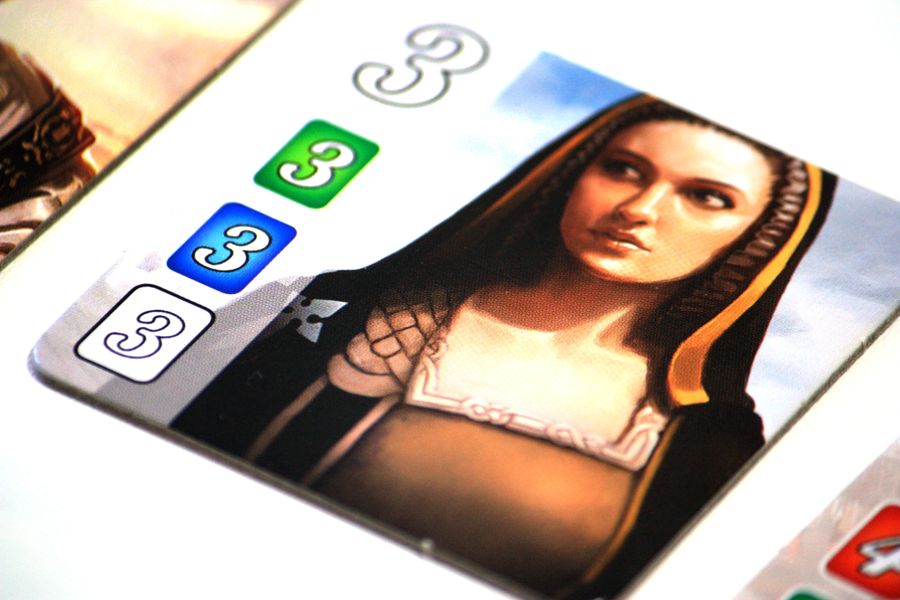 – Image used with permission of BGG contributor henk.rolleman
With Fleet Warfside finally over, Red there was still time one final short filler, and, after a quick discussion, we resorted to our old favourite, 6 Nimmt!.  While Burgundy shuffled, the rest of us engaged in a discussion as to when we last played – after a look through the book, the verdict was July, which only left us to decide whether that was "ages" or not.  We reminded ourselves of the rules:  players simultaneously choose a card, then simultaneously reveal them before playing them in ascending order placing each on the row finishing with the highest card that is lower than the card being played.  When the sixth card is added to a row, the first five are taken and the number of heads contributes to the player's score, lowest score wins.  We tend to play a variant over two rounds with half the deck in each round and not resetting the table in between which tends to result in a cascade of points in the second round, and this time was no exception.  Black and Burgundy top scored in the first round with zero and one point respectively and nobody else close, setting up a head to head in the second.  Victims of the second round cascade, unfortunately for them, Black and Burgundy both had disastrous second round.  It was Red who redeemed a poor first round to win by one point from Purple and Green who finished in joint second place.
– Image by boardGOATS
Learning Outcome:  Card games are more abstract and sometimes more difficult to understand.