Our local is the The Horse and Jockey pub in Stanford-in-the-Vale, and we meet there every fortnight on a Tuesday.  Every Thursday, they also hold a pub quiz, so as it was Christmas, we decided to get a special GOATS team together.  Blue, Pink, Pine, Violet and Violet's mum were all up for it, so we booked a table for 8pm to have dinner first.  Unfortunately, Blue had over-indulged on turkey at lunch so had fallen asleep in the afternoon.  Although Pink had woken her, he failed to do so very effectively, so they were a bit late and by the time they arrived, there was a bit of a queue for food.  Not to worry though, we were nearly finished by the time the quiz started and were quite able to answer the first few questions and eat at the same time.
– Image by boardGOATS
The quiz typically consists of five rounds of ten general knowledge questions, a picture round, a "Who am I" round, and two anagrams.  The "Who am I" round consists of five clues with players giving answers after each clue and teams scoring progressively less as the clues progress.  This and the anagrams (which score three points each) can be quite critical and often sort the sheep from the goats.   Only Pine and Blue had been before, and both had been part of teams that had not really troubled the scorers, so we were more than a little pleased when we got four points for the "Who am I" (Claire Balding, who apparently went to the same school as Miranda Hart) and, mostly thanks to Pine, the full six points for both anagrams!  Correctly identifying Kim Jong Un (obscured by a Santa hat, beard and glasses) as well as most of the others in the picture round meant that we finished strongly.  With a grand total of fifty-four points, we took first place, three points clear of "Something Simple" who finished second.  After a quick chat with a nice couple from Faringdon who had been marking our answers and had played Karuba and Ticket to Ride with their family over the holidays, we took care of the complicated matter of the bill (taking into account our winnings) and Violet and her mum went home.
– Image by boardGOATS
Since Pine had his drink to finish and Blue and Pink had taken the precaution of bringing along a couple of small games, we decided to do what gamers do best and play games.  First up was No Thanks!.  This is a great little "push your luck" game where a card is turned over and players have to take the card or pay a mini poker chip to pass the problem on to the next player.  At the end of the round, players add the face values of the cards together and offset this with any remaining points to give their total – the smallest value is the winner.  The really clever part is that if a player has a run of consecutive cards, then only the lowest counts.  Spice is added by the removal of nine cards from the original thirty-two consecutive cards in the deck.  Blue did appallingly badly throughout, and while Pine won both the first two rounds, Pink won the final one by such a large margin that his aggregate total was the lowest overall, making him the winner.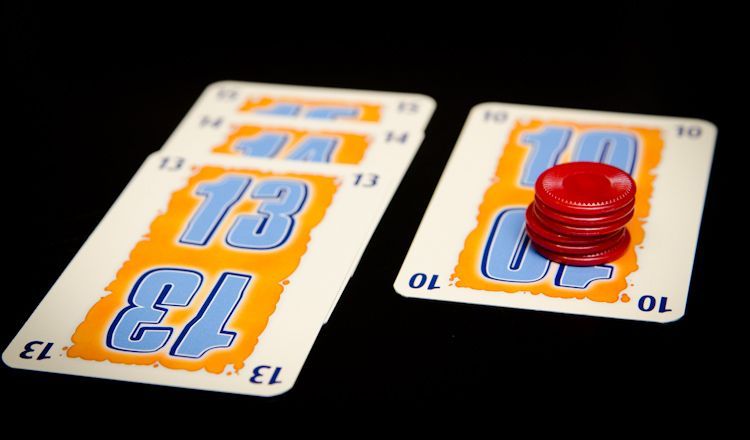 – Image used with permission of BGG contributor punkin312
After that we played a few quick rounds of Love Letter.  This simple game played with just sixteen cards is almost the ubiquitous filler game.  Starting with one card, on their turn players draw a second and choose one to play.  Each card has a number and an action and the player left with the highest card at the end is the winner.   Pink tried to insist that Blue was always the Baron, only to get caught out as the Baron himself.  Blue started the next round as the Princess, so swapped cards with Pink and promptly caught him on the next turn.  In contrast, Pine managed to go nearly an entire round as the Princess only to be caught just before the end.  It was close and it all came down the the last game, but in a move that would have drawn allegations of match-fixing in football, Pink drew his second card face up by mistake, and then chose not to play it.  Pine gleefully assassinated Pink's Baron once again, only to succumb himself a couple of rounds later leaving Blue to finish with three wins (to Pink's two) and claimed victory.
– Image by boardGOATS
Learning outcome:  Gamers can be good at quizzes too.