As usual, we started with a debate about who would play what.  Green picked out a load of games he fancied, including The Voyages of Marco Polo which he had only played the once before and fancied playing again.  Blue commented that it was the sort of game that Ivory would probably enjoy and with Black having spent quite a bit of time playing it online, he joined the others to make a trio.  The Voyages of Marco Polo, won the Deutscher Spiele Preis in 2015 and was designed by the same pairing that put together Tzolk'in: The Mayan Calendar, another game we have enjoyed recently and is a game we should play more often.  The game is played over five rounds with players recreating Marco Polo's journey to China via Jerusalem and Mesopotamia and over the "Silk Road".  Each player has a different character and special power in the game.  Each round, the players roll their five personal dice and can perform use them to perform one action each per turn.  The actions include:  gathering resources, gathering camels, earning money, buying purchase orders and travelling.  The game ends with players receiving victory points for arriving in Beijing, fulfilling the most purchase orders, and having visited the cities on secret city cards that each player gets at the start of the game.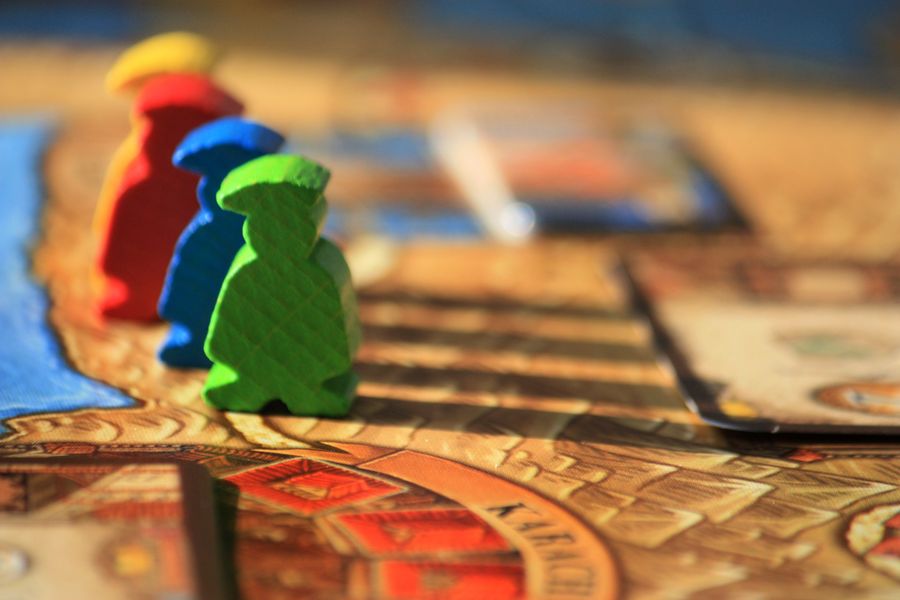 – Image used with permission of BGG contributor henk.rolleman
Last time he played, Green had been very successful with Kubilai Khan.  This time, after dice rolling to see who started, Green got to go first, but although he had the opportunity to take Kubilai Khan again, he decided to go for a different challenge.  So this time Green went for Matteo Polo giving him the white dice and the extra contract every round.  Ivory was next and went for Mercator ex Tabriz, a potentially powerful character which would give him an extra resource every time anyone else got one from the favour track or resource selection track. Black, having played often online, opted for Kubilai Khan and starting from Beijing with the immediate ten point bonus, but no other advantage. The fourth character that was rejected by all, was Wilhelm von Rubruk who allowed the player to place houses on cities they passed through without the need to stop (Black commented afterwards that this was a a very difficult character to be successful with).  Next, each player received four destination cards from which to choose two.  With many groans of dismay everyone quickly discarded one card they felt was all but impossible to complete and then had to choose the worst of the remaining cards for the second discard. No one felt very happy with their selections, but the cards dictated the strategies.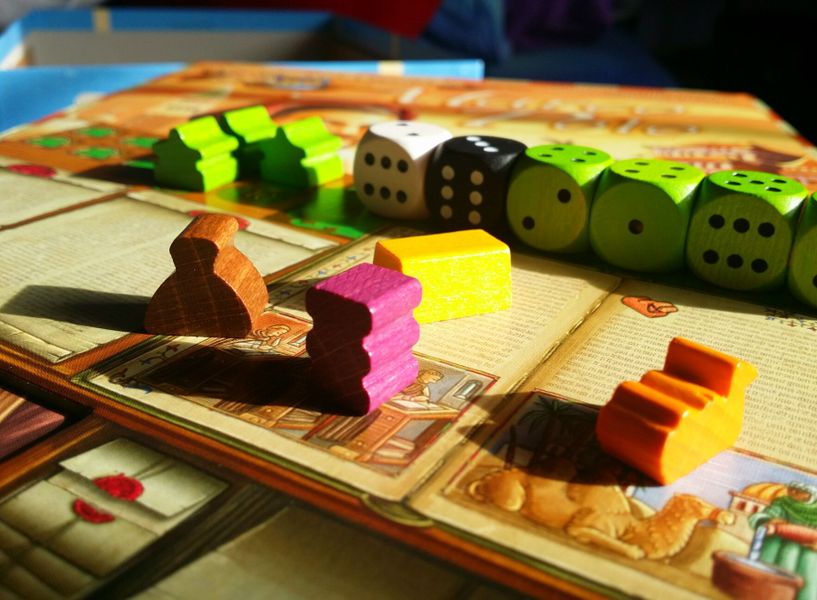 – Image used with permission of BGG contributor jsper
For Green the strategy was simple, get as many contracts completed as possible and not worry too much about travelling.  However, some of the contracts provided extra free movement on completion, so with minimal travelling some of the cities could be completed.  For much of the game Green and Ivory laboured under the false understanding that only one contract could be completed per round. This meant that after he had secured the resources he needed for his one contract, Green was left with some "spare" actions, which he decided to use for travelling and money collection. It was only at the end of the penultimate round that Black corrected their misunderstanding and that although only one contract could be completed per turn, several could be done per round!  It was all a little too late for Green though. The extra free contract he got in the last round was a doozy, giving him another new contract when completed, but only yielding three points. Unfortunately the new contract released was also low value at only two points (although it was then easy to complete).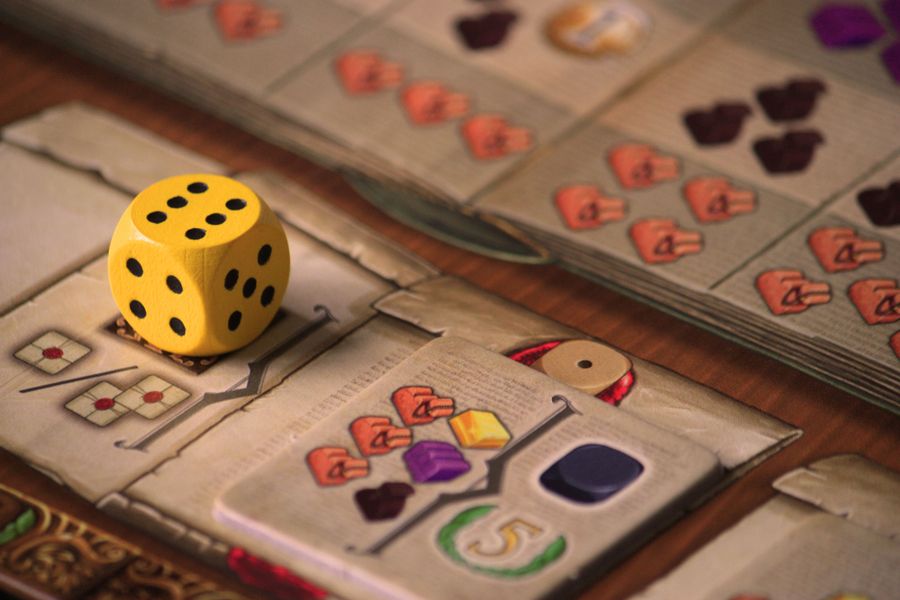 – Image used with permission of BGG contributor henk.rolleman
Meanwhile, Black quietly got on with his game, regularly choosing the six camel resource and buying black dice to travel slowly from Beijing, down the board, and releasing the three action city. He used this to good effect gaining lots of purple resource bundles for contracts. It was while activating one of these city actions he revealed that the number on the die used indicated the number of times it could used. Cries of foul play came from Green and Ivory. Green had used a four spot on the "coins for houses" action before and Ivory would have used his six die on it this round instead of the five coin action space. Black scurried to the rules and discovered that for this "coins for houses" action, it was the number of houses which could be claimed for by the die. In other words, he could use a die of two to claim only two houses even if he had three.  A player would need a three spot die to claim for all.  So in the end, nothing changed for Ivory and Green, though it was something to try to remember for next time.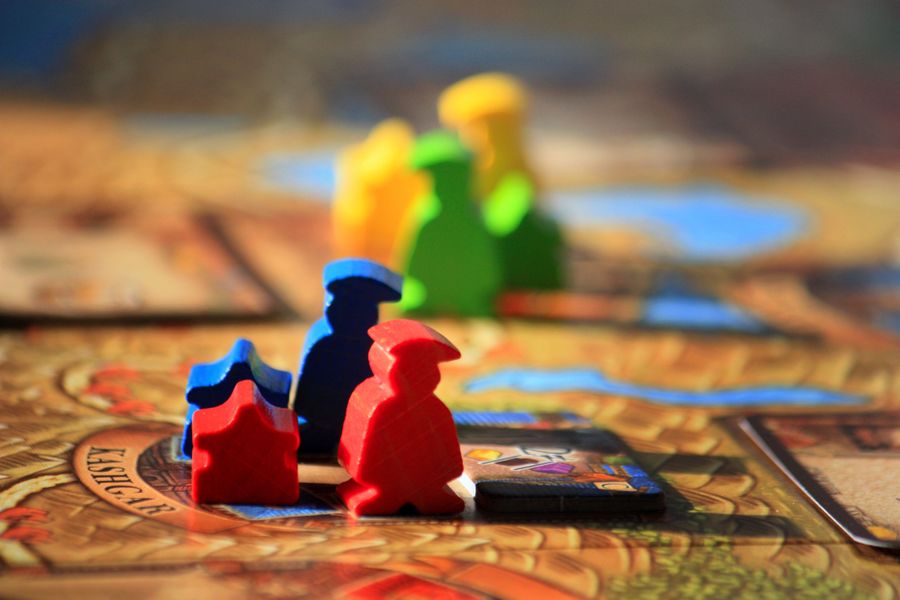 – Image used with permission of BGG contributor henk.rolleman
Ivory decided that money was important and regularly placed his die in the purse and the "five coin" action. He was able to do because he was gaining so many resources from Black and Green's actions, thanks to his special character.  This kept his contracts ticking over and he managed to travel around the board and complete all but one of his cities and get to Beijing. This left him with with a dilemma in the final round:  he needed a high value die and used his spare camels to provide a black, but only rolled a one.  Green gave him another camel (thanks to his resource collection).  So Ivory placed in the favour track for two more and bought another black die, this time rolled a three…  In the end he decided to just take coins to try to get an extra point.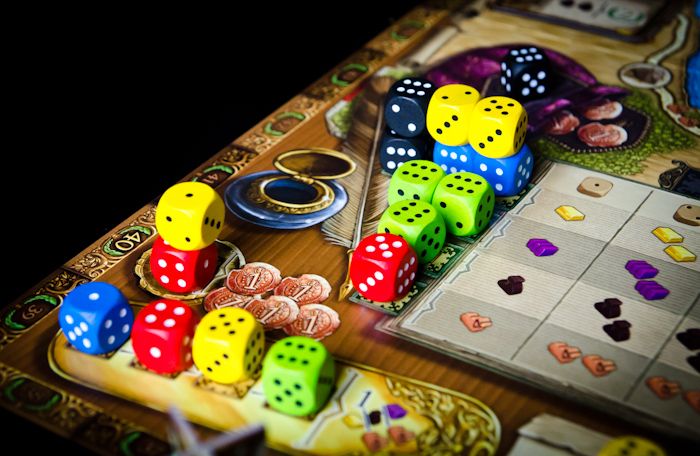 – Image used with permission of BGG contributor punkin312
It was moot in the end.  Green managed seven contracts in all, one more than Ivory and two more than Black, so Green got the seven point bonus after all. With twenty-nine coins at the end he was one short of an extra bonus point, though it wouldn't have been enough.  Black had made a mistake in his travelling and not got the cities he meant to – he failed to get one of his cards and only built two houses.  Despite this, his ten point bonus for Beijing and several high value contracts gave him second place.  Ivory had had a great game though, picking up six contracts, taking second place in Beijing, completing one city card and taking a full 10 points from four cities in total.  It was more than enough to give him a three point lead and win the game. Ivory decided that Blue was right, he had really enjoyed The Voyages of Marco Polo.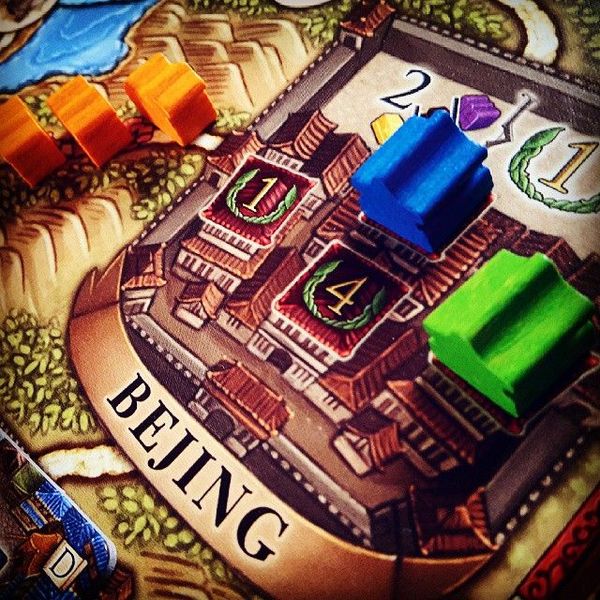 – Image used with permission of
BGG contributor bovbossi
On the neighbouring table, Blue, Burgundy, Purple and Pine had started off with the "Feature Game", Habitats,  This is a very light tile laying game, which comes with small ceramic animals instead of the more usual wooden player pieces.  There are a lot of tile laying games available, but there are a couple of things that make this one a little different.  Firstly, tiles selection:  there is an array of tiles and on their turn, players move their ceramic animal one step forward, left or right and take the tile it would have landed on and add it to their park.  Players can add their tile almost anywhere they want, so long as it borders at least one other tile.  The second unusual aspect of the game is the scoring:  tiles feature an animal and a terrain, but to score they most be surrounded by a set number of other given terrain tiles.  The game is played over four rounds with bonuses after the first three and final scoring at the end of the game.  Pine, with his orange Camel started out very strongly making him a bit of a target, however, although there is plenty of interaction, it is quite difficult to interfere with their plans a lot.  Burgundy started a little slower, but soon got his "extremely correct little Zebra" picking up tiles he wanted (as Pine said, "All zebras have a Hitler mustache and pink ears, don't they?").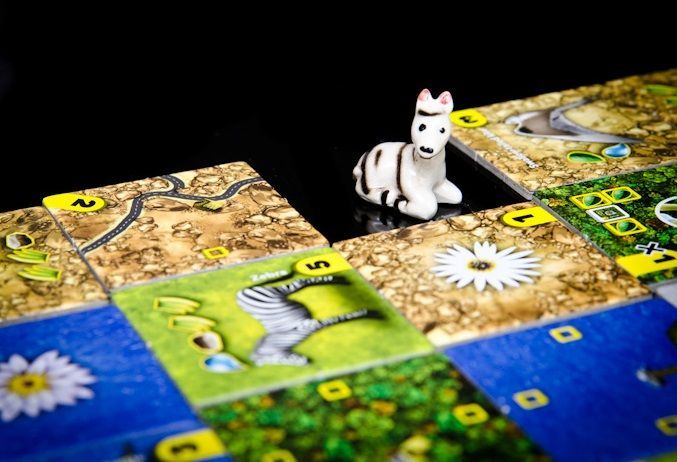 – Image used with permission of BGG contributor punkin312
Purple and her Penguin got a little trapped in the early stages, but got herself out of the mess quite quickly.  The bonuses were for the most different landscape tiles in the first round, different numbers of areas in the second and for a small compact park in the third.  They didn't really seem to add much to the scores though, and with hindsight, some players might have done better ignore them completely as it is possible they were more of hindrance than a help since the most anyone got was five points (Pine and his orange Camel).  That said, the final scores were quite tight, with Blue and her yellow Leopard finishing just five points ahead of Pine who took a solid second.  On reflection, the difference was Blue's effective use of Diagonal Tower tiles which allowed her to double score a lot of her animals.  Interestingly, the most recent edition of Spielbox had had a review of Habitats and they had been decidedly unimpressed.  While we agreed that it was quite a light game and certainly wasn't long, the over-riding view was positive and Burgundy, summed it up when he commented, "Quite liked that".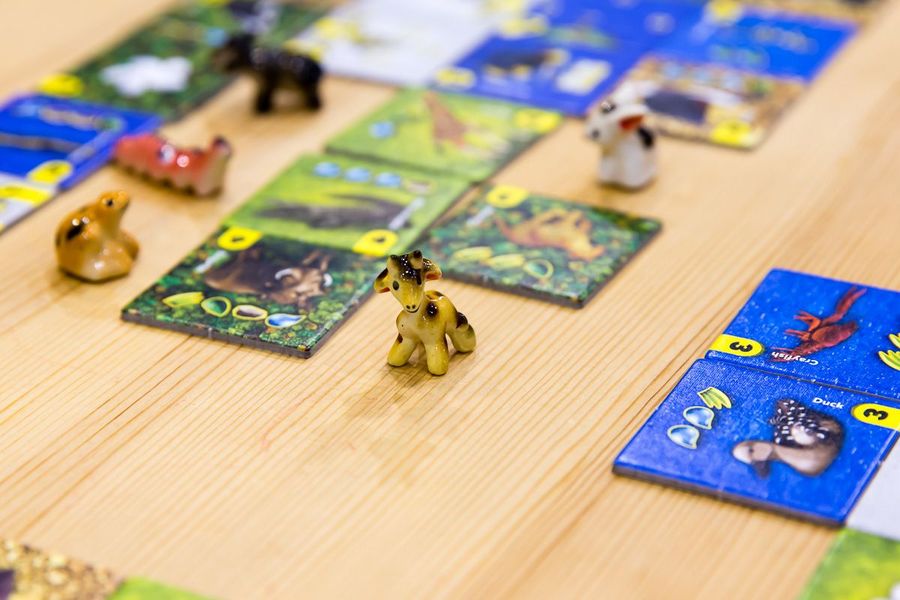 – Image by BGG contributor styren
The Voyages of Marco Polo was still underway on the next table, so the group decided there was time for something else.  Pink had wanted to play Cottage Garden at the last Didcot Games Club meeting, but the number of players had been all wrong, so he had played it with Blue over the weekend.  Since it was fresh in her memory, there was a good chance of getting the rules right.  In any case, like Habitats, it is a fairly light tile-laying game, basically the boardgame equivalent of Tetris.  Cottage Garden is similar to the earlier, two-player game, Patchwork, but with a slightly different front-end and scoring mechanism.  The idea is that at on their turn, the active player chooses a tile from the appropriate row of the square "market garden", and add it to one of their two flower beds.  If they have completed one or both of their flower beds by the end of their turn, then they are scored.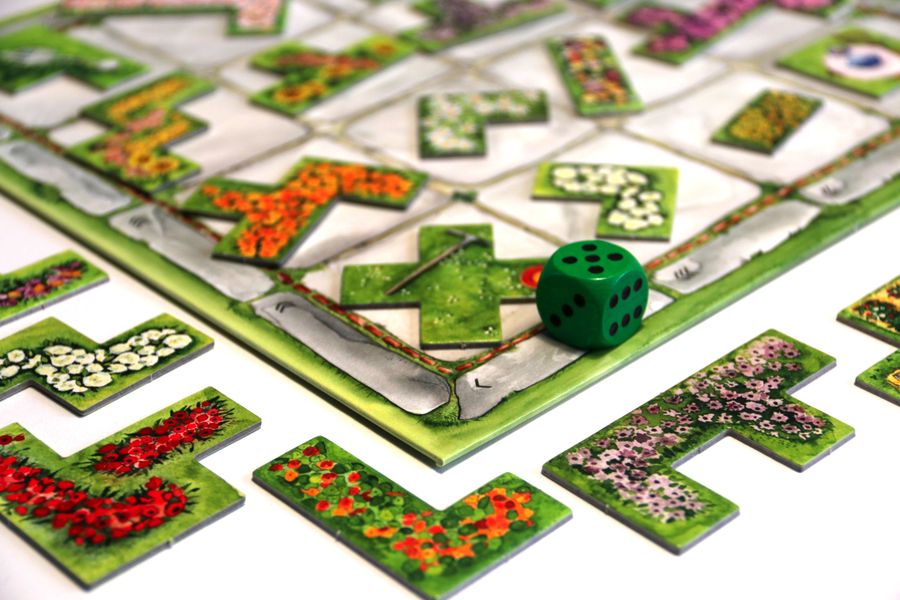 – Image used with permission of boardgamephotos
Scoring is a little unusual:  each flower bed (and some flower tiles) feature plant pots and cloches these are scored separately using players personal score tracks.  Each track ends at twenty and each player has three cubes they can use for scoring.  Placing tiles is facilitated by pussy-cats;  each player starts with two sleeping moggy tiles which they can place at any point on their turn to fill up odd spaces and keep the game moving.  The "market garden" is really quite interesting, though with four it can feel a little random.  The gardener moves round the board so that players choose tiles from successive rows, the idea being that players try to take a tile and plan what they might get next time.  This planning is quite difficult with four though as there is a high chance that a player's next tile will have to be taken from a row diagonal or orthogonal to their previous one which means it is highly likely that someone will have taken what they want.  So, for the most part, the game is quite simple, with a lot of depth.  However, the final round is a little more tricky and jars a bit.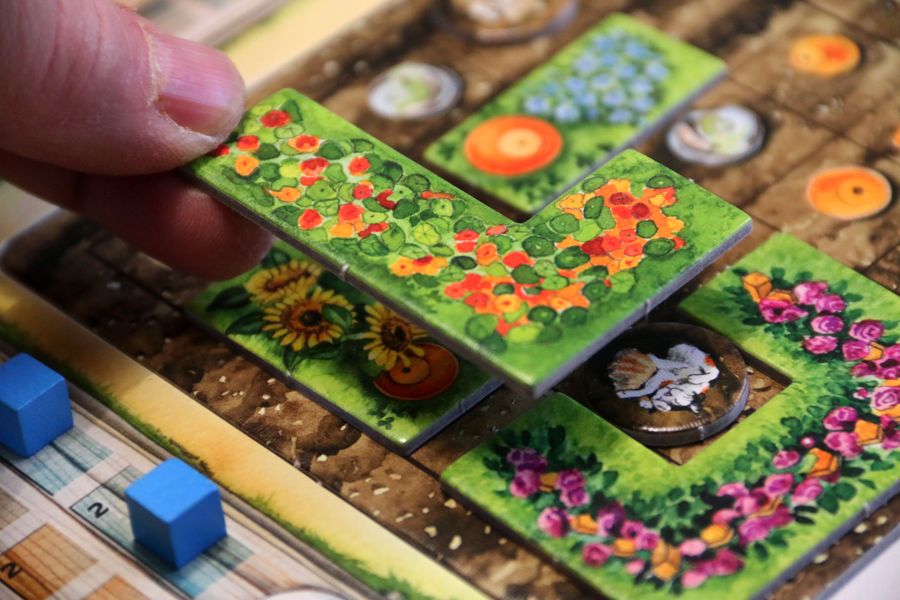 – Image used with permission of boardgamephotos
To ensure that anyone who has just started new flower beds doesn't have a large advantage (due to the number of extra moves they would otherwise get), any beds with two flower tiles or fewer is discarded, and from the start of the final round players painfully lose two points per turn until they finish their final bed.  Again, Pine made the early running picking up two bonus beehive points for being the first player to get one of his markers to twenty points.  Blue wasn't far behind though and just pipped Purple and Burgundy to the other beehive bonus.  One of the really nice things about this game is its rendition and we all had a good time playing with the little wheelbarrow.  Although Purple had played Patchwork quite a bit, spacial awareness is not really her thing and she and Burgundy struggled a little.  Blue on the other hand, works a lot with symmetry and with the extra experience she soon began to catch Pine and by the end of the game had pushed him into second place.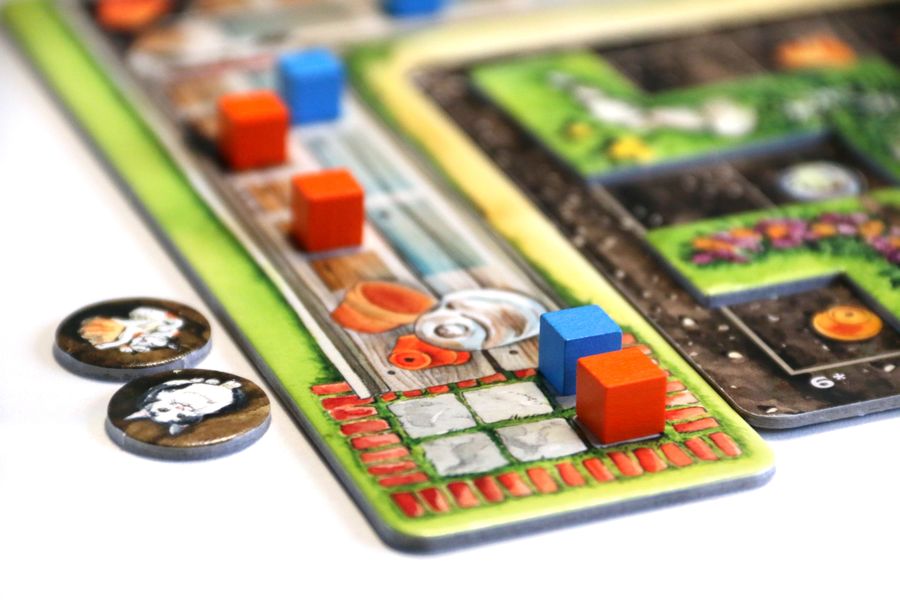 – Image used with permission of boardgamephotos
The most recent edition of Spielbox had also included a review Cottage Garden which had received similar treatment to Habitats.  Although we enjoyed the latter more, weconcluded that Cottage Garden wasn't a bad game, but the penultimate round dragged a little and the final round felt a bit odd.  There's also no development of the game over it's duration, i.e. each player is just trying to fill as many beds as possible doing the same thing over and over again, which can make it feel a little repetitive.  That said, Blue felt she had enjoyed it more as a two-player game over the weekend as there is more scope for planning, so it is possible that four is too many players.  Indeed, nearly 70% of voters on Boardgamegeek are of the opinion that the game is best with three, and that could be a fair conclusion.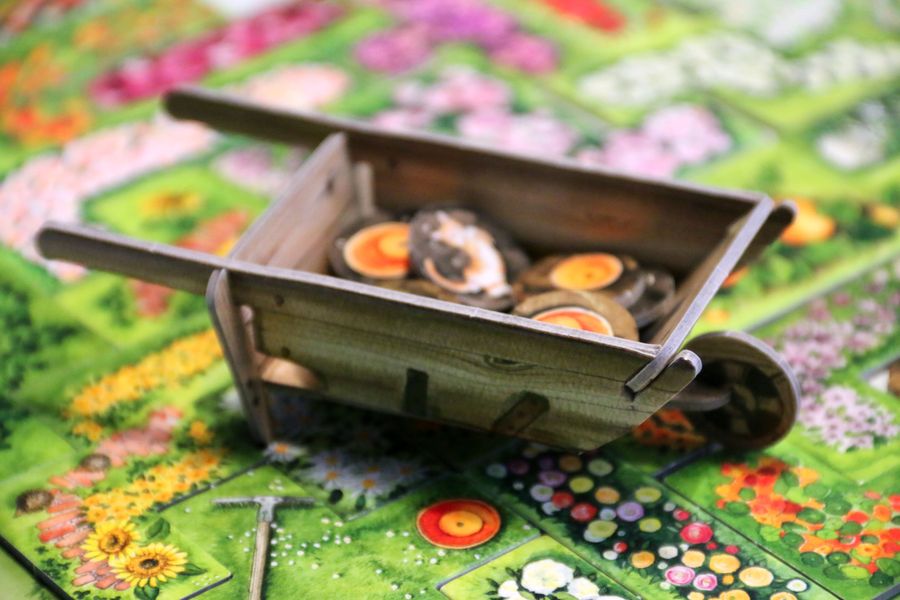 – Image used with permission of boardgamephotos
With The Voyages of Marco Polo coming to an end as well and lots of people quite tired, there was just time for Blue to have another go at beating Burgundy at Splendor.  This has become and almost fortnightly grudge match, with Burgundy proving to be almost impregnable.  This simple set collecting, engine builder is often derided as boring and trivial, yet it is the simplicity coupled with the subtitles that seem to make it so compelling.  As is so often the way, Blue started off OK, but this time very quickly fell behind.  Burgundy quickly picked up a noble, and although Blue took one as well, and had plans for picking up points, the writing was on the wall long before Burgundy took the third noble and announced he had fifteen points.  Blue will have to bring her A-game if she is ever to beat her "Splendid Nemesis".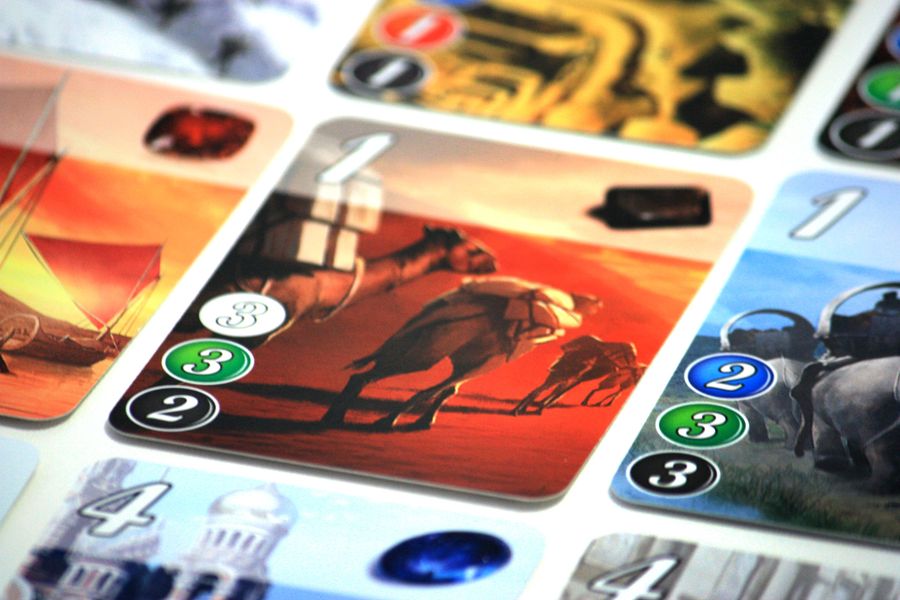 – Image used with permission of boardgamephotos
Learning outcome:  Spielbox isn't always right.