Purple and Black were first to arrive and were finishing off their supper when Burgundy joined them.  While Burgundy waited for for his dinner to arrive, he joined Purple and Black in a quick game of Kingdomino.  This is a fairly light little game that has recently been nominated for this year's Spiel des Jahres Award.  Kingdomino is a simple little tile laying game with elements borrowed from other games, in particular, Carcassonne and Dominoes.  These are combined to make a well presented family game that is in with a great chance of winning the award.  During the game, players taking it in turns to add to their kingdom by placing dominoes that depict different terrains types.
– Image by boardGOATS
The dominoes comprise two squares each featuring one of six different terrain types: pasture, cornfield, woodland, sea, swamp and mountain.  Some tiles also depict one or more crowns.  When the dominoes are placed, one end must either connect to another domino matching at least one of its terrain types or connect to their starting tile (which can be considered to be "wild").  All dominoes must fit in a five-by-five space and if one or more of dominoes cannot be placed according to these rules, then they are discarded.  At the end of the game, each player multiplies the number of tiles in each continuous region of terrain with the number of crowns on the tiles in that region and adds them up to give their score – the player with the highest score wins.
– Image by boardGOATS
There are a couple of interesting little quirks.  Firstly, the dominoes are chosen by players in a very elegant way.  Each domino has a number on the reverse with the higher numbers roughly correlating to the more valuable ones.  At the start of the game four dominoes drawn at random are placed face up in ascending order and each player puts a coloured meeple on one of them.  These dominoes are played in ascending order, so the more valuable ones are played later.  At the beginning of round, another four dominoes are placed face up in number order creating a second row.  When a player carries out their turn, they take the domino under their meeple and add it to their kingdom and moving their meeple to the next row, choosing which domino to place it on.  In this way, players can choose a more valuable tile for the coming round but that is offset by having a later choice of tiles for the following round.
– Image by boardGOATS
There is also matter of the distribution of the tiles.  Some terrains types, like cornfield, are quite common with few crowns available, however others (like mountain) are very scarce, but have most have more than one crown on them.  This is quite critical because a player could build up a very large area, which fails to score because it has no crowns.  Alternatively, a couple of squares of mountain (or marsh) can score relatively highly.  This effect was critical in this game as both Burgundy and Purple built up large areas of cornfield, but Burgundy managed to add four of the five crowns available to his which gave him substantial score. He had very little else though, and Black had built up areas of sea and woodland and Purple had added several small terrains to her large cornfield.  Largely thanks to his massive cornfield, Burgundy finished with a massive forty-two, almost twice that of Black in second place.  With Kingdomino over and Burgundy and Blue's pizzas having arrived, the group split into three, with one group playing a new game, "London Meerkats", one group playing the pizza making card game, Mamma Mia! and the last group eating pizzas (far too serious to be a game).
– Image by boardGOATS
We first played Mamma Mia! about a month ago, and it went down so well, that Red fancied giving it another go this week prior to perhaps making a little purchase herself.  The idea is that players are trying to fulfill pizza orders by first putting topping cards in the "oven" and then sneaking their order cards in on top before another player does the same and claims the toppings for their order. So, each player has a deck of personal order cards and a random hand of toppings. On their turn, each player must place at least one topping card in the oven pile (all the same type) and may follow it with an order card if they choose.  The winner is the player who manages to complete the most orders.
– Image by boardGOATS
Red and Pine had played Mamma Mia! last time (with the Double Ingredients mini expansion) and introduced Magenta and Turquoise to it.  Unfortunately, it is a slightly strange game and some of the rules didn't quite make it somewhere along the line, not that it mattered though and Burgundy and Blue were thoroughly entertained by some of the snippets that drifted across the room. It seemed Pine in particular had strong opinions on what should go on a pizza, "How can you have four pineapples and one mushroom on a pizza?  That's disgusting!"  On the other hand he was clearly less revolted by chili and  pineapple commenting, "That's a nice combination!"  In the final round with Blue and Burgundy now spectating, Pine was clearly getting frustrated at being asked for the third time whether he had a card to add to his order, as he grunted, "No, I still don't have one; why on earth would I want pepperoni – I'm a vegetarian!"
– Image by boardGOATS
With all the fun and a close game, the winner was almost a incidental, but once again, it was the Red, the "Pizzza Queen" who managed to complete all eight orders, one more than Magenta who finished with a highly creditable seven.  With pizzas cooked and eaten it was time for the "Feature Game", Between Two Cities with the new Capitals expansion.  We've played Between Two Cities quite a bit, and when the expansion was available as a pre-release at the UK Games Expo at the start of the month, it was inevitable that we'd be keen to give it a go.  That said, Pine (clearly still suffering from a surfeit of pineapple and pepperoni), commented, "Here's where an expansion takes a good game and makes it a worse."  So it had a lot to live up to.
– Image by boardGOATS
Unfortunately, Turquoise had not played the base game before, however, of all games Between Two Cities is one game where a novice can get a lot of help due to its inherent nature.  The game is very simple as players draft buildings tiles, keeping two tiles each round and passing the rest on.  The novel part of the game is that instead of adding these tiles to one's own city, the tiles are added to two cites, one on each side, each shared with a neighbour.  The winner is the player with the "best" second city (i.e. the player with whose lowest scoring city is the strongest). This peculiarity of the scoring means players are trying to balance their two cities and ensure the buildings they require a complementary.  The semi-cooperative nature meant that Red and Burgundy could help out Turquoise, and in fact, everyone could help eachother dealing with the complications of the expansion.
– Image by boardGOATS
There are three components to the Capitals expansion.  Firstly, each city now starts with a three-by-three starting tile with some pre-filled spaces and others that can  be filled by players.  This adds a tweak to the start of the round that we all agreed we liked, as well as making the game slightly longer as the cities occupied a slightly larger space.  The other two modules were slightly more controversial.  The new tile type, Civic buildings, might have been more popular if the icons hadn't been so small that they were almost impossible to see in the slightly subdued lighting in the pub (which was worse than normal due to a blown bulb in exactly the wrong place).  Even those who could see them well though, were playing them in a very negative way.  These tiles give three points if placed near one specific type and six if next to two specific types, but one if not adjacent to either or if adjacent to a third specific type.  Unfortunately, the icons were too small to distinguish for anyone over about twenty.  Finally, there were district awards given to the largest districts i.e. contiguous areas of a pair of tile types.  Most people ignored these, largely due to the fact they were concentrating on trying to work out what to do with the Civic buildings.
– Image by boardGOATS
One of the nicest parts of the Capitals expansion is that it includes a list of all the wooden monument meeples with their names, allowing players to identify better with their two structures.  Burgundy and Turquoise filled their shared city, the "Red Pagoda", with lots of houses, parks and shops.  Since Burgundy was struggling to see the Civic buildings they completely eschewed them in favour of factories which they mostly managed to avoid placing next to any houses.  On Turquoise's other side was the "World War Monument", shared with Magenta.  This city scored less well, partly because it was competing with the "Red Pagoda" for park and factory tiles.  Magenta's second city didn't do much better, though at least it wasn't in competition with her first city.  Sharing with Pine, the "Rialto Bridge" city combined offices with leisure and housing.
– Image by boardGOATS
Pine's second city, the "Sydney Harbour Bridge" was shared with Red, and the profile almost exactly mirrored his first city.  It scored much better though partly thanks to the addition of a few Civic buildings and a couple of extra leisure facilities.  Red's second city, "St. Basil's Basilica" was shared with Blue and also featured several Civic buildings (as did Blue's other city, well, someone was going to end up with them).  Despite completely missing out on shops which dented its housing score, "St. Basil's" still scored quite well due to a lot of houses and parks.  The final city, the "Geekway to the West", was shared by Blue and Burgundy and featured lots of shops, leisure buildings and houses as well as the Civic buildings, scoring well.
– Image by boardGOATS
All the scores were a little moot, however, as the District Bonus scores were still to be allocated.  Only Blue had really paid attention to these at the start, and she had infected Burgundy and Red who she had been sharing cities with.  It was perhaps no surprise then that the "Red Pagoda", the "Sydney Harbour Bridge", the "Geekway to the West" and "St. Basil's Basilica" all picked up bonus points which put them in first, second third and fourth place respectively.  That still left the winner to determine.  Blue, Burgundy and Red all had an interest in two of the top four cities.  Burgundy participated in the first and third placed cities giving him first place, and Red and Blue shared "St. Basil's Basilica" in fourth so Red took second place on the tie-break.
– Image by boardGOATS
Meanwhile, the next table had been playing London Markets (or "London Meerkats" as we  have taken to calling it).  This game was released at Essen last year following a KickStarter fund-raiser and is a re-themed revision of Dschunke, which was originally nominated for the Spiel des Jahres in 2002.  Green, Black and Purple had tried to play it at Didcot once before, but the set up and rules explanation had taken so long that they had only managed a few opening rounds before running out of time.  This meant they were all keen to try it properly, especially as it seemed to have an interesting and unusual mechanic.  In this, they were joined by Ivory who is always keen to try something new, especially the slightly more complex games.  Although "London Meerkats" is not actually that complicated, being a little different it takes a bit of time to understand how the components fit together.  At its heart, "London Meerkats" is an auction game, where players use goods to make a concealed bid for one of four options with the ultimate aim of having the most money at the end of the game.
– Image by boardGOATS
In general, there are four items available in each auction, usually three giving a monetary reward and the fourth providing a special power card.  In a four player game, it is possible that each player bids for a different option and everyone moves onto the next round happy.  More often than not though, more than one person bids for one of the options, in which case at least one person is going to be disappointed and not just because they didn't win, but also because all bids, even losing bids, go to the bank.  Worse, in the case of a tie, the winnings are split and rounded down, so when this is not possible, again, everyone involved comes out with nothing.  If there are items than nobody bid for, these are auctioned again, but it is even more risky this time as there are the same number of participants, but fewer targets.  They are also the items nobody bid for at the first attempt, so may be less desirable, leaving players with another difficult decision.  The interesting part of the game is how players acquire the goods to use in the bidding in the second part of the round.
– Image by boardGOATS
The first part of each round is played on the board featuring London and five of her markets, Brixton, Borough, Portabello, Covent Garden and Petticoat Lane.  Each market exclusively provides textiles, soaps, coffee, porcelain apart from the last one which provides access to one of the others.  There are also three merchants who each start at one of the markets and two assistants who occupy locations on the banks of the river.  Players start by taking it in turns to select a merchant or one of the assistants and activating them, turning the token over so that only one person can carry out each action per round.  The merchants allow players to stack goods crates of their own colour in the market, collect goods cards (which are used for bidding) or collect money from the bank.  The latter number of cards or the amount of money depends on the number of crates visible when the action is used.  Since crates come in bars and are stacked, the number of crates visible changes throughout the game.
– Image by boardGOATS
The merchants carry out the activity in the market they are in, whereas players who activate the the assistants can choose which of the two markets to carryout the action in with the action dictated by the assistant's position on its riverside path.  Once everyone has carried out an action in the London Markets, players get two extra cards of their choice (or more if they have the right power cards) before the auction phase.  With almost everyone having recently played it (or at least a bit of it), the group relied largely on memory, which turned out to be a bit of a mistake, as part way through the game it became apparent that people had mis-remembered the rules in a number of small ways, which did distort the game in very unhelpful manner.
– Image by boardGOATS
Black began by targeting the auctions for bonus cards, with Ivory going for the high value coffee, Green for low value cloth while Purple cornered the market in cheap lavender soap.  As the first few rounds went on, Ivory continued to pursue coffee and added a bonus card strategy too, claiming several extra pounds for having crates in a multiple markets. Green continued to do well in the auctions, Purple too, but with the lower value goods. Black seemed to miss out several times.  In round three, the first mistake reared its ugly head.  At several intervals during the game, there is an extra mini-action, the first of which is during round three.  We assumed the person who chose the first assistant would also get a bonus card on top of his action which Ivory used to great advantage. It was only after the half way mark that we realised the symbol on the board actually meant that everyone gets a bonus card that round.  Unable to fix this retrospectively with only one bonus card marker left we chose to continue as before. This would mean that Purple got the chance first and only Green didn't get the bonus.
– Image by boardGOATS
After round four, that we realised our second mistake. The two assistant actions are only supposed to be used in the two unoccupied markets, but we had played them as being available in all.  Since the first player marker had made one full rotation, we felt it had been fair and playing that rule properly hereafter would not penalise anyone unduly.  The game continued, Black managed to get the tie-breaker bonus card, meaning he would win any tied auctions and Ivory began to use his bonus cards to good effect.  Green was switching his auction goods quite well, winning several at high and low values, while Purple often found herself taking the short straw, losing a few.  By the half way money check mark, it was all very close with Green narrowly in the lead with £21 just £1 ahead of Ivory had £20 and Black and Purple just behind.
– Image by boardGOATS
In the second half of the game, Black was finally able to start making good on his tie breaker, often to the demise of Green and Purple. Ivory was also able to really start building his position as he could now take four cards before each auction and exchange two more, meaning he could acquire a set of six of any type under almost any circumstances. It was about this that the third big mistake became apparent – some of the bonus cards could be held and cashed in later rather than having to be used as an immediate cash injection.  This meant players could work to get crates positioned in the appropriate market before cashing in a card, which would have helped those floundering quite a bit.
– Image by boardGOATS
By about three quarters of the way through, it was obvious who the winner would be because he was raking in the cash and everyone else barely got a look-in.  Black had had a better second half, nearly doubling his score, while Green and Purple struggled, although Green fared worse of all as he barely managed a third of what he had taken in the first part of the game.  It was Ivory though that finished with £56, nearly £20 clear of Black in second, a huge margin of victory in what had seemed like a close game at half-time.  It was clear that the incorrect rules had a big impact on the outcome though, and as a result, and as we played it, it really meant that gaining an advantage would result in a increasing circle of benefit so maybe another try is in order, with all the correct rules.
– Image by boardGOATS
Since "London Meerkats" finished before Between Two Cities, Purple and Black fancied another go at Kingdomino, this time with four players and Ivory and Green instead of Burgundy as the opposition.  There are also a couple of variants, in particular the option of adding a ten point bonus for finishing with the castle in the centre of the five-by-five grid as well as a five point bonus for players who successfully add all twelve dominos to their kingdom, so for a little variety, these were added to the final scoring.  This time Black's Kingdom started out with a lot of woodland as he struggled to get anything very much, but kept his options open and managed to work in some other regions and get them scoring. He also managed to get his Castle in the middle and complete the whole set for a full fifteen point bonus.
– Image by boardGOATS
Green started out with cornfields and meadows, soon adding woodland, swamp and water.  Although he kept it tidy with the castle in the middle, he was left with a terrible final double swamp tile that he just couldn't place.  Purple was trying to play for the high value swamp and mountain tiles, but failed to maintain her five-by-five grid. She had misunderstood the rules and thought that she would score the bonus as long as the castle was surrounded by tiles. In the end her regions were generally small, but with lots of crowns.  Ivory, the "London Meerkats" Meister, went for a wet kingdom and produced a massive scoring lake and a couple of other regions, got his castle in the middle and completed the grid for a full set of bonuses and his second win of the evening.
– Image by boardGOATS
With time getting on and people beginning to leave, there was just still time for another game and with Burgundy, Blue and Pine left, Splendor was always a likely target.  Burgundy had had an unbeaten Tuesday night run since January 2015 – well over two years and at least eight games, during which time both Pine and Blue had made several attempts to beat him.  The game is a simple one of chip  collecting and engine-building with a very loose gemstone theme.  Basically, on their turn, players can take gemstone poker chips, or use chips to buy a card.  Some cards have points on them and all can be used like the poker chips to buy cards (but without having to return them).  The cards also give players access to "Noble tiles" which also give points.  The winner is the player with the most points after someone reaches fifteen points.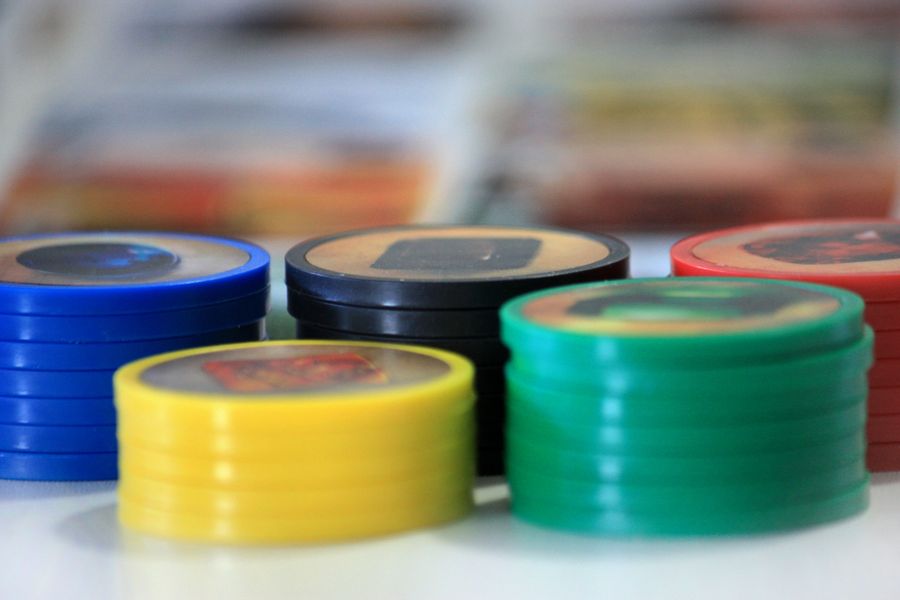 – Image used with permission of boardgamephotos
This time the nobles required three each of sapphire, opal and diamond; three each of sapphire, emerald and diamond; three each of sapphire, emerald and ruby; and four each of diamond and opal.  Pine started, but Burgundy was quick out of the traps, collecting diamond cards as there were a lot about at the start and they featured on three of the four Noble cards.  Blue followed quickly and went for sapphire cards as they were also strongly represented on the Noble tiles.  Pine was a little slower, but not far behind picking up opal cards.  Burgundy was first to take a Noble taking the sapphire, emerald and diamond Noble, just beating Blue to it.  He was working on the sapphire, emerald and ruby Noble, but Blue had her eye on that and it with both layers having three sapphire and three emerald cards, it was all down to who would be first to get three ruby cards.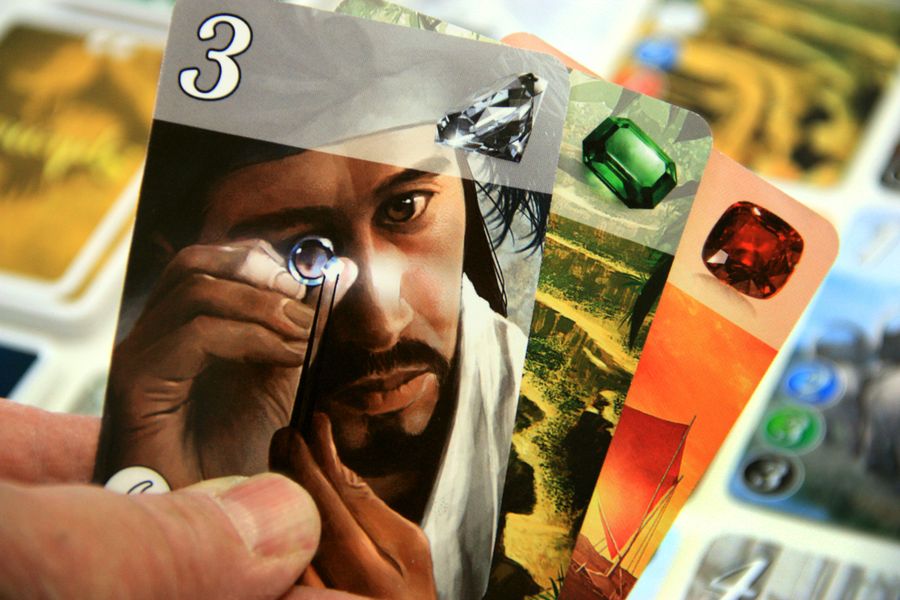 – Image used with permission of boardgamephotos
It was neck-a-neck, and it was Blue's turn.  She only needed the one ruby card and there was one in the display,but unfortunately, although Burgundy could afford it, she couldn't.  Grudgingly, she reserved the card for herself, hoping that she wouldn't turn over another ruby card.  Sadly, she did reveal a ruby card, and since Burgundy loads of cards and lots of chips, he could afford it.  It was Pine's turn first though and he could also afford the ruby card so he decided to add it to his tableau.  It was with bated breath that Pine reveled the replacement card.  Unfortunately for Burgundy it was not a ruby card which left the road open for Blue to take the Noble on her next turn.  It wasn't all over though, there were two Nobles still available, and Burgundy went for the next one, however, Pine had other ideas and took both in quick succession.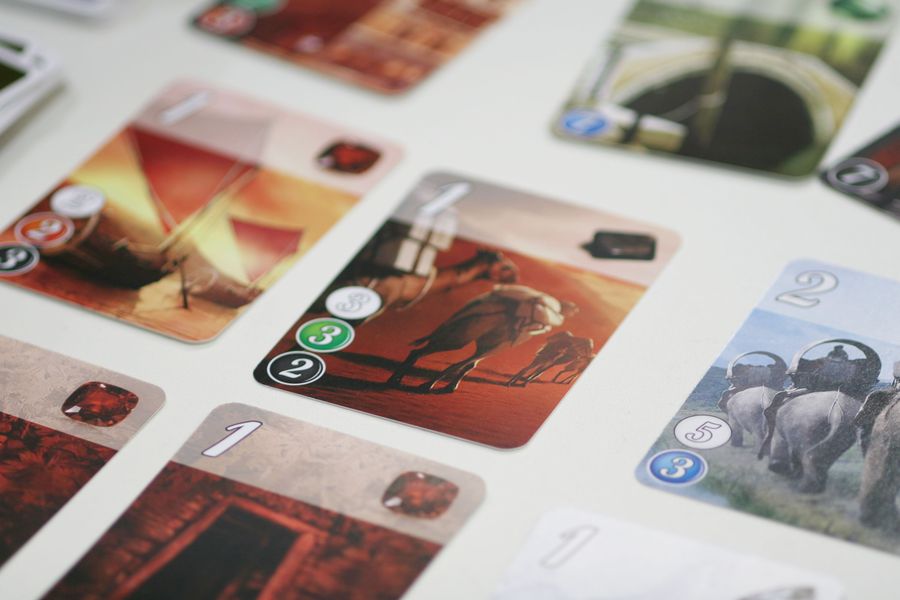 – Image used with permission of boardgamephotos
During the game, both Blue and Burgundy had been picking up a few point bearing cards, however, Blue also had two high scoring cards reserved and was looking to play one of these, a four point card requiring seven sapphires.  Knowing Blue's habit of spotting what other players want and reserving it to obstruct them, Burgundy reserved a four point level three card that he could play next turn.  Unfortunately for him, this revealed a five point card that Blue could afford.  As the last player in the round, taking the card gave her fifteen points which immediately ended the game, and with it, Burgundy's unbeaten run, finally.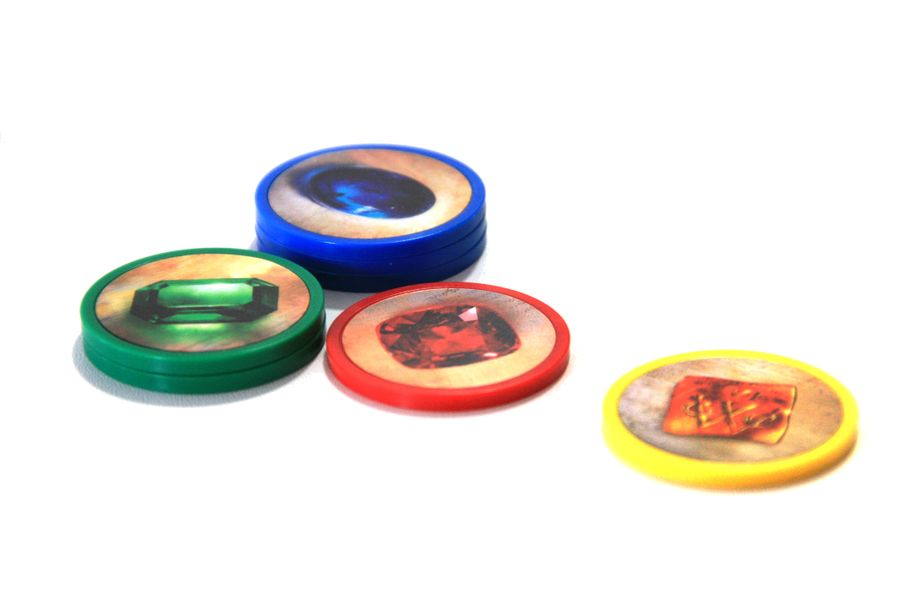 – Image used with permission of boardgamephotos
There was still time for a quick game of that "nasty card game", 3 Sind Eine Zu Viel!.  This game is very simple:  there are three rows of cards (zero to thirty, thirty to sixty and sixty to ninety) and on their turn, the active player chooses a numbered card and adds it to the appropriate row.  If there are five cards in the row the active player must pick up cards: if the card added is the highest card in the row, the active player takes the card with the lowest number, otherwise they take all cards higher than the card added by the active player.  The cards all have a colour as well as a number, and the aim of the game is to get as close as possible to two of each colour, while three is one too many…
– Image by boardGOATS
About half way through the game, Pine asked whether the card marker was included in the five cards.  This prompted a quick rules check with the inevitable discovery that we had been playing it wrong.  We finished the game with our rules and although nobody managed a full set of seven cards, Blue and Pine both managed very creditable scores, with Blue five points clear.  Since the game is reasonably quick and we all wanted to know what difference the rules change made, we gave the game a second go.  We all felt it was different this time and maybe a little less prone to catastrophic card collections, not that that helped Burgundy.  For the second game on the trot he scored just seven, while Blue and Pine scored more but were even closer this time with Blue taking the second win, by just one point.
– Image by boardGOATS
Learning Outcome:  Games are generally better when everyone plays by the same rules, ideally the right ones…!