Once the inevitable pizzas were dealt with, we settled down to the "Feature Game".  This was Cities of Splendor, the expansion to Splendor, a splendid little game that we've played quite a lot since its release in 2014. The base game is really quite simple, but although a lot of groups apparently find it very dull, our group seem to find quite a lot of mileage in its subtlety and trying to get the better of Burgundy who mostly seems pretty unbeatable.  According to the rulebook, players are Renaissance merchants trying to buy gem mines, transportation methods and artisans in order to acquire the most prestige points. The most wealthy merchants might even receive a visit from a noble, which will further increase their prestige.  Despite all this, the game itself is, in truth, really quite abstract.  Players have essentially have three options on their turn: they can pick up gem tokens; buy a development card, or reserve a development card (and take a Gold token).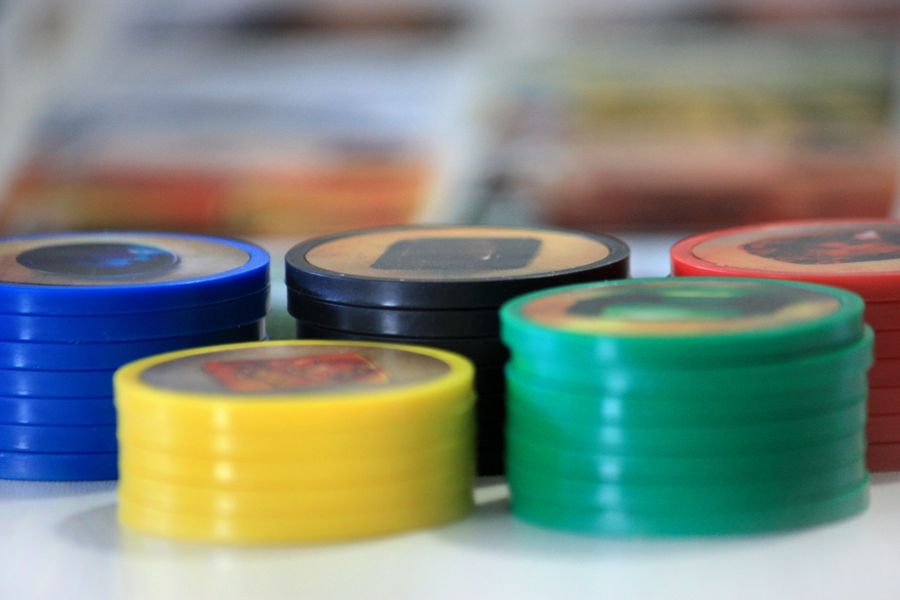 – Image used with permission of boardgamephotos
When picking up tokens, the active player can either take three different gems, or, as long as there are four or more available, two the same, with a hand-limit of ten.  These are then used to buy development cards which provide the player with a permanent supply of gems of a given colour and sometimes, some prestige points. The development cards come in three decks, and the Level Three cards as significantly more difficult to obtain, often requiring many gems.  Sometimes it can be a good idea to reserve a particular card, preventing another player from taking it and getting a Gold token in return, which can be used in place of any gemstone when buying a development card.  At the start of the game there is a small number of noble tiles each with with a requirement (e.g. four opals and four rubies); the first player to fulfil this requirement gets the noble and the associated number of prestige points.  The first player to fifteen prestige points is the winner.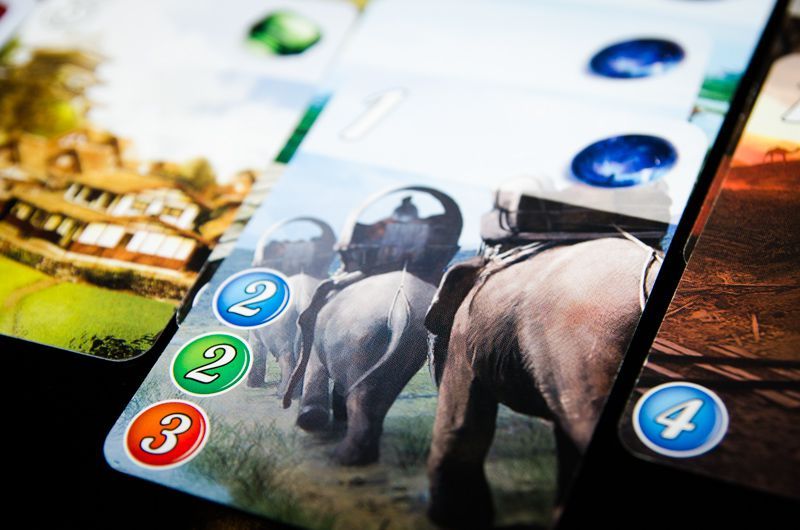 – Image used with permission of BGG contributor punkin312
The expansion, Cities of Splendor, consists of four small modules:  Trading Posts; Strongholds; The Orient, and the eponymous Cities.  We were a little concerned that these expansions were going to take a game we enjoyed largely because it is so very simple, and make it unnecessarily complex (a phenomenon we had experienced previously with some parts of the Between Two Cities expansion, Capitals).  However, unusually, these modules must be used independently of each other, each providing a really very small tweak to the game, but potentially changing the dynamics quite dramatically.  For example, Strongholds provides three little plastic towers for each player, which can be moved by the active player whenever they take a development card.  The active player can either place or move one of their own strongholds, or remove someone else's, thus providing another way to reserve a development card.  Alternatively, this effectively provides a way for everyone to "gang up" on one player, so this module has been renamed the "Get Burgundy" module…
– Image used with permission of BGG contributor punkin312
We only had one copy of the expansion, but with several copies of the base game we decided to split into two groups, each playing different modules.  The groups were split along the lines of who wanted to get beaten by Burgundy and who didn't.  The first group to get going contained Black and Blue, who were optimistic that the changes introduced by the expansion might upset Burgundy just enough to give someone else a chance to win.  As they don't normally get the chance to play with them, they started with nobles drawn at random from the 2016 and 2017 Brettspiel Advent calendars and the promotional set and then had to decide which expansion module to use.   Rather than opting for the "Get Burgundy" module, they decided it would be fairer to choose something else and opted for the Trading Posts module.  This provides an additional small board with five "Posts" with specific requirements, which if fulfilled give players extra options.  For example, a player with one diamond and three ruby development cards is allowed to collect a single token every time they buy a development card.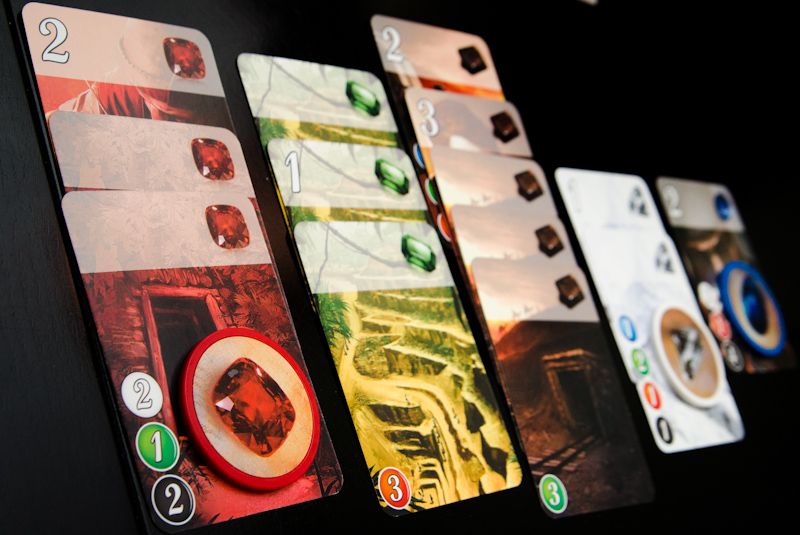 – Image used with permission of BGG contributor punkin312
Although Splendor is normally quite a thoughtful game, it usually moves along quite quickly. However, the addition of the expansion, slowed the normal fast pace quite noticeably as everyone spent more time working through the options for each turn, especially at the start.  It wasn't unpleasantly slow though, particularly as everyone had plenty to think about during the down time. Burgundy grabbed lots of diamonds and quickly began to claim some of the special powers available from the Trading Posts, making particularly good use of the first one which allowed him to collect a token every time he picked up a development card.  Black tried to go for the last two Trading posts, one of which gave him two a point for each other Trading Post he had claimed and another which gave him a straight five points.  Blue had started well, but was finding that all the diamond cards had evaporated which brought her game to an abrupt halt.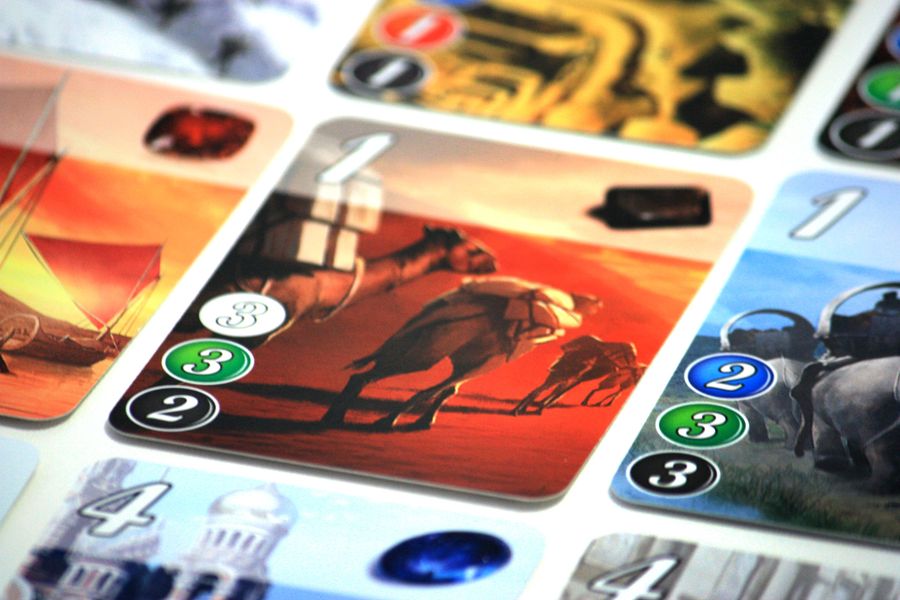 – Image used with permission of boardgamephotos
It wasn't long before Burgundy was picking up his second noble, and with Black two turns away from finishing the game himself, the game came to an end as Burgundy claimed his fifteenth point, six more than anyone else.  Meanwhile, on the neighbouring table, they were playing with The Orient Module.  This provides ten extra development cards at each of the three levels, a total of six of which are placed face up (two from each level).  These red-backed, "Orient" cards have interesting and unusual powers.  For example, there is a level one card which acts as a single use, pair of gold tokens which can be used at any time during the game.  The other card available from the level one deck is an "Association" card which is immediately associated with one other card and increases the yield of that card by one.  There are also some double gem cards and one that enables players to reserve a noble.  Everyone made good use of the double gold cards and the "money bag" Association cards (aka "onion" cards) in the first row of Orient cards.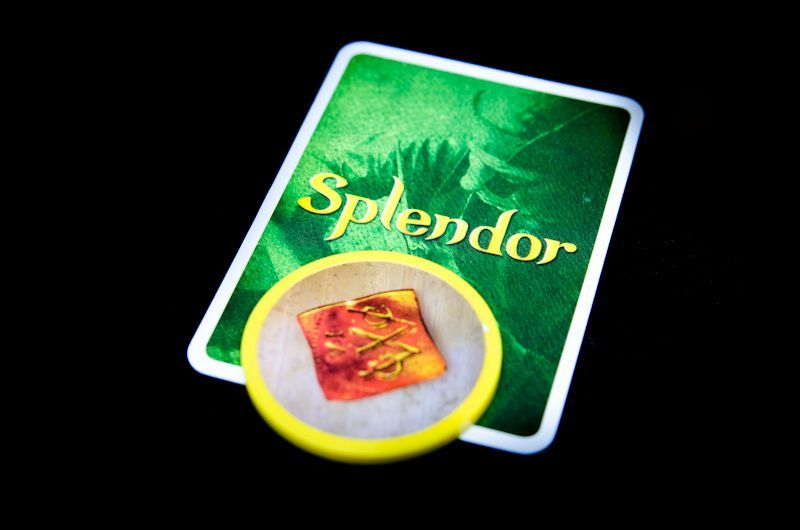 – Image used with permission of BGG contributor punkin312
The second row expansion cards remained in place for quite some time. Purple took a lot of development cards using gold tokens, Green plodded away with opal and sapphire development cards, while Red was trying to hold on to her double gold cards to use on those difficult to get top row cards.  Eventually Green claimed a level two Orient card, a double red gem, which got him to within a whisker of getting the first noble, but Red had other plans.  An Orient card swiftly enabled her to reserve the noble, take from under Green's nose and thus preventing him from taking a commanding lead.  Before long, Green was back, however, having built up his opals and diamonds which enabled him to claim Isabelle of Castile (with four opals and four diamonds). Then it was only a matter of time, Red claimed her noble, but couldn't stop Green taking a top row card to finish the game with sixteen points leaving Purple, who had started, very frustrated—she was just one turn from claiming her reserved card which would have given her the last noble and fifteen points.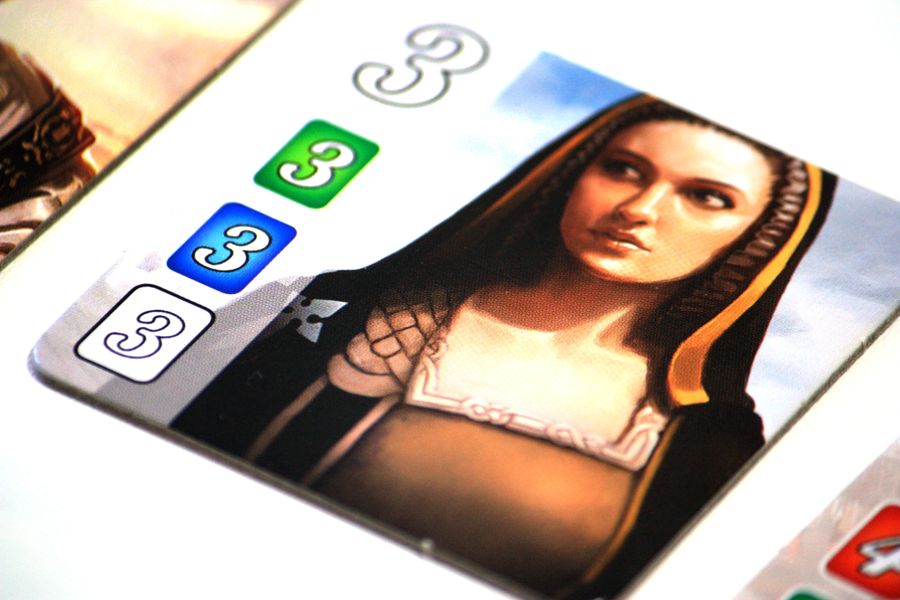 – Image used with permission of boardgamephotos
Red had really enjoyed the extra challenge and had felt that the higher level expansion cards hadn't really come into play and fancied giving it another go.  So, unusually for the group, rather than packing up, it got a second game.  There was a brief debate whether going first in Splendor is an advantage or not and the discussion spread to the next table.  It seems to be perceived wisdom, but there was a debate about whether the fact that players at the end of the round can get an extra turn (and so play for more points) might offset that.  Ultimately, no-one felt it made much of a difference and since Purple had started last time, it was between Green and Red, so they played Rock-Paper-Scissors to decide. With the excitement building, the count began, 1, 2, 3!  Round One was a draw: both had paper.  With the tension so tight you could cut it with blunt knife they started across the table at each other and prepared for the second round; a switch from paper was likely, but which way: Green went Scissors, but Red took the game with a well timed Rock and started the second game of Splendor.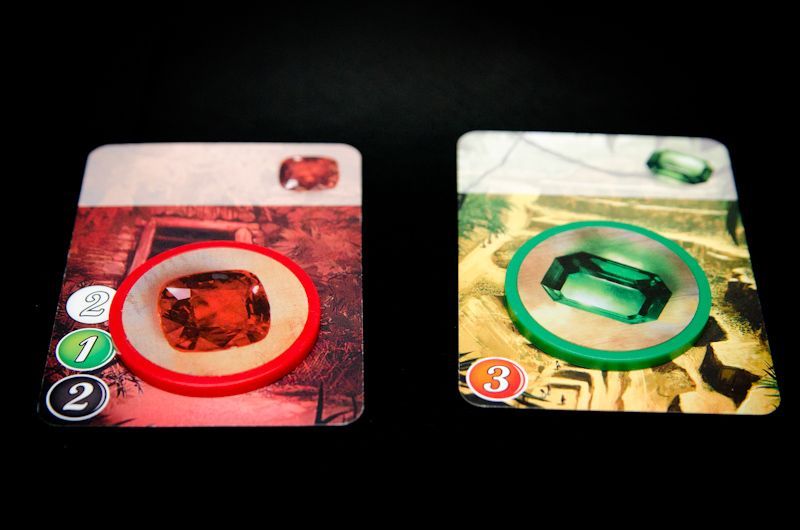 – Image used with permission of BGG contributor punkin312
Playing for a second time did not change the amount of thought that went into each turn; it always felt like a conundrum, one where several moves looked like good ones.  Perhaps the Orient cards hadn't been shuffled very well, but all the level one "Onion" Association cards came out first and the double gold cards seemed to be stuck at the bottom of the pile. Red claimed to not know what she was doing, but made efficient use of her "Onions" nonetheless.  Purple continued her gold token strategy making sure she took whatever looked useful to Green while Green ironically, just couldn't get any green emerald cards.  In fact the emerald development card handicap became quite a problem, especially since the other two were holding on to their green tokens and while an "Onion" card might have helped, he still needed one emerald card to start with! Eventually, Green was forced to change his strategy and picked up a level two expansion card to reserve the noble he was after before someone else had the chance to pinch it—all the more critical since it was the only one he could get under the circumstances.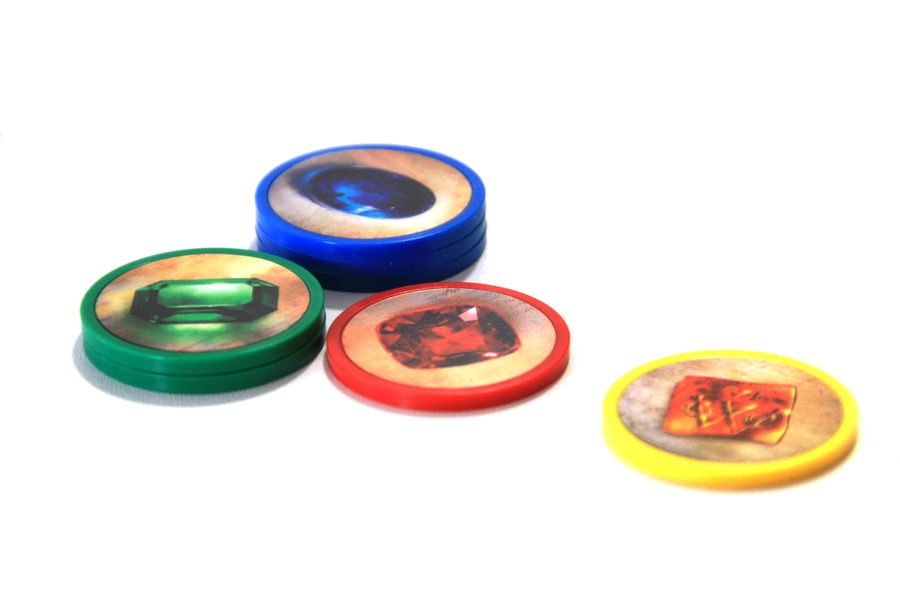 – Image used with permission of boardgamephotos
Red took the lead when she gained her first noble, but she said it wouldn't last long, and she was right. Purple was next and was able to reserve a noble for herself, then Green claimed his reserved noble. The game continued to be quite tight and even though Green managed to claim a second noble, it wasn't enough to end the game. That privilege fell to Red who finished with seventeen points. Purple was left with nothing she could do to increase her score, but that led to a debate as to what Green might be able to do. With twelve points, green needed five to draw level with Red and there was a five point card he could claim on the table. However, if Purple took that he would then only be able to claim a three point card, unless the card purple took was replaced with another five point development he could claim.  Purple decided to play king-maker and took the card leaving an unhelpful replacement card leaving him two points behind Red, the winner.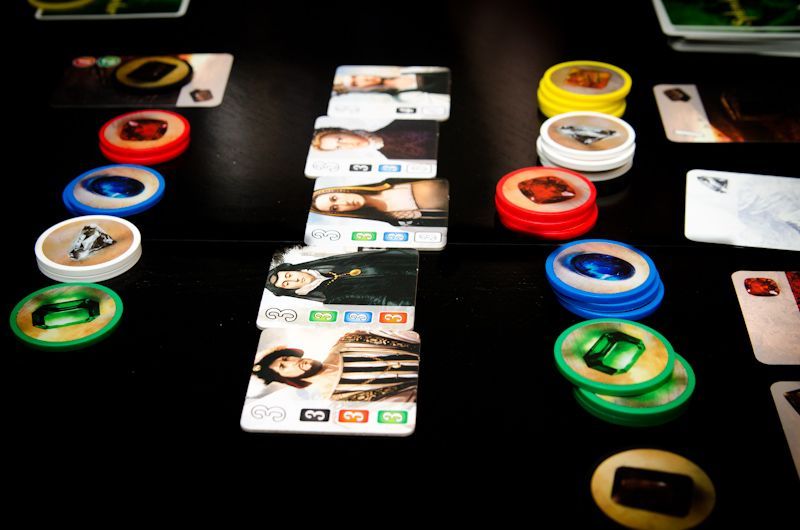 – Image used with permission of BGG contributor punkin312
Since Red, Green and Purple had gone onto a second game, Blue and Black decided to do likewise and have another pop at Burgundy.  This time, Blue went on the offensive and decided that black opals were essential to her game plan and a couple of rounds in, suddenly realised that she had almost all the black tokens and there were no attainable opal development cards available.  With the others in dire straights, Blue was able to completely strangle the game.  The problem with this strategy is that holding all the tokens of one colour is a very powerful position to be in, but that power is useless unless those tokens are spent and then the power is gone.  Additionally, the other players will inevitably build up their cards in other colours and eventually this will lead to accessible cards for the rare gem turning up.  So, timing is critical and there is a lot of luck involved as well.  Perhaps the key part is to ensure that the amount of effort put in to controlling the game doesn't exceed the value obtained.  Inevitably, Blue didn't have the perfect timing required and eventually Burgundy broke free, finishing the game with a massive twenty points, leaving the others standing.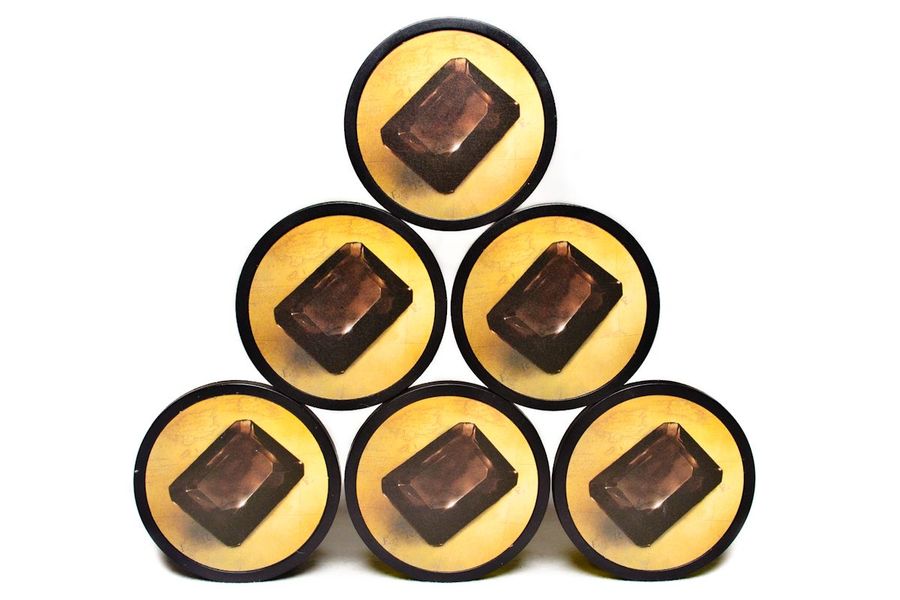 – Image used with permission of BGG contributor dotkeller
The fact that both tables wanted to give their module another go says a lot about what we thought of them.  Clearly, the changes to the rules were not enormous but added a nice little bit of variation to a game we've played and enjoyed a lot.  Inevitably, we felt some of the Trading Posts some seemed much more powerful than others.  For example, the second Post enabled a player to take an extra gem of a different colour when taking two gems of the same colour.  The problem with this is that taking two tokens of the same colour is only possible if there are at least four tokens available in that colour.  In the two and three player games this is relatively unusual until later on when players have a lot of cards and no-longer need tokens, by which time it is too late.  In the four player game, we felt this would become much more valuable though.  On the other table, the players still felt they had been unable to use the high value Orient cards, even after a second attempt.  This led to a lot of discussion, in particular whether raising end-game trigger from fifteen to twenty, might encourage their use.  Certainly it could be an interesting variant to try on another occasion, either way, Cities of Splendor is certainly going see the table again for lots of reasons: it has breathed new life into the old game, we have two the other two modules to try, and Burgundy went straight out and bought a copy as well!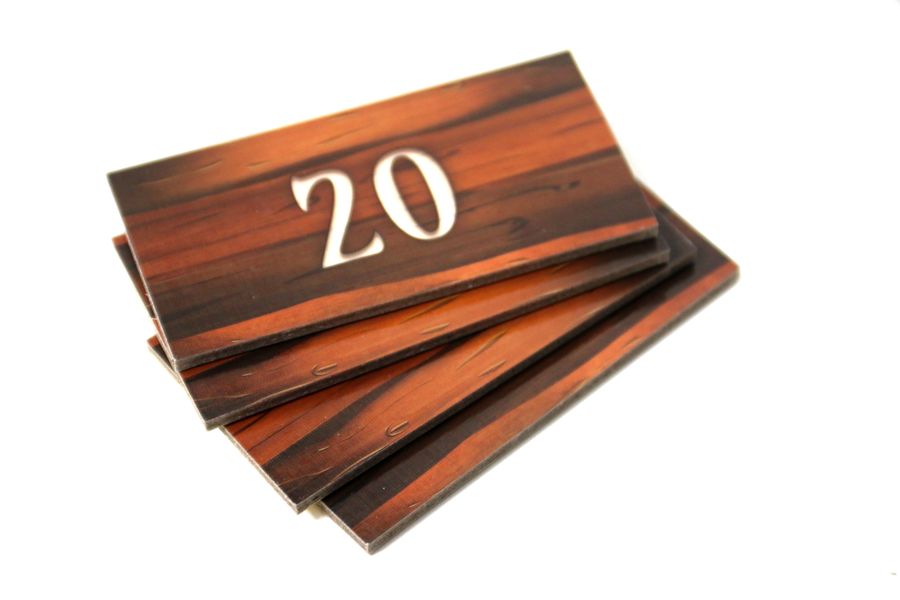 – Image used with permission of boardgamephotos
While Burgundy was finishing beating Black and Blue black and blue, the other group were looking for something to play.  Red had started the evening relating her failed attempts to acquire Kingdomino for less than a fiver.  She had been keen to get hold of it even though she had not played it, so this seemed an opportune moment for Red to be properly introduced to the game.  It's such a simple game that the rules explanation was quickly done:  Players take a domino which they add to their kingdom and then place their meeple on one of the dominoes on display for the next round.  There are a couple of really clever bits to this game though.  Firstly, since the dominos have a numerical value and are set out and taken, from low to high, players going for the more valuable tiles are trading this value against their position in the turn order.  Secondly, the two ends of the dominos depict terrain and when placed one end must connect to terrain of the same type already in the kingdom (or connect directly to the start tile).  Since all dominoes must fit in a five-by-five space (or be discarded) keeping options open is an essential part of the game.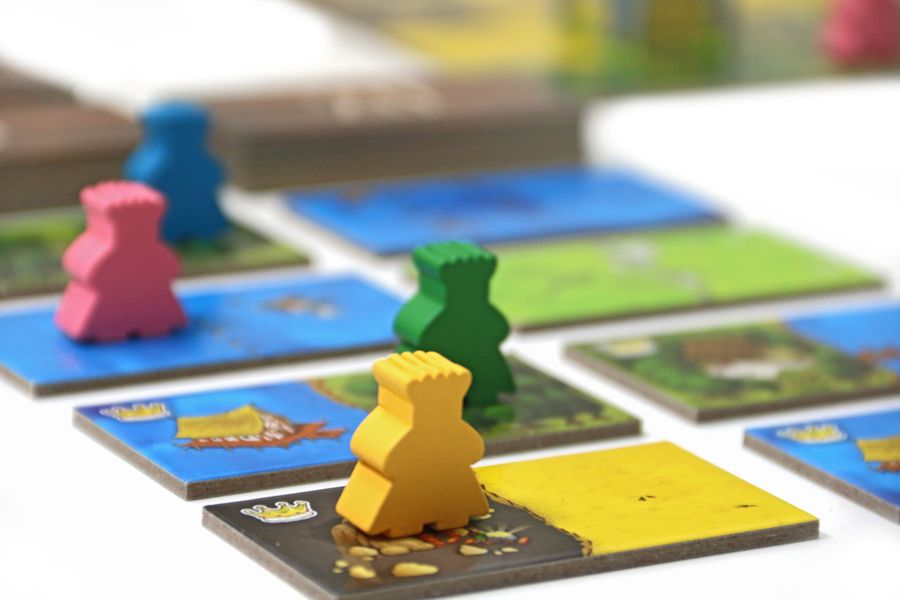 – Image used with permission of boardgamephotos
Finally, some tiles also depict one or more crowns, which are the key to scoring as each player multiplies the number of tiles in each contiguous region of terrain with the number of crowns on the tiles in that region.  This means that no matter how big an area is, it is worthless without any crowns.  Although it is a simple little game, it is easy to make a fatal mistake, and that's exactly what happened this time.  Somehow, Purple messed up her grid patterns, but worse was to come.  She had been targetting mountains and pastures, while both Red and Green were looking to forests and lakes to fill their kingdoms. With only three playing a dozen dominoes were removed and it was not until the end of the game (face down).  It was only at the end of the game that it became apparent why Red and Green had found it so much easier to fulfil their plans—the high scoring mines and lots of pasture (including three of the crown tiles) had been removed. The odds had been heavily stacked against Purple this time.  With the others both getting a full set of bonus points, it was very close between first and second despite the fact that Green had played the game several times.  In the end there was only two points  in it, with Green the narrow victor.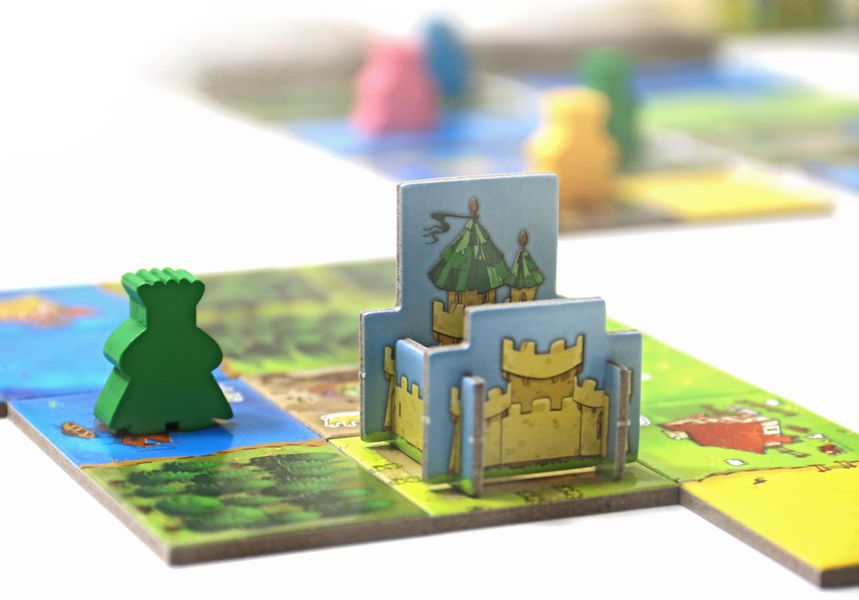 – Image used with permission of boardgamephotos
On the other table, Cities of Splendor had finished and the group were looking for something to play.  Inspired by the nearby game of Kingdomino, Black spotted Queendomino which he had not yet played.  Blue commented that she was happy to play it and be proven wrong, but that she felt it took all the good things in a great little game and broke it.  In her mind, the comparison was similar to that of Tsuro and Tsuro of the Seas.  The former is a short, light game that plays lots of people and despite player elimination is still great fun with minimal downtime.  On the other hand, playing Tsuro of the Seas at the Didcot Games Club had, on one notable occasion, ended up with Burgundy getting knocked out a couple of turns in and spending the next hour and a half as a spectator.   In Blue's eyes, Queendomino's first offence was the fact that instead of the tidy little box that Kingdomino came in, it had a huge, Ticket to Ride sized box, mostly because there was a tile-tower included.  This offended her sense of efficiency, but wouldn't have been so bad, if it had worked properly.  Although the magnetic closing mechanism was cool, Blue in particular had repeated difficulties getting the tiles out of the bottom, a problem that was exacerbated as the stack got smaller and the reduced mass pressed less on the tile being drawn out, making it increasingly difficult.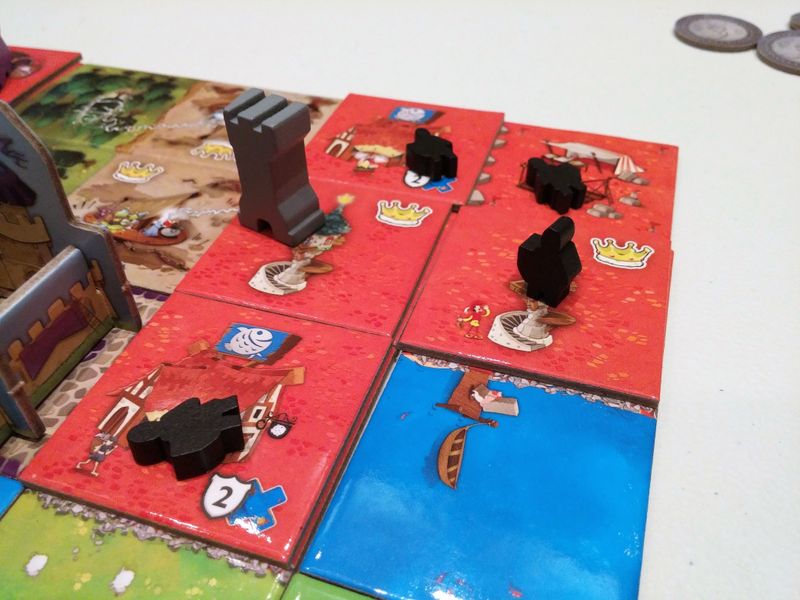 – Image used with permission of BGG contributor Toynan
As for the game, the basic mechanism is the same as Kingdomino, however, there is an extra tile type: red building plots.  These act exactly the same as the other terrain types, except that there are a number of building tiles on display that payers can buy and add to their kingdom.  This building display is only refilled at the end of the round which can make being late in the turn order more of a problem.  This can be compounded if someone chooses to bribe the dragon to burn down one of the buildings.  Amongst other things, these buildings provide knights and turrets that players can use to collect taxes and score more points.  While this has the potential to make the game deeper, the downside is that it can make the already slightly mathsy scoring even worse.  Despite all this and Blue's really rather appalling rules explanation, everyone was surprisingly keen to give it a go.  Burgundy inevitably, tried to profit from the new components and eagerly started collecting wooden turrets.  Blue and Black were a little more circumspect, though both of them picked up a few knights and used them to good effect to collect enough in taxes to ensure they were able to build a couple of nice buildings.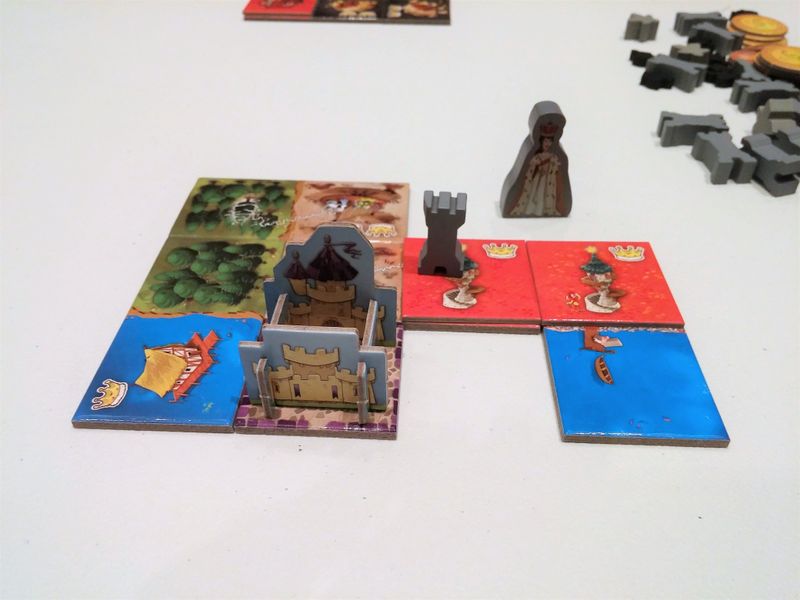 – Image used with permission of BGG contributor Toynan
In the end, it surprisingly close, and after several re-counts, Black was deemed the winner, six points ahead of Burgundy in second place.  Looking at the scores, it turned out that both Black and Blue had made most of their points on the original terrain, and it was arguable how much the new buildings had really helped.  Burgundy's entire game plan had revolved around the new buildings, but somehow, although it looked like he was running away with it, the game hadn't quite panned out like that.  Blue asked what the others thought of it and Burgundy commented that he'd be happy to give it another go, but that was in complete contrast to Black, who's one word answer, summed up Blue's feelings, "Terrible".  At some point point during the game, Red had asked whether Blue would feel better about the game if it didn't have the tower, to which Blue replied that it wasn't the tower per se, it was more that the tower was a metaphor for all all the stuff they had added to the original Kingdomino game:  it was nice to look at, but fiddly, totally un-necessary and overall made the whole experience much less enjoyable.  With that, she had removed the tiles from the tower and immediately felt better about the whole thing, but not enough to save the game from being sold at the earliest opportunity.  So, Burgundy might not get his second chance to play it after all.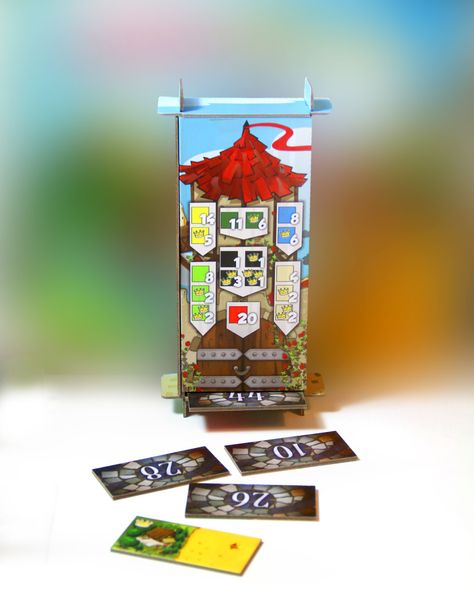 – Image used with permission of
boardgamephotos
Meanwhile on the next table, everyone was feeling a little tired, but as the hugely complex game of Queendomino, was still going on, Red and Green decided not to leave Purple relegated to observer, and chose to play one more short game.  The game in question was Battle Kittens, primarily because it's got kittens in it, but also because it's quite quick.  This was a game Blue picked up on a trip to Reading with Green, and, as he had enjoyed it more than she had, he'd received it as a little gift at the GOATS New Year Party.  At it's core, it is a card drafting game where players draft their hand of kitten cards and then send them off to battle.  Each of the three arenas will contest three of the four kittenny attributes: agility, strength, wisdom and cuteness.  Players decide which kittens they want to put into each arena and then resolve any special cards with the highest total running out the winner.  At various times, both Purple and Red had a victory cruelly snatched away from them to the benefit of Green. The first time this happened was to Red who had a high score with three kittens and had it ended there she would have won that battle.  Unfortunately, she was forced to take a King card first, and lost all her other kittens and ended up losing the battle. Similarly, in the second round, Purple managed to get some really good Crown cards and won a couple of battles quite convincingly, but they either gave more fish for coming second or gave an equal number for first and second place and thus did nothing to dent Green's growing pile of fish as his kittens gambolled their way to victory.
– Image by boardGOATS
Learning Outcome: Some expansions really add to the game, others can take a great game and make it "terrible".