Our next meeting will be on Tuesday 3rd April, at the Horse and Jockey pub in Stanford-in-the-Vale.  As usual, we will be playing shorter games from 7.30pm as people arrive, until 8pm when we will start something a little longer.
This week the "Feature Game" will be Fabled Fruit.  This is a very light, but innovative little card game with elements of worker placement and set collection.  The interesting part of the game is the "Legacy" element where new cards are introduced during the game and the end state becomes the starting state for the next game.  These keep the game fresh and interesting as the game changes as it is played.  For this reason, we plan to play this a few times so that everyone gets a chance to see how the game evolves.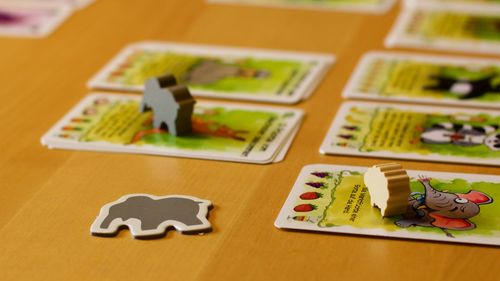 – Image by BGG contributor Hasematzel
And speaking of fruit…
Jeff and his two friends got captured by native Americans who wanted to kill them, but the Europeans begged to have their lives spared. After some discussion, the natives agreed to not kill them on one condition: the Europeans must go into the forest and bring back a fruit and they would be informed what to do with it on their return.
So the first of Jeff's friends came back with a peach. On his return, the native said "Shove it up your bottom, if you laugh we kill you."
So, he shoved the peach where the sun wouldn't shine and, as he did so, he couldn't help laughing, so the natives killed him.
The second of Jeff's friends came back with a grape. On his return, the native told him the same thing. Jeff's friend couldn't help himself and laughed so again, the natives killed him.
Jeff's two friends met at the pearly gates and Jeff's first friend said to the second, "I had a peach and peaches are furry, so that's why I laughed, but you had a grape, what went wrong?"
The second friend replied, "Oh, well, I was doing just fine until I saw Jeff coming back with a pineapple!"