Blue and Pink arrived first and, as they were early, they decided to get in a quick game of NMBR 9, while they waited for food and more people.  This is a game which is rapidly becoming one of our go-to fillers primarily thanks to it's almost non-existent setup time.  This time, Blue turned over the cards, and Pink scratched his head a lot as he tried to work out what to do with his tiles.  Once a few tiles have been placed to form a base layer, then tiles can be placed on top of other tiles as long as there are no overhanging parts, and the tile sits squarely on more than one other tile.  This is essential as the higher the tiles are placed the more they score.  Unfortunately, the rule Pink forgot about was that tiles must be placed such that at least one edge touches a previous tile on that level.  "Cheating" didn't do him much good though, as Blue won by more than thirty finishing with a massive eighty-one thanks largely to placing a seven on the fourth tier.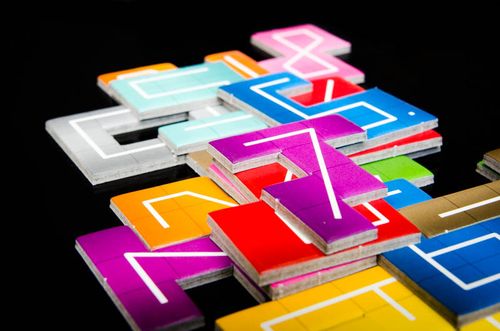 – Image used with permission of BGG contributor punkin312
Although a few of our regulars were missing (Green, Red and Ivory), they were ably replaced by a couple of our irregulars in Pink and Turquoise.  So while we made sure there were no more stragglers and Burgundy finished his inch thick slice of ham, we played another quick filler game, this time of 6 Nimmt!.  This has long been a favourite in the group, thanks to the fact that it plays a lot of people coupled with the hilarious way that a tenuous control of the game can catastrophically turn into chaos.  It is one of those games that is more difficult to explain than to play, but essentially each player has a hand of cards and simultaneously everyone chooses one to play.  Simultaneously, everyone then reveals their card and each card is added in turn to the end of one of the four rows of cards on the table.  Beginning with the lowest each card is added to the row with the highest number that is still lower than the active card.  The snag is, if anyone's card is the sixth to be placed in a row, the first five are "won" and and the card becomes a new starting card.
– Image by boardGOATS
As well as a face value (one to a hundred and four), each card also has a "nimmt" value: most are one, but there are some as high as seven.  The player with the fewest nimmts at the end is the winner.  It has been somewhat neglected of late though, and has only been played once this year by the group, and then only just (it was the early hours of New Year's Day), so it was definitely time for another outing.  Normally we play two rounds, dealing out approximately half the deck each time, but with so many of us all wanting to play, we decided to go for a single round and deal ten cards each.  This time Black and Purple were fighting it out for the unofficial wooden spoon, but that honour was reserved for Turquoise with a quite fantastic thirty-one.  At the other end, both Burgundy and Blue thought they might have got it with just three and one respectively, but it was Pink with a nice round zero who pipped them to it.
– Image by boardGOATS
Once the food and the nimmts had been dealt with and it was clear that no-one else was coming, the inevitable squabble began over who wanted to play the "Feature Game".  This week it was Fabled Fruit, a very light worker-placement and set collecting card game with a "Legacy" element to it.  As such, the game is very simple, but develops as you play.  The idea is that the game starts with six "Locations", each of which is formed by a deck of four cards.  On their turn the active player moves their meeple to one of the locations and either carries out the action shown on the cards in the deck or buys one card for the amount shown.  The locations provide access to "fruit cards", which are the currency in the game and are used to buy the location cards.  Each location has a different action, for example, the first location enables the active player to draw two cards from the top of the fruit deck.
– Image by boardGOATS
On the other hand, Location Five allows the active player to draw cards until they have a hand of three—useful if they started with no cards, but not so helpful if they had a handful. At Location Six, the active player can turn over as many cards as they like, keeping all the unique cards they turn over, but go bust in a Port Royal sort of way if they turn over a duplicate card.  Since there are five different fruits, this action quickly becomes increasingly risky.  There are other actions, some of which add a bit more interaction, like giving a player a banana card and getting two cards in return or drawing one card from the fruit deck and then exchanging three fruit cards with another player.  A little more interaction comes from the fact that visiting an occupied location costs a fruit card: since location cards typically cost four or five fruit cards, this is expensive, especially with low player counts, but playing with the full complement makes this almost unavoidable from time to time.  Aside from this though, there is very little interaction and the actions for the starting locations are quite mild.
– Image by boardGOATS
The interesting part is how the game develops, since a new card is added to the game every time a location card is bought.  Each location holds just four cards, so for every cards that are bought, a new location is introduced, and once all the cards for one location have been bought, that location and therefore that action is no longer available.  The really clever part of the game is the "Legacy" element:  the end game condition, becomes the start condition for the next game.  For this reason, we decided to play the game three times so we could see and appreciate how it evolves.  The rules were easy enough to explain and Turquoise, Magenta and Burgundy were keen to give it a go, so they joined Blue and Pink leaving Black, Purple and Pine to find something else to play.  It wasn't long before the Fabled Fruit players were happily collecting fruit cards and occasionally turning them into juice by buying location cards.
– Image by boardGOATS
It is a game of very fine margins, though and it wasn't long before almost everyone had two Location cards tucked away and were fighting for one more to win.  In truth it wasn't a long fight as Pink made his experience with the game tell and took the first round.  Then instead of resetting the game, we checked we still had the right number of cards out, and started again with the new set up.  So this time, we started with the market which had been introduced during the first round.  This is a face up display of five cards that players can interact with.  The Locations that were available allowed players to trade cards with the market, but also trade one strawberry, for any three non-strawberry fruit cards in the market.  This hugely increased the value of strawberries and, with the high value of pineapples (which could be traded for five from the deck) and bananas (which could be used to take cards off another player), it meant that players were holding more and more cards.
– Image by boardGOATS
This all changed in the third round, however, when Location Ten appeared which allowed the active player to take two fruits from the player with the most cards.  Nobody liked falling victim to that one very much, but everyone took advantage where they could.  With just Pink taking the second round as well as the first, it was all about trying to stop him taking a clean sweep.  In the end it was really tight.  Everyone gets the same number of turns, so when it was clear that Pink was once again in a position to trigger the end by purchasing his third card, it was a question of whether anyone could stop him.  Although Turquoise who started the round had been steadily improving, there was nothing she could do, nor Burgundy who went next.  As Pink then played his master-move and picked up third Location card, the question changed to whether Blue and Magenta would be able to join him.  Both had enough cards, but but Magenta, was unfortunately standing on the only card she could buy, so in the end, the final round was shared by Blue and Pink.
– Image by boardGOATS
Meanwhile, on the next table, Black, Purple and Pine had started off with Azul.  This, like NMBR 9, has been an immensely popular game since it first appeared on the group's radar at Essen last year.  The game is almost entirely abstract, with a very loose "artists decorating a wall in the Palace of Evora" theme, but somehow, that doesn't seem to matter as the game play is good and the production values very high.  In summary, the active player can either take all the tiles of one colour from one of the factory displays (putting the rest in the central market) or take all the tiles of one colour from the market in the centre of the table.  They then place the tiles they took in one of the five rows on their player board.  The catch is that although they can add more tiles to a row later in the round, once a row is full, any left-overs go into the negative scoring row. The round ends when all the tiles have been picked up, and one tile from each full row is added to the player's mosaic and scored.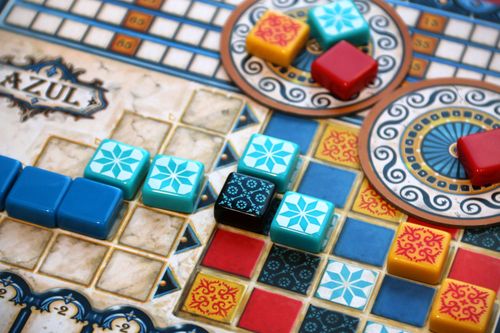 – Image used with permission of boardgamephotos
Tiles placed singly score just one point, but if they become part of a row or column, they pick up points for each tile in the row or column, so clever players can make tiles score over and over again.  The game ends when one player gets a complete row, so it takes at least five rounds, and then bonus points are awarded for completed columns or rows and full sets of five of a colour.  Purple wasn't concentrating, so failed to get any bonus points, while Black and Pine picked up a few negative points.  Pin had a disastrous final round when he was forced to pick up six red tiles but could only place two of them meaning the rest all scored negative points, a total of minus thirteen for that round.  It didn't do him too much damage though as he finished with thirty-eight, ten points clear of the others who were in a battle for second that Black won by a single point.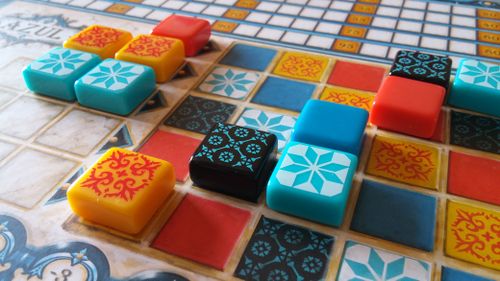 – Image used with permission of BGG contributor Toynan
Next the trio moved on to Sagrada.  This is another popular "game of the moment", with very similar feel to Azul, but this time using dice and players are building a stained glass window by placing dice on a grid of dice on their player board.  Each board has some restrictions on where certain coloured or numbered dice can be placed there and players take it in turns to take dice from a pool and add them to their window.  Depending on the difficulty of the starting grid, players start with a small number of favour tokens which act as "get out of jail free" options and allow them to use special tools to manipulate some of the dice, either during the "drafting" phase, or sometimes those already in their "window".  Points are awarded for fulfilling certain criteria, depicted on cards drawn at random at the start of the game.  Although completing the window can be challenging in its own right if the dice don't roll well, it is the objective cards that are the key to the game.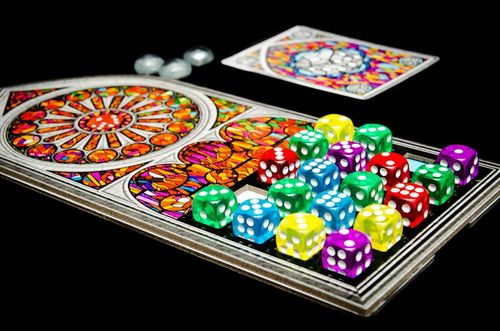 – Image used with permission of BGG contributor punkin312
Each player has their own private objective which scores for the number of pips displayed on dice of a given colour in that player's window. There are also three public objectives which everyone can use to score points; this time these gave points for complete sets of all five different colours, complete sets of all six numbers, and for columns that contained different numbers.  The game starts with each player choosing a window from two double-sided cards dealt at random.  The hard ones come with a lot of favour tokens and these can be critical as they can be used to move and re-roll dice or other special actions depending on what special tools are available.  This time they were particularly important, as everyone kept rolling sixes which wasn't what they really needed.  Purple in particular made full use of all her favour tokens which helped keep her in the game.  When it came to scoring, it was quite close, with players taking similar scores on the separate public objectives. The small differences added up, however, and Pine finished in front with a nice round fifty, a handful of points ahead of Black in second place.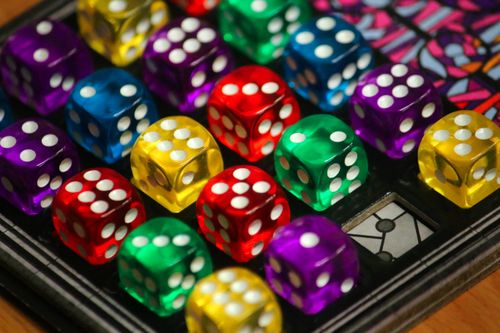 – Image used with permission of boardgamephotos
Fabled Fruit still hadn't finished, but was well into its third round, so Purple, Black and Pine, looked round for something familiar and quick to play, and their collective eye fell on Kingdomino.  The rules didn't need much recap: take a domino and add to the kingdom and then place a meeple on one of the dominoes on display for the next round.  When placing the dominoes, one of the two ends must connect to terrain of the same type already in the kingdom, or connect directly to the start tile.  Points are awarded at the end of the game by multiplying the number of tiles in an area of terrain by the number of crowns in the area.  All dominoes must fit in a five-by-five space (or be discarded) and bonus points are awarded for successfully placing all tiles and finishing with the start tile in the centre.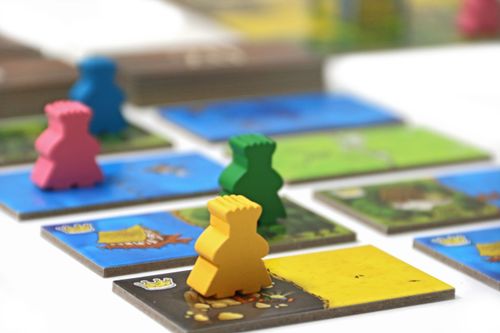 – Image used with permission of boardgamephotos
It is a very clever little game, and tile placement is clearly critical, but one of the most important aspects is the trade off between turn order and tile value.  Each domino has a numerical value and they are set out and taken, from low to high, so players going for the more valuable tiles are trading this value against their position in the turn order.  This was key for Pine who failed to get the crowns he needed and when he did couldn't add them to the terrain he wanted.  This was exacerbated by the fact that with only three players, some tiles never appear which can upset the balance of the game.  All in all, Pine had a complete "mare" of a game, crowned by the fact that he failed to place all his tiles and didn't get his castle in the centre of the kingdom either.  It was a game he wanted to forget, but was close between Black and Purple.  Black had the edge though and finished with a grand total of seventy.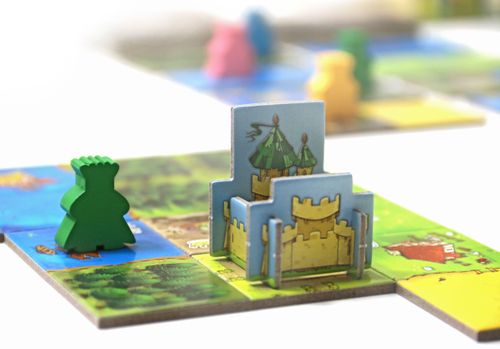 – Image used with permission of boardgamephotos
Nobody wanted a late night, but everyone fancied finishing with something light, and with so many people Las Vegas is always a good option.  This light dice game is really easy to play and doesn't require much in the way of concentration, so is great to wind down with.  On their turn, each player begins by rolling their dice, then assigning some of them to one of the six casinos.  Each casino is numbered one to six and has a jackpot drawn at random from a deck of money;  the catch is that to place a "bet", the player must use all the dice of one number that number.  Once everyone has placed all their dice the player who placed the most dice on a casino takes the highest value currency card. The really clever bit is that before any money is handed out, any "draws" are removed, which leads to a lot of barracking.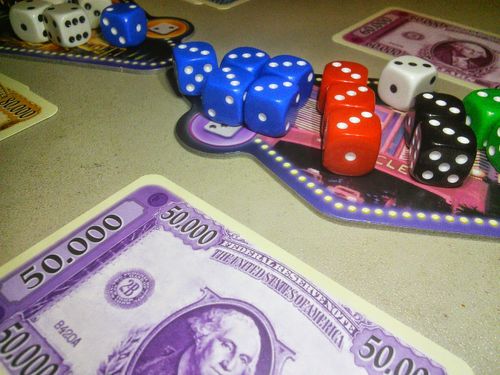 – Image used with permission of BGG contributor joeincolorado
We also always add the Slot Machine from the 2015 Brettspiel Advent Calendar, which is like a seventh casino, except that it can hold dice of any number, but each number can only be added once (though a player must add all the dice they have of that number).  We also add some elements from the Boulevard expansion, including extra high value money cards, the "biggun" (which replaces one die per person with a larger, double weight die worth two of the little ones) and extra dice so more people can play.  Finally, we always house rule the game so we only play three rounds instead of four—although we love it, with four rounds it can outstay it's welcome for those who feel they can't catch up.
– Image by boardGOATS
It's never easy to tell how people are doing as the money is stored face down and the denominations vary from $10,000 to $100,000, so someone with a large pile may be very rich or just have a lot of "notes".  And Purple certainly had a lot of notes as she popped out to the conveniences and came back to find a massive money pile.  Everyone was so impressed that several others optimistically tried the same trick, but unfortunately they didn't quite have the knack.  It was an exciting game though; with so many people playing there were a lot of draws and lots of bids ended up cancelling out others, often with three people involved and a fourth very lucky "loser" picking up the spoils.  In the final counting, Pink proved that while he was good at collecting fruit, he was rubbish at collecting money.  At the other end of the scale meanwhile, Black and Purple were again fighting it out for first place, but a tie on $340,000 each was eventually resolved in Purple's favour.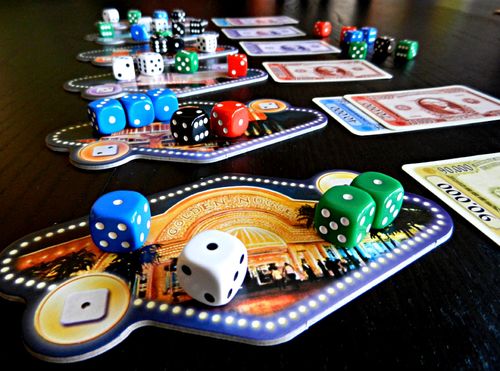 – Image used with permission of BGG contributor ckirkman
Learning Outcome:  Aesop doesn't have a monopoly on Fables.