Our next meeting will be on Tuesday 17th April, at the Horse and Jockey pub in Stanford-in-the-Vale.  As usual, we will be playing shorter games from 7.30pm as people arrive, until 8pm when we will start something a little longer.
This week the "Feature Game" will be Mini Park.  This is a very quick, light tile-laying game from Taiwan that was popular at Essen last year.  Players take on the role of architects designing a new park, taking it in turns to either place a tile or add a character.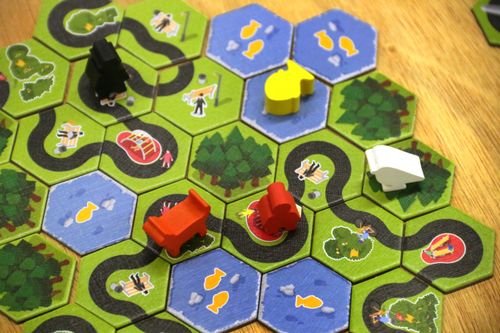 – Image by used with permission of boardgamephotos
And speaking of architects…
An architect named Jeff and an Engineer named Joe, went on a camping trip together.  It had been a long day and both of them were tired so they pitched their tent, and went to sleep.
Some hours later, Joe woke his mate and said, "It is a beautiful night, Jeff, look up at the sky and tell me what you see."
Jeff replied, "I see millions of stars."
Joe asked, "What does that tell you?"
The young architect thought for a moment and then said, "Astronomically speaking, it tells me that there are millions of galaxies and potentially billions of planets. Astrologically speaking, it tells me that Saturn is in Leo. Time wise, it appears to be approximately a quarter past three. Theologically, it's evident the Lord is all-powerful and we are small and insignificant. Meteorologically, it seems we will have a beautiful day tomorrow."  Then he paused before he continued, "Why, what does it tell you?"
His engineer friend was silent for a moment, and then said, "Practically speaking, it seems someone has stolen our tent…"