When we played Mini Park a couple of weeks ago, we had all found it a little underwhelming.  At the time we had felt it might be better with fewer people, so as it was a very short game, while we were waiting for food to arrive, we decided to give it another try. The game is a hexagonal tile-laying game where players choose one character which dictates the end game scoring.  We played the "advanced" game which has slight changes to the scoring and pairs each scoring character at random with a second character.  The latest version of the rules suggest that these subsidiary characters should be kept secret, but we felt that would make things a little bit too random.  We did adopt the simpler in-game scoring though.
– Image by boardGOATS
This time there were only three players, so everyone got two characters instead of one:  Burgundy took the people (Man and Child); Blue took the wildlife (Fish and Bird), and Magenta got everything else (Cyclist and Cat).  Unquestionably it was better this time round.  The Fish was still very powerful, but this time it was largely luck of the draw as Blue took it early and then managed to draw lots of pond tiles, netting her a massive forty-five points, with Magenta getting twenty-two.  The Cyclist was a lot less powerful this time though, and combinations of main character and subsidiary had a much stronger effect as well.  For example, while Blue had two of the strongest main characters, her subsidiaries were the weakest; on the other hand, Magenta and Burgundy had a much more even distribution of points across the board.  The end score was much closer this time, and despite the obvious high Fish score, it wasn't the foregone conclusion of last time.  Nevertheless, wildlife won in the end with Blue finishing on eighty-six, ten ahead of Magenta in second place.
– Image by boardGOATS
With Mini Park and food over, it was time to play something more serious, and we moved on to the "Feature Game", Lords of Xidit.  This is a reimplementation of the simultaneous programming game, Himalaya, which has a very unusual scoring mechanism.  The game is set in the fantasy land of Xidit, which is under attack.  The last hope for restoring peace lies with the Kingdom's noble heirs, the Idrakys, who must travel the Kingdom recruiting brave soldiers and restoring the threatened cities.  The game board is a map of Xidit, depicting the cities, on which double-sided tiles are placed, showing either recruitment or threats.  The game is played over twelve years with each year consisting of players giving their Idrakys six secret orders using a special player board, and then executing them in order.  There are three possible orders for the Idrakys:  moving along one of the three road types; in a city, either recruit a Unit or eliminate a threat (depending which side the tile is showing); or wait.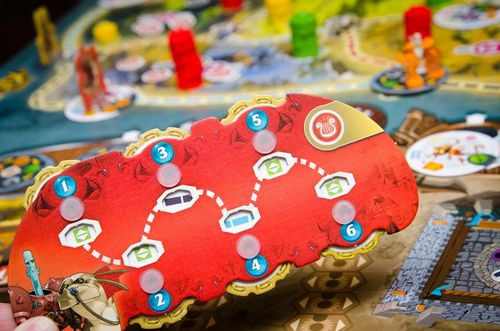 – Image used with permission of BGG contributor punkin312
The catch is that if the action is possible, it must be carried out, so if the order is move along a green road, that is what it must do.  Similarly, if a player's Idrakys is in a city where the tile is recruitment face up, they must recruit a Unit.  The Units come in five different types, in order of increasing power: Peasant Militia; Archers; Infantry; Clerics, and Battle Mages which are orange, green, grey, white and purple respectively.  When the city tiles are Recruitment side up, they hold five Units, in predetermined colours, and when recruiting, players can only take one Unit and it must be the least powerful available.  These Units can then be used to defeat a Threats in exchange for Gold Sovereigns, placing their Bards or add Stories to the city's Sorcerers' Guild Tower if it is their own.  When a Threat or Recruitment tile is removed, another is drawn from the respective stack and placed on the appropriate city.  If there are insufficient tiles in the Treat stack, then the Titan tiles are turned over, to the Raging Titan's side—these are super-aggressive Threats that are not associated with a city and can be eliminated in a similar way to other Threats.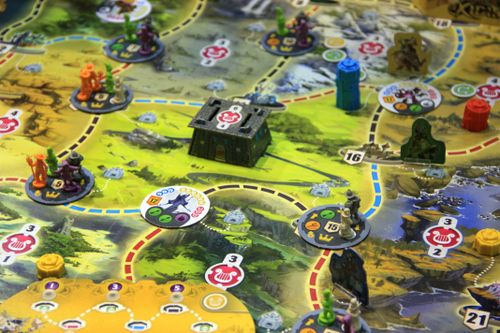 – Image used with permission of boargamephotos
At the end of the fourth, eighth and final (twelfth) year, there is a Military census where, beginning with the Peasant Militia (and continuing with the others in turn), players secretly hold a number of Units in their hands before a simultaneous reveal.  The player with the most of Units receive a reward; players are not obliged to reveal all their Units of that type, indeed, bluffing can be a good idea when trying to mislead players at the end of the game.  This is because the final census is followed by a series of assessments, where the weakest player in each one is eliminated until one player is left.  Each assessment ranks the players based on either their Wealth, their level of Influence with the magical community, or their Reputation across the Kingdom.  The last player remaining at the end of the assessment stage is the winner.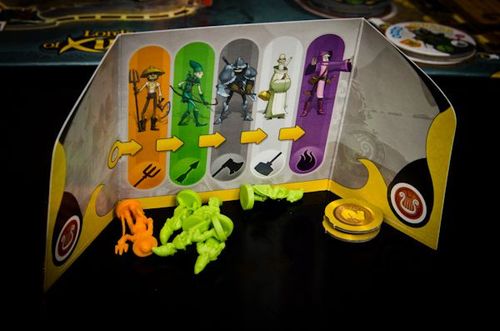 – Image used with permission of BGG contributor punkin312
The game looks complicated, but was actually surprisingly easy as long as the Threat/Recruitment piles are managed effectively.  Game play is also very quick, much to everyone's surprise: it never took too long to work out what the six actions were going to be and even when someone took a bit longer than usual it was never excessive.  Carrying out the actions was very quick too—players barely had time after completing one action before it was time for the next.  As such this game does not suffer from "Analysis Paralysis" and there never seemed to be any down time, unusual for a game like this and a welcome change.  The other curiosity was that even though there is never anything hidden (although items are hidden behind a players screen, they are collected in the open, so it is entirely possible for players to keep track of how each other are doing) no-one had any real idea of who was actually winning.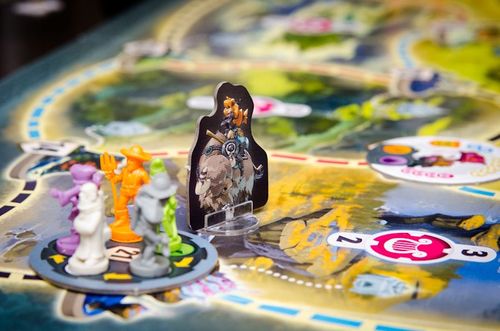 – Image used with permission of BGG contributor punkin312
There were the occasional blunders as someone miscalculated and carried out the wrong action (such as going to a city to recruit just after someone took the last unit), or as in the case of Pine towards the end, looking at the wrong Idrakys counter when working out route and actions for the turn.  On the whole though, everyone was were able to plan the sequence of commands each "year" without difficulty.  The key to this game, however, is probably keeping a close eye on which Threat/Recruitment tiles are due to come out in the next couple of turns to try to plan an efficient route and arrive at the right city at the right time.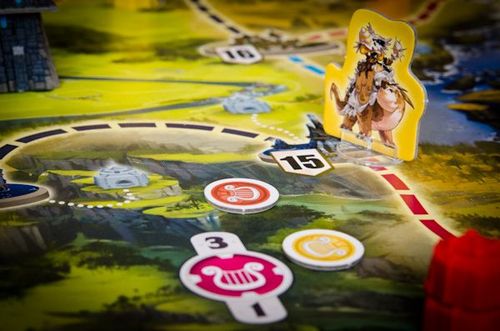 – Image used with permission of BGG contributor punkin312
The unique elimination based scoring system worked well, keeping everyone guessing who would win right to the end. By the end of the game, Green and Black had both managed to build all their towers (the final round of elimination scoring), while Pine had the least. The Bard tokens (the penultimate elimination round) seemed relatively close, but Burgundy and Pine had both been fighting over the hidden central citadel so that outcome was unknown.  Before these two assessments could be addressed, players have to survive the elimination round for gold coins, and these are hidden.  Green had got off to a good start and gained a lot of gold at the beginning of the game; given his strong position in with respect to towers and bard tokens on the board he looked like the front runner. Unfortunately, he had neglected to collect gold later in the game and ended up with the least, just one less than Black, so was out in the first elimination round.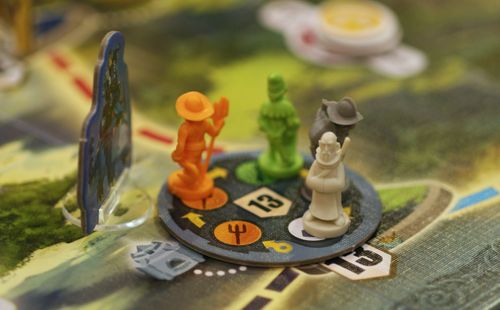 – Image used with permission of BGG contributor duchamp
Then there was a discussion as to whether Green's Bard tokens should be taken off the board and disregarded now he had been eliminated.  The answer didn't seem to be in the rules, but it was at that point that we realised we should have scored everything first and then gone through the elimination checks so Green's bard tokens remained.  Towards the end of the game, there had been a flurry players placing Bard tokens and, as a result Green again had the lowest Bard score, but since he had already been eliminated, Black was the next to go, leaving only Pine and Burgundy in the Sorcerers' Guild Tower elimination round.  We knew that Black and Green had the most, but as they had both been eliminated it the best of the rest, and that was Burgundy. This was a surprise to everyone as he and Pine would have been knocked out much earlier, demonstrating that playing to win (i.e. concentrating on the final elimination) is not the way to play this game.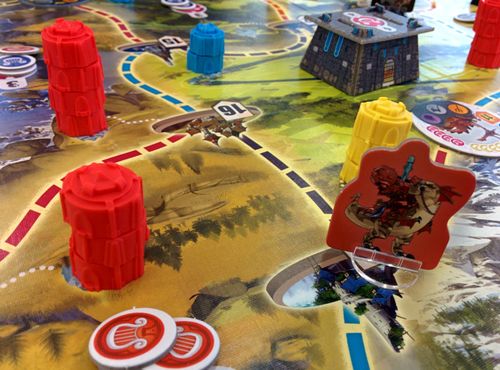 – Image by BGG contributor JackyTheRipper
Overall everyone really enjoyed it:  it was fast, fun and there were a few surprises too. Nobody of us felt it was award-winning, but it was certainly one we would play again, and probably more than once.  Meanwhile, on the neighbouring table, everyone else was playing Castles of Mad King Ludwig, a tile laying game where players are building an extravagant castle for King Ludwig II of Bavaria, one room at a time.  Rooms selected randomly are sold off in batches with one player, the Master Builder, setting the prices for each room in the batch.  Payment is made to the Master Builder (similar to the auctions in Goa), but as they are the last player to buy, there is a large element of "I divide, you choose" (similar to games like …Aber Bitte Mit Sahne).  Thus, the idea is that the Master Builder wants to arrange the tiles such that rooms desired by the other players are expensive, but generally not too expensive, and similar to Goa, having a lot of money is powerful, but when you spend it, you give that advantage to the active player.  The other interesting mechanism is controlling the room layout so that rooms that work well together are daisy-chained yielding the most points.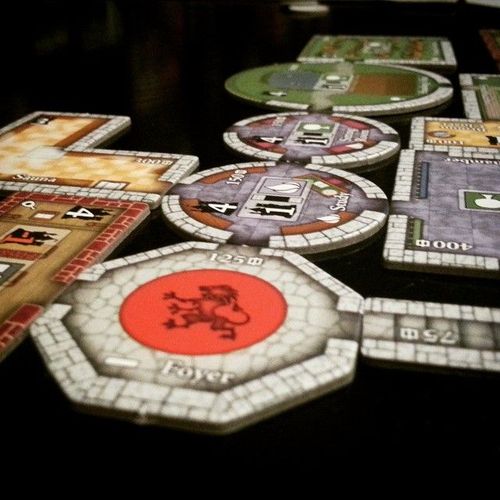 – Image used with permission of
BGG contributor punkin312
When a room is placed, points are scored for that room, but also the room it is attached to.  Most of the points are dependent on the type of room they are connected to, so, a large purple living room with (say) six doors, will score every time a room is added to it.  If it scores two points for every "blue sleeping room" that is connected to it, it will score two points when it is first placed (next to a sleeping room, but four when the next is added to it, then six and so on.  However, the difficult part is trying to find six blue rooms that also score when they are placed next to a purple living room.  Balancing the synergistic effects are really what make the game interesting.  When a room is completed, there is a bonus, this can be extra points or some other advantage like an extra turn or money etc..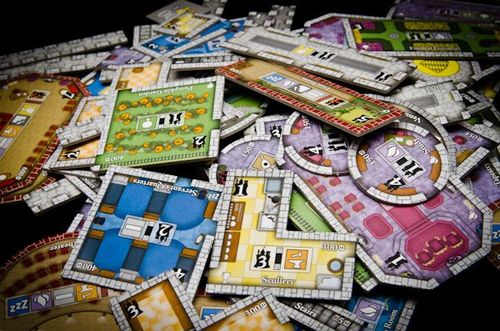 – Image used with permission of BGG contributor punkin312
At the end of the game there are also bonus points for the player who best fulfils the requirements for the "King's Favours" as well as points for personal bonuses.  The game uses a card-deck to determine which rooms are drawn and when it is exhausted it triggers the end-game.  One last round is played before all the bonuses are calculated and the winner is the player who finishes with the most points.  Although we played this quite a bit a couple of years ago, it has been neglected of late, and as a result, we had to recap the rules.  The problem with it is, the scoring when rooms are placed is a little counter intuitive, so a bit like Roll for the Galaxy, it is a game we often struggle with at first.  In fact, when it first came out, Blue and Magenta played it a few times, but only realised how the game "worked" when they played with a new player who just intuitively understood how to score heavily, and gave them a trouncing.  Although Blue had somehow forgotten again, it turned out that Magenta had not.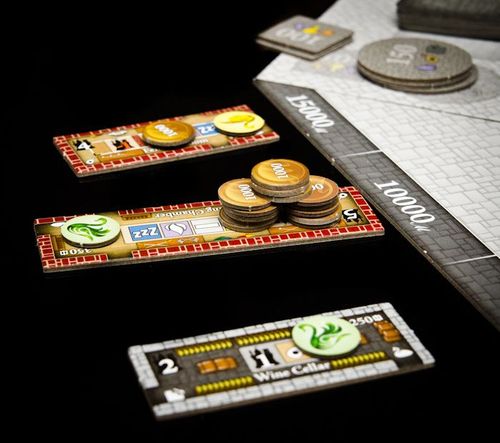 – Image used with permission of
BGG contributor punkin312
Blue started off buying a tile in error and thereafter was forced down a orange utility room strategy:  these tend to give fewer points when placed, but give bonus cards that score at the end of the game.  Clearly it was a game that wasn't going to go well for Blue as, forced to which card to keep, the first card she discarded gave bonus points for money, and after a couple of rounds, it was clear this would have scored heavily for her if she had kept it. Purple had also played the game a few times before and also suffered the mental block associated with scoring.  She tried to build a lot of downstairs rooms and gardens, but again wasn't able to get the room placement scoring to work for her.  Ivory was completely new to the game, and could be forgiven for not grasping the subtleties, but he was still in second place before the end game scoring and was clearly collecting blue sleeping rooms for an end-game bonus.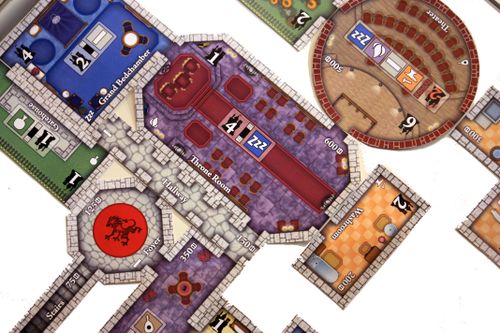 – Image used with permission of boardgamephotos
Early on, Magenta had managed to place a large purple Vestibule that scored four points for every adjoining yellow food room.  The key is, not only does each food room score four points, but they score every time another room is added.  With four doors and three of them leading to food rooms, this room alone scored her more than twenty-five points, which might have explained why Magenta was nearly twenty points clear before the end game scoring.  The final round was triggered when we ran out of room cards and that was followed by the Favour scoring.  Purple scored best here, picking up points in every category, but doing particularly well for her downstairs rooms.  The final scoring was the orange bonus cards.  Everyone thought that this was where Blue would make up ground as she had a fist full of them.  Unfortunately for her, none scored very well and some didn't score at all.  Magenta had managed to pick up a few at the end of the game which scored well, meaning she finished some twenty-five points clear of everyone else who finished in a little group with a spread of just three points, with purple just beating the other two to take second place.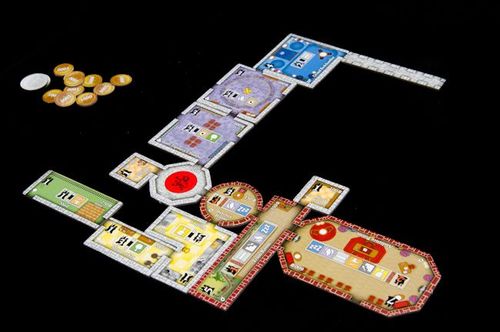 – Image used with permission of BGG contributor punkin312
Both games finished at around the same time, and there was just enough time for something fun and not too long, so we opted for another game of one of our favourite, relaxing, light dice-chuckers, Las Vegas.  Despite the fact that we play this game a lot, Ivory had somehow missed out.  We thought it might be because he often leaves early and we often play it at the end of the evening.  Since he was sticking about this time, we all felt an introduction was essential.  The rules do not sound inspiring, and Ivory didn't look terribly impressed.  On their turn, each player begins by rolling their dice, then assigning some of them to one of the six casinos.  Each casino is numbered one to six and has a jackpot drawn at random from a deck of money that comprises anything from one to eight notes; the player with the most dice in a casino takes first choice, then the second and so on.
– Image by boardGOATS
There are two little rules that make the game work: firstly, players must place all the dice of one number, and secondly, before any money is handed out, any dice involved in a draw are removed.  It is these rules that make the game interesting, raising the decisions above the trivial.  Although the base game only plays five, we add the Boulevard expansion, which adds more players, more high value notes, and big dice, which are "double weight" so increase the stress when bidding.  We also add the Slot Machine, where each number can be placed once, but only once, so it gives players another nice alternative to the conventional casinos.  The rules the player with the most money after four rounds is the winner, but the fourth round often drags, especially if you don't feel you are in with a chance, so we generally house-rule it to three rounds. Despite his obvious misgivings, it wasn't long before Ivory was chucking dice with everyone else and having great fun.  Unusually, Green, Blue and Burgundy scored quite well, but Pine thought he had it with his $370,000 until Ivory revealed is massive $440,000.  Definitely beginners luck…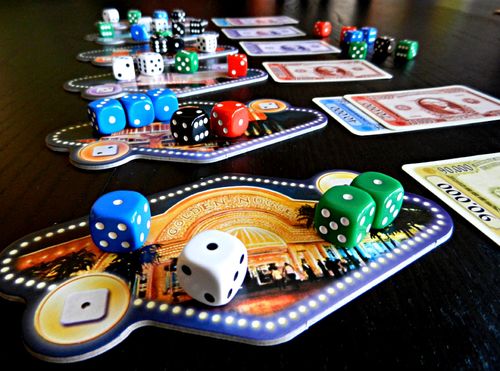 – Image used with permission of BGG contributor ckirkman
Learning Outcome:  Sometimes experience pays, other times beginners benefit.