Our next meeting will be on Tuesday, 15th May, at the Horse and Jockey pub in Stanford-in-the-Vale.  As usual, we will be playing shorter games from 7.30pm as people arrive, until 8pm when we will start something a little longer.
This week, the "Feature Game" will be Caverna: The Cave Farmers, a worker placement game that reimplements the game Agricola.  Players take on the role of the bearded leader of a small dwarf family that lives in a little cave in the mountains. Everyone begins the game with a farmer and his spouse, and each member of the farming family represents an action that the player can take each turn. The families cultivate the forest in front of their cave and dig deeper into the mountain, furnishing the caves as dwellings, as well as working spaces for small enterprises.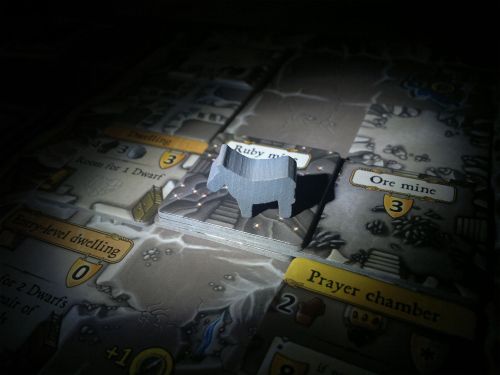 – Image by BGG contributor saksi
And speaking of dwarves…
Jeff was walking through town late one evening when he bumped into a dwarf.  He didn't see the diminutive chap, and stepped very heavily on his foot and snagged his belt buckle in his beard and knocked off his hat.
The dwarf hopped up and down cursing under his breath and, after extricating himself and picking up his hat, eventually yelled, "I really ain't happy!"
Jeff replied, "Oh," he said, "So which dwarf are you then?"