It was an remarkable evening from the very start:  Burgundy had a drink at the pub for the first time in known history, Blue eschewed her usual pizza and chips in favour of the ploughman's special (both consequences of the heat), and to top it all, a new gamer, Viridian, turned up.  Inspired, while food was still being consumed, we quickly sorted out who was going to play what, and the first game got started with another outing for Echidna Shuffle.  This was a game some of us played at the UK Games Expo and was such a success that Purple and Black brought a copy home.  The game is a very simple, pick up and deliver type game with beautiful pieces.  Basically, each player has a set of three coloured insects and three matching tree stumps.  On their turn, the active player rolls a die and moves the fabulously large echidnas around, trying to use them to pick up their insects and drop them off on their stumps.
– Image by boardGOATS
We played Echidna Shuffle last time as the "Feature Game", but instead of taking the expected  half an hour, it took nearer two!  Although it dragged a little towards the end, everyone had enjoyed it, but it was felt that it might not take quite so long when played with fewer people and with the alternative board: the "Winter Snowball Fight" side, rather than the pretty "Summer Leaf" side.  The "Snowball Fight" board is considerably more complex, with arrows going in lots of different directions giving players more options and opportunities to mess up other's plans.  The game was tight, but didn't go on anywhere near as long as last time and was all the better for it.  Everyone managed to get home their first bug reasonably easily, and Pine (the winner last time) was the first to get his second bug home with Purple just behind.  With the more complex patterns on this board it was much harder to keep people away from their third tree stump and despite everyone else's best efforts, Purple managed to ease her way to her third stump and win the game.
– Image by boardGOATS
On the next table the "Feature Game", Concordia had started, but still had a long way to go, so the group looked for something else to play, and attention fell on Lanterns: The Harvest Festival.  This is a light, pretty, tile-laying game with the tenuous theme of decorating the palace lake with floating lanterns and competing to become the most honoured artisan.  On their turn, players choose a tile from their hand of three and add it to the central palace lake.  Each tile is divided into four quarters, each of which has a colour, red, orange, blue, green, purple, black and white.  Every player then receives a lantern card corresponding to the color on the side of the tile facing them, with the active player receiving bonus cards for any edges where the colours of the new tile match those of the lake.  At the start of their next turn, players can gain honour tiles by dedicating sets of lantern cards, three pairs, four of a kind or seven different colours. Each tile is worth honour points and the player with the most points at the end of the game wins.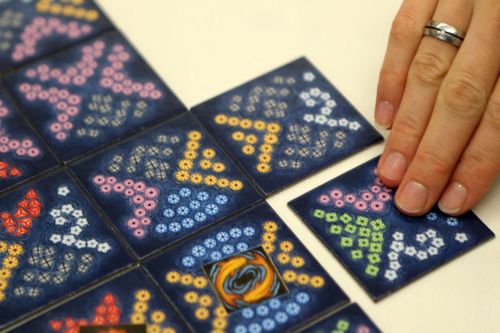 – Image used with permission of boardgamephotos
We've played this a few times, so in order to spice things up a little, we added the pavillions from the expansion, The Emperor's Gifts.  This introduces the concept of the emperor's pavilion;  players can place up to three pavilions during the game, on "unimproved" lantern tiles.  If the players make a colour match on a pavilion, they earn a gift from the emperor.  Two emperor cards are revealed at the start of each game, so at the start of their turn players can redeem two gifts to activate one of the cards and perform the special action associated with it.  Some of these gifts allow players another avenue to earn more honour whereas other gifts allow players to modify the state of the playing area.  Black, Purple and Pine all went after the highest scoring honour tiles requiring seven cards of different colours, while Green tried to maximise the efficiency of his cards taking the lower scoring combinations instead, but getting more of them.  The addition of The Emperor's Gifts was a little controversial:  Black in particular was of the opinion that they made a nice little game unnecessarily complicated, while Green felt the base game was quite simple and benefited from the additional elements.
– Image by boardGOATS
In the end the scoring was close, with a tie between Black and pine on fifty-three, and another tie between Purple and Green on sixty-one.  Even though the others were scornful of Green's strategy, it nearly worked, but it was Purple, who had managed to get both her temples out and used the extra bonuses to good effect in the last few turns who won the tie-breaker with two favours to Green's one.  And with it, she took her second victory of the night.  The "Feature Game" was still going on the next table, but Pine was finding it difficult going as he didn't have his glasses.  Apparently he'd left them on the roof of his car and only realised once he'd got home and discovered them missing (possibly another consequence of the hot weather).  Green also wanted an early night so the group ended up chatting and Black took to spectating the game on the neighbouring table.  This was Concordia, a longer, strategy game of economic development in Roman times,  We've played it a few times on Tuesdays and Fridays (at the Didcot Games Club), and enjoyed both the base game and the Salsa expansion.  This time we used the Egypt map from Concordia: Ægyptus / Creta, the latest expansion.
– Image by boardGOATS
It was Viridian and Ivory's first game of Concordia, and it was a while since Blue had played it too, so Burgundy explained the rules. Mechanistically, the game is quite simple:  players have a deck of cards and, on their turn, they play one and do what it says.  That's all there is to it, but how the cards work together is the key.  Each player begins with a hand of Character cards (the same cards), six colonists and a handful of resources. The game is one of resource production and exploration. Notable cities are connected via land and (in the case of the Egypt map) river routes and each produces one resource.  These cards allow players to move colonists and build settlements, trigger production for all settlements in a given region, introduce more colonists etc., however one of the cards enables players to buy extra cards from the market (a face up display). The cards are played into a personal discard pile where they remain until the player plays their "Tribune" card to get all their cards back.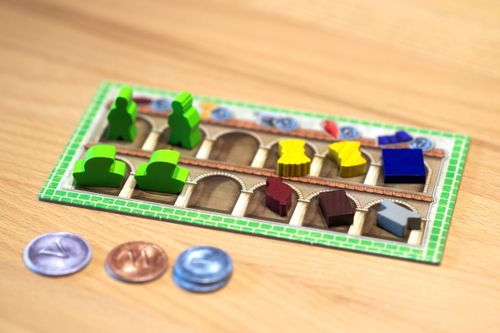 – Image used with permission of BGG contributor Space Trucker
Each player also has a warehouse of a fixed size which will hold a maximum of only twelve items, which at the start of the game includes four of their six colonists (two ships and two "Elvis-meeples" – the third ship and third "Elvis-meeple" start the game in Memphis, Uh-huh). So, managing resources and finances is one of the key parts of the game and it is essential that players have the right resources when they need them as there isn't space to store excess. Another "pinch-point" is the cards; players can only play each card once before picking them all up. They also get income when they play their Tribune card to recover their cards, but as it is dependent on the number of cards they pick up, it is in the player's interest to play as many cards as possible before collecting them all again – this also needs planning.
– Image by boardGOATS
One of the characteristics of the Egypt map is how tight it is, making the game a bit of a knife-fight in a telephone box.  For this reason, it is imperative players get a good start and Ivory did just that, quickly commandeering two of the cities that produced fabric.  Before long he had engaged in a cycle of produce and sell, produce and buy and it was clear that everyone else was in danger of a sever trouncing.  Meanwhile, Viridian was building a strong-hold in the Oasis province and was also looking to be very competitive.  Blue had started off well too, heading for the Red Sea.  This is a new feature specific to the Egypt map, which has the ability to generate five Sestertii every time one of the Red Sea ports produce. In a game where money is so tight, this seemed like a really good idea, but Blue was keen to use her ship to build on all the Red Sea harbours first and needed resources to do that which meant she delayed to long to make best use of it and it took Burgundy to show her how to do it.
– Image by boardGOATS
All the while though, Ivory was getting ever stronger with his vast amount of cloth and then the Weaver card appeared in the card row.  This enables the owner to produce all their cloth at the same time, rather than having to produce them one province at a time.  There was a flurry of people buying cards and suddenly it was quite cheap, though nobody had any use for it except Ivory, as nobody else had any cities producing cloth.  And so, the Weaver sat there, unloved, until Burgundy took one for the team and bought it, much to Ivory's disgust.  It was expensive though and cost Burgundy dearly.  Ivory couldn't believe Burgundy had taken the Weaver, and lamented his failure to get it when he had the chance, possibly due to an uncharacteristic misjudgement, or maybe the heat was getting to him too.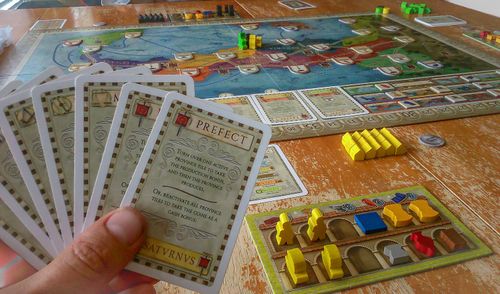 – Image used with permission of BGG contributor bkunes
The game continued with players building up their production heartlands; Burgundy had a stronghold in the Valley of the Nile, while Viridian took the Farmer and Smith cards enabling him to produce with his wheat and silver cities.  It was about this point that the other game finished, and Black began spectating.  Ivory asked him how he thought he was doing and Black replied he had no idea, "You can never tell with Concordia."  Ivory pressed some more and Black took a look at his cards and eventually said no.  The most challenging part of the game is the end-game scoring, which is tied up in the Character cards. In addition to a name and an action, each card is dedicated to a Roman God. Each God rewards the card's owner with victory points at the end of the game.
– Image by boardGOATS
For example, Mars delivers points for colonists placed on the board. Each Character dedicated to Mars gives two points per colonist, so a player with all six colonists on the board at the end of the game and five Characters devoted to Mars will score thirty points. Thus, since the cards are effectively multipliers, in general, the strategy is to try to excel in one area rather than try to do a little bit of everything, but that is something that is definitely easier said than done.  Black's intervention sparked a massive spell of card buying.  Burgundy went for "Mercurius" cards that reward players for having different types of production, while Ivory went for "Saturnus" cards which gave points for each populated province or region.  Blue on the other hand, noticed she already had a few "Jupitus" cards and there were lots on the table so made a beeline them and then started building in as many cities as she could.
– Image by boardGOATS
When Black came back for a second look and Ivory again asked whether he thought he would win, Black was less negative, but still not exactly positive.  And shortly after that, Blue took the last card (and with it the seven point bonus) and everyone tried to eek out what they could from their last turn.  It was tight, and as the scores for each card type were calculated, the lead changed repeatedly.  It turned out that Black's reticence was well placed.  Although Ivory's position looked good it was soon clear that his one hundred and twenty-nine wasn't enough and the loss of the Weaver card had cost him dear.  Burgundy finished with one hundred and forty-five, scoring highly despite not having one really strong area (unusual in this game).  It was Blue who top scored though, with one hundred and fifty-four, thanks largely to her massive seven "Jupitus" cards.
– Image by boardGOATS
Learning Outcome:   Hot weather can have some strange effects…