While those eating finished, we welcomed an old friend from the Didcot Games Club on his first visit, and began the evening began with a quick game of an old classic, High Society.  Designed by Reiner Knizia, this is a light bidding game with a catch, in the mold of games like For Sale, No Thanks!, Modern Art, and perhaps our old favourite, Las Vegas.  First released over twenty years ago in the designer's heyday, a beautiful new edition has recently been published by the Cumnor Hill-based company, Osprey Games.  In High Society, everyone starts with the same set of money cards, each numbering from 1,000 up to 25,000 Francs.  The game is all about correct valuations. Players take it in turns to bid for the luxury objets d'art for sale, however, when they increase their bid, they add money cards to their personal bidding pile, and there is no concept of change.  Thus, as the game progresses, players have fewer and fewer bidding options  as they spend their money cards, and are increasingly forced to big large amounts potentially for relatively low value items.  Some of the objects for sale are not so much art, as artless, and can halve a player's score, lose them points, or even cause them to discard something they purchased previously and the first person to withdraw, "wins", while everyone else pays whatever they wagered.
– Image by boardGOATS
The other twist is at the game end which occurs abruptly when the fourth "end game" card comes out.  At this point, the player with the least money at the end is eliminated regardless of the value of their luxurious objects.  Despite the age of the game, a lot of people were new to it, and as the valuation of the luxuries is the key, some people found knowing how much to bid challenging.  As is the case with this sort of game though though, until the scores were actually calculated nobody knew who was winning, especially as the money was tight at the bottom.  Purple and Black (or "The Dark Destroyer as Ivory called him") had pots of cash, but Red was just eliminated ahead of Yellow.  That left the final count:  Black was by far the most efficient, with a score of fourteen, two more than ivory – quite remarkable given the amount of cash he had left at the end.  It was Yellow though, who having just escaped elimination, finished some way in front with nineteen points.
– Image by boardGOATS
With everyone fed and High Society over, we split into two groups: one to play the "Feature Game" (which was to be Keyflower) and the rest to play something else.  As always, the issue was what the other game was to be and almost everyone was happy to play Keyflower, but for some, the final decision depended what the other game was to be.  The problem was that the choice of the second game depended on who was going to play it.  Eventually, Purple broke the deadlock when she said she would be happy not to play Keyflower.  With Red having requested it in the first place, and it being Blue's favourite game, it was just a matter of who would fill the remaining seats.  In the end, Pine, Burgundy and Ivory joined Red and Blue, leaving Yellow, Black and Purple to play Calimala, an area-influence driven, worker-placement game set in the Republic of Florence during the Late Middle Ages.
– Image by boardGOATS
This is an unusual game with variable setup to keep it fresh.  The idea is that on their turn, players place one of their workers on one of the twelve worker spaces.  Each one of these is adjacent to two of the nine action spaces. If there is already a worker disk present on the space, once the active player has carried out their actions, then the other player gets another turn.  This continues until a player places the fourth disk on a stack: actions are carried out for the top three disks and the fourth is placed on the first available scoring tile which is then triggered.  Each player has some worker disks in their own colour and a small number in white.  Coloured disks give players a maximum of two actions on three occasions (i.e. a total of six), while white disks give four actions when played, but none later in the game.  The actions include acquiring resources (brick, wood or marble), building (ships, trading houses or workshops), create artwork, produce cloth, transport cloth, and contribute to the building of the churches.
– Image by boardGOATS
The fifteen scoring phases are built on the actions, rewarding players for the amount of cloth they have shipped to a given city or combination of cities for example, or for their contribution to a specific building, or their contribution to the building effort of a given resource.  In each case, the player with the most scores three points, the player in second place scores two and the player in third gets just one point.  In case of a tie there is a complicated series of tie-breakers.  The game ends when either all fifteen tiles have been scored, or everyone has placed all their workers (in which case any remain tiles are scored).  It was another close game:  "The Dark Destroyer" scored heavily for the cloth in the Port Cities (Barcelona, Lisbon and London), while Purple scored for the trading cities (Troyes, Bruges and Hamburg).  Calimala is one of those games that rewards players who score "little and often", and it was Yellow who managed to score most frequently.  There were a lot of tie-breaks however, particularly between Yellow and Black and it was probably the fact that Yellow did better in these that tipped the balance, as he finished just ahead of Black with a winning score of forty-five points.
– Image by boardGOATS
Keyflower was still under way, so the players looked around for something quick to play and picked one of Yellow's favourite games, Red7.  On the surface, this is a fairly simple game, but underneath it is much more complex.  The game is played with a deck of forty-nine cards, numbered one to seven and in seven different colour suits.  Each player starts with seven cards in hand and one face up on the table.  The player with the highest value card is "winning" because the rule at the start is that the highest card wins.  On their turn, each player can play one card from their hand into their tableau in front of them, or play a card into the centre which changes the rules of the game (a little like Fluxx), or they can do both.  If they cannot play a card or choose not to, they are out of the round.    In the event that there is a tie and the highest face value is displayed by more than one player, the tie is broken by the colours with red higher than orange and so on through the spectrum to violet.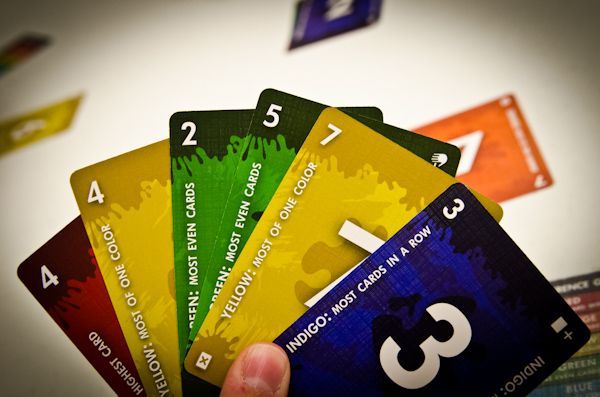 – Image used with permission of BGG contributor punkin312
The colours also dictate the rules, so any red card played in the centre will change the rules to "the highest" wins.  Similarly, any orange card played in the centre changes the rules so that the winner is the person with the most cards of the same number.  In each case, if more than one player satisfies the rules, the tie is broken by the card that is highest (taking into account both number and colour).  Thus, if the rule is "the most even cards" and there are two players with the same number of even cards in front of them, the player with the highest even card is the winner.  At the end of their turn, the active player must be in a winning position, or they are out of the round. The round continues until there is only one player left.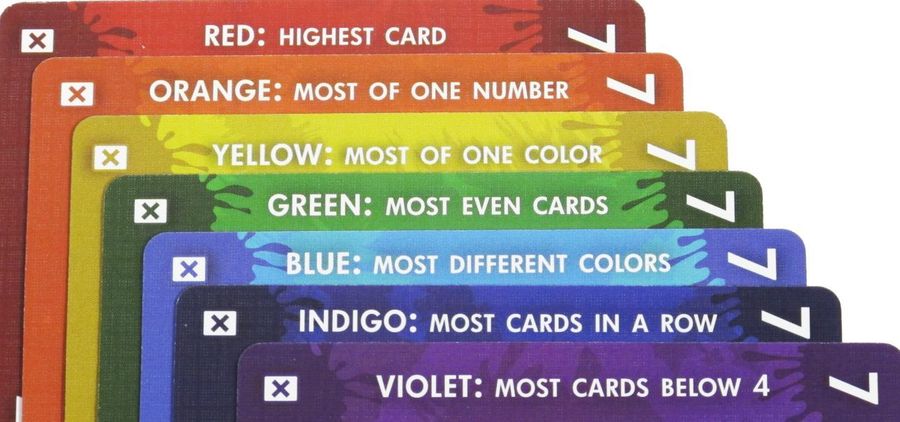 – Image used with permission of BGG reviewer EndersGame
We last played this a few years back when we made rather heavy weather of it.  Part of the problem was that there were several of us and we were all new to it.  This meant we struggled without someone to lead the way.  With Yellow very familiar he was able to show everyone else how to play.  Inevitably, this meant he won (giving him a hat-trick).  The game was played over five rounds and at the end of each round the player who was left at the end kept their highest cards.  With Yellow so much more familiar with the game than anyone else, it was inevitable that he would be able to build on this, and he made the most of it.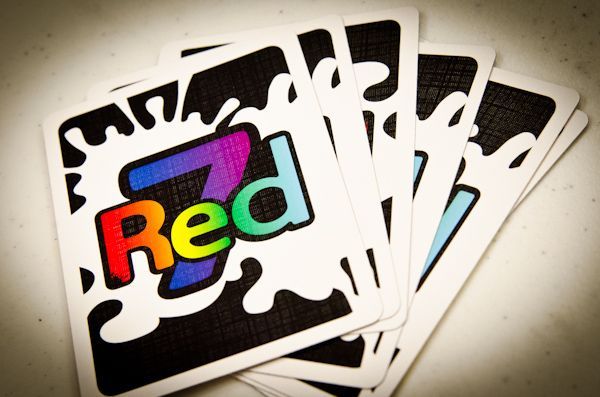 – Image used with permission of BGG contributor punkin312
By this time, the next table were just coming to the end of their game of Keyflower, and we had all found it unusually hard going, that is to say we all struggled to find anywhere to score points.  The premise of the game is quite simple:  over four rounds (or seasons) tiles are auctioned using meeples (or Keyples) as currency.  The clever part is that to increase a bid, players must follow with the same colour.  Keyples can also be used to perform the action associated with a tile, any tile, it doesn't have to be their own, but each tile can only be used three times in each round and, again, players must follow the colour.  The aim of the game is to obtain the maximum number of victory points at the end.  However, the highest scoring tiles aren't auctioned until the last round (Winter), so players have to keep their options open.  On the other hand, the tiles that are auctioned in Winter are chosen by the players from a hand of tiles dealt out at the start, so players can choose to take a steer from that, or, if things go badly wrong, decide not to include certainly tiles.
– Image by boardGOATS
These games are nearly always memorably epic and this was definitely no exception.  The game started of with Ivory declaring that while he loved it, he thought it was maybe "a bit broken" because in his experience, there was one winter tile that would guarantee a win to the player that got it.  Blue and Burgundy thought they knew he was referring to "The Skill Tile Strategy" and agreed it was powerful, but felt it wasn't over-powerful.  Blue said she thought it was only a guaranteed win if everyone else allowed it.  Pine suggested that playing the game would give Ivory another opportunity to gather evidence to see if this was the case.  As soon as the winter tiles were dealt out, it was clear that Ivory had one of the tiles that rewarded players with lots of Skill Tiles, and everyone knew what his strategy was going to be.
– Image by boardGOATS
Spring started and it quickly became clear that it was going to be a fight.  Initially, Blue went for the Peddler which converts yellow Keyples into Green ones, but Pine thought that sounded good, and outbid her.  Next she went for the Miner which gives two coal, upgradable to three, but Red outbid her on that.  Somewhat in error she tried to get the Woodcutter which gives two wood (upgrading to a wood and a gold), but Burgundy outbid her.  Ivory also got in on the act, beating her to the Keystone Quarry, which meant Blue finished spring with no Village tiles at all.  At least she didn't over-pay for anything though, and it meant she had plenty of Keyples to bid with for Summer, at least in theory.  The lack of tiles meant she didn't have a strategy though, while everyone else was beginning to build theirs.
– Image by boardGOATS
With summer came a whole new set of interesting tiles, for Ivory, that included the Hiring Fair which gives two tiles in exchange for one (upgradable to three tiles for one).  Given that Ivory had telegraphed his plans, and that Burgundy took one for the team during Concordia last time (when he took the Weaver and gave everyone else a chance), Blue felt it was her turn and she made it her business to outbid him, even though this gave her a tile she had very little use for.  As the only one with any meeples to speak of, Blue managed to pick up three boats relatively cheaply too.  She didn't have it all her own way though, as Pine took the Farrier (extra transport and upgrade ability) and Ivory took the Brewer who turns skill tiles into Keyples.
– Image by boardGOATS
Unusually, there had been a lot of bidding for the end of season tiles and it came to a peak in autumn with everyone jostling for position for the final round.  The other tiles were generally less popular, however, and most people were trying to keep their Keyples to themselves where possible, hoarding them for the final round.  And it was in the final round that it all came to a head.  Everyone had to put in at least one tile, but nobody seemed terribly keen to put any in.  Blue had contrived to win the start Keyple at the end of autumn, and started by bidding for the Key Guild tile which had been put in by Ivory.  Inevitably this descended into a bidding war, which Blue won.  The Key Guild tile gives ten points for any five skill tiles, so Blue was finally able to use her Hiring Fair to get points. Having had his plans scuppered, Ivory moved on to messing with Pine's plans, while Red engaged Burgundy in a bidding war for the Jeweller tile (which increases the value of gold from one point to two), and lost.
– Image by boardGOATS
It had been a  really tough game with points really hard to get hold of, and that was visible in the scores.  It was very tight with just six points covering Red, Burgundy, Ivory and Pine and all of them in the low to mid forties.  Blue finished with sixty-one however, thanks largely to her twenty points for her skill tiles and sixteen for her boats.  It had been a very stressful game, that led to a considerable amount of discussion.  Ivory felt the fact that Blue had won using skill tiles confirmed that they were over-powered, but Pine and Burgundy were less certain, so the jury is still out.  Blue said that every game was different and the point was that it was up to other players to stop the person who is making a beeline for skill tiles, in fact, that was exactly what she had done to Ivory, as he put that tile out in winter.  The discussion would have continued, however, it was getting late and people began to leave.
– Image by boardGOATS
Pine, Burgundy and Blue felt there was just time for a quick game of NMBR 9.  This little game has been a real success within the group, mostly at the start as a warm-up game, but occasionally as filler too.  Pine took the deck of cards and began turning them over, with everyone else taking the number shaped tiles and adding them to their tableau.  It was another tough, tight game, but Blue managed to squeeze one of her eights on to the fourth level giving her twenty-four points for that tile alone.  Aside from that, the levels and therefore the scores were very similar, so Blue took victory by twenty-one points from Pine in second place.
– Image by boardGOATS
Learning Outcome:  Sometimes it is better to keep your plans to yourself.