While Blue and Burgundy finished their tea, Pine, Black and Purple squeezed in a quick game of Coloretto.  This is a simple little game and inspiration for the more popular (though arguably not better), Zooloretto.  A set collecting game, the idea is that on their turn, the active player either takes a truck, or turns over the top card of the deck and places it on one of the trucks.  Each truck has three spaces and players are trying to stack the trucks so that when it is their they can get what they want.  In practice, the game doesn't work like this at all, and players spend most of the time trying to avoid giving everyone else a combination they want.  At the end of the game, players choose three sets to score positively, while all the others score negatively.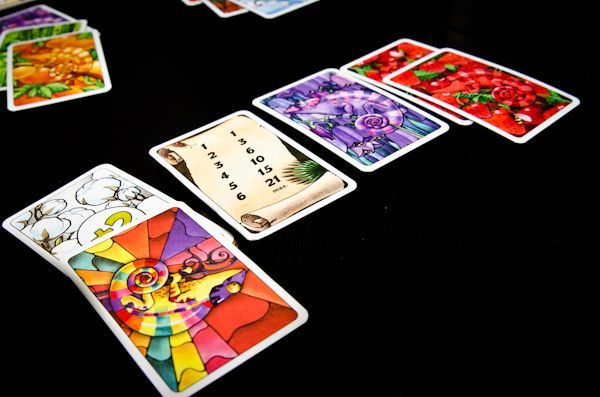 – Image used with permission of BGG contributor of punkin312
The clever part is that the score (positive or negative) depends on the number of cards, according to the Triangular series.  This means that one card only scores one point (positive or negative), but a set of six will score twenty-one points.  This players generally don't mind lots of cards that aren't part of their three top sets, so long as they are all different colours; the problem comes when they have sets of a significant size…  Purple started off best as Black ended up with too many negatively scoring cards.  Pine put up quite a fight, but in the end Purple was too strong and won the game with forty-seven points, ten more than Pine in second place.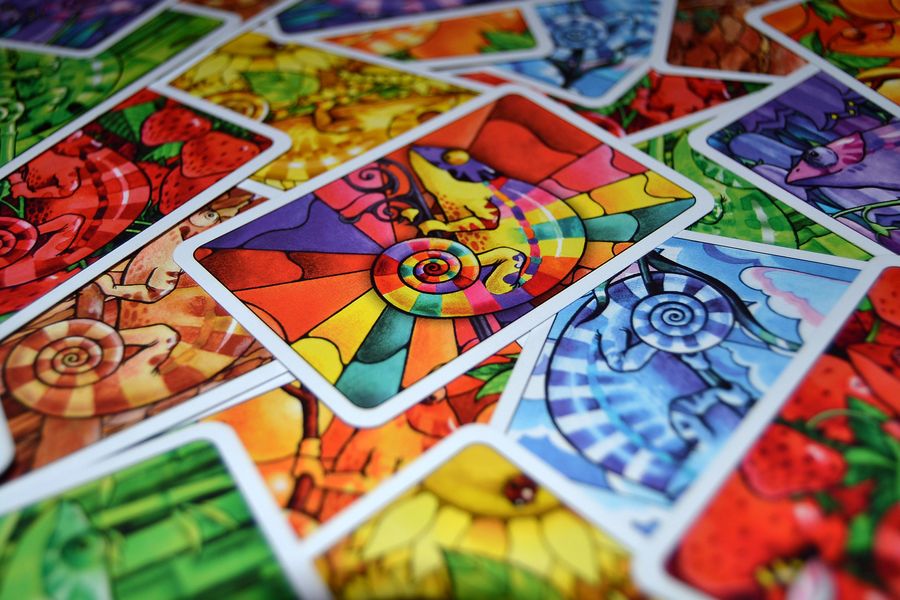 – Image used with permission of BGG contributor SergioMR
Once food had been dealt with, the usual debate as to who wanted to play what began.  Aside from Pine and Purple, everyone was keen to play the "Feature Game",  Endeavor: Age of Sail, the new, deluxe edition of Endeavor, a game we've enjoyed a few times. The new edition is particularly shiny with lots of KickStarter exclusives, including a new game element, "Exploits".  Pine and Purple were a bit reluctant as they thought it would be very "thinky", but everyone who had played it before tried to reassure them that it although it was a little challenging, it wasn't a long game and was usually over in an hour or so.  Things were complicated by the fact that it was a quiet night and with only six people, we didn't want to leave the "two Ps" in a pod by themselves as that's a bit unfriendly.  We had two copies of the game, so Blue, who was a little under the weather volunteered to teach them the basic game (i.e. without the "Exploits").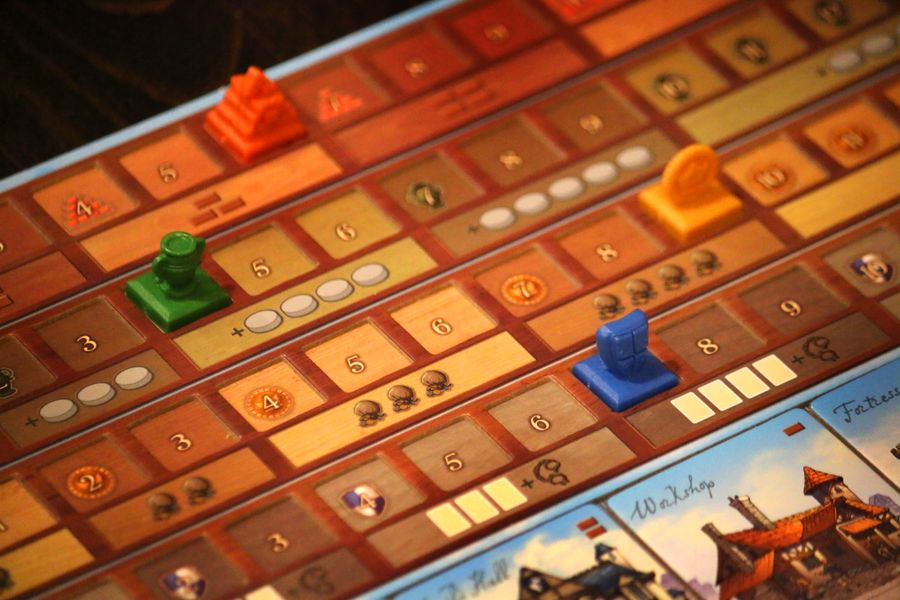 – Image used with permission of boardgamephotos
There are seven rounds, each with four phases which roughly correspond to the four progress tracks on each individual player's board.  In the first phase, Building, each player chooses a building from one of five levels, depending on their position on their industry (Building) attributes track.  Everyone starts at zero, so everyone has to pick level one buildings in the first round.  The buildings give players abilities and/or actions as well as helping them along the other attribute tracks, In the first game, Blue went first and started by picking a Workshop, which gives two extra industry points (and she hoped might let he build more exciting buildings earlier); Purple followed and also took a Workshop.  Pine decided to go for something different and picked a Shipyard which gave him one step on the Culture (Population) track and additionally gave him a shipping action.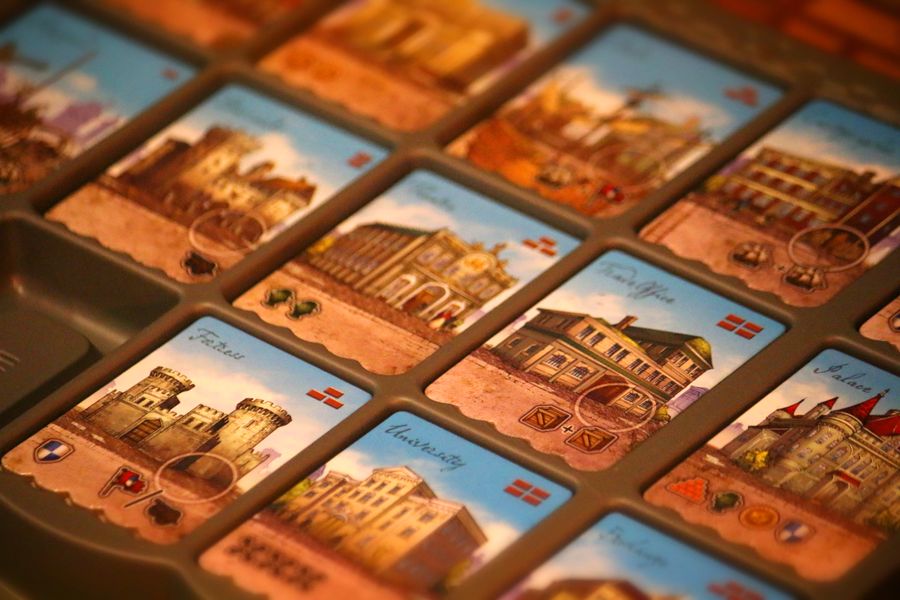 – Image used with permission of boardgamephotos
The second phase can be carried out simultaneously and each player moves population tokens form their supply into their Harbour space where they need to be so they can use them later.  At the start of the game, everyone could take two population disks, even Pine with his Shipyard as it only added one step along the Culture track and it needed two before he could take an extra.  That was to change quickly though, as Pine concentrated on building up his Culture and the number of population tokens he could take as he felt this would give him extra actions.  In order to make best use of it though, he would also need the buildings and the ability to vacate them so he could use them again.  Buildings are vacated in the third phase, where the player's Wealth is used to pay the population and move markers off the buildings back to the Harbour.  Again all players can do this simultaneously and obviously nobody could do anything on the first round though this aspect becomes  increasingly important as the game progresses.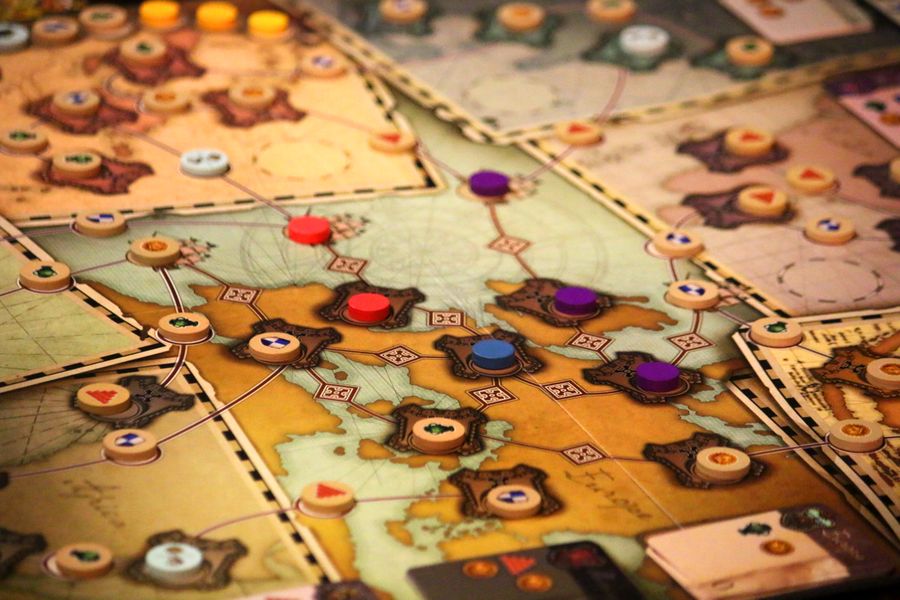 – Image used with permission of boardgamephotos
The final phase is the Actions.  This is the guts of the  game, and is also the most complicated part.  The idea is players take it in turns to carry out actions by either placing Population discs onto their buildings or playing action tokens they have picked up during a previous round.  There are five basic actions:  Ship, Occupy, Attack, Pay workers and Draw a card from one of the colonies.  At the start of the game the only action available was really Occupy, through the Colonial House that everyone started with.  This enabled Purple, Blue and Pine to place a second population disk in one of the cities and take the Asset disk that was placed there at the start of the game.  In the first round, there really doesn't seem to be much in the way of decision making in this game, but those few decisions are really critical as everything builds on them.  For example, each city has an Asset disk placed at random during set up.  These enable players to progress along the Asset tracks and the associated abilities enable them to build and carryout more actions.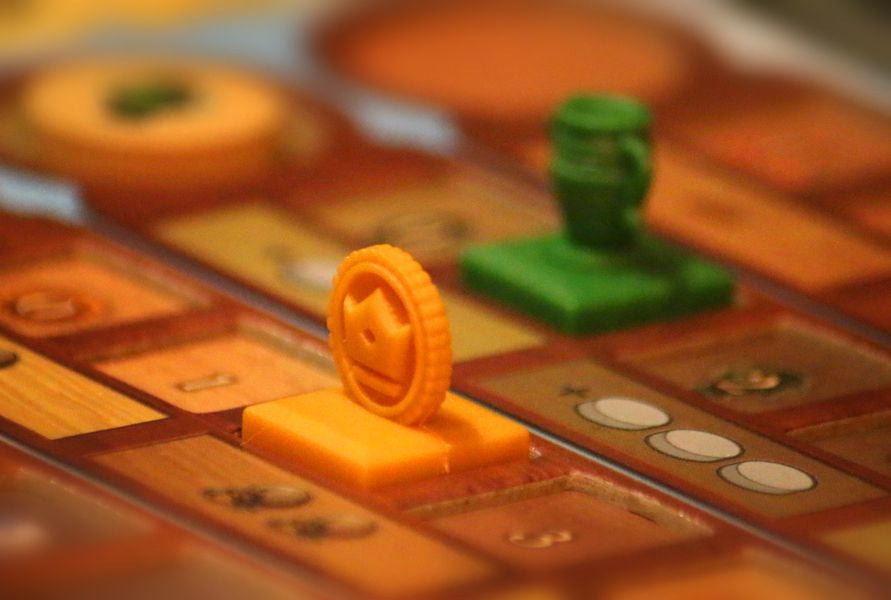 – Image used with permission of boardgamephotos
Shipping for example, involves placing more population disks, this time on shipping routes to the colonies.  These also give Asset disks, but the real benefit comes when they are completed and the region is "open".  At this point, players can Occupy cities in the region, and also Draw cards from the associated deck, giving more Asset points as well as Glory (Victory) points.  At the end of the game each city is worth one (or in some cases two) points, but if a player controls two connected cities, they also control the link between them, each of which is worth another point.  For this reason, players might want to Attack a city occupied by another player.  This is expensive (war always causes collateral damage) and both players lose a population disk as a result, but fighting can be worth while.  Both Blue and Pine had the wherewithal for attacking, but thanks to  mutually assured destruction, they just sat and watched each other for a round or so until Blue decided she really wanted one of Pine's cities and used her Fortress to pounce.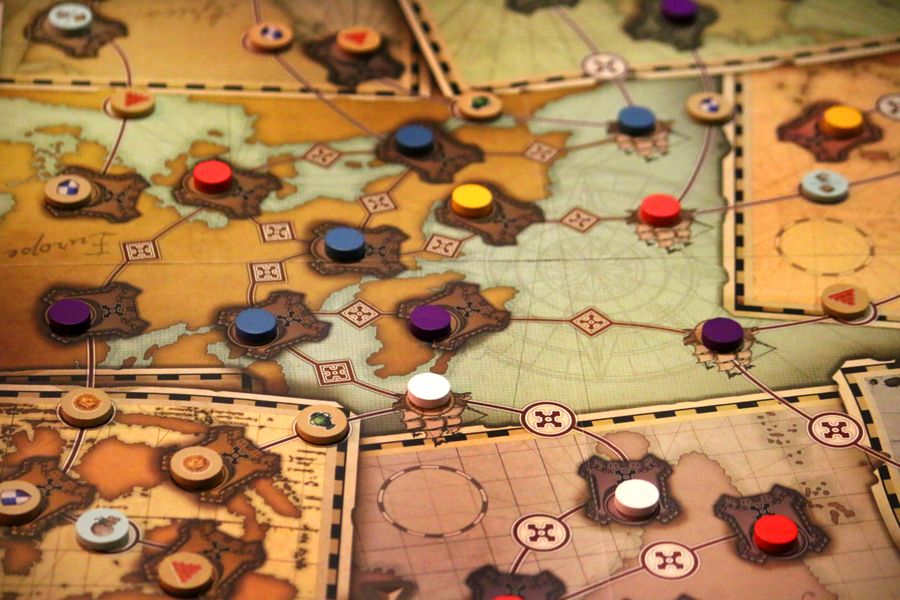 – Image used with permission of boardgamephotos
Pine got his revenge shortly after, with his Barracks, but the battles had been costly (even to Pine with his large population), and the protagonists retreated and licked their wounds.  While the others were playing "Tit for Tat", Purple had been making progress on the shipping track in the Far East and had started in South America.  The fighting wasn't over yet though, and Purple had a go at Pine who promptly got his own back.  Before the game Blue, Green and Burgundy had all agreed that Endeavor was a surprisingly short game, but it was clear that Purple and Pine weren't really convinced.  Before they knew it though, it was time to add up the final scores.  Points were available for progress on the Asset tracks, for occupying cities, for occupying linked cities, and on some of the cards.  The catch though is that at the end of every round, players have to check they are far enough along the Influence track to be able to keep all their cards.  The problem is, that for every card that is returned, all the assets it provides are lost as well.  As Blue and Pine had cards to return, there was a bit of Maths to be done to work out which was the best card to lose.  Given that Pine and Purple had never played before (and Blue had been a bit under the weather so her explanation wasn't the greatest), it was a remarkably close game.  Experience told, however, and Blue finished in first place a little ahead of Pine who was just very pleased that nobody had taken advantage of the slavery option.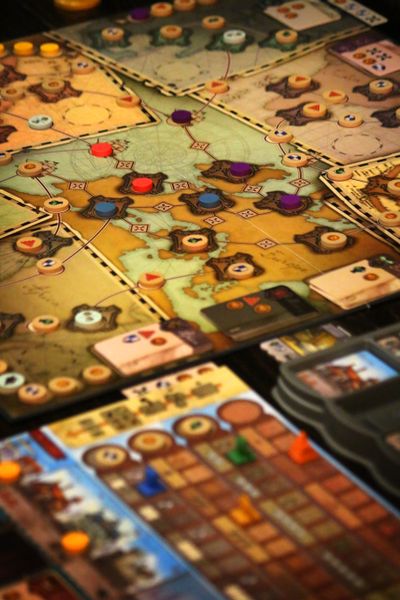 – Image used with permission of
boardgamephotos
Meanwhile on the next table they were still playing, though the final round was just coming to an end.  Everyone in this game had played it before (though Black needed a reminder of the rules), so they chose to play with the new Exploits.  By random selection  the "Imperialism" (some routes "blocked" and give bonuses points if they are opened); "The Haitian Rebellion" (enables cards to be removed from the deck either to stop others getting them, or to clear the way for a better card; points are awarded if enough cards are removed), and "The Jesuit Missionary" (in exchange for attributes players can build churches in cities for extra points, or even in empty cities and then immediately occupy them, with extra points for each church built).  Burgundy chose to start the game with the new Merchant Dock building on the other reverse of the Colonial House starting tile.  This gave him an extra coin and a shipping action, while Black and Green opted to stick with the traditional building which gives an occupy action.  Burgundy used his alternate strategy to steal a march on shipping into Africa, while the others began building a presence in Europe.  Both Black and Burgundy quickly went for the extra bricks from the buildings to move up the Building track while Green tried to expand his Shipping options.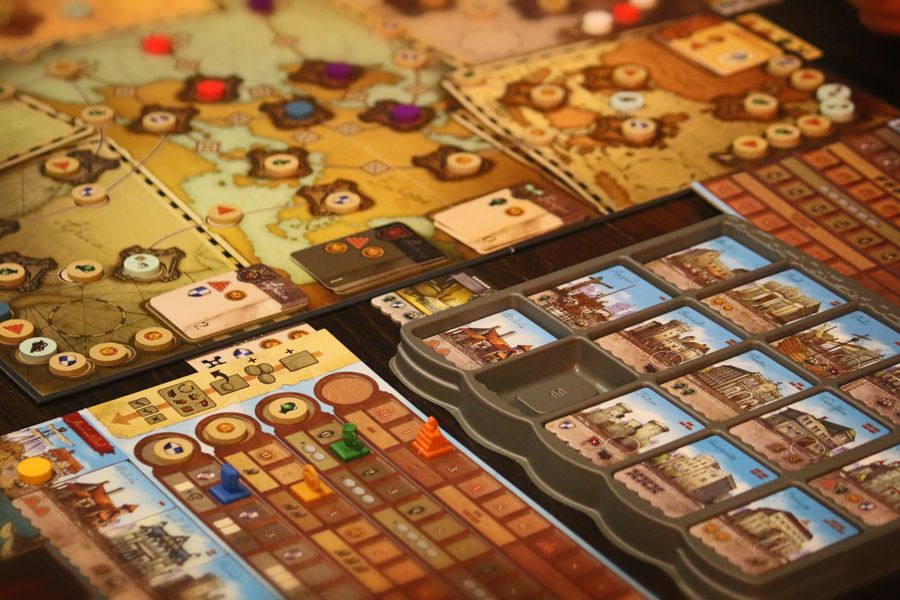 – Image used with permission of boardgamephotos
With his Merchant Dock, Burgundy was able to quickly build some of the bigger buildings and take a controlling stake in Africa, although both Black and Green managed to sneak in and maintain a presence.  Green concentrated on linking European cities gaining a lot of population bonuses and so always had enough people to do all his actions, especially when he built a Bank giving him an "coin" so could always pay his workers.   Burgundy was the first to be nasty by attacking Black in taking the linking token. By the middle of the game Black and Burgundy were able to build level three and level four buildings, while Green was still stuck level two buildings only.  His population was soaring though and and the on/off war between Black and Burgundy was keeping their holding back their populations somewhat.   Burgundy and Green went on to open two new regions (Caribbean and South America), followed shortly by Black trying for North America.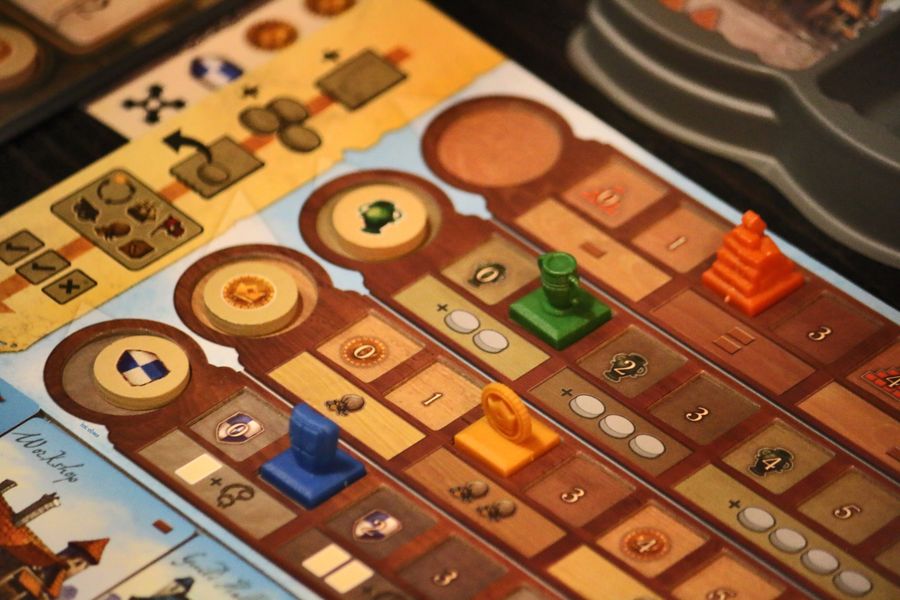 – Image used with permission of boardgamephotos
During the latter part of the game, Green was the only player in South America, while everyone had a presence in all the other regions.  Burgundy dominated in the Caribbean though and Black had a strangle-hold on North America and India, and soon followed them with Asia.  As a result of these regions being opened, the Exploits became "open" as well.  Burgundy and Green were first up with the "Hiatian Revolution", but initially only Burgundy took the opportunity to utilise it.  Later Green opened "The Jesuit Missionary" and then used that to great effect and suddenly he had cities and connections all over the board.  Although he could not get a particular link he wanted as someone else was occupying the city, he suddenly realised that he did have a spare cannon token and could actually make use of his (by now) vast population and claim the city for himself.  Black was the only one who was able to use the 'Imperialism' exploit and managed to clear a couple of blockages in the last couple of rounds.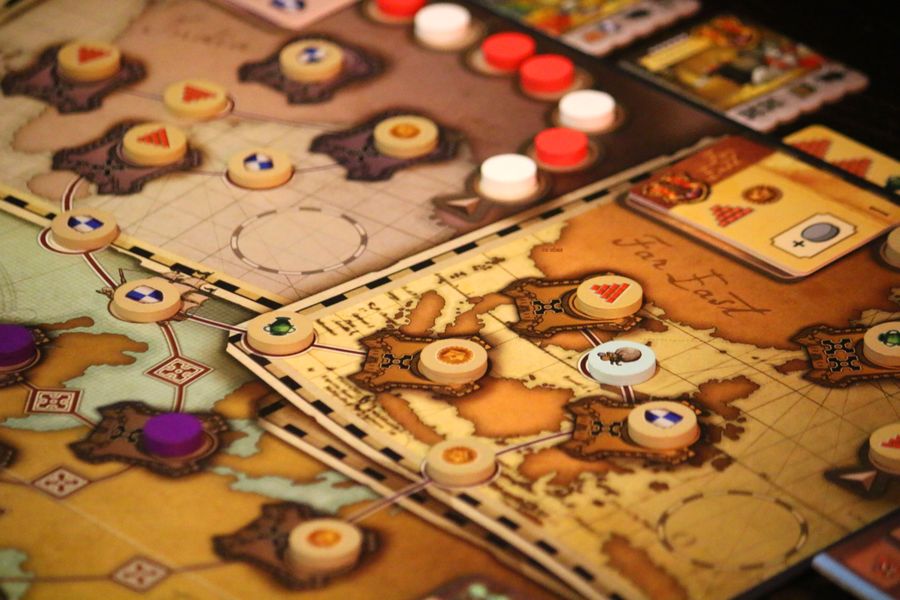 – Image used with permission of boardgamephotos
And then suddenly the game was over.  It looked like a Green was home and dry as his board presence was very high, but Black had a large number of points from his cards and Burgundy had progressed well along his Asset tracks.  In the end, however, it was Green that scored the most by a reasonable margin (even after removing the four extra Wealth points he had forgotten to discard in the last round, due to card losses).  But what about the exploits?  They had not come into play until the last couple of rounds and seemed to be of varying impact.  The "Jesuit Missionary" had clearly been used to great effect by Green, not so much for the points for the churches (a maximum five), but for the ability to claim cities and their respective tokens and the link tokens, which of course enabled even more scoring.  Maybe if someone else had been able to get a presence in South America and also use it, it might not have felt quite so powerful.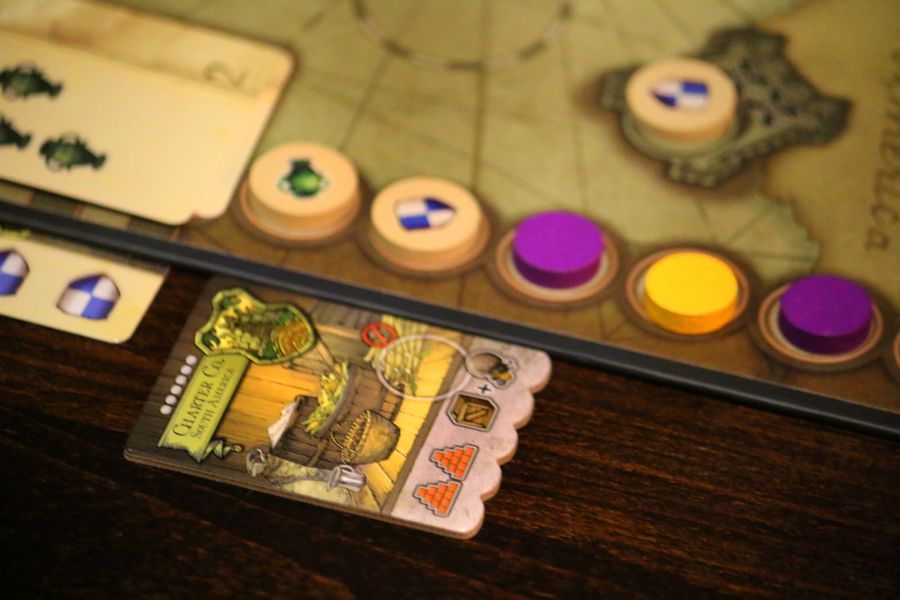 – Image used with permission of boardgamephotos
The "Haitian Rebellion" was sometimes helpful to remove unwanted lower point cards, but it was worth nothing when it came to end game scoring. Only Black was able to make use of the "Imperialism", but it was so late in the game it only gave him a couple of extra points and not really enough extra tokens, though it may have had a more positive effect had it been earlier in the game.  Overall though, the Exploits were a nice addition that did not detract from the feel and essence of the base game, but changed it enough (in the end) to notice their presence and draw them into the game.  With fifteen in total and only three used per game, there are a lot to try (and there is also the extra mini expansion with some extra useful buildings as well).  In conclusion, with nice pieces and something new, this KickStarter edition has really breathed new life into a old great game, and we are likely to be playing it for a little while longer yet.
– Image by boardGOATS
With Endeavor over, Green wanted an early night, but there was still time for one more game.  As Blue had picked up Pink's new Spanish copy of Bohnanza from last time, there was really only one  game to play.  The first challenge was getting the setup right for five – it turns out that the Spanish edition is a little different and the question was whether Blue's Spanish was up to the job.  She muddled through and everyone was only slightly confused by the different bean names.  Nobody needed reminding of the rules once we'd got going (plant one bean, and another if you like before turning over two cards from the deck and planting or trading them, make any extra trades you can from your hand and draw cards from the deck, but DON'T rearrange your hand!).  Unusually, it wasn't as tight as this game often is; Burgundy and Pine did well and made the podium, but in the absence of Red, Blue finished in front with twenty two.
– Image by boardGOATS
Learning Outcome:  boardGOATS don't approve of Slavery.