With the Festive Season now apparently upon us, the pub was once again packed and food was later than usual.  For this reason, we started with a quick game of No Thanks!.  This used to be one of our "go-to" filler games, but has been somewhat neglected of late, so was surprisingly unfamiliar to some people.  It is very simple though and very easy to learn on the fly:  everyone starts with eleven red chips and the first player turns over the top card—they can take it, or pay a chip for the privilege of passing the problem on to the next player.  The player with the lowest summed card total when the deck expires is the winner.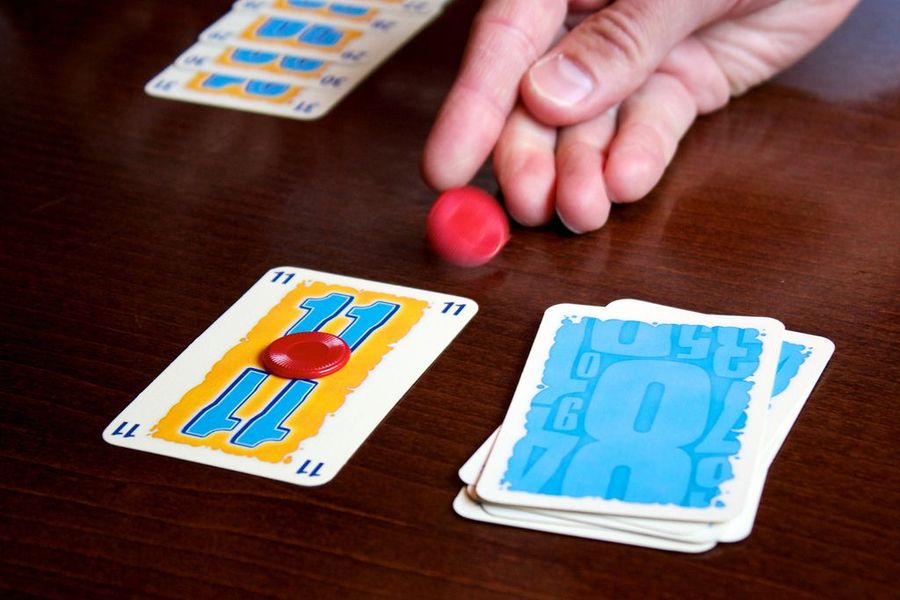 – Image used with permission of BGG contributor msaari
There are are two catches, firstly, where a player has a run of consecutive cards only the lowest is counted and secondly, a small number of cards are removed from the deck at random.  Top scorer looked to be a toss up between Blue, Red and Mulberry, but Red took the dubious honour in the end, with forty.  It was tight between Pine and Burgundy, however, both of whom had a large pile of chips and a substantial run of high cards (between them they had nearly forty of the fifty-five chips and the cards numbered twenty-eight to thirty-five).  There were only two points in it in the end and it was Pine who took the honours.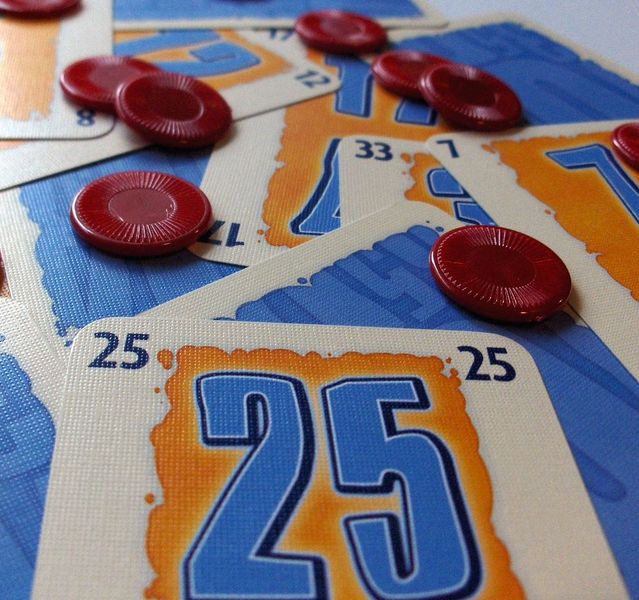 – Image used with permission of
BGG contributor ronster0
The group had been just about to start playing when Black, Purple and Green had walked in.  Since No Thanks! only plays five, so pre-empting a discussion of options, Blue chucked over a copy of Dodekka which the group obligingly settled down to play.   This is another light set collecting game where the aim is to get the highest score possible from one of the five colour suits, while ideally scoring nothing in all the other suits.  Gameplay is very simple:  take the first card on display, or reveal a card from the deck and add it to the end of the row (thus "passing").  If the sum of the cards on display now totals more than twelve, the active player must pick up all of the cards on display. When the deck runs out, the winner is the player with the highest score (the total face value of one suit minus one for each other card).  It was very close at the top, with only one point separating Black and Purple, and much to Purple's chagrin, it was Black who came out on top.
– Image by boardGOATS
Just as No Thanks! was coming to an end, food arrived, along with Ivory.  Dodekka was still going, so while some munched, those remaining decided to give The Game an outing (played with a copy of The Game: Extreme, but ignoring the special symbols).  This is a surprisingly popular game within the group, which is remarkable because it is cooperative and we generally prefer competitive games.  Another simple game, the idea is that the team have a deck of cards from two to ninety-nine and they must play each card on one of four piles:  two where the card played must be higher than the top card, and two where it must be lower.  There are just three rules:  on their turn, the active player can play as many cards as they like (obeying the rules of the four piles), but must play at least two cards before replenishing their hand, and players can say anything they like but must not share "specific number information".  Finally, there is the so-called "Backwards Rule" where players can reverse a deck as long as the card they play is exactly ten above or below the previous card played on that pile.
– Image by boardGOATS
Red started and it quickly began to go wrong with with Pine holding a "nice mid-range hand".  With the help of everyone else he battled through though, and it wasn't long before he had a "nice extreme hand" while all the piles were offering "nice mid-range options".  It perhaps wasn't surprising with this that the group didn't win (i.e. play all their cards onto the four decks), but given that they had such a poor run of luck, they did well to exhaust the draw deck and ultimately have only eight cards they were unable to play.  Inevitably, Dodekka finished just after The Game started, so Black, Purple and Green killed time with a quick game of Love Letter.  This is the original "micro game", consisting of just sixteen cards.  The idea is that each player starts with a single card, draws a second card and chooses one of the pair to play.  The cards are numbered one to eight (with more of the lower numbers), and each number has an action associated with it.  The aim is to eliminate all opponents, as the last man standing is the winner.
– Image by boardGOATS
Rounds only take a minute or two, so elimination is not a problem.  This time, each player won a round.  So with honours even and with the other game and food coming to an end, it was sudden death.  This time it was Purple's turn to come up trumps, taking the final hand and with it, the game.  This started a big debate as to who was going to play what.  As it was likely to be Ivory's last chance for a meaty game for a few weeks (with Christmas and his impending arrival), the "Feature Game" was Ambition, the expansion to one of his favourite games, Roll for the Galaxy.  With Burgundy fed-up with the feeling of confusion that Roll for the Galaxy always gave him and Black feeling that he'd played it a couple of times recently, for a while it looked like it was only going to be Blue and Ivory.  Eventually Black saw sense, and Green joined in, despite the fact that he felt he'd not played the base game enough to appreciate the expansion.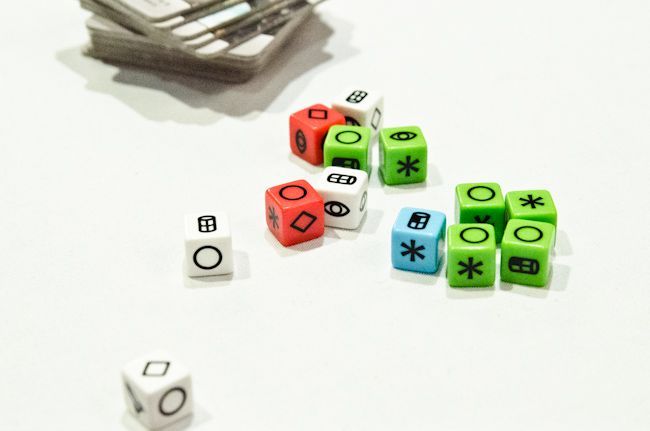 – Image used with permission of BGG contributor punkin312
Roll for the Galaxy is the dice game of the popular empire building card game, Race for the Galaxy.  Both suffer from the same "iconography confusion", but that aside, neither are actually complicated games.  The idea builds on the Puerto Rico/San Juan idea of different phases or activities that only happen if or when players want them to.  Roll for the Galaxy is almost a "worker placement" game where dice are the workers and have a say in what sort of work they do with players "spending" these dice to make actions happen.  Each player starts with a dice in their cup which they roll and assign, in secret behind a screen.  When dice are used they are placed into the player's Citizenry and it costs a dollar to move them from the citizenry to back into the cup.  Each face of the worker dice corresponds to one of the five different action phases:  Explore, Develop, Settle, Produce, Ship.  Each player uses one die, any die, to select a single phase that they want to "happen".  All the other dice are assigned to the Phase that corresponds to the face rolled.  Any that do not correspond to the chosen phase can only be used if another player chooses those phases to happen.  Any that are used move into the player's Citizenry, any that are not used go back into the cup.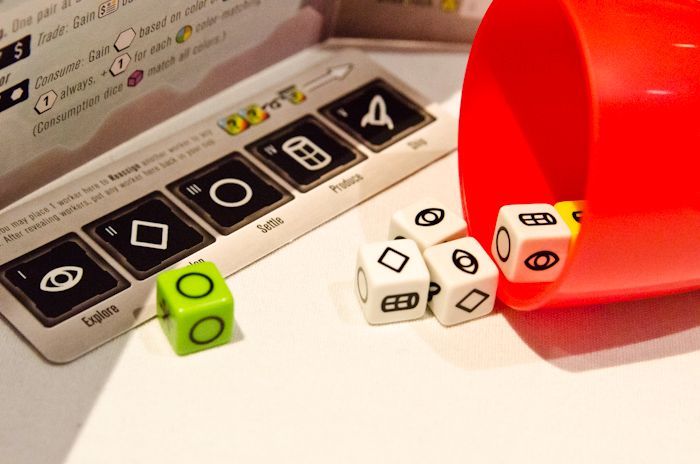 – Image used with permission of BGG contributor punkin312
As such everyone is reliant on other players to help them out and the player who best piggy-backs other players' choices usually does well.  It is not only about second-guessing what other players are going to do though: success also requires a good strategy, a complementary tiles (Worlds), an understanding of probability, the ability to effectively manipulate the dice rolled, and a modicum of luck.  Luck is everywhere, but there are ways to mitigate its effect.  For example, in Phase I ("Explore"), players draw tiles out of a bag.  These are double-sided with one side being a Development World and the other a Production World.  These are "Built" in Phases II & III ("Develop" and "Settle") and the cost is paid in dice, anything from one to six (with expensive Development Worlds generally partnered with cheap Production Worlds).  These tiles are drawn at random in Phase I and a side chosen and the Worlds added to the bottom of their personal Development or Settle pile as appropriate.  The top World tile is the one that will be built first and if there is not enough to complete a building, that means there will be fewer dice available for the following rounds, until it is finished.
– Image used with permission of BGG contributor punkin312
This may seem very harsh, with players potentially getting stuck with a high value building and a shortage of dice so that they struggle to complete it in a timely fashion.  However, clever use of the Explore Phase can ensure that this is not a problem, despite the luck involved.  Players can discard as many tiles as they like, drawing one extra from the bag.  Thus, an early round committing lots of dice to the Explore phase can enable lots of tiles to be recycled as better ones are drawn.  Dice assigned to Phase IV (Produce) are moved to Production Worlds where they will stay until Phase V (ship) happens and that player has dice assigned to it.  In this way, dice can get "stuck" in a similar fashion to dice involved in Developing or Settling.  Thus dice management is one of the key skills to the game.  Points come from building (a building that requires five dice is generally worth five points at the end of the game); from bonus points Development buildings which give points for some particular feature (e.g. one extra point for a particular type of Production World), and from victory points generated during Phase V (Shipping) by using the "Consume" option.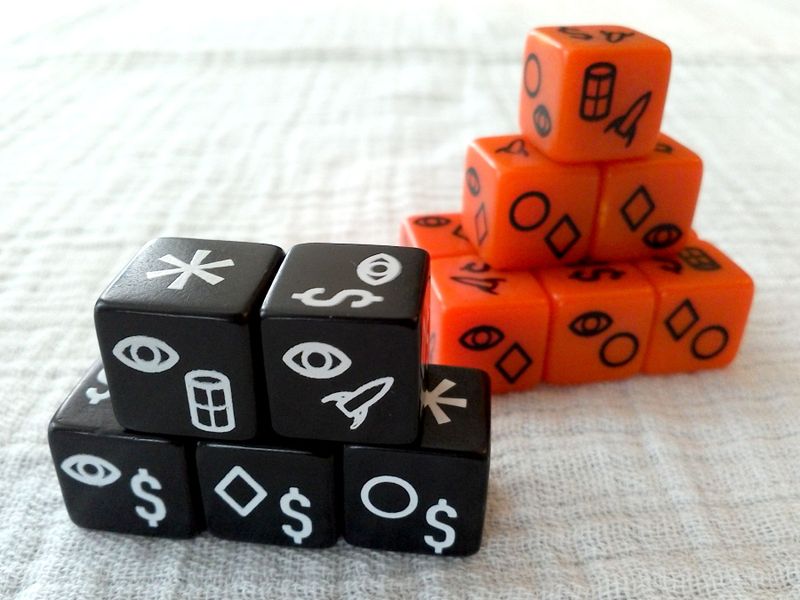 – Image used with permission of BGG contributor dotKeller
The Ambition expansion doesn't change the game very much, simply adding a very small number of Worlds, some extra Starting Worlds, some in game Objective tiles and replaces one of each player's starting white dice with a black "Leader" die.  The first player (and only the first player) to achieve each of the objectives receives "Talent" counters; these can be treated as single-use workers or as victory points at the end of the game.  There are also orange "Entrepreneur" dice—these and the "Leader" dice have some faces with two symbols allowing players to choose which of these Phases to assign them to and giving them the magic power of automatically switching to the alternative Phase if the initial nomination does not happen.  There are a couple of other little twists, for example on some faces the second symbol is a dollar sign signifying that if the die is used for its intended Phase then the die goes back into the Cup (not into the Citizenry) after use, making it effectively free to use.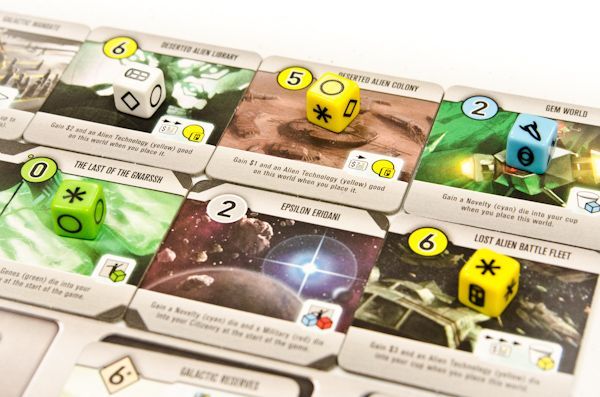 – Image used with permission of BGG contributor punkin312
Ivory was fastest out of the blocks with a large amount of liquidity from his "Doomed World" that gave him $8 start up.  Furthermore, his "Alien Artefact Hunters" start-world gave him $2 each time he consumed Alien goods, and Victory points (from Consuming).  For everyone else it looked like it was going to be over before it had begun when Ivory  was the first to achieve an Objective, adding the associated Talents to his already growing pile of victory points.  Although they were a little less obvious , everyone else's Start Worlds were quite useful too however.  Black for example received extra cash every time he developed, Green had the ability to reassign two of his white dice as Explorers or Settlers and Blue could reassign any two dice to explore.  These special abilities were slower to take effect, but gradually, these, together with the lack of production on the "Doomed World" meant the group began to haul back Ivory's rapid head-start.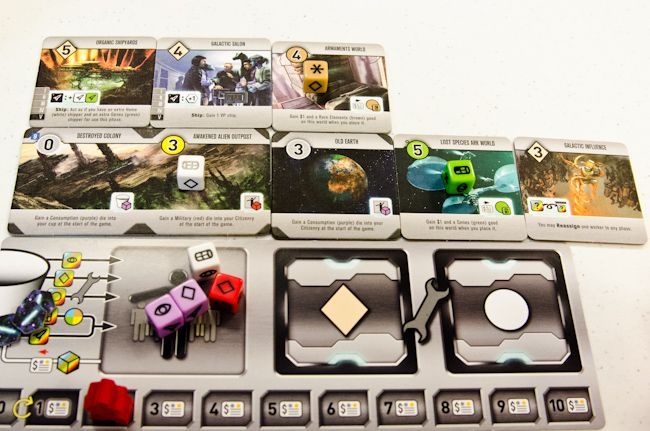 – Image used with permission of BGG contributor punkin312
Blue, and to a lesser extent Green, spent a lot of time Exploring (using their special abilities), carefully choosing which Worlds to build and stacking the deck to control the order, a tactic that paid dividends later in the game.  In Blue's case, she used the Objectives as a target and then used the Talents to finish off Worlds quickly enabling her to grab a couple from under Ivory's nose.  Green more or less ignored the Objectives as he was too busy trying to remember how to play the base game while fiddling with his phone.  Black was less fortunate, and really struggled with the luck of the dice and found it difficult to make use of his special ability to get his engine going.  Then suddenly it looked like Ivory might end the game as the Victory Point reserve rapidly depleted.  He couldn't make it on the first attempt though and there were a couple more things he wanted to do in any case.  In the end it was Blue who ended it—building not only her twelfth World, but also an extra one giving her a massive forty points for that alone.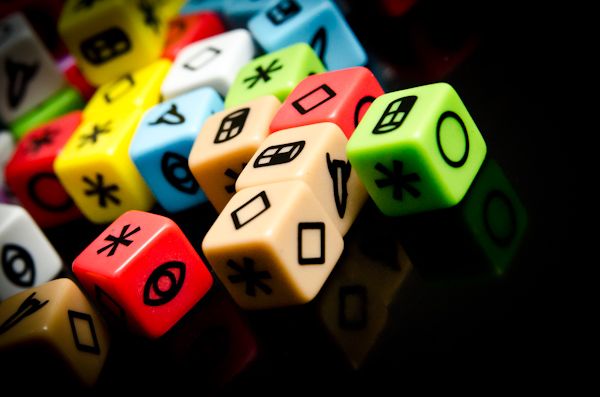 – Image used with permission of BGG contributor punkin312
Although Blue had a couple of Victory Point chips and a handful of Talents left over, it paled into insignificance compared with the massive pile of chips in front of Ivory—the question was whether it would be enough though.  It was very close, but Blue's last round just tipped it in her favour and she won by five points.  With that, Ivory and Green took their leave, leaving Black and Blue to consider their options.  While they had been playing with their dice, the others had played a full four rounds of Saboteur and moved on to their next game.  Saboteur is a fun little hidden traitor game where players are either Dwarves trying to find the treasure or Saboteurs trying to stop them.  We've played it quite a bit and in truth it plays best with more than six players, as the number of Saboteurs varies and there is an element of doubt.  With five their can be either one or two Saboteurs, and the odds are heavily stacked against a lone Saboteur, but in favour of a pair.  Nevertheless, the group were keen to introduce Mulberry to it.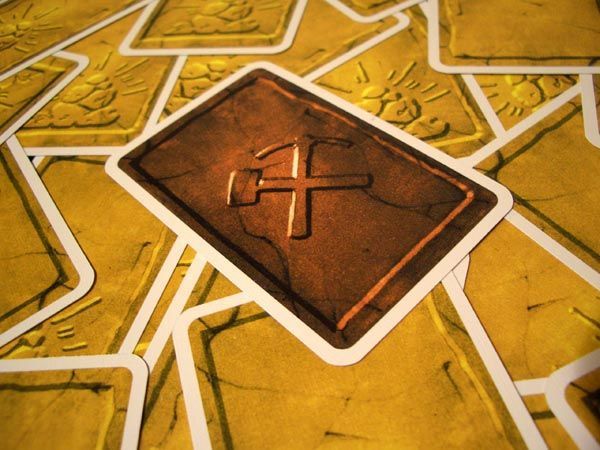 – Image used with permission of BGG contributor mothertruckin
It is another quite simple game:  On their turn, players can play a tunnel card onto the grid in the centre, play a special card (a broken or fixed tools card on another player or a map card to look at the destination cards), or discard a card face down and then draw a replacement.  If the Dwarves don't get to the treasure before the cards run out, the Saboteurs win.  In the first round, Burgundy was isolated as the Saboteur and despite his best efforts, he failed to disrupt an organised team of Dwarves.  In the second round Burgundy was joined by Pine, and with two of them the odds were much better and the pair took the opportunity to prevent the Dwarf team from getting to the gold.  As a group, we normally only play a couple of rounds, but everyone wanted to see if luck would deal Burgundy a Dwarf card.  The immediate answer was no, and in the end it turned out that the third rounds was a direct replay of the second with Pine joining Burgundy on the Saboteur winning team.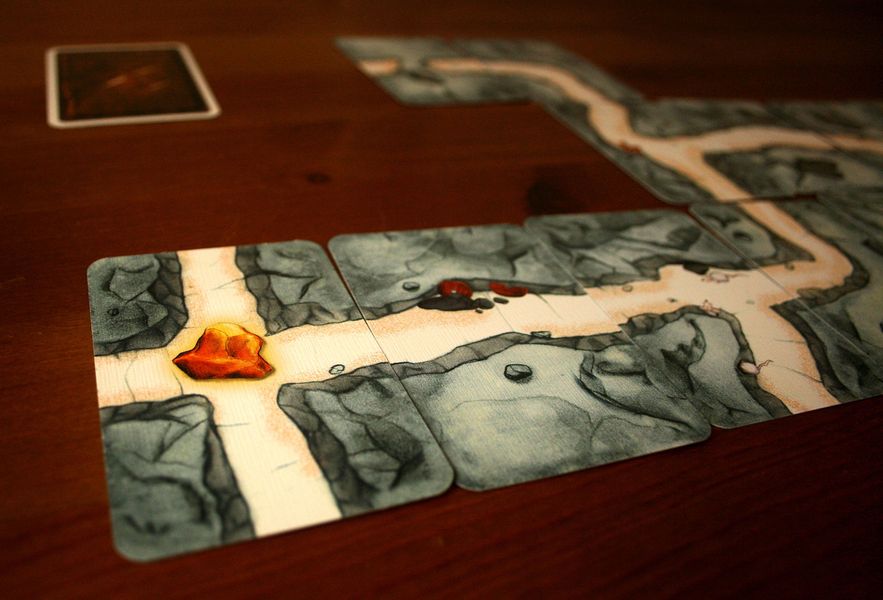 – Image used with permission of BGG contributor mikehulsebus
By this time the group had decided they would keep playing until Burgundy wasn't the Saboteur, and in the fourth round they finally got their way when Mulberry was a lone Saboteur.  Inevitably she failed to break the will of the "gang of four" who easily found the treasure.  Normally we don't bother sharing out the "gold" scoring cards as it is very arbitrary who goes first and in a low number of rounds it is purely luck who wins overall which takes some of the fun out of the game.  This time though, the group played the rules as written.  With Burgundy and Pine winning two rounds and sharing the spoils two ways (instead of three) it was inevitable that they would score well.  In the end it was Pine who did lightly better, thanks to the fact he had been on the winning Dwarf team in the first round.  As Roll for the Galaxy was still going (and Red and Mulberry had gone home for an early night), the group looked round for something else to play and Purple's beady eye lit on Steam Donkey.
– Image by boardGOATS
Steam Donkey is a card game that involves building a seaside resort consisting of a four by three grid of attraction cards. The three rows represent the different parts of the resort:  beach (yellow), town (pink) and park (green).  Similarly, the four columns correspond to the different types of building: amusements, lodgings, monuments and transport.  In order to place a feature, it must go in the correct location and must be paid for using cards of the same type, as such it has similarities with games like Race for the Galaxy and San Juan.  As players build their resort, visitors arrive at the station and come to see the attractions. Each attraction can take a certain number of visitors, which are actually a row of face down cards that are used to replenish the cards in players' hands. Thus, on their turn players carry out one of the following actions:  choose a colour and build as many attractions in that colour as they can/want paying with other cards from their hand; choose a colour and start taking cards in that colour from the "station" (a row of face down cards), or if there are no visitors of the chosen colour (or there are no spaces for the visitors to go), they can add visitor cards to their hand and refill the station platform with four new visitors.
– Image by boardGOATS
The colour of the visitor side of cards does not reflect the colour of the attraction on the other side, however, the type of attraction is indicated.  There is a hand limit of twelve though and this can actually be quite a serious impediment for players collecting cards to build the more valuable attractions.  At the end of the game, points are scored for each unique attraction built as well as for fulfilling individual goals and bonuses depicted on players' resort posters.  It was a long time since anyone in the group had played it, and Pine hadn't played it at all, so it took a while to get going.  It was close at the top with Burgundy and Pine scoring pretty evenly for their buildings and taking almost exactly the same number of bonus points too.  Burgundy just had the edge however, and took the game by three points, with a grand total of seventy.
x
– Image by boardGOATS
When Roll for the Galaxy finally finished and Green and Ivory left Blue and Black alone it was clear that they were going to be waiting for a while, so they looked round for something that wasn't too long and played well with two.  In the end, they settled on Kingdomino, but decided to add the new Age of Giants expansion acquired at Essen.  Kingdomino is a tile-laying game with a couple of clever mechanics.  Players take it in turns to choose a "domino" and add it to their "Kingdom".  The clever part of the game is that the tiles are numbered with players who choose the high numbered (and therefore more valuable) dominoes taking their turns later in the next round.  In the two player game, players get two turns per round, so their first turn can be used to try to set up the second turn.  In the two-player game, each player is building kingdoms consisting of 7×7 arrays of "squares" rather than 5×5 arrays, which makes the game much more strategic.
x
– Image by boardGOATS
The game ends when there are no more tiles to place.  Scoring is by multiplying the number of tiles in each terrain by the number of crowns in that terrain.  Thus a moderate sized area with plenty of crowns is worth more than a large area with very few crowns.  The Age of Giants expansion doesn't change things as much as Queendomino, which we found managed to take all the fun out of the game and add a whole load of unnecessary complexity instead.  This expansion adds a small number of tiles that feature either a Giant or a Giant's footprints.  When a Giant Tile is drawn, a large wooden giant meeple is placed on it.  When this is taken, the Giant is taken too and is placed over one of the crowns anywhere on that player's area.  When a footprints tile is taken, a Giant of their choice moves from their Kingdom to another player's Kingdom.
x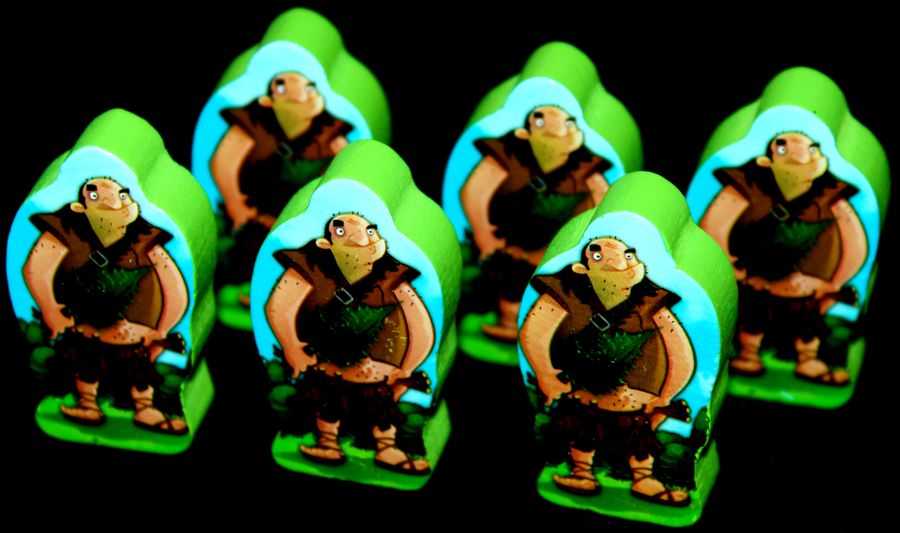 – Image by BGG contributor kalchio
There are two problems with this little addition, firstly, there is a rules tweak that means five tiles are drawn in the two player game and one is discarded.  Blue and Black found that this meant they just chose not to take tiles with Giants on them except when forced to right at the end.  Secondly, even when forced to take a Giant, there was almost always somewhere it could be poked that caused minimal damage, so it wasn't really a big issue.  This was a real shame as the Giants are lovely.  As well as adding a fifth player there is also a a small pile of bonus-point tiles; both Blue and Black really liked these as they thought that they added a nice twist.  This time, they ended up with bonus points for Sea tiles adjacent to the castle and Marsh land on the corners.  Both players tried to accommodate these, though Black did a much better job than Blue.
x
– Image by boardGOATS
It may have been that Black was focussing too much on the bonuses however, as he ended up unable to place all his tiles.  And although he scored well on the bonuses and for Sea and Pasture, he scored very little for Woodland, Marshland and Mountains.  In contrast, while Blue completely failed to score for Pasture, she scored well in every other terrain and made a killing with her Wheat fields, giving her a total of two-hundred and thirty-three, some sixty more than Black.  With that done and the epic game of Steam Donkey finally over, there was just time to arrange some of the details for the Christmas Party nest time before everyone went home.
x
– Image by boardGOATS
Learning Outcome:  We like simple games: they can be quick to learn, but take time to master.