While Pink, Blue and Khaki finished their pizzas, the other early arrivals played a quick game of Coloretto.  This is a relatively short game of set collecting which is very popular with the group; it was new to Lime though so needed a quick rules explanation.  The idea of the game is that on their turn, players can either pick up a chameleon card from the face down deck and add it to a "truck", or take a truck (passing for the rest of the round).  The innovative part of the game is the scoring which uses the triangular number sequence (one point for the first card, three points for two cards, six points for three cards etc.), with positive points for three sets and negative for the rest.  Thus, players need large sets in three different colours and small sets in all the rest.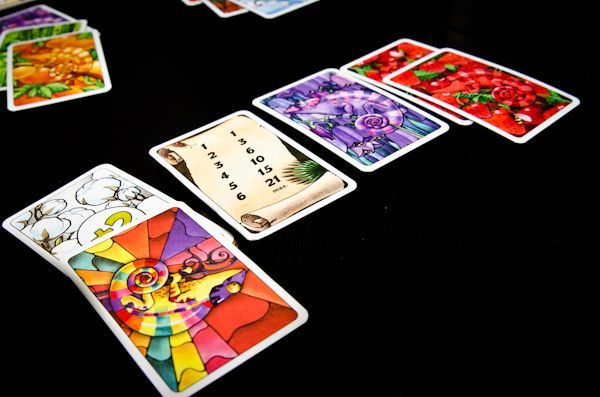 – Image used with permission of BGG contributor punkin312
With five players, it was relatively hard to make trucks particularly unappealing to everyone, so the negative scores were kept to a minimum.  It was quite close at the top as a result, with Black, Lime and Mulberry all in the running.  Lime finished with the highest score for his sets totalling thirty, with Mulberry a handful of points behind, but Black had four bonus points and no negatives.  In the end, Lime pipped Black by a single point with Mulberry just a couple of points behind that.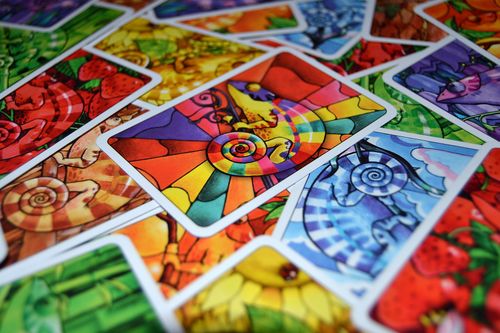 – Image by BGG contributor SergioMR
With Coloretto over, everyone finished with their supper and the stragglers all arrived, there was the usual discussion over who would play what.  The "Feature Game", Viticulture with the Tuscany expansion, was always likely to take most of the night, so the question was really who was going to play that and what else was on offer.  One of the options suggested was Ticket to Ride with the India map, which was described by Pine as an game where you "just pile people on top of the trains and pack the inside with goats!"  Clearly none of our GOATS fancied the inside of a hot carriage and the discussion continued as Ivory, Pink and Blue started setting out Viticulture and Mulberry (having spent some time as a oenologist) dragged Khaki along for the ride.
– Image by boardGOATS
Viticulture is a worker placement game where players plant and harvest grapes then make and trade wine.  Although there is nothing especially innovative about the game itself, it is an exceptionally good example of its type and is considered bit of a modern classic as a result.  There are two editions, the original Viticulture, and the "Essential Edition".  We usually play with Essential Edition which includes some of the smaller expansions from the original Tuscany (like the Mama and Papa set up cards), and, as the revised edition, is considered to be the definitive version.  In this base game, the actions are split into two seasons, Summer and Winter, with visitor cards arriving in the Autumn and extra cards arriving in the Spring.  Visitor cards come in two varieties, yellow Summer and blue Winter cards which are played in the different seasons as a special action.
– Image by boardGOATS
The Tuscany expansion messes about with this arrangement with actions in all four seasons, so players have to eke out their meagre supply of workers to last the whole year.  In addition to the larger, "expanded" and restructured board, the Tuscany expansion also adds an extra deck of building cards that players can use to create a personal action space or increase the effectiveness of other actions.  These can be very powerful if used effectively.  Additionally, there is a "influence" board that depicts the regions which players can place "Star-eeples" on to get an instant bonus.  If they have the majority in a given region at the end of the game, they also get a small number of bonus points. Finally, Tuscany also adds workers with a special ability, these cost a little more to train, but if used efficiently can more than pay for that over the course of the game.
– Image by boardGOATS
The other major difference between Viticulture and Tuscany is that the game tends to start slower, with players building their vineyard getting all the pieces of their engine together.  The game is not terribly complicated in terms of taking actions, but planning is tough and as people new to the game, Mulberry and Khaki struggled a bit to get going.  Blue, on the other hand, was out of the traps like a rabbit and got vines planted and harvested with remarkable speed, but then promptly stalled as she desperately needed money, more contracts, and more space in her wine cellar.  In contrast, Ivory and Pink were slower to get going because they were carefully planning their strategies.
– Image by boardGOATS
In the early part of the game, nothing much seemed to happen.  Blue's simple, but fast start, got her well in front, while Khaki began by actually going backwards, sacrificing victory points to try to build up his team of workers.  Everything else was pretty quiet though, as Ivory was collecting cards and Mulberry concentrated on building.  Pink started with the intention of building an irrigation tower and no trellis (to save money), but that was quickly scuppered when every vine he draw after the first required a visit from "Mrs. Trellis of North Wales".  There were plenty of sarcastic comments from the next table as they felt they were well on the way to finishing, while it looked like nobody had made any positive progress except Blue, despite playing for well over an hour.
– Image by boardGOATS
Then suddenly, things began to happen.  Pink had sorted out the vine situation, and had purchased a large cellar (to go with the medium cellar he'd started with) which meant he could fulfil some valuable contracts, increasing his residual payments at the end of the round giving him a substantial income in a game where money is always very tight.  Then Ivory began his charge for the finish, setting his Wine Press and Guest House to work.  He was particularly adept at leveraging his Guest House for points, finding ways to take Visitor cards from other players and turn them into points, and then playing other Visitor cards that enabled him to repeat the action.  Mulberry built an Academy that would give her money whenever another player trained a worker, but it was too late in the game as most people had finished training by that point.  Khaki's Fountain was more effective though giving him money every time someone else gave a tour.
– Image by boardGOATS
As the game approached the end, the question was whether Blue was going to get over the line before Pink and Ivory, really started raking in the points.  With her trained Salesman who enabled her to full-fill two contracts as part of one action, but had proved fairly useless for most of the game, it looked like she might just make it.  Pink was coming up fast and screwed up Blue's plans on the influence board just for good measure.  Khaki and Mulberry suddenly started to make real progress as well, with Khaki making a rapid shift from negative points to lots of points over just a couple of turns.  It was Ivory though, who stormed ahead, full-filling several orders in the final round as well picking up an extra five bonus points from the influence board.  He finished with a grand total of forty points, ten more than Blue in second place who, in turn, was a single point ahead of Pink.
– Image by boardGOATS
Meanwhile, the second group were playing Maya, an older game where players are taking part in the construction of pyramids in places like Chichen Itza and Palenque.  The game is a combination of semi-blind bidding mechanics, special actions, and building up "influence" by building pyramids in the ancient Mayan civilization.  The greater the influence, the more gold players get from the Mayan leaders and the aim of the game is to have the greatest pile of gold.  Each player starts with an identical hand of cards, ranging from three to eight, representing workers.  Players start by using their worker cards to bid for actions.  These actions come with a pile of stones, and this is one of the clever parts of the game – players must have enough workers left to move the stones they win or forfeit some of their prize.
– Image by boardGOATS
Players then take turns placing them on the different pyramid locations, placing one stone at a time and starting on the lowest levels.  In general, players can only place a single stone per turn, though they can place a second stone if they discard a third stone back into the supply (quarry).  When a player completes a level of a pyramid and has the majority of stones on that level, they get a free stone from their supply to place on the next level of that pyramid, thus, clever players can discard a stone to play two, and then receive that discarded stone back immediately to place it higher.
– Image by boardGOATS
Once all the stones have been placed, the pyramids are evaluated. Each level of a pyramid is scored separately, and only those in first and second place receive gold. Where there is a tie, all players get the gold as if they had placed first.  At the end of the round, the pyramids decay, and all players who scored gold on any level of has to return one block from that level back to the supply. If this leaves a player with no blocks on a level, all of that player's stones on higher levels also go back to the supply. The game ends after three rounds.
– Image by boardGOATS
Everyone started off building in Tikal, while Pine and Lime developed Copan and Black and Purple struggled in Uxmal.  Palenque was all but ignored by everyone except Purple until the last round when everyone joined her because they were unable to build in the other areas.  It was a very tight game and the nature of it meant nobody knew who was wining until the totals had been calculated.  There was just six points between first and last, but it was Pine who came out on top this time, one point ahead of Lime who took second place.
– Image by boardGOATS
Viticulture was still going on, so after enjoying a bit of heckling about how the scoreboard hadn't changed, the group decided to re-visit Bohnanza, this time with an English deck, to reduce Lime's confusion.  This is one of our most played games, with almost everyone very familiar with it.  The key part of the game is that players must plant their bean cards in the order they receive them.  The only way this fundamental rule can be violated is by trading bean cards with other players.  As everyone knows the game so well, it is often very tight with frequent multi-player ties.  This time it was also very close, but there was more spread than there often is.  On this occasion, the tie was for first place, and it was Black and Pine who finished top with a total of twenty.
– Image by boardGOATS
Learning Outcome:  Sometimes slow and steady wins the race.