It was lovely to see Burgundy back after his long lay-off, and the staff at The Jockey were thrilled to provide him with his ham, egg and chips once more.  While people finished eating there was a bit of chit chat, which extended into lots and lots of chit chat after people had finished eating.  Green explained that this was likely his last visit until September, while Lime commented that he had enjoyed Villagers so much last time that he'd bought a copy for himself.  He hadn't realised that it had only just been released, and this led into a discussion about KickStarter and why people might be prepared to support a project months, possibly years in advance of its arrival.  This encouraged Ivory to show off his latest acquisition, Tiny Epic Mechs, a cool little game with meeples that can hold weapons or wear mech suits, and came with some KickStarter exclusive content.
– Image by boardGOATS
Eventually, after several attempts to get people playing games, Blue made an executive decision.  She split the group into a three and a four, with the four playing the "Feature Game", Hook! and left the remaining three to sort themselves out.  Hook! is a very, very silly game where players are trying to place square cards over other cards, orienting them so that the holes pick out certain features and not others.  The game is played simultaneously, with each player first drawing a "target" card, taking a look at it and placing it in the middle.  Each player then chooses one of their three "aim" cards, each with a different arrangement of three holes, and places it over one of the target cards.
– Image by boardGOATS
Cat-like, each player starts with nine lives, and, for every picture of their character that someone picks out with their aim card, they lose a life.  If they manage to hide behind a barrel or a crate, that protects them from cannon fire, but not from a grenade, which destroys all barrels and crates and causes everyone to lose a life.  Catching a "black pirate" in their sights allows the player to choose which of their opponents suffers.  Rum, on the other hand, helps to deaden the pain and restores a life, even bringing a pirate back from the brink of death if they lose their last life, but manage to take a swig of grog in the same round.  There are two aims to the game:  firstly, a player needs to survive till the end, and secondly finish with the most parrots—any target card where a parrot was visible through the sights is kept and the parrots added up at the end of the game.
– Image by boardGOATS
The pirates come in three colours, red, blue and yellow, and two types ("sailors" and "captains"), with the colour distinction being much, much more obvious than the difference between sailors.  Thus, with the stress induced by the time pressure of the game, the potential for picking out a captain instead of a sailor is much larger than picking red instead of yellow for example.  This means that with more than three players, it is better to play with pairs of colours and team play is recommended.  Therefore, Blue and Lime played as one team, and Mulberry and Pine played as the other.  Pine commented, "I thought we didn't do cooperative games," which led to a discussion of what these were and the promise that one would be the "Feature Game" next time (probably Forbidden Island or maybe Flash Point: Fire Rescue).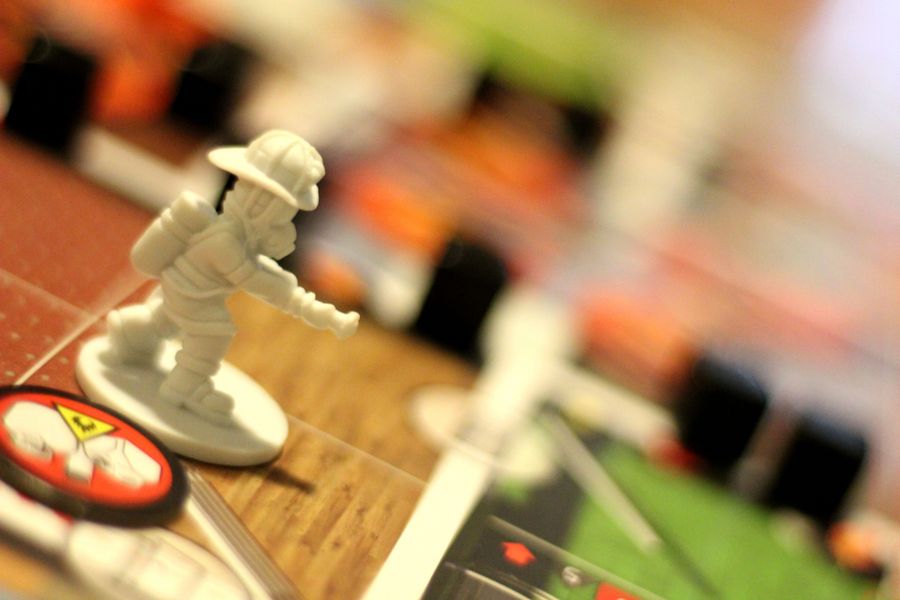 – Image by BGG contributor aldoojeda
As the group played the first few rounds of Hook!, it quickly became apparent that Blue was more of a hazard to herself and her team-mate than the opposition, dropping several cannon balls on her foot and accidentally catching Lime a couple of times too.  Lime, it turned out, was quite good at catching parrots, while Mulberry and Pine had a bit of a thing for making Mojitos.  As it was the game's first outing, it took a bit to get the hang of game play.  The idea that everyone looks at their card first and then plays meant that everyone ended up playing on their own cards.  We tried to fix this with a simultaneous count of three:  "Draw, One, Two, Three, Place!" but while that was more successful, it wasn't perfect.
– Image by boardGOATS
Playing again, we'd probably just skip the "preview target cards" phase and simultaneously place them in the middle without looking.  The vagaries of the game didn't stop us having a ball though, as everyone attacked everyone in mad chaos.  Then Blue suddenly looked in real danger as her number of lives tumbled (mostly due to self-inflicted wounds).  Realising that she was at serious risk of an unscheduled visit to Davy Crockett and that Parrots aren't known for hanging around corpses, she prioritised staying alive over parrots.  Before long, Pine was in a similarly precarious state, and he was not so lucky as Lime unceremoniously stabbed him in the back and dumped his body overboard.  As Pine's parrots flew away, that left Mulberry with a titanic battle, the more-so as she was now also getting low on lives.
– Image by boardGOATS
Although both Blue and Mulberry survived till the end, the winner was undoubtedly Lime who not only had more lives left than anyone else, but also had almost as many parrots as the other two put together, giving his team glorious victory.  With all the fight taken out of her and citing jet-lag, Mulberry was making noises about finding her bed, but Blue twisted her arm a little and she agreed to give Ticket to Ride: London a go before she left.  This is a cut-down version of the Spiel des Jahres winning, train game, Ticket to Ride.  This game has spawned a whole family of games and expansions, including maps of Europe, Asia, India and Africa, but the most recent are the two city specials, New York and London.
– Image by boardGOATS
The game is very simple: on their turn, players can do one of three things, draw coloured travel cards, spend travel cards to place pieces on the board, or pick up tickets.  Points are scored for placing pieces (usually scored during the game) and for connecting the two places shown on the ticket cards (scored at the end of the game).  Any unfulfilled tickets score negative points.  Each of the variants has some other little feature, for example, Pennsylvania includes a stocks and shares element, Märklin includes passengers and Nederland includes bridge tolls that players have to pay.  The new city titles, have fewer trains (less than half), players draw two tickets instead of three, and, in the case of London, bonus points for connecting all the places in a district.
– Image by boardGOATS
Only Blue had played this new version of the game before, but Pine had played other versions many times and Lime had also played one of them before, though it was a while ago and he wasn't sure which it was.  The London game is really cute though and has a lot of UK references.  For example, for those of a certain vintage the box features John Steed and Mrs Peel, and the travel cards include yellow submarines and black cabs.  Perhaps the best though are the pieces where trains have been replaced with really high quality miniature Routemaster buses.  As ever, there have been lots of online criticisms, but we just liked spotting the obvious references and trying to guess what the orange car was meant to be (a Lamborghini Miura?).
– Image by boardGOATS
Pine went first and started quickly by placing a couple of Routemasters.  Blue, Mulberry and Lime were a bit slower, building up their collection of cards.  With some versions of Ticket to Ride, the game is all about planning routes, gathering the necessary cards and then playing all these cards in quick succession so others don't have a chance to block.  In other versions, this strategy doesn't work so well as the key parts of the network are taken early in the game.  The shorter games, especially those with short routes tend to fall more into the latter camp, so Mulberry looked to be playing a dangerous game as she fell behind with the number of pieces she'd placed and amassed a huge pile of cards.
– Image by boardGOATS
Pine, always one to play this game close to the wire, was the first to chance it with some tickets, drawing two and keeping one.  Then, he drew another two and kept one.  Lime and Mulberry were still working on their existing routes, but Blue decided to follow Pine's example and drew two tickets, but kept both.  As Pine, pushed his luck once more, it turned out he'd pushed it too far this time, drawing two tickets that were almost impossible to complete.  Blue learning from Pine's mistake (rather like last time she had played Ticket to Ride with Pine), decided not to draw any more tickets and instead, brought the game to a swift end by placing all but one of her remaining Routemasters to connect Piccadilly Circus to Baker Street.
– Image by boardGOATS
Checking the scores proved that most people had managed to more or less keep on top of their scoring during the game and it was just tickets and district bonuses.  Inevitably, the bonuses were minimal, so as is common in this game, it was all about tickets.  Lime and Mulberry had both completed their tickets, so the question was whether drawing more had been a good bet for Blue and Pine.  Pine had more than Blue, but unfortunately, he'd failed to complete the last one, leaving Blue some way in front with forty-one points.  In the battle for second place, Pine had come off best demonstrating that drawing more tickets can be a good move, but only if you can complete them.
– Image by boardGOATS
Meanwhile, on the next table, the trio of Burgundy, Green and Ivory had decided to give Endeavor: Age of Sail another outing.  Perhaps it was because Green wanted revenge for last time, or maybe Burgundy had missed out, or possibly it was just because Green wanted to play the game again while considering whether or not to commit to getting the new Age of Expansion buildings, but whatever the reason, out it came for the second time on the bounce.  The game is a simple game of exploration in the age of Captain Cook, played over eight rounds.  Players first build, then populate and remove workers from their buildings, all according to how far they have progressed along the associated technology track.
– Image by boardGOATS
The guts of the game are the actions, however, which allow players to colonise cities on the central map board, engage in shipping, attack occupied cities, plunder and become slave masters. Last time, it was the "Feature Game", specifically including the Exploits expansion.  The really change the game, giving players a different aspect to work on.  This time Exploits were included again, though different ones to last time: "The Sun Never Sets", "Globalization", and "Underground Railroad".  Between them they covered most of the continents, requiring India & the Caribbean; the Far East & the Caribbean, and Africa & North America to be opened (respectively) for the three Exploits to take effect.
– Image by boardGOATS
As before, Ivory started building a robust network of connected cities while Green once again used tried to use the Exploits as a target.  In contrast, Burgundy largely ignored the Exploits and played a traditional game concentrating on building up his technology tracks giving him a strong foundation from which to build in the colonies.   Playing with the new three-player map meant that all regions were opened up by the end of the game, though it was a bit late for Green to capitalise on the Exploits as he'd hoped.  Worse, Ivory's city network meant he was able to sneak a hat-full of points from the "Sun Never Sets" and "Globalization" Exploits as well.
– Image by boardGOATS
Ivory and Burgundy managed to build one of the Charter Company buildings from the mini expansion and, like Blue last time, both ended up with too many cards and had to choose what to cull.  This problem was exacerbated by the number of Governor cards they picked up.  As the game drew to a close, the last of the continents were opened up activating the final Exploit, but it was too late for anyone to occupy any of the stations on the Underground Railroad.  With the last round coming to an end, all that was left to count up the points.  Although it wasn't actually a tie like last time, it was still a very close game.  This time, honours went to Burgundy who finished with seventy points,  just three more than Ivory who, in turn, was three ahead of Green.
– Image by boardGOATS
As Endeavor was just coming to an end, so Blue, Pine and Lime looked round for something quick to play.  Ivory excitedly suggested that when they were finished everyone could play Bohnanza, but Pine vetoed that and in the meantime, Blue's beady eye moved from Biblios to settle instead on No Thanks!.  This is an old favourite, but one that Lime had not been introduced to yet.  As a really quick game, both to teach and play, this was ideal.  Everyone starts with eleven red chips, and the first player turns over the top card in the deck (which runs from three to thirty-five).  They can then either take the card or pay one chip to pass the problem on to the next player who then has the same choice.
– Image by boardGOATS
The clever part is the scoring—the winner is the player with the lowest total face value once the deck has been exhausted (offset by any remaining chips).  There is a catch though, if a player has continuous sequence of cards (e.g. seven, eight, nine, ten), they only count the first card (i.e. they score seven not thirty-four).  The real gamble comes because some of the cards are removed from the pile at the start of the game.  Lime started by collecting lots and lots chips, while Blue helped by pointing out some of the things to look out for.  Although having chips is a must, and having most chips gives control of the game, once one player runs out, that control is largely lost.  This is because any player with no chips is forced to take whatever comes along.  Lime finished with a massive ninety points with Pine some way behind, with Blue cruising to victory with forty-one.
– Image by boardGOATS
Although Endeavor was now finished, they were still packing up, Lime was keen to give it another go while Pine insisted he wasn't coached this time, so the trio squeezed in another quick round.  Lime tried the same trick, and hoarded lots of chips, again putting Pine under a lot of pressure as he ran out of chips.  He managed to keep his total down though by making a very fortuitous run, and ended with two points less than Lime.  This time, Blue concentrated more on her own game and was able to just hold on to enough chips to see out the deck, while avoiding picking up too many cards, giving her a second victory.  It was much closer in the battle for second place though, with Pine taking it by just two points.
– Image by boardGOATS
With Endeavor finally over and packed away, Ivory (perhaps more boisterous than usual as it was exactly six months to Christmas), once again suggested Bohnanza.  Pine once again vetoed it, this time even more grumpily following the suggestion that we should all sing some festive hits to get us in the mood.  Blue diplomatically suggested 6 Nimmt! as an alternative as everyone loves it and Lime had not yet played that either.  6 Nimmt! is a great game that gives players the illusion of control right up until the point when it all goes horribly wrong.  The idea is that everyone has a hand of cards and simultaneously chooses one to play.
– Image by boardGOATS
Starting with the card with the lowest face value, these cards are added to one of four rows, specifically the row with the highest value that is lower than the card played.  When a sixth card is added to the row, the five cards already on the table are taken and the new card restarts the row.  As well as a face value, each card has a number of Bulls' Heads, most only one, but some as high as seven.  At the end of the game, the player with the fewest "nimmts" is the winner, with a special "wooden spoon" shout-out for the person whose plans went most awry landing them with a huge pile of bull.  As a group we usually play in two rounds, each with approximately half the deck (numbered one to a hundred and four).
– Image by boardGOATS
Blue top-scored in the first round, with twenty-four nimmts, but everyone else had a far more respectable total and Green led the way with just two.  This is a game where everything can fall apart spectacularly in the second round, so there was everything to play for.  The second time round time, Lime beat Blue's score from the first round taking twenty-five nimmts, giving him a total of thirty-two.  This was nothing compared to Pine though, who took thirty-five in the second round alone, giving him a a sizeable forty-eight.  Blue made a clear round, but for her the damage had already been done, so the honours fell to Green who was consistency itself, taking just three in the second round giving a total of five – the only one to finish in single figures.  Lime was keen to play again, but as others were leaving, it was time to pack up. There was still time for a long gossip though before we sadly said goodbye to Green after what was likely to be his last meeting until September.
– Image by boardGOATS
Leaning Outcome:  You don't have to play a game correctly to have fun.