Our next meeting will be on Tuesday 26th Movember, at the Horse and Jockey pub in Stanford-in-the-Vale.  As usual, we will be playing shorter games from 7.30pm as people arrive, until 8pm when we will start something a little longer.
This week, the "Feature Game" will be Mississippi Queen which is an old game that won the Spiel des Jahres award in 1997, but has recently been re-released in a new edition having been out of print for many years.  In this game, players race their paddle steamers down the Mississippi, picking up passengers along the way. Onboard, the coal supplies are limited, so each ship's acceleration and manoeuvrers must be carefully planned…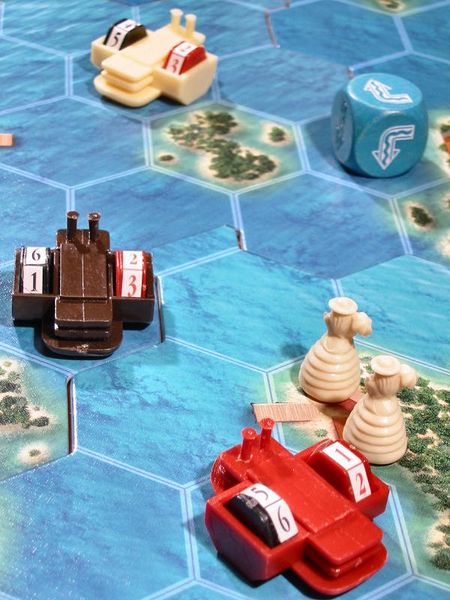 – Image by BGG contributor garyjames
And speaking of riverboats…
Jeff was on a boat with a priest and a rabbi.  The weather was hot and humid and the trio had been fishing there nearly all day without a nibble.  Eventually, the rabbi said he was thirsty, so carefully, he climbed over the side of the boat, walked across the water to the bank where they'd left supplies.  He took a cold bottle of water and drank thirstily.  A couple of moments later, the priest gave a deep sigh and said, "I'm not getting anything here either, I think I'm going to join him."  And with that, he climbed over the gunwale and followed his friend.
Jeff had had enough too by this time, but didn't fancy the hard work involved in rowing the boat back to the bank.  So, thinking to himself, "If God lets them walk on water, he'll let me too," he left the boat.  Inevitably, Jeff being Jeff, he sank like a stone.  Bedraggled, he climbed back in to the boat, raised the anchor, and dejectedly started to row.
On the riverbank, the rabbi turned to the priest and said, "I guess he didn't know where the stepping stones are then."