There were lots of people feeding and with a bit of a queue, so the non-eaters, Ivory, Mulberry and Lime, decided to play something while they waited.  There were lots of options, but it was a long time since we'd played The Game and it ticked all the boxes, so unusually, a decision was made really quickly.  This is a simple cooperative card game (in our case, played with a copy of The Game: Extreme, but ignoring the special symbols), but new to Mulberry and Lime.  The team have a deck of cards from two to ninety-nine and they must play each card on one of four piles, two where the card played must be higher than the top card, and two where it must be lower.
– Image by boardGOATS
There are just three rules:  on their turn, the active player can play as many cards as they like (obeying the rules of the four piles), but must play at least two cards before replenishing their hand, and players can say anything they like but must not share "specific number information".  Finally, there is the so-called "Backwards Rule" where players can reverse a deck as long as the card they play is exactly ten above or below the previous card played on that pile.  This time, it went a bit wrong early on, but the trio managed to pull it back.  Lime got stuck with fifty-six and sixty-four that he couldn't play, and eventually the game came to a halt with six cards still to play.
– Image by boardGOATS
By the time The Game was over, the eaters had just about finished as well and the group split into two, one five to play the "Feature Game", Mississippi Queen.  This is an older game that won the Spiel des Jahres award in 1997, but has recently been re-released in a new edition having been out of print for many years.  In this game, players race their paddle steamers down the Mississippi, picking up passengers along the way.  Onboard, coal supplies are limited, so each ship's acceleration and manoeuvrers must be carefully planned.  The key to the game are the cool little plastic paddle steamers which have two numbered paddle wheels – one to track coal and the other to record the speed.
– Image by boardGOATS
The five riverboats start at jetties and then set sail along the river, which is made up of a hexagonal grid.  At the start of their turn, the active player can adjust their speed by one and then move that number of hexagonal spaces, turning a maximum of once before, during or after the move.  The player can increase or decrease their speed by more or make extra turns by burning coal.  Everyone starts with just six coal though and there is no source of coal during the game, so when it's gone it's gone.
– Image by boardGOATS
The game has a lot in common with Powerships, a mad spaceship racing game we played about six months ago, but there are a couple of key differences.  Firstly, each player has to pick up two passengers from the islands during the race, which means they must arrive at a jetty at a speed of one.  There is a more subtle difference which is nevertheless important to the way the game plays.  In Powerships, the map is modular, but is set out before the start of the game, where it is built as play progresses in Mississippi Queen.
– Image by boardGOATS
In Mississippi Queen, after the first turn, play proceeds according to position in the race (like PitchCar).  The advantage of this is that players at the front don't obstruct players moving up from behind, however, it can lead to a run-away leader problem instead.  In Mississippi Queen though, the river is "built" as the game progresses; when the leader moves onto the final space, they draw a new river tile and roll the die to determine placement (left, right or straight ahead).  The fact that the player in the lead has less time to plan has the additional effect of off-setting the advantage of less obstruction, helping to prevent the leader running away with the game.
– Image by boardGOATS
This time, Lime stormed into the lead, but overshot the first island allowing Blue to sneak in behind him and grab a passenger.  There are plenty of islands though, so Lime had plenty of other opportunities.  Unfortunately, he overshot the second island as well as he was going too fast.  By the third island, Lime was starting to get desperate, but hadn't got his speed and position right and ended up burning almost all his coal and doing a full circuit of the island to rectify things.  This, and almost sinking gave everyone else a chance to catch up and Blue managed to snatch another passenger putting her in a position to make a run for the finish.
– Image by boardGOATS
Although she was able to move into the lead, Blue was hampered by an inability to plan and was forced to burn some of her carefully hoarded pile of coal.  Mulberry wasn't far behind, and had the advantage of being able to see slightly further down the river so was better able to plan and could therefore carry more speed.  Purple and Pine got into a tangle over picking up a beautiful lady, delaying them both as Blue and Mulberry puffed off into the distance.  Lime bravely fought his way back, but it was between Blue and Mulberry with Mulberry rapidly eating into Blue's lead.  Blue just managed to make it to the jetty burning the last of her coal to drift in gently, just ahead of Mulberry.  Lime limped in next, leading the others in.  Meanwhile, on the next table, everyone else was playing one of the archetypal card-drafting games 7 Wonders.
– Image used with permission of boardgamephotos
Players start each round with a hand of cards, and everyone simultaneously chooses one and plays it.  The remains of the hands are then passed on to the next player who chooses a card and plays it.  Play continues like this until each player has two cards at which point one is discarded.  The game is distinguished from simpler card-drafting games like Sushi Go! by the civilisation and engine building aspects.  In 7 Wonders, the players are the leader of one of the seven great cities of the Ancient World. They use the cards to gather resources, develop commercial routes, and affirm their military supremacy.  Some cards have immediate effects, while others provide bonuses or upgrades later in the game. Some cards provide discounts on future purchases, some provide military strength to overpower your neighbors and others give nothing but victory points.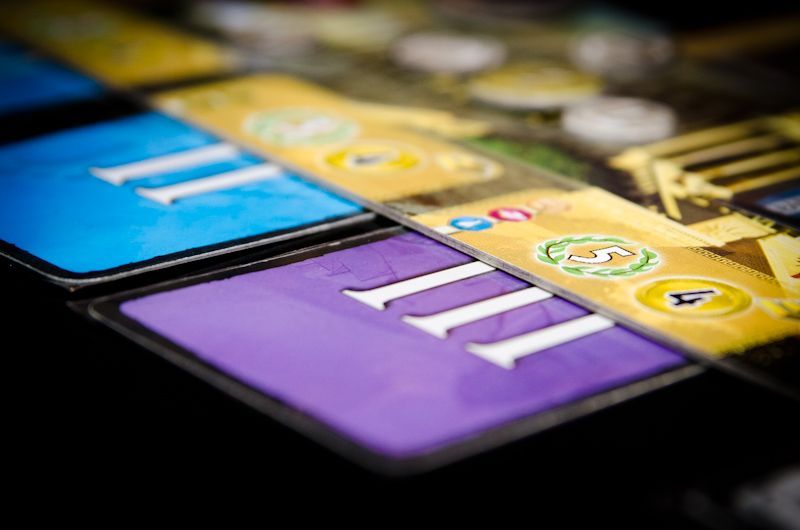 – Image used with permission of BGG contributor  punkin312
After three rounds (or Ages), the player with the most points has the most advanced city and is the winner.  The player boards are chosen at random at the start of the game.  In this case, Green got Halicarnassus, and chose Side B so would be looking to build extra cards from the discard deck in the second and third rounds. Black got Ephesus and also went with Side B and so was only going for victory points and extra money.  Ivory got Babylon and again Side B was favoured, giving him the second tier bonus of being able to build both his final two cards.  Red received Alexandria and was also going to use Side B which would provide her extra resources and victory points.
– Image used with permission of boardgamephotos
Green's game was one of building resources in order to build the pyramid enabling him to  build the extra cards.  He started building up his military, and although he was joined at the same level by both his neighbours (Ivory and Black), he began to pull ahead of Ivory after the second round and by the end of the third round had amassed an unassailable army. In the process though, he had neglected green science cards and purple guilds.  Building extra cards from the discard pile is perhaps not as helpful as it might seem as the cards in the discard pile are there because they are the least useful cards. Maybe with more players there would be more to choose from and this bonus would work more favourably, on thee other hand, it might just end up with more duplicates.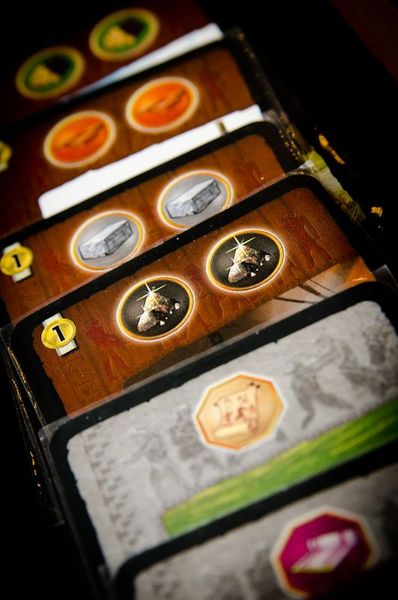 – Image used with permission of
BGG contributor punkin312
On the opposite side of the table was Red.  She, in contrast (and not under threat from the growing armies of Green) mostly ignore the fighting, but still managed to win one battle. With the extra resources available from her pyramid she did not need as many resource cards and decided to concentrate on the other cards.  She invested heavily in the yellow bonus cards and also managed to get a full complete set of science cards.  These she managed to combine with the purple guild which gave her an extra science symbol of her choice.  She also managed to build a second purple guild, which gave her extra points for all brown, grey and purple cards. She also managed to acquire a very large pile of money which netted a fair few points too.
– Image used with permission of boardgamephotos
Ivory's game was built around trying to get to the second pyramid level quickly, so initially he took a lot of resource cards. Unfortunately he didn't get to the second level until the end of the second round, but having looked at the card he then decided the extra money would be more useful. He managed to build both his last cards in the final round, but like Green found, that extra card is not always that useful. He did manage to collect some high scoring blue cards, but  although he tried, he failed to get a full set of science cards. He did get a couple of purple guilds though with one scoring the yellow cards belonging to neighbours, Red and Green who had both gone quite heavily into those. The other gave him points for every battle lost by his neighbours. He got nothing from Green for this, but scored quite nicely from Red.  His resource heavy early game meant that he was left trying to catch up on the other later cards and abandoned his attempts to build a strong army and just took the beating.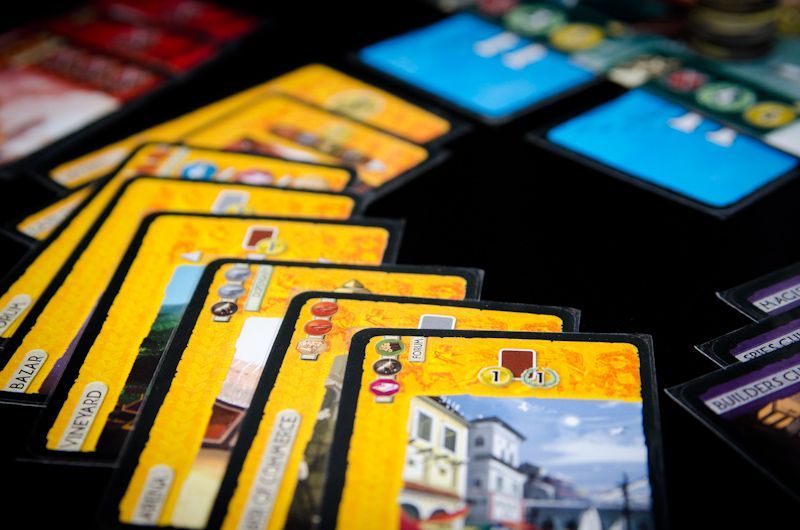 – Image used with permission of BGG contributor punkin312
Black's game was concentrated on the blue victory point cards and his pyramid build.  A smattering of yellow bonus cards aided his end game score because he scored for all the brown cards built by both himself and his neighbours (Green and Red). He collected some science, but not a complete set.  Although beaten by Green in the final battle, he avoided defeat in the first two and took a clean sweep of victories over Red.  So although everyone had had a strong game in one area, these were more than offset by less strong elements elsewhere.  It turned out that the strongest games were had by Black and Ivory who finished level on fifty-one, some way ahead of Red in third.  The tie break was won by Black who had the more money at the end of the game.
– Image used with permission of boardgamephotos
Mississippi Queen was still going, but coming to an end so something quick was needed and Ticket to Ride: London hit the spot.  This is one of the new, smaller versions of the popular route-building game, Ticket to Ride.  These are reduced in size and designed be quicker to play although the game play is very similar.  Players take it turns to draw coloured cards or use them to place pieces, but in this version the Train pieces are replaced by Routemaster Buses.  As usual, players also start with a selection of ticket cards and successfully fulfilling these give more points, but woe betide any player who fails to complete a ticket as the points become negative, which can be very costly indeed.  In addition to these features, this new light version of the game also gives bonus points to players who manage to connect all the locations in an area.
– Image by boardGOATS
The action started around central London, (Covent Garden, Piccadilly Circus and Trafalgar square) as Red, then Black and Ivory laid buses around the area, all concerned that the other may block their paths. Green went further out to Kings Cross and Regents Park.  As the game progressed, Ivory, Red and Black continued to challenge each other around central, East and Southern London. Green happily laid his buses round to the East unopposed.
– Image by boardGOATS
Black, who had only kept one ticket, was the first to complete his ticket and go for more.  He was closely followed by Red (who had also only kept the one), and then Ivory (who had kept two).  Green never took new tickets, concentrating on his two and connecting all the stations in the five point district. Black, Red and Ivory continued to take new tickets, but it looked like Green might end the game as he was soon down to only three buses.  Ivory checked around the table to see who had buses and how many cards they had left and decided that he had time.  Even though he had missed the fact that Green had only a single card in hand, he still managed to lay his last buses first; one turn too early for Green who had to settle for a two length route instead of the three he was aiming for (and close to getting).
– Image by boardGOATS
Black placed one last bus, but Red decided to gamble on new tickets as she had nothing she could claim.  Ivory still had one final turn, but with no more buses to lay, he decided against the ticket gamble.  In the final scoring, Ivory was way ahead of everyone else, due to claiming four "long" routes (threes and fours) and completing some high scoring tickets.  Red, Black and Green were all within two points of each other. Red's final ticket gamble failed and cost her a clear second place, and Green's gamble on connecting all the stations in the five point district (and the stations in the two point district as well) did not pay off either.
– Image by boardGOATS
Some left for an early night and those that were left decided to play one last quick game.  Pine was adamant that Bohnanza and Las Vegas weren't "quick" so in the end, 6 Nimmt! got the nod.  This is one of our most popular games, and frequently gets played in circumstances like this.  It is very simple and there is something almost magical about playing well:  simultaneously everyone chooses a card from their hand and places it face down in front of them.  Once everyone has picked a card, they are all revealed and, starting with the lowest card, the cards are added to one of the four row, the row where the end card has the highest value that is lower than their card.  The point is that the row a card is played on changes as players place cards.
– Image by boardGOATS
The player who places the sixth card, takes the five cards and scores the number of bulls' heads shown.  The winner is the player with the fewest bulls' heads.  We play the game in two rounds, and this time the first round was mostly pretty even with everyone taking twelve to fifteen Nimmts except Blue who somehow scraped a clear round.  This meant it was all to play for in the second round, especially with the tendency for a good round to be followed by a bad one.  Unusually, nobody had a terrible game:  Pine top scored with forty, followed by Purple with thirty-one, and everyone else was quite closely grouped. Blue's clear first round gave her a head-start and she finished with fourteen, just two ahead of Ivory and three ahead of Black in what was an unusually close game.  And with that, it was home-time.
– Image by boardGOATS
Learning  Outcome:  Neglect end game bonuses at your peril.