It is at times of stress that people need social contact more than ever, and board games are a great medium for that.  Despite the limitations of "remote gaming", the overwhelming impression is that it is important to stay in touch, so we are persisting with online meetings.  Therefore, our next meeting will be on Tuesday 23rd June 2020; we will gather from around 7.30pm, and start playing at 8pm.
This week, the "Feature Game" will be Las Vegas Royale.  This is a new version of one of our favourite games, Las Vegas that adds some new features as well as implementing some elements of the Boulevard expansion.  Although the new game only plays five, the original plays more and the social aspect is so important at the moment that we will be playing as a large group again.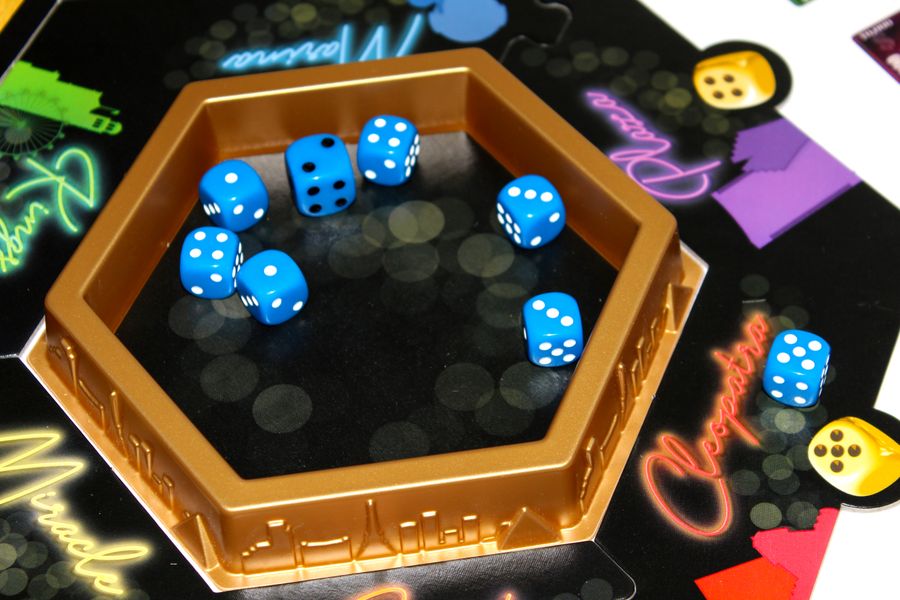 – Image by BGG contributor kalchio
And talking of Las Vegas…
One evening, Jeff was sitting at home watching TV when he heard a voice in his head.  It said, "Sell your house, go to Vegas…."
The following evening, the voice returned, again, exhorting him to sell his home and go to Las Vegas.  After the third night, Jeff found it was praying on his mind and he couldn't get the thought out of his head.  Over the course of next couple of weeks, the problem got worse and worse, until eventually he could ignore it no longer.  So, he sold his house, his car and all his board games and caught a flight.
On his arrival, the voice became more persistent this time telling him to go to the Cleopatra Cassino.  So Jeff did as he was bid.  As he entered the venue, the voice changed again, this time saying, "Place everything you have on the high roller roulette."
Obediently, Jeff found a high roller roulette table and the voice changed again, "Bet it all on twenty-four black…"
Without thinking, Jeff put everything he owned on twenty-four black and the voice fell silent as Jeff watched the roulette wheel start to turn.  Then the ball began rolling and bouncing and rolling.  It seemed like an age, but eventually the ball started to slow and eventually stutter and stop.
As the ball landed on double zero, the voice in his head simply said, "Bugger."