After the usual pre-game chatter (this time focussed largely on the village of Standlake—north of The River, Tut!), we settled down to play the "Feature Game".  This was the new Railroad Ink Challenge: Shining Yellow Edition.  We have played Railroad Ink: Deep Blue Edition several times, both with and without the mini expansions and have really enjoyed it.  This new version steps it up a little with several new "Challenges" to add to the base game.
– Image by boardGOATS
The basic idea is very simple:  four dice are rolled and players have to draw all four pieces of track on their player board.  These must either extend a previous section of road or track, or start at one of the red entrance "arrows".  Three times during the game, players can, additionally, draw one of six special intersections with only one per turn.  Players score points for the longest sections of road and track, connecting red entrance "arrows" and for filling the central nine squares, losing points for any unconnected, "hanging ends".
– Image by boardGOATS
The "Challenge" editions of Railroad Ink add special spaces which represent villages, factories and Universities (though we referred to them as "Houses", "Spectre Octopi" and "Fingers  Pointing Up").  These give extra point scoring opportunities and a chance to get an extra "special" section.  It also includes goal cards which give players even more chances to score more points.  These work a bit like the scoring in Noch Mal!, where the first players to complete a "Challenge" score maximum points and others who achieve it later score less.  These provide a lot of variety to the game, especially when combined with the additional mini expansions that each game comes with.
– Image by boardGOATS
The first thing we noticed was that the dice we had didn't seem to make sense—there weren't enough simple straight and simple bend sections.  It quickly became apparent that we had the wrong dice in the box.  Fortunately, we also had the Lush Green Edition, so we stole the dice from that and carried on.  It quickly became apparent that somehow this was much more difficult than the original Blue Edition that we had played so many times.  It wasn't clear whether this was just an unfortunate series of dice rolls, or whether it was a function of the fact players were trying to do more things which forced them to compromise more, or even the new back-to-back corners.
– Image by boardGOATS
Either way, it was clear that people had a lot of "hanging ends" and were desperately hoping for "good rolls" (perhaps cheese and pickle rather than egg and cress…).  Most people managed to make something out of their spaghetti-like network though, and before long it was time to compare scores.  Ivory was in charge of the Tusk-lets, so in his absence it was left to Pine to set the target score.  When Pine reported his fifty-three, everyone knew it was a good score from Burgundy's response of "Bugger."
– Image by boardGOATS
Black matched Pine, and Pink thought he'd pipped them by one point with his fifty-four, but Blue had the beating of all of them finishing with fifty-seven points.  The score survived Pink's recount, in what had actually been quite a close game.  It had been a reasonably quick game, so we moved on to play Take it Easy!, a tile-laying game we played back in February, but had really enjoyed.  Each hexagonal tile has three pipes crossing it, in three different colours.  Tiles are drawn from a stack one at a time, and each player adds them to their personal player board.
– Image by boardGOATS
The tile placement rules are simple:  the tiles can be placed anywhere on the board but must be placed the right way up which fixes the directions of the nine different coloured pipes.  Players score points for any pipes that contain only the one colour, and that score is the number of tiles in the pipe multiplied by the number on the pipe. Thus, the highest scores are achieved by locating the high value pipes so they go through the middle.  Although there are a maximum of fifteen pipes, it is almost impossible to complete all successfully, especially as there are some tiles that are not used.  So, there is an element of chance as well as hedging bets.
– Image by boardGOATS
It quickly became clear to Blue that she wasn't going to be in the running this time, and others felt the same, knowing they had not done as well as they felt they should have done.  Pink, however, once again thought he'd got it in the bag with his score of one hundred and forty-five, ten more than the hitherto next score, by Black.  That was until Green reported a massive score of one-hundred and seventy-three.  Everyone else, some thirty points behind struggled to believe it, but he'd simply made better use of the tiles as everyone else had been waiting for yellow (nine point) tiles to come out.
– Image by boardGOATS
With that, we decided to move onto Board Game Arena.  There were lots of options, but Green was keen to share a game he had recently discovered called Hugo: Das Schlossgespenst (aka Escape from the Hidden Castle).  This is a light, family roll-and-move type game, where players take on the role of guests at a party, trying to escape from "Hugo the ghost".  Hugo starts in the cellar, but quickly moves up to the gallery, chasing any guests that have not been able to escape into one of the side rooms.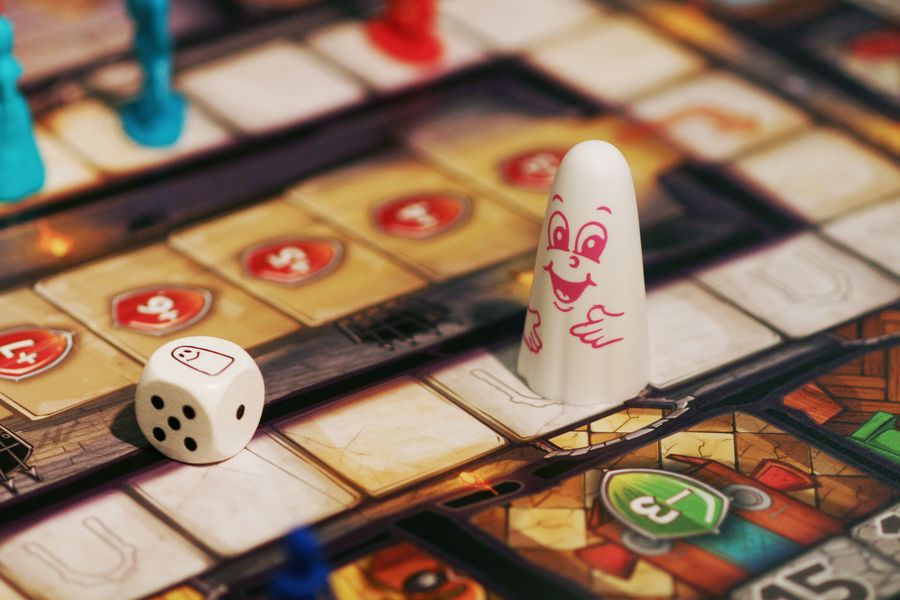 – Image by BGG contributor duchamp
The catch is that even when apparently safe in a room, if another guest guest rolls exactly the right number the resident can be evicted, inevitably right into Hugo's path.  When Hugo catches someone, they go into the basement and, the deeper they go, the more "Fright Points" that player gets.  The aim of the game is to finish with the fewest "Fright Points" after Hugo has been round the gallery seven times is the winner.
– Image by boardGOATS
from boardgamearena.com
Although the game seems like it is just a simple roll-and-move game, there is a little bit more to it than that.  Players are in charge of more than one guest, so they have to choose which one to move on each turn.  This decision will depend on where their pieces are with respect to Hugo, but also which rooms are closest, which rooms are empty and whether they can get one of their guests into one of the two "safe rooms" that give players negative "Fright Points".  In practice, this isn't much of a decision because after a couple of rounds, Hugo is moving so quickly, escape is the only thing on the players' minds.
– Image by boardGOATS
from boardgamearena.com
Although the game didn't take the five minutes advertised, it didn't take too long.  There was much humour when one of Blue's guests stuck its head up Pine's frock, and likewise, when one of Pine's stuck its head up Burgundy's frock.  It was very clear to everyone that Green's prior experience was the explanation for why he very nearly won—it is a game that is all skill of course.  In the event, however, Pine pipped him to the line by just one "Fright Point".  And with that strangeness over, and this possibly being the last online game session, it seemed fitting to end with the reigning Golden GOAT winner, 6 Nimmt!.
– Image by boardGOATS
Over the last year or so, we've played 6 Nimmt! more than anything else, way more, simply because it is fast, fun, and skirts the fine line between tactical masterpiece and unpredictable luck-fest.  Players simultaneously choose cards that are placed at the end of one of four rows. The player who places the sixth card in a row, instead picks up the other five and their card becomes the first card in the row.  In the Board Game Arena version of the game, players start with sixty-six "Nimmts", losing some each time they pick up.  The winner is the player with the most "Nimmts" or points when one player's tally falls below zero.
– Image by boardGOATS from boardgamearena.com
Playing with the "Professional Variant", cards can be added to both ends of the rows, simultaneously adding control and chaos in equal measure.  This time, Burgundy was the first to pick up cards, but Green was the first to begin the race to the bottom in earnest.  His personal roller-coaster ride hit maximum speed when he picked up a remarkable eighteen "Nimmts" on one turn.
– Image by boardGOATS from boardgamearena.com
For most of the game, everyone was very, very close, except for Green, but then everything went wrong for everyone and the scores plummeted.  Green inevitably triggered the end of the game though, but the final scores were surprisingly close aside from him.  Despite picking up fifteen points on his final card, Burgundy finished with six "Nimmts" more than Pine and Blue who tied for second place.  And with that, it was time for bed.
– Image by boardGOATS
Learning Outcome:  Watch out, watch out, there's a Hugo about!