Although the test event at the Horse and Jockey was very successful last week, we decided to continue online for another week.  So, after the usually chatter (mostly centred on the subject of revenge for the drubbing some of us got from Pine in playing the Heart of Africa expansion to Ticket to Ride), we moved on to the evening's "Feature Game".  One of the more popular games that we have played online is the "Roar and Write" type game, Welcome to Dino World.  We only played it once and then in "Lite Mode", but there had been a lot of interest in the more exciting sounding "Danger Mode", so we decided to give it a try this week.
– Image by boardGOATS
The basics of the game is that three dice are rolled giving a number of "pips" which players can spend on up to three actions.  These actions are to:  build paths; build a dinosaur pen (with generators), or build a facility.  The relatively novel aspect of this is that as well as choosing actions to do, players can also combine two or more dice together and use the increased value to do fewer, more powerful actions.  Thus a roll of one, three, and four can be used to do three separate actions of that level, or two actions of value, four say, or a single action of level eight.
– Image by boardGOATS
Playing the game with a large number of players (and remotely to boot), instead of players having goal cards that are scored at the end of each round, we use the variant where there are communal goal cards (called "Visitor Cards") which are scored at the end of the game.  The game lasts just eight rounds, after which everyone adds up their scores for visitors, facilities, unused generators and, of course, each dinosaur pen.  This "Lite" version of the game is made considerably more complex when the game is played on the "Danger" board with the addition of Threat and Security Tracks and a modification to the way generators are built.
– Image by boardGOATS
The idea of the Threat Track is that every time a dinosaur pen is added the park, the threat level increases by one for a herbivore and two for a carnivore.  Once per round, players can also increase their Security Level, by crossing off boxes on the Security Track.  These boxes contain points, which if unused at the end of the game, are added to the player's score.  After the building phase is the malfunction phase when a single six-sided, (d6) "Threat Die" is rolled.  The value of the Threat Die is added to each player's Threat Level minus the Security Level to give the Danger Level.  If the Danger Level is six or above, disaster strikes, generators malfunction, and dinosaurs start to rampage.
– Image by boardGOATS
Although both use 4 MW generators, they work slightly differently in the Danger and Lite Modes.  In Lite Mode, each generator will supply a maximum of four pens (the ones sharing a side with the generator), so a pen that requires a total of 3 MW must be adjacent to three different generators.  In Danger Mode, one generator can supply a maximum of 4 MW, but it can supply more than 1 MW to an individual adjacent pen indicated by a power line drawn between the two.  Thus, the amount of power a generator supplies can change during the game—it is the generators that are working closer to full capacity that are most likely to fail…
– Image by boardGOATS
If the Danger Level in a park reaches six, any generators that are working at maximum capacity fail.  It is a brief power-outage, but as a result, any pens that rely on these generators are affected and one square of these pens is lost (crossed out).  The problem really comes, however, when the final square in a pen is lost and and the pen fails completely, because now the dinosaurs break out and cause damage to all the neighbouring pens causing a cascade reaction.  And any pen that is destroyed completely no longer scores.
– Image by boardGOATS
Thus, the game is a matter of achieving a fine line between getting the most out of a limited number of generators with the minimum amount of security while still avoiding rampaging dinosaurs.  The rules explanation took longer than expected as there was quite a bit more to Danger Mode, and worse, it was a while since we last played the game in Lite Mode, so we had to revise that too.  Eventually we were going, however, only for a hiatus after the first round for a rules-check.
– Image by boardGOATS
Burgundy was right to point out that although the rules say players can carry out the three actions in any order, each one could only be carried out once per turn, in particular building dinosaur pens and building facilities.  Around half the players had already built two pens in the first round, so we decided that any player that had not done so, could build a second pen in the second round if they chose, and thereafter we would adhere to the rules "as written".
– Image by boardGOATS
As last time, the first couple of rounds were very slow as players tried to assimilate the Visitor cards and work out a plan to maximise the points they could get from them.  This time they were:
≥3 Protoceratops pens (worth four points);
≥2 Different facilities touching orthogonally (worth four points);
≥1 Protoceratops pen, ≥1compsognathus pen, and ≥1 stegosaurus pen all within four paths of any entrance (worth six points);
≥1 T. rex pen and ≥1 brachiosaurus pen (worth six points);
≥4 Brachiosaurus pens (worth ten points);
≥2 Velociraptor pens and ≥3 herbivore pens (worth ten points).
The Facilities were the Viewing Platform and the Ranger Lookout which score points equal to the number of undamaged spaces in one neighbouring pen at the end of the game, and one point per pen visible orthogonally (respectively).
– Image by boardGOATS
In addition to the variety from the Visitor and Facility cards, there are also Research cards which are there to mitigate bad luck.  In Lite Mode, Research is just six opportunities to adjust a die by ±1, but these are replaced by three cards, X, Y, and Z which players can use three times, twice and once respectively.  This time, these were:
Calculated Risk: When building a carnivore pen, only add one to the threat track but add one damage to the pen (X);
Alternate Funding: Use one die as if it were any value (Y);
Docile Gene Editing: Do not increase the threat when building a pen this round (Z).
While minimising generators and security gives players more points at the end of the game, there is no benefit in not using their Research, so while most players kept some back in case of emergencies, others started using them from the very beginning.
– Image by boardGOATS
Although we were slow to get started and the first few rounds were also very slow, once we got going the rounds were much quicker.  And then came the maths.  Without Ivory to set an early (usually unbeatable) target, Pine stepped up with a score of one hundred and seven.  This was soon topped by Burgundy with a hundred and twenty-seven, then by Black with a hundred and twenty-nine.  However, on recount, Burgundy excitedly announced that he also had a hundred and twenty-nine, while Black sadly revised his score down to a hundred and twenty-seven.  All was not lost as both players recounted again and Black's score returned to one hundred and twenty-nine while Burgundy's third and final count proved to be the lowest at a hundred and twenty-six, "Bah!".
– Image by boardGOATS
At this point, Black and Burgundy gave in as Pink's verified score was a hundred and thirty, and it was clear they were battling for the minor places.  Pink, who thought he had won, however, was decidedly unimpressed when he was beaten by two points by Blue.  There must have been something in the air, or maybe it was the fumes from the vast amount of Tipp-Ex that Blue had used.  Pink's check of Blue's score initially increased her tally by six, only for him to reduce it again on a second recount, but the changes weren't enough to give Pink victory.
– Image by boardGOATS
Pine was suffering with screen-eyes so took an early night leaving six to move onto Board Game Arena.  Six is an important number as a lot more games become available, but after some discussion where people expressed the desire to play something different yet light, we chose Go Nuts for Donuts!, which Pine had said he had been playing and had found light and entertaining.  It was indeed very, very simple:  each donut has a number and players simultaneously choose a card to "bid" for them.  The catch is that a bit like Om Nom Nom, if more than one person chooses the same donut, it cannot be shared and nobody gets it.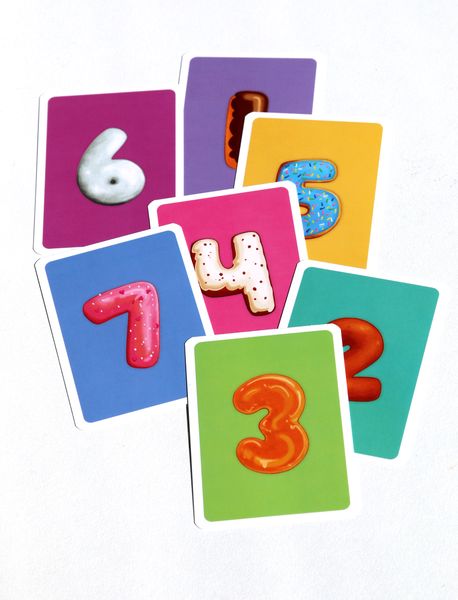 – Image used with permission
of boardgamephotos
The different types of donuts score points in different ways and the player with the most points after all seventy cards in the deck have been exhausted is the winner.  Some just give points, others score if you have more (or less) than a certain number of one type of cards, while others allow players to take cards from the deck or discard pile.  The clever part is the simple decision, however:  which card to choose.  It is not as simple as it first seems.  Sometimes a player wants the card that gives the most points, but then other players may want that, so perhaps it is better to choose something else, even a card someone else wants simply to stop them getting it.  And which one is best if there is more than one donut of the same type?
– Image by boardGOATS from boardgamearena.com
Go Nuts for Donuts! is quite a brutal game in that it is perfectly possible to end up with no cards much less cards you actually want.  It is a lot of fun though, and would probably be even more fun in person when players get to see the whites of each other's eyes and read their body-language.  This time, although Purple got the most cards with eleven, it was only enough for second place.  Burgundy's six cards worked better together, and thanks largely to his fine set of four Boston Cream donuts, Burgundy's score of eighteen just gave him victory by a single point.
– Image by boardGOATS from boardgamearena.com
The appearance, style and set-collection nature of Go Nuts for Donuts! is very reminiscent of Sushi Go!, so with Green's departure, the rest of the group settled down for one last food-related game.  We've played Sushi Go! quite a bit, mostly because it is very quick and simple.  The archetypal card drafting game, players start with a hand of cards and pass the rest on, trying to collect sets to give them the most points at the end of the game.  Played over three rounds, we played with a widdershins draft in the second round, and included the Soy Sauce mini-expansion for extra flavour.
– Image by boardGOATS
Pink took the first round largely thanks to a full set of three sashimi cards (which give ten points).  Players always fight for the wasabi cards as these can give a significant points boost, multiplying the next nigiri by three, but Purple was the only one to get any and she couldn't make the best use of it as she had to pair it with egg nigiri (only worth one point).  The second round was pretty much a repeat of the first with Pink taking another sashimi trio and Blue scoring the egg nigiri with wasabi.
– Image by boardGOATS from boardgamearena.com
With Pink well ahead with thirty-six, the final round was really about limiting losses.  Purple took a full six for her puddings and Pink took six points for his maki rolls, but overall, the takings in the final round were pretty similar.  The rest of the group were actually quite close together with Purple (again) the best of the rest, but despite losing three points for tying for the least puddings, Pink's final total of forty-two was unbeatable.
– Image by boardGOATS
from boardgamearena.com
Learning Outcome:  If the fences of dinosaur pens lose power, things can go very wrong (though perhaps that was already well known).