In an excellent recent article on the TabletopGaming website by Ludoquist co-owner, Nick Smith, listed some thirty games shops that have closed so far this year—in six months that is a lot, and behind every one there are the people, the gamers who were enthusiastic about gaming and have finished with debts, bankruptcy, a lot of stress and are likely now out of work.  Each closure is a tale of personal disaster and tattered dreams.  A closer look at this list, however, shows that nearly two thirds of the shops in this list are branded "Geek Retreat", so what's that all about?  Is there more to this than first meets the eye?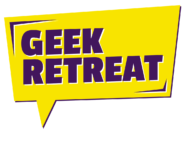 – Image from geek-retreat.uk
Geek Retreat is a franchise built on a successful venture in Glasgow and then in Newcastle.  Instead of the "Pay-to-Play" model used by a lot of games cafés, they rely on a commitment from customers to buy food and drink at intervals.  They are not simply board game cafés, to a greater or lesser extent they cater for a wider range of interests including collectable games, comics, Pokémon and miniatures.  This varies from venue to venue, indeed, one of the issues they have is that the only thing the shops really share is the branding.  As a result, some are reportedly excellent, while others have a reputation for being very smelly for example and some are cramped, cliquey or otherwise unappealing.
– Image from geek-retreat.uk
Further, there are rumours online about the Geek Retreat franchise itself.  In October 2020, Geek Retreat announced their intention to open a hundred venues—a ballsy move given the situation just a few months earlier due to the global pandemic and the fact that we had not yet been through the first Covid winter.  The positivity of that announcement was somewhat tempered by suggestions that the intention was to place these next to existing stores, muscle in in their trade and ultimately put them out of business.  There are other comments to the same effect, but Harry Antony on FaceBook was particularly vocifereous in October 2020:
"I spoke with the CEO of Geek Retreat over the phone because they wanted to find people interested in setting up and managing one of their shops,and they said they wanted to put a shop in every town in the UK, and they would get a contract with the council so only they could set up a gaming/geek culture shop in that town. What's more, he asked where I lived, and I said I wouldn't want to set up a shop there as there is already a newly-opened board game coffee shop here, and he said they would be able to put them out of business no problem. When I told him that they were friends of mine and they've worked on this for years, he said I need to not be soft and that business is a dog eat dog world. He also said they were arrogant for not taking Geek Retreat's help to set up one of their franchise shops. I wouldn't want anything to do with them."
There is no question statements like this will not have helped the newly opening stores.  Further, with an alleged £5-10,000 upfront fee and 8-10% cut (on turnover, not profit), there is a suspicion that the arrangement is much better for the franchiser than the franchisee.  In a business which already has slim margins and at a difficult time, the high costs can be the difference between make or break.  Since the franchisees get relatively little from the brand due to the lack of consistency, it has been suggested that many of the most successful stores ultimately re-brand as an independent after a year or so.
– Image from tabletopgaming.co.uk
That is not the case for most of the closed venues listed in the article on the TabletopGaming website, however.  These have closed, thanks largely to the current economic environment aggravated by the factors mentioned above, so perhaps it is no real surprise that the Geek Retreats have such a high attrition rate.  One of these closures is Geek Retreat Oxford.  This was opened in New Inn Hall Street in August 2021 by Matthew Wellington and Andra Gheorghe.  Just six months later it closed and it now looks like it will not be reopening.
– Image from nicelocal.co.uk
Oxford has a strong history of gaming venues with The Gameskeeper on the Cowley Road, Hoyle's traditional games store at the junction of High Street and Longwall Street, and the highly popular Thirsty Meeples on Gloucester Green (which expanded and moved a couple of years ago).  That Geek Retreat Oxford, which received excellent reviews while it was open, lasted such a short time, is very sad.  But at least Oxford Geeks have other retreats—these need our continued support to ensure they survive the difficult times ahead.
– Image by boardGOATS