Food had been ordered by those who intended to eat, but there seemed to be a bit of wait so we decided to play our "Feature Game", Plague & Pestilence.  This game had been chosen as it was Purple's birthday and she had enjoyed playing it in the past.  A fairly simple card game, everyone felt it wouldn't be too difficult to play around when food arrived, added to which, there weren't many other options available that would play six in a short time.  The game is played in two phases, the first is the "Prosperity Phase" and the second is the "Plague Phase", but both are played the same way.  During their turn, the active player rolls a pair of purple six-sided dice which indicate how much their population increases by, and takes population cards accordingly.  The active player then draws Prosperity cards to refill their hand and plays one, which allow players to attack others and build their own protections for later in the game.
– Image by boardGOATS
A special Death Ship card is shuffled into the Prosperity deck and when it appears, it triggers the start of the second phase, the "Plague Phase".  This is played exactly the same as the first phase, but now the dice rolls indicate how much the active player's population decreases by.  As the game progresses, the plague ravages the populations and players are eliminated; the last player standing is the winner.  The game started fairly benignly as most players either built improvements or had bumper harvests. There was the odd pestilence played and a Mongol raid, however, Green upped the ante when he played the mass migration card and gained five citizens off every other player.  This released the inevitable retribution when he then found himself beset with wars, famines and pestilence.  With two Pied Pipers up his sleeve (metaphorically of course) he was then able to pick on Ivory, and did so twice since Ivory had twice hit Green hard with a major war, and had also caught Pine with Viking raids. Meanwhile, Burgundy tried to build defences, and but they fell to earthquakes and other attacks before he could actually make use of their benefits.
– Image by boardGOATS
The game had not seemed to be going on long when Green drew the Death Ship and the game  entered the Plague Phase. A quick run round the table while everyone tried to bolster their dwindling populations and then food started to arrive.  After a brief interlude, play resumed with Black and his seemingly never-ending stream of Trade Centres.  Before long, a fatal blow was dealt to Burgundy when Purple started a war between him and Green. With three ties in a row, both suffered heavy losses. Although Burgundy did eventually win the war, he suffered some poor dice rolls and soon found himself to be the first without citizens. By now, Green was struggling and Black's own mass migration had put both him and Pine on the edge as well. The inevitable backlash against Black gave Green and Pine a reprieve, but it was short lived and both toppled very quickly.
– Image by boardGOATS
It was looking like a fight between Ivory and Black as Purple's pile of people was also looking decidedly dodgy, but then Black tried to start a war between the other two.  Ivory brought out his "Negotiated Peace" card though and all was well. It was a race of attrition that Purple couldn't win and she was the next to drop out with an empty city.  In the end there was still little Ivory could do and he finally bowed out leaving Black the winner. It was then that Black revealed his hand to have several military advantages that he never used as he was the only one who had not been at war; everyone else had been wondering where those tactical advantages had disappeared to as they really needed them!  With the death and destruction over, we quickly decided to split into two threes.  As it was Purple's birthday and she wanted to play Cat Lady, Pine and Black joined her.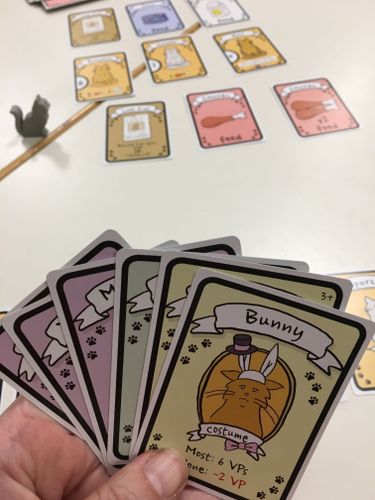 – Image used with permission of
BGG contributor HedgeWizzard
Cat Lady is a card drafting game, similar in feel to Sushi Go!, though the drafting mechanism is very different.  At the start of the game nine cards from the cat deck are laid out in a three by three array.  On their turn, the active player takes all thee cards in one row or one column and then replaces the cards from the draw deck marking the row they took with a kitty meeple so the next player knows they can't take that row.  Any cat cards go in front of the owner (or should that be staff?) and these must be fed by the end of the game or they score minus two.  Any food cards give cubes which can then be placed on the face-up cat cards to show they are being fed.  Similar to Sushi Go!, there are also cards that score for the player with the most cards (cat "costumes") and give players with the fewest negative points and sets that players can collect (toys).  Players can also collect catnip cards which score minus two if the player only has one at the end of the game, or one or two points per cat if they have more.  There are also lost cat cards, and discarding a pair allows players take a two victory point token or one of the three stray cat cards which are particularly useful because they have special powers.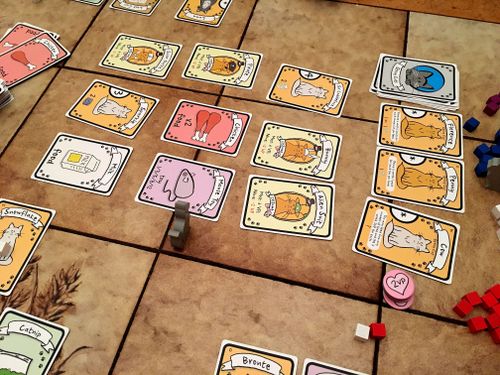 – Image used with permission of BGG contributor HedgeWizzard
The tricky part is making sure that the food a player gets matches the cards, because cats are fussy creatures and some like tuna, while others will only eat chicken…  At the end of the game, players score points for each happy well-fed cat and for their toy collection with extras if they have the most cat costumes.  Unfed cats, having the fewest costumes, and the largest surplus of food will give players negative points.  The game began with Purple going for costumes and toys while Black and Pine tried to get catnip to add extra points for their fed cats.  Perhaps Purple concentrated too much on the accoutrements for her pets because she ended up with so many cats that should couldn't feed them all.  In her defence, it wasn't that she had no food, it was that her cats were fussy eaters and turned their noses up at the fresh chicken, preferring to starve.  Unfortunately, this meant she lost points for having unfed cats, but also for having the largest surplus of food.  In contrast, the others had well fed cats and were level in almost every department, finishing with only three points between them, and Pine just a whisker in front of Black.
– Edited from video on youtube.com
Meanwhile, on the next table, Burgundy, Green and Ivory opted for NMBR 9. Only Burgundy had played it before, but the rules are simple enough so didn't take long to explain.  The idea is that players will play a total of twenty tiles, numbered zero to nine, with each one appearing twice. One player turns over a card and calls the number and players each take one tile of that number and add it to their tableau. Tiles must be placed such that at least one edge touches a previous tile. Tiles can be placed on top of other tiles as long as there are no overhanging parts, and the tile sits squarely on more than one other tile. At the end of the game the number tiles are multiplied by the level they sit on minus one. So, a five on the third level scores ten points (5 x (3-1)).  This time, Ivory and Green matched each other for several turns before making a slight different placement which then ballooned into big differences.
– Image used with permission of BGG contributor punkin312
Ivory and Green were quite pleased early on when they were able to place the eight on the, then highest level when Burgundy had to be content with adding it to his "ground floor". In the end, Burgundy proved cannier than the others, however, and even managed to get a fourth level by the end of the game, while both Ivory and Green could only manage three tiers. In the final scores, it was Burgundy's experience that showed through and his score dwarfed that of Ivory and Green, who finished with only a point between them.  Chatting about the game afterwards, everyone was surprised how quick it had been and how easy it was to learn (helped by the zero setup time).  So much so in fact, that even though the game was not to everyone's taste, everyone felt it made a very handy little filler game and with a nice little bit of challenge. Having played it once though, both Ivory and Green felt they had a better understanding of the challenges and were more familiar with the tessellation possibilities and looked forward to doing better next time.
– Image used with permission of BGG contributor punkin312
On the other table, Cat Lady was still underway, so the Green, Ivory and Burgundy opted for another of the hits from Essen 2017, Azul.  Despite the number of times we have now played this in the group, Ivory had somehow missed out.  The idea of the game is that players are tile laying artists decorating a wall in the Palace of Evora with "azulejos".  On their turn, the active player can either take all the tiles of one colour from one of the factory displays (putting the rest in the central market) or take all the tiles of one colour from the market in the centre of the table.  They then place the tiles in one of the five rows on their player board.  The catch is that each player only has five rows, each with a set number of spaces (up to five). Players can add tiles to a row later in the round, but once a row is full, any left-overs go into the negative scoring row. Once all the tiles have been picked up, players evaluate their board, and, starting with the shortest row, one of the tiles from each full row is added to the player's mosaic and scored.
– Image by BGG contributor JackyTheRipper
Players score just one point for a tile that is not placed adjacent to any other tile, whereas tiles added to rows or columns score the same number of points as there are tiles in the completed row (or column). The game continues with players choosing tiles from the factory displays and then adding them to rows, the catch is that as the mosaic fills up, it is harder to fill the rows as each row can only take each colour once. At the end of the game, players score bonus points for completed columns, completed rows and complete sets of five of the same colour.  The game is actually much more complex to explain than to actually play and Ivory appeared to pick it up very quickly, successfully completing a column and two full coloured sets.  Green, on the other hand, had managed only one column and one colour set as he had got stuck with a single blue on the bottom row for at least two turns as there weren't enough of that colour drawn from the bag which stopped him placing the colours he really wanted to.  It was Burgundy who romped home in the lead though, with two full columns and two complete colour sets and ninety-eight points, just three ahead of Ivory.
– Image used with permission of boardgamephotos
While Azul was going on, Cat Lady had finished and the group also fancied playing Azul.  Unfortunately, we only had one copy between us so they settled on Sheep & Thief instead.  This is another light abstract that has proven quite popular in the group.  Each player has a board divided into a four by four grid, and starts with their home card and two sheep in the top left hand corner.  Each round is played in two halves: first players draft cards then they play them, taking it turns to place one card per turn.  It is a strange little "point salad" of a game with players trying to connect their home card to the other three corners while also trying to keep their sheep safe and trying to catch other players sheep with their fox as well as attempting to navigate their black sheep to the town in the bottom right corner of their board.
– Image by boardGOATS
With points for sheep captured, sheep retained, long rivers, connecting the home card to the other corners of the board as well as for moving their black sheep as far from home as possible, it is hard to see who has the most points and get an idea of who is in the lead and it is astonishingly hard to do well at everything.  During this game, there almost seemed to be a lack of sheep and not much movement around the fields either.  The black sheep only moved a space or two and the foxes mostly sat and watched.  Everyone managed to connect their home card to at least one town, but it was Black who managed to collected a huge number of points when he managed to mastermind a huge river system giving him a completely unassailable lead.
– Image by boardGOATS
Meanwhile, Azul was over, but as Sheep & Thief wouldn't be long, Green, Ivory and Burgundy settled on a quick game of Love Letter with Green's home printed Hobbit cards.  It is a while since we last played Love Letter, but nobody had forgotten how as it is simple enough:  draw a second card and chose one to play then action it trying to knock everyone else out—last player standing is the winner.  This time, Burgundy was caught out first as he had been forced to discard the Elvenking, leaving Green with a fifty/fifty guess at Beorn or the Great Eagle (the mutterings on placing the Elvenking suggested he wasn't Smaug).  Although he guessed right, Ivory played a Troll to compare hands and Green could not match Ivory's eagle. In the second round, history repeated itself for Burgundy as the first card he played was an Elvenking and the Great Eagle guess proved correct.  It was Green's Troll card that forced the compare this time and took out Ivory.
– Image by boardGOATS
In the third round, Green started off by keeping himself out of harms way with Elrond, but he drew Smaug as his next card and knew that the writing would be on the wall—it's very hard to keep that quiet for long. The inevitable happened when Ivory forced Green to reveal his card, but it didn't do Ivory much good as Burgundy was then able to beat him on another comparison.  With one golden ring apiece and Sheep & Thief being scored on the next table, it was all or nothing on the final round.  Burgundy was knocked out first, but Green and Ivory took it to the final cards, a compare hands. Much to the dismay of Green who had accused Ivory of being Smaug earlier in the round, Ivory had subsequently drawn the dragon card, and with it took the game.  It wasn't all that late, but nobody really wanted to start anything else.  With Green and Ivory making for home, Black, Burgundy and Pine waited on the birthday girl's decision, but she also wanted to head off—she'd had a busy day.
– Image by boardGOATS
Learning Outcome:  Don't be a fussy pussy or it could be fatal!