Pine, Magenta, Red and Burgundy were all keen to give the "Feature Game",  Cheesonomics a go, especially when they saw the eye-catching truckle shaped box.  Pine was especially enthusiastic when he realised that it featured both cheese and goats!  The game itself is a fairly simple, set-collecting and hand management card game based on controlling and manipulating supply and demand of various types of cheese, all seasoned with a sprinkling of dreadful puns.  Players have a hand of five "wedge-shaped" cheese cards each with a colour suit (corresponding to country) and an animal suit (milk type).  On their turn, the active player can carry-out one of three possible actions:  churn, produce or sell.  Churning is a way a player can improve their hand.  First they declare a suit (colour or animal) and everyone else has to pass a matching card to the active player.  Once all the cards are in, the active player chooses five to keep and hands one card back to each player.
– Image by boardGOATS
Players can then place a matching set of cards in front of them to produce cheese; the cards must either have the same colour or the same animal.  The last possible action is to sell cheese:  a maximum of three cheese wedges can be sold at any one time and they must all be the same country (colour).  The cheese is valued at the market rate which is calculated from the number of wedges of that colour displayed in the market.  These wedges are different on both sides, so once a sale has been made, one market "share" is turned over (the market is "mooved"), which reduces the value for the next sale.  The clever part of the game is the scoring:  in addition to money made from selling cheese, players also get bonus points at the end of the game.  The players who sold the most of each cheese type (i.e. animal) get extra points equivalent to the number of wedges sold.  So, cheese is sold by colour, but bonus points are awarded for animals.
– Image by boardGOATS
Only Blue had played Cheesonomics before and that was a two-player game, so nobody really had a feel for how it would play.  Red went first and churned, followed by Pine who asked for goats.  Burgundy got a good starting hand and was able to produce a large batch of German cheese on his first turn, but otherwise we all got carried away churning cheese.  The problem was that since everyone was churning cards furiously, we were all disrupting each other's hands which meant we ended up having to churn again on the next turn too.  Eventually, this seemed to dawn on us collectively and we all started producing what we had rather than trying to get the perfect hand first.  With a couple of good hands early on Burgundy was also the first to sell and everyone else struggled to catch up.
– Image by boardGOATS
Pine eventually managed to sell some of his goats and Blue, the last to convert cheese to cash, shifted a large batch of Scandinavian (yellow) cheese and take a massive fifteen curds.  It was all way too little and much too late though:  the game suddenly ended and Burgundy's excellent start coupled with the fact that he'd managed to focus almost solely on both reindeer and yak yielded huge bonuses at the end.  Pine and Red had eventually spotted this and made a concerted effort to catch him, but Burgundy had just got too far ahead and won by two points with Pine in second.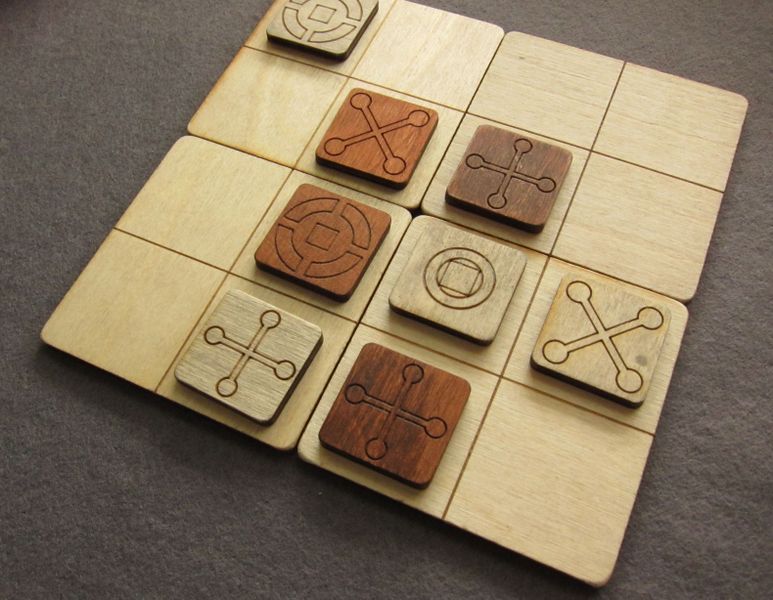 – Image used with permission of BGG contributor thepackrat
Black and Purple had eschewed the opportunity to play Cheesonomics and settled down instead to play Mijnlieff (pronounced Mine-Leaf).  This "fancy noughts and crosses" game is played with beautiful little wooden tiles on a four by four wooden board.  the aim of the game is to form lines of three, but since there are different types of pieces and your opponent controlling where you can play it is much more strategic.  Each Player has eight pieces with two each of four different symbols where the different pieces dictate where the other player can put their next piece.  For example, when a Greek cross (or "+" symbol) is played, the next player must place his piece on an empty square in an orthogonal line from the piece just played.  Similarly, playing a saltire (or "×" symbol) forces the next player to place his piece in a diagonal line from the piece just played.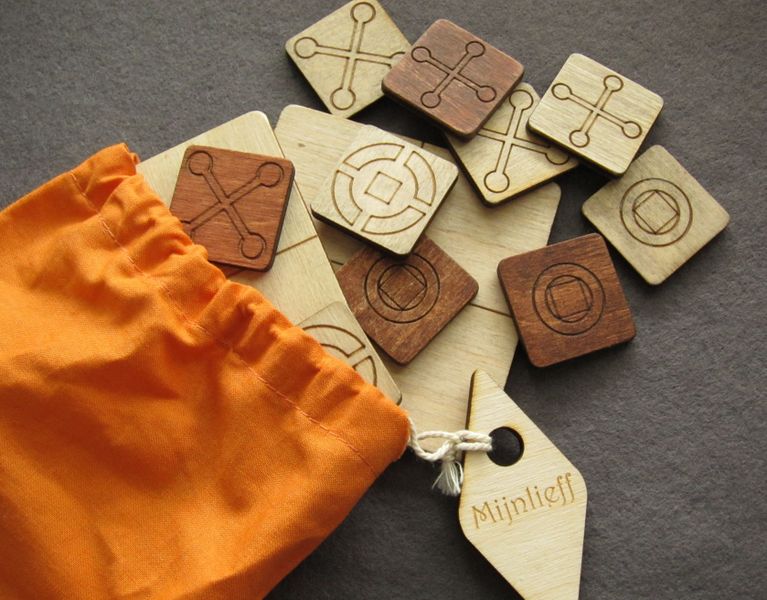 – Image used with permission of BGG contributor thepackrat
Black managed to get a line of three, but Purple took the game with two lines of three and one of four giving her a total of four points to Black's one.  Since the supposedly quick little "Feature Game" was still going, Black and Purple moved onto another game we know quite well, Splendor.  This is a game of chip-collecting and card development where players collect chips to buy gem cards which can then be used in lieu of chips.  More expensive cards are also worth points and the game end is triggered when one player reaches fifteen points and the round is completed to give everyone the same number of turns.  Points are also awarded for "nobles" which go to the first player to get a specific combination of gem cards and the player with the most points at the end is the winner.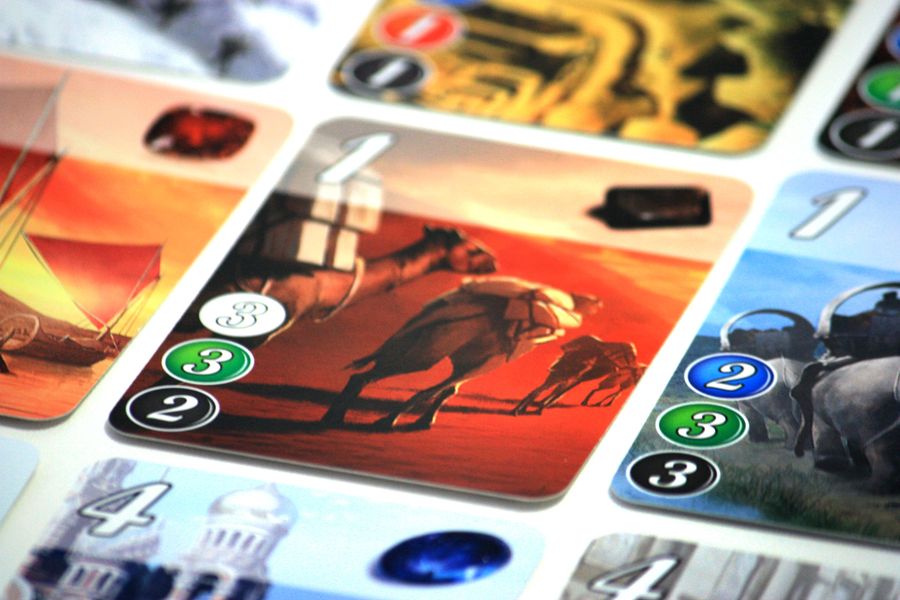 – Image used with permission of BGG contributor henk.rolleman
The game was incredibly tight, but when Black was declared the winner, Purple looked slightly crest-fallen.  On closer inspection, they realised that they'd missed scoring one of her nobles.  Purple had managed to take two of the three available picking up both Isabel of Castille (awarded for four each of opals and diamonds) and Anne of Brittany (awarded for three each of emeralds, sapphires and diamonds).  This left them on sixteen all and a draw, though on closer inspection there is a tie-breaker, so arguably Black took it as he had the fewest cards in his display.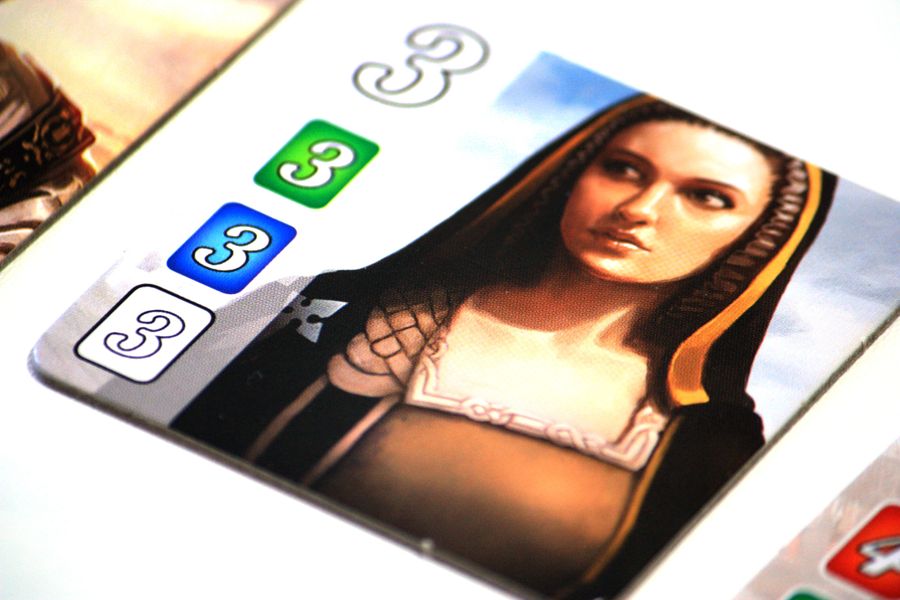 – Image used with permission of BGG contributor henk.rolleman
Since Cheesonomics had finally come to an end as well, we had a lot of options on what to play next.  Half the group weren't staying late, so we decided to play something short as a group before splitting up again into two groups (one of "light-weights" and one of "dirty late-night stop-outs").  Looking for something to play seven, our choices were limited, and as is often the case in our group, we settled on our old favourite, 6 Nimmt!.  In the first round Black and Magenta were vying for the wooden spoon taking a total of twenty-four nimmts each.  Unusually, Burgundy, though high scoring, was some way behind the race for the bottom, only taking fifteen points.  Both Red and Blue kept a clean sheet so the question was which of them were going to be able to keep their score down in the second round too.  In the end though, both quickly started picking up cards and it was Purple who took the glory, finishing with just three nimmts over the two rounds, her second win of the evening (and only robbed of a third by a tie-breaker nobody knew existed).
– Image by boardGOATS
With the fun filler over, the "light-weights" looked for a similarly light game to finish, but in the end, settled on Splendor, as it was still out and Magenta and Red were very familiar with it.  This game was a very difficult one as all the cards in the second row needed lots of sapphires which were scarce throughout.  Magenta tried to work round the problem by collecting nobles, but everyone struggled.  For several rounds, Red was very close to the fifteen points needed to end the game and Magenta had four points available on a reserved card, but could not get the last ruby to buy it.  In the end, but it was Pine, who was new to the game, who finally put everyone out of their misery, ending the game with seventeen points, three points clear of Red.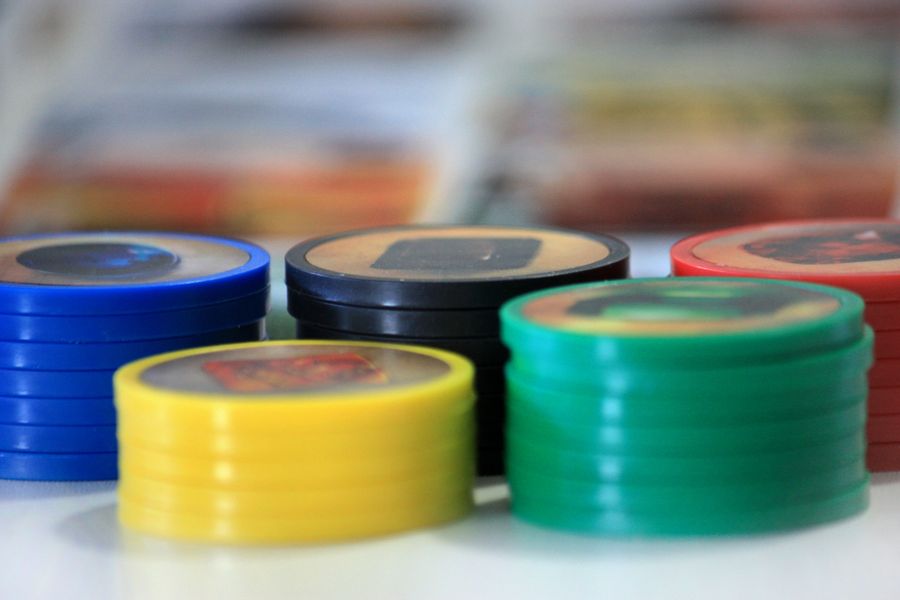 – Image used with permission of BGG contributor henk.rolleman
On the neighbouring table, after a short debate, the "late-night stop-outs" settled on Isle of Skye: From Chieftain to King as their longer game.  We've played it a couple of times before and it is hugely popular with the group.  Borrowing heavily from tile-laying games like Carcassonne, Isle of Skye is a much deeper game without adding an awful lot to the rules.  The idea is that players draw three tiles from a bag and and then secretly choose one to discard and set prices for the other two.  This is done by placing the tiles in front of a screen and a discard token and money for the player's stash behind.  The money remains in place for the duration of the round, unless the corresponding tile is purchased by another player.  This mechanism is very clever as if nobody else wants the tile, then the player uses the money to purchase it themselves.  Thus, it is critically important to correctly evaluate the worth of the tile, depending on whether it is most desirable to sell it or keep it.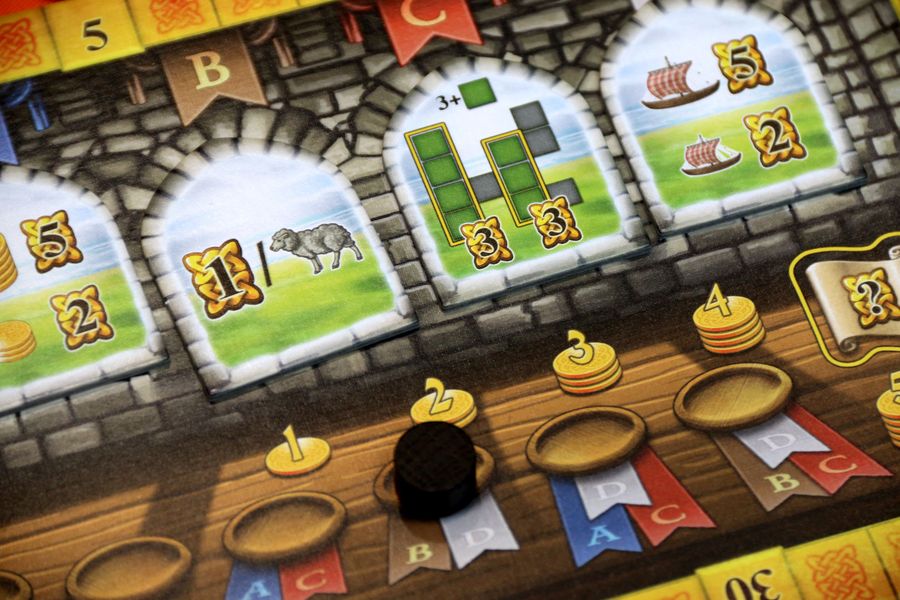 – Image used with permission of BGG contributor henk.rolleman
The other clever part of the game is the scoring:  This is mostly carried out at the end of each of the six rounds.  At the start of the game, four scoring tiles are drawn at random and these are used in different combinations at the end of the rounds in such a way that each appears a total of three times, but only one is used in the first round while three are used in the last.  We included the the extra tiles from the 2015 Brettspiel Advent Calendar in the draw mix and one of them  came up. The four tiles were:  points for animals next to farms (A), extra scroll scoring from the Advent Calendar (B), points for each tile with a road that is connected to a castle (C) and points for each enclosed region (D).  Inevitably, everyone started out desperate for animals and farms, but since these scored in rounds one, three and five, all of a sudden they fell out of favour.
– Image by boardGOATS
Despite having loads of cash, Burgundy really struggled to get the tiles he wanted particularly as everyone else kept buying them off him.  In contrast, Blue didn't do too badly for tiles, but always seemed to be running out of money.  This was exacerbated by the fact that she didn't get any of the "catch-up cash" given out from the start of round three.  It is only the number of players in front of them that dictates how much money players get (not how far behind they lag), but the amount can really add up: a player who is consistently at the back in a four player game will net an extra thirty sovereigns over the course of the game compared with a player who leads throughout.  Theoretically, the difference in position between the first and last player could remain just one point throughout, so there is an art to being "just behind", in the same way as there is an art to being at the back in Colosseum (which was our "Feature Game" last time).  Clearly this time Burgundy had the knack, and Blue didn't.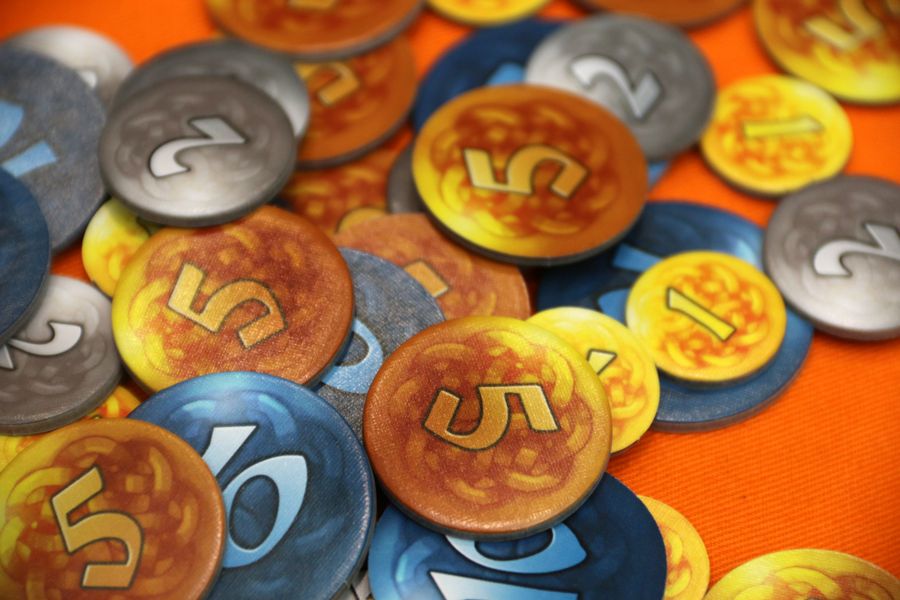 – Image used with permission of BGG contributor henk.rolleman
While Burgundy and Blue were struggling with their respective finance issues, Purple quietly plugged away collecting barrels and brochs, while Black ended up with ships and when the corresponding scrolls turned up, they looked to be well placed, until Black ran out of money and a critical tile was taken from him in the final round.  Despite her lack of money, however, Blue didn't over-reach herself and managed to enclose her scrolls early giving her extra points at the end, but also for the Brettspiel Advent Calendar scoring tile during the game.  Nearly bankrupting herself in the early rounds for those animals now proved worth it as she raked in the points for the scrolls she had enclosed.  Enclosing scrolls was the key in this game as the other player to succeed in this area was Purple who finished a highly creditable second after a barn-storming evening.
– Image used with permission of BGG contributor henk.rolleman
We had a little over half an hour left, so we decided we could fit in one last game.  We couldn't afford to spend too long thinking about it.  Since Black expressed an interest in Karuba as he'd heard good things about it and Blue assured everyone that it wouldn't take the forty minutes claimed on the box, we decided to give it a go.  This is a game that Blue and Pink bought at Essen last year and is very similar to Das Labyrinth des Pharao which they picked up at the same time on behalf of Black and Purple.  In the event, Karuba did take just about forty minutes, but that included setting up and teaching.  The game is a bit of a cross between bingo and a tile-laying solitaire.  The idea is that every player has the same number of numbered tiles which the players simultaneously place when the number is called.  Unlike Das Labyrinth des Pharao, the tiles the orientation is fixed, which narrows down the number of possibilities and helps to reduce "analysis paralysis".  Both games are loosely themed with explorers, but in Karuba they are crossing the jungle to find treasure rather than exploring a pyramid.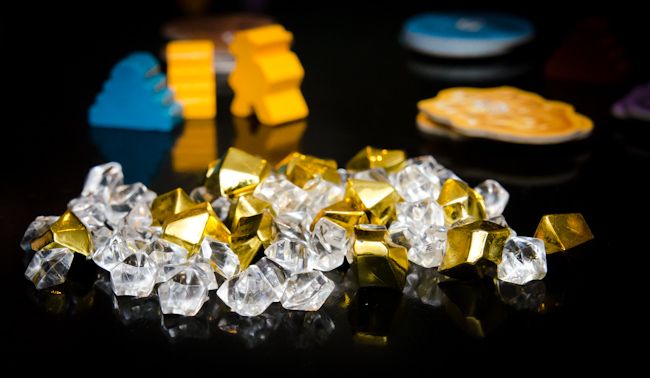 – Image used with permission of BGG contributor punkin312
Each player has set of four coloured explorer meeples and matching coloured pyramids, with the aim being to get the explorers to the corresponding pyramids by laying tiles to make a path.  Everyone begins with the same layout (chosen collectively) and players score points for getting their meeples to their matching temples first.  Everyone draws the tiles in the same order, since the "caller" (Blue, in this case), draws their tiles at random and calls out the number for everyone else to play too.  Once the number has been called, each player can either place the tile on the board or discard it and move an explorer along a path where the distance corresponds to the number of exits on the tile discarded (i.e. two, three or four squares).  Some tiles have crystals or gold nuggets next to the path and an explorer who stops on the tile gets to pick up the treasure which are worth points at the end of the game.
– Image used with permission of BGG contributor henk.rolleman
Our explorers all ended up a long way from their pyramids, so sharing a common route was essential and it was just the logistics of how to do it that everyone had to work out.  With time at a bit of a premium, Blue didn't hang about and kept the tile drawing moving quickly.  Burgundy got a bit carried away picking up crystals before getting his explorers in a tangle (the paths are too narrow for meeples to pass each other).  Purple, for whom spacial awareness does not come naturally, unfortunately managed to completely cut off one of her explorers and Black got into a bit of a tangle too before he managed to extricate himself from the mess and bring them home safely.  Blue, the only one to have experience with the game neglected picking up crystals and got three of her explorers home first netting an unassailable fifteen points, in a game that definitely benefits from experience of how to balance crystals and getting to temples.  While packing up, we discussed the game and the fact that it is likely to be one of the nominees for the Spiel des Jahres award this year given the lack of other good competition.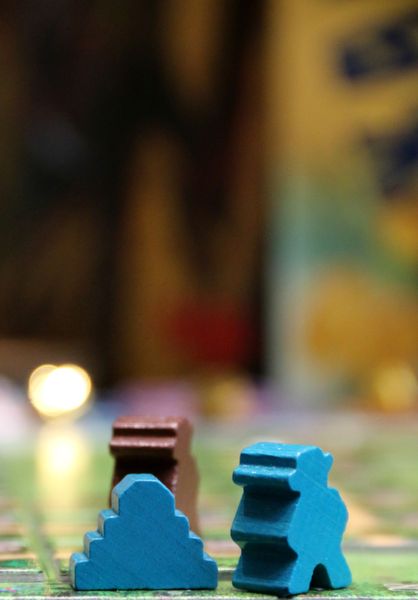 – Image used with permission of
BGG contributor henk.rolleman
Learning Outcome:  GOATS like cheese, but they like whisky more…