Purple, Black, Pine and Green chatted while Blue reminded herself of the rules for the first game.  Green showed everyone his new game, Fossilis, which comes with little plastic dinosaur bones, tweezers, and even a tiny plastic scorpion—one to play when we get back to the pub, along with the very newly released Red Rising, the Oceania Expansion for the really popular Wingspan, and a whole host of other games that we've been waiting over a year to play.
– Image by boardGOATS
And sadly, with the realisation that it was a year and a day since a very small group met at The Jockey for the last (unofficial) games night there, we moved on to playing the "Feature Game", Das Labyrinth des Pharao.  Das Labyrinth des Pharao is a tile laying game in a similar vein to Take it Easy! which we played a few weeks ago, or the Spiel des Jahres nominee, Karuba (which we last played about five years ago).  In Das Labyrinth des Pharao though, players are exploring a pyramid and collecting treasure.
– Image by boardGOATS
Although we've not played it on a Tuesday, some of the group have played it before at the Didcot Games Club (November 2015 and September 2016).  Like all the games that we've found that work well played online, Das Labyrinth des Pharao is quite simple to play, but it is a little bit "thinky" relying on planning and a little bit of luck.  Everyone had the tiles and board that were delivered a few weeks back, and they had found their Tiny Towns cubes and a meeple from one of the special Christmas crackers we've had at one of the unChristmas Parties during happier times.
– Image by boardGOATS
The first thing to do was lay out the tiles around the board, in number order—some appear more than once, so these are stacked.  Players then counted out five, four and three of their cubes as treasures.  Once everything was set up, Blue explained that Pink would turn over one of the beautifully decorated number cards (each part of a polyptych), and everyone had to place the corresponding tile on their board.
– Image by boardGOATS
They can place the tile anywhere on their board, in any orientation. Some of the tiles have scarabs depicted on them—players can place treasures on these, but must start with the lowest value treasures first.  So, only when all five one-point treasures had been used, could players move on to the four two-point treasures, and finally the three-point treasures (blue, green and red disks respectively, though we were playing with turquoise, yellow and red cubes).
– Image by boardGOATS
After the third round, players have to choose which of the six possible entrances they are going to start from and then progress their "explorer meeple" along the path as far as they can.  In the rules, players mark the path at intervals so everyone else can see how far the explorers have travelled, but given the added difficulties associated with playing remotely and the fact that players could count their own path at any time, we omitted this.
– Image by boardGOATS
The game ends after twenty-five of the twenty-eight cards have been revealed and then people add up their scores.  Firstly, they score one point for each quarter tile their tunnel extends along.  Next they score points for each treasure chamber their tunnel passes, that is a chamber that contains one treasure surrounded by walls on all four sides.  As usual, the player with the most points is the winner.
– Image by boardGOATS
The game was a bit of a tale of people missing cards and having to try to correct it, and for a change, it wasn't just the usual suspects.  As the game progressed, it became clear that most people had tried to follow Blacks advice and tried to place as many of their treasure tokens as they could.  The problem with this is that they aren't worth anything unless players have managed to enclose them in a chamber and ensure their route passes alongside.
– Image by boardGOATS
In fact, one of the biggest problems for some turned out to be connecting valuable parts of their tunnel to their chosen entrance to ensure their treasure hunter was able to explore the temple.  Pine and Pink seemed particularly afflicted, and as the game drew to a close, Burgundy and Pink in particular were getting increasingly desperate for tile number fourteen.  The final tile was number six, which did most of the job and with that, everyone had to work out their scores.
– Image by boardGOATS
As usual, Ivory posted his score first, setting a competitive target of fifty, made up of thirty-one from his path and nineteen in treasure.  In general, the scores were quite close, with almost everyone scoring between forty and fifty.  The longest path was thirty-seven and the most treasure collected was nineteen.  In most cases, those that had a long path (like Blue and Burgundy) had few treasures, while those with a lot of treasure (like Pine and Green) had not explored as deep into the temple.  The exception was Pink, who managed to do well at both and finished with a total of fifty-four.
– Image by boardGOATS
It had been a fairly short game, and as it was a while since we'd practised our colouring, we moved onto a quick game of "Roll and Write" Tetris, in the form of Second Chance.  We've played this quite a bit since we first started playing online, but the last time was just before Christmas, so we decided to give it another go.
– Image by boardGOATS
The idea is that two shapes are revealed and players must draw them in their nine-by-nine grid.  The shapes come in different sizes and the game rewards efficiency in packing.  If a player is unable to play either shape, they get a second chance: one card all to themselves.  If they can play that, then they can carry on, but if they are unable to play that as well, then they are eliminated.
– Image by boardGOATS
Unusually, being eliminated is not necessarily a guarantee of failure in this game:  the winner is the player with the fewest unfilled spaces at the end, which is when the deck of cards runs out.  So, in this game, a player can be knocked out, but still win.  This time, there were a couple of people who threatened to need a second chance, but then suddenly in one round, nobody was able to place either shape and everyone needed a second chance.
– Image by boardGOATS
That round took out everyone but Green and Black, but as there were no cards left, it turned out to be the final round, and that was that.  The scores varied from eleven to two, with a tie between Lilac and Blue for first.  Pink suggested a vote based on the quality of the art-work, but nobody wanted to choose between them and a tie it remained.
– Image by boardGOATS
From there, Ivory and Lilac took an early night, while the rest of the group moved to Board Game Arena for a game of Saboteur.  This hidden traitor game is one we've played a lot online over the last year.  The idea is that players are either Good Dwarves or Evil Saboteurs, with the Dwarves trying to play cards to build a tunnel and find the treasure, while the Saboteurs try to stop them using blocking cards and by breaking the Dwarves' tools.
– Image by boardGOATS
It is always extremely difficult for the Saboteurs to win, but we live in hope and everyone is always pleased to get the opportunity to try.  The first round it was Blue's and Black's turn to try.  With seven players, there can be two or three Saboteurs—with just two it was pretty much guaranteed to be gold for the Dwarves, and so it proved.  The Dwarves headed straight for the gold, and despite a desperate rear-guard action the round was quickly over.
– Image by boardGOATS from boardgamearena.com
The second round was much closer.  The evil Pine, Pink and Green made life extremely difficult for the Dwarves very effectively blocking their first route to the gold and forcing them to go all around the houses before they found the gold.  Early in the game, Pink caused chaos by disagreeing with Pine as to where the Gold was, and the ensuing confusion made it very close.  The Saboteurs had a lot of cards that worked in their favour, but they still couldn't quite stop Purple from finding the gold in the end.  The third and final round was a different story though…
– Image by boardGOATS from
boardgamearena.com
Initially, the tunnels made good progress, but largely by chance, the tunnel headed towards the top card, when the treasure (it turned out) was at the bottom.  Things were made worse for the Dwarves when paranoia meant they turned on each other early.  There was more confusion about where the gold was and the Dwarves were in disarray.  Eventually, Pine revealed his colours, and then Black, and finally Burgundy.  For once, the cards went the Saboteurs' way and they played them really well too.  Despite a desperate effort, there was nothing the Dwarves could do against such wickedness, and after a year of trying, the Saboteurs took their first victory.
– Image by boardGOATS from
boardgamearena.com
Time was marching on and we were looking for one last game to play, something perhaps a little different from the usual 6 Nimmt!.  After some discussion, Green and Black ducked out and everyone else played Draftosaurus—a game that Blue and Pink have very nearly picked up on several occasions, including Essen in 2019, just after it first came out and that Pine described as "Sushi Go! with dinosaurs".  With that description, nobody could resist giving it a go.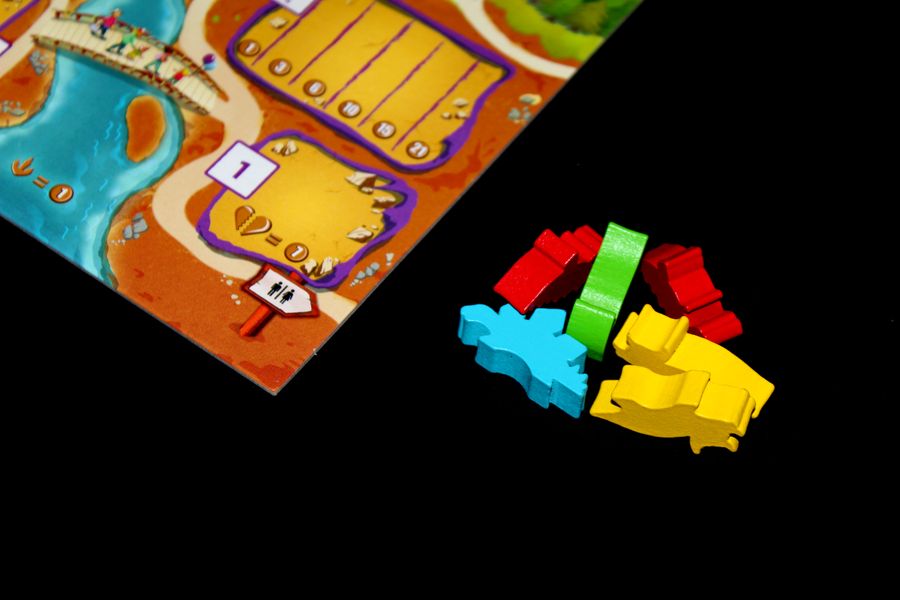 – Image by BGG contributor kalchio
By this, Pine meant the main mechanism is drafting.  In Sushi Go! players have a hand of cards, then simultaneously, they choose one to keep and pass the rest on.  In Sushi Go!, players are collecting sets of cards, but in Draftosaurus players are drafting little wooden dinosaur meeples and placing them in their dinosaur park, on their personal player board.  The clever part, and what makes it different to Sushi Go!, is that the scoring is driven by the different park locations.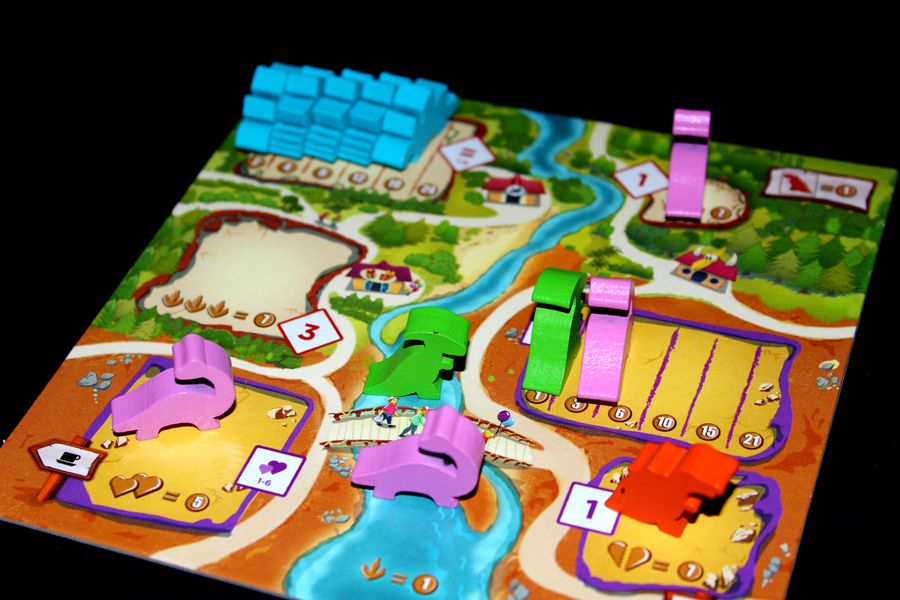 – Image by BGG contributor kalchio
Before each draft, a die is rolled that restricts where players can place their chosen dinosaur and the seven locations all score for different combinations of dinosaurs.  This means that players can want the same dinosaurs for different reasons, or different dinosaurs for the same reasons.  The game is played over two rounds, drafting six dinosaurs drawn at random from a bag, first clockwise and then anti-clockwise.  In the Board Game Arena rendering, this is all done electronically and the tactile nature is lost, however, the graphics are charming.
– Image by boardGOATS from
boardgamearena.com
For those who were new to the game, it took a couple of turns to work out where the scoring opportunities  are and how to make the best of them, and also to work out how the dinosaurs are passed round and how players could affect each other.  Pine was the only one to have played before, and therefore had a better grasp of how things worked.  Rather than use this experience to beat everyone else's faces into the dirt, he helped keep everyone else straight and offered help and advice as required.
– Image by boardGOATS from boardgamearena.com
Draftosaurus rocks along at quite a pace, and it wasn't long before the game was coming to an end.  Burgundy and Pink had got to grips with the game best and quickest and there was only one point in it.  Although they had mostly tried different approaches, both had also tried to collect different dinosaurs in the Meadow of Differences.  Burgundy had the edge though, and took victory with thirty-eight points.
– Image by boardGOATS from boardgamearena.com
Everyone had really enjoyed it and fallen a little bit in love with the charming graphics, quick game play, and what's not to like about building a dinosaur park?!?!  This is definitely one to get and play once we can meet up properly again.  And on that positive note, looking forward to playing together with tactile dino-meeples after a year of gaming from home, it was time for bed.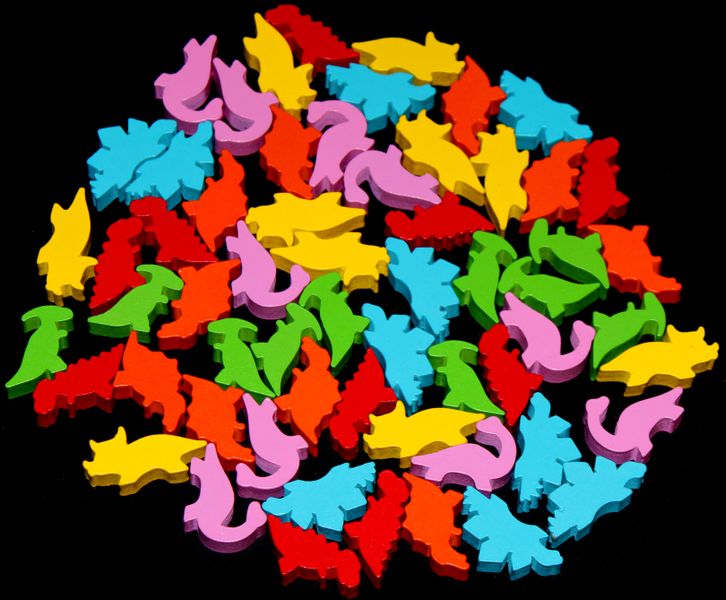 – Image by BGG contributor kalchio
Learning Outcome:  Pharaohs and Dinosaurs, what's not to like?