Food was a little delayed, so as it was a relatively quick game (and one that we felt we could play while eating if necessary), we decided to begin with the "Feature Game", Bohemian Villages.  This is a fairly simple tactical dice-rolling game.  The idea is that on their turn, the active player rolls four dice and uses them to assign their meeples to buildings in the villages of Bohemia.  The dice can be used as two sets of two, a group of three (with one forfeit) or in their entirety as a group of four.  These values correspond to the different types of buildings which appear with different frequency and give different rewards.  For example, if a player rolls a six, they can place their meeple on a Flour Mill.  When the last of the Flour Mills is occupied, everyone gets their meeples back, together with two coins for each one.  Similarly, rolling a seven allows the active player to place their meeple on a Glass Factory, however, when they get them back they get three coins instead of two.
– Image by boardGOATS
Other buildings work differently though, for example rolling a two, three, four or five allows players to put their meeple on a Shop.  There are four different types of Shops and players are rewarded increasingly large amounts of money for the more different Shops they occupy at the end of the game.  A set of four is very valuable, but the snag is that the number of Shops available is very small.  So, once they are all occupied, if another player rolls the right number they can bump someone else off costing them a lot of money in the process.  Players rolling a twelve, place their meeples on Manor Houses which give an immediate reward whereas inns (nine) give a regular income at the start of the active players turn, so long as they remember to claim it!  Farms also provide income during the game with the active player collecting one coin for each farm owned when they add a new one (i.e. roll another eight).  Churches and Town Halls (ten and eleven) provide money at the end of the game with players rewarded for occupying the most Churches or for occupying a Town Hall in a fully occupied village.
– Image by boardGOATS
The game ends when a player runs out of meeples and the winner is the player with the most money.  We were just about to start a five-player game when Green and Ivory pitched up, so Red joined them, leaving Blue, Pine, Magenta and Burgundy to start.  With food arriving just as we started, Blue began by claiming the most lucrative Manor House with all four of her dice before turning her attention to her pizza.  Magenta started collecting Shops, but soon faced competition from Pine.  Meanwhile, Burgundy was sidetracked by his supper, Blue tried to get a regular income stream from a chain of Inns and Pine went into the church.  Somewhere along the line during her rules explanation, Blue had commented that Farms could be quite lucrative, so Magenta took the hint and before long she was engaged in a massive land-grab.  It took everyone else a while to notice, so it was very late before they attempted to reduce her income.   In what was a very close game it just played into Pine's hands and he finished two coins ahead of Magenta when Burgundy brought the game to a slightly unexpected end.
– Image by boardGOATS
On the next table, the absence of Burgundy meant that Red, Ivory and Green fancied their chances at a game of Splendor.  This engine building game is built on a simple set-collection mechanism.  Players collect gem tokens then use them to buy gem cards.  Gem cards can then be used to buy more cards.  Some gem cards are also worth points, and they also enable players to collect Nobles which are awarded to the first player collect certain combinations of gem cards.  Splendor is one of our group's "go-to" light filler games and in recent months Burgundy has made the game his own.  With Burgundy otherwise engaged though, he was guaranteed not to win.  With Ivory and Red fighting for the same colours, Green made the fastest progress collecting opals and diamonds and building a valuable collection quickly.  Ivory came off best in the tussle between him and Red, and he was able to pick up two Nobles with his pickings.  It was Green that took the honours, however, taking a Noble himself to bring the game to a close.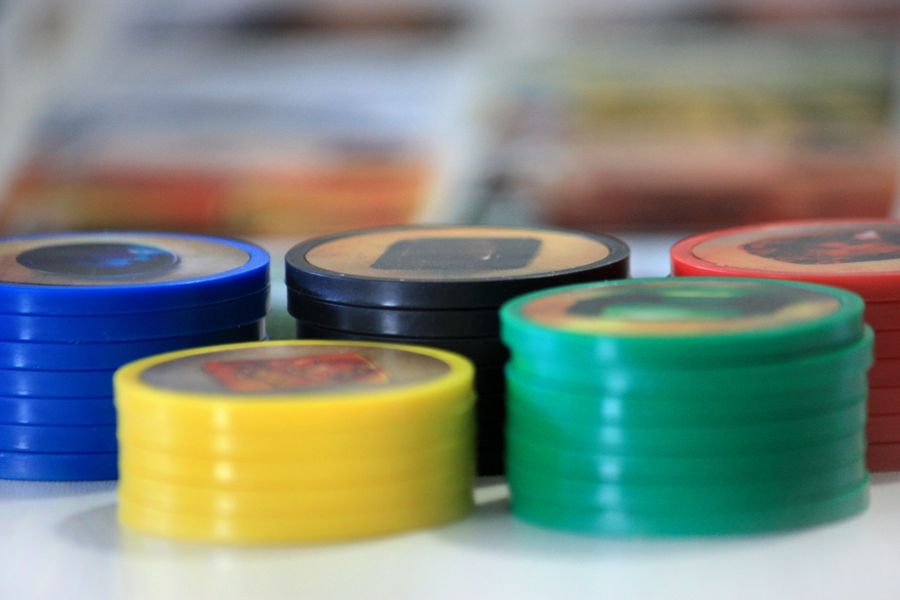 – Image used with permission of boardgamephotos
Bohemian Villages finished first, so after a trip to the bar, Blue, Magenta, Burgundy and Pine played a few hands of Love Letter to kill time.  We play this quite a bit, because with just sixteen cards, this is a great little game to play while chatting or doing other things (like eating).  Each player starts with a card and, on on their turn, draws a second and chooses one of them to play.  Each card has a number (one to eight) and an action; players use the actions to try to eliminated each other and the player with the highest card at the end, or the last player remaining is the winner.  This time, we managed five hands before Splendor finished and it ended in a tie between Blue and Magenta who won two each.  With nobody wanting a late night we fancied something we could play as a group that wasn't going to run on.
– Image by boardGOATS
After a bit of a discussion, we settled on a big game of Between Two Cities, involving everyone.  This is quite popular with our group as it is both competitive, and cooperative and, as such, is totally different to anything else we play.  The idea is that, instead of each player having a personal player board that they work on in isolation, each player sits between two boards which they share with their neighbours.  The game play is based on card drafting games like Sushi Go! and 7 Wonders with scoring taking elements from tile-laying games like Carcassonne and Alhambra.  The game is played over three rounds with players placing building tiles to construct cities consisting of sixteen tiles in a four by four array.  Each player starts the first round with six tiles, of which they secretly choose two and pass the rest to the left.  Once everyone has chosen their two, everyone reveals their choices and then negotiates with their neighbours to try to to ensure they get the tiles they want in the two cities they have a share in.
– Image by boardGOATS
Play continues with each player picking up the hand they were passed and choosing another pair of tiles etc. until there are no tiles left.  In the second round players get three double tiles of which they choose two and discard the third.  These double tiles contain two buildings in a vertical or horizontal arrangement.  This is where things can get difficult, as the final city must form a four by four square and the location of buildings can be critical to their scoring.  For example, a housing estate built in a city with lots of other different types of buildings is worth up to five points at the end of the game, unless it is next to a factory in which case it is only worth one point.  The third and final round is played the same way as the first, except that tiles are passed in the opposite direction.  The winner is the player with the highest scoring second city.
– Image by boardGOATS
As well as being a nice balance of cooperative and competitive, it also plays well at a wide range of player counts with little change to the overall game time.  With so many people involved, however, one of the down-sides is the fact that it is very difficult to see what players at the other end of the table are doing and near-impossible to influence their game-play.  Despite this, for the most part every city had it's own distinct character, for example, Red and Magenta reproduced central London with offices surrounded by lots of pubs and entertainment venues while Blue and Burgundy built a flourishing industrial town and Pine and Ivory managed their own little recreation of Thatcher's Britain.
– Image by boardGOATS
In Between Two Cities, the winner is the player who's lowest scoring city is the scores most, with their other city used as a tie-breaker.  For this reason, it is usual that the player who finishes with two most closely matched cities that wins.  By rights then, the game should have gone to Green or Red who both finished with both their cities scoring exactly fifty-four points.  This was an unusually close game though, with all cities except one finishing within four points of each other.  In the end, Blue who took second place from Burgundy on the tie-break, but it was Pine, sharing cities with Burgundy and Ivory who finished two points clear giving him his second victory of the night.
– Image by boardGOATS
With that, Red, Magenta, Ivory and Green headed off for an early night, but Blue, Burgundy and Pine felt it wasn't yet late and that there was time for something light before bed.  Since Splendor was still out Pine and Blue decided to have another go at Burgundy and see if together, they could finally dethrone him.  It all started well with Pine and Blue successfully inconveniencing Burgundy grabbing gem cards he wanted just before he could get them.  It wasn't long, however, before Burgundy managed to collect a large number of diamonds which allowed him to just beat Blue to a couple of nobles.  She was still in the fight though, right until she miscounted how many sapphires Burgundy had, and with it handed him the game. Still, we are definitely getting closer to beating him…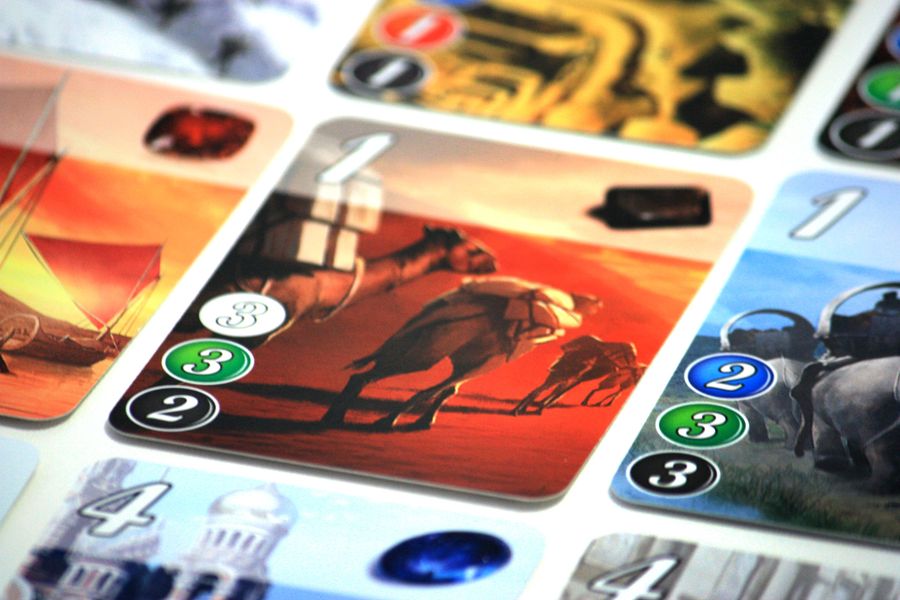 – Image used with permission of boardgamephotos
Learning outcome:  Competition is essential in games, but working together is fun too.