While Blue and Burgundy finished their supper, everyone else played a quick game of The Game, played with cards from The Game: Extreme.  The game is a very simple cooperative game: played with a deck of ninety-eight cards the group have to play all of them to win.  Each player starts with a hand of cards and must play at least two of their cards on one of the four piles. The first rule is that cards added to two of the piles must be higher face value than those previously played, while cards on the other two must be lower.  The second rule is "the backwards rule", which says that if the interval is exactly ten the first rule is reversed.  The third and final rule is that players  can say anything they like so long as they don't share specific number information about the contents of their hand.  The Extreme version has blue cards instead of red ones, but also has additional symbols on the cards which add further restrictions and make playing cards more difficult.
– Image by boardgoats
By ignoring the extra symbols the original version of The Game can be played with cards from The Extreme version.  As is often the case, the game started badly with almost everyone starting with cards between thirty and seventy.  There are two problems with this, firstly it forces players to progress the decks faster then they wanted.  Secondly, the very high and very low cards are still waiting to be revealed which causes the same problem a second time later in the game.  And this is exactly what happened.  Pine for example started with nothing below forty and only one card above sixty, and ended the game with a lots of cards in the nineties.  With such an awful hand before everyone else was ready, he ended up just playing everything and was the first to check-out.  By this time Burgundy and Blue were finished with pizza and had discovered that watching the others struggle was strangely compelling.  It wasn't long before Purple was unable to play though, which brought the game to a close with a combined to total of seven cards unplayed.
– Image by boardGOATS
With food finished and The Game over, the group split into two with the first group playing the "Feature Game", Flamme Rouge.  This is a bicycle game that Blue and Pink played at Essen in 2016, but actually picked up at the fair this year.  The game is quite simple, bit even then we managed to get it slightly wrong.  The idea is that each player has two riders, a Sprinteur and a Rouleur, each of which has a deck of cards. Simultaneously, players draw four cards from one of their the rider's deck and choosing one to play, before doing the same for their second rider.  Once everyone has chosen two cards, the riders move, starting with the rider at the front of the pack, discarding the used cards.  Once all the riders have moved, then the effect of slip-streaming and exhaustion are applied.  Exhaustion is simple enough – players simply add an exhaustion card to the deck for any rider without cyclists in the square in front of them at the end of the round.  The slip-streaming is slightly more complex, but the idea is that every pack of cyclists that has exactly one space between them and the pack in front, benefits from slip-streaming and is able to catch up that one space.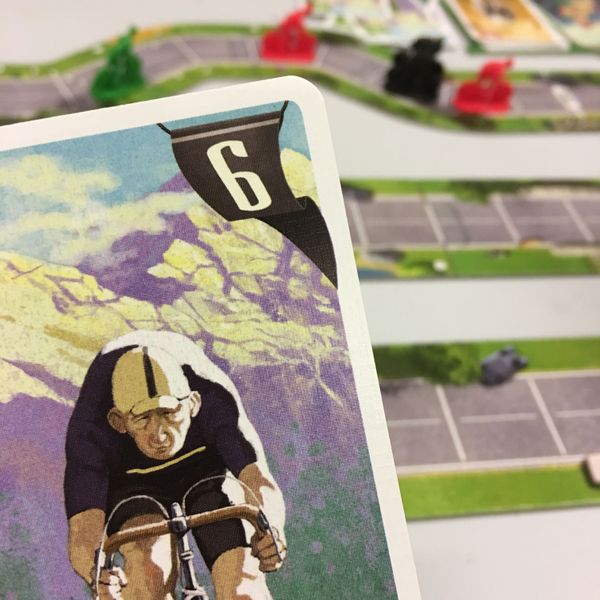 – Image by BGG contributor mattridding
Slip-steaming is applied from the back, which means riders may be able to benefit multiple times.  The problem was, Blue had played incorrectly at Essen: they had played that a pack had to comprise at least two riders and would move forward regardless of how many spaces there were in front of them.  Ironically, the person to suffer most from this rules mishap was Blue as her Sprinteur was dropped from the pack early in the race and, although he got on to the back of the pack again, the exhaustion caused by all the early effort meant he struggled for the rest of the race and was soon dropped completely.  All the other riders managed to stay in the Peloton and, as the race drew to a close, there was some jockeying for position.  Black's Sprinteur made a dash for the line, but got his timing very slightly wrong and didn't quite make it.  Pine's Sprinter on the other hand, timed his dash to perfection and pipped Black to first place.  In fact, Pine rode such a canny race, his Rouleur came in third.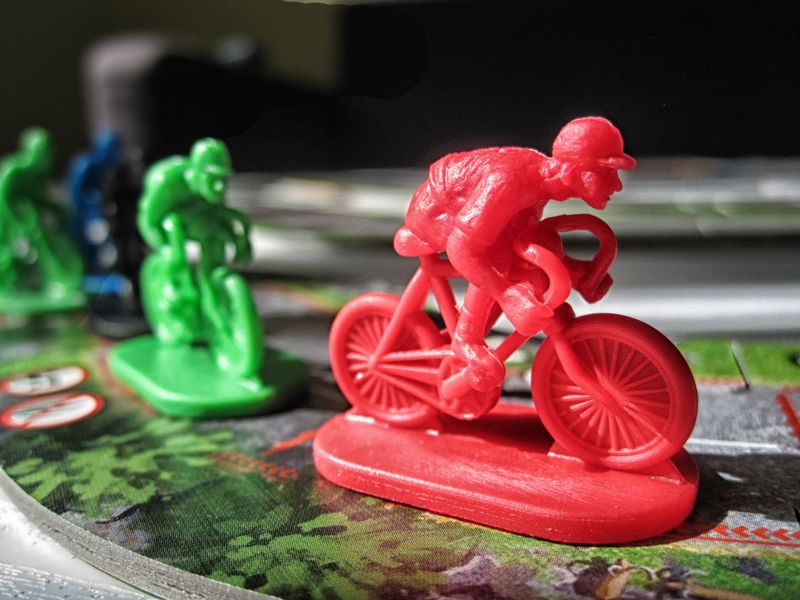 – Image used with permission of BGG contributor zombiegod
Meanwhile, on the next table, Burgundy, Purple and Green were giving Azul a go.  This is a brand new release that Pink and Blue picked up at Essen this year and played back at their hotel while they were in Germany.  It has such nice pieces and is such a clever, yet simple game, that Blue tipped it for the Spiel des Jahres award next year (or at least a nomination if something even better comes out).  The idea of the game is that players are tile laying artists decorating a wall in the Palace of Evora with "azulejos".  On their turn, the active player can either take all the tiles of one colour from one of the factory display (putting the rest in the central market) or take all the tiles of one colour from the market in the centre of the table.  They then place the tiles in one of the five rows on their player board.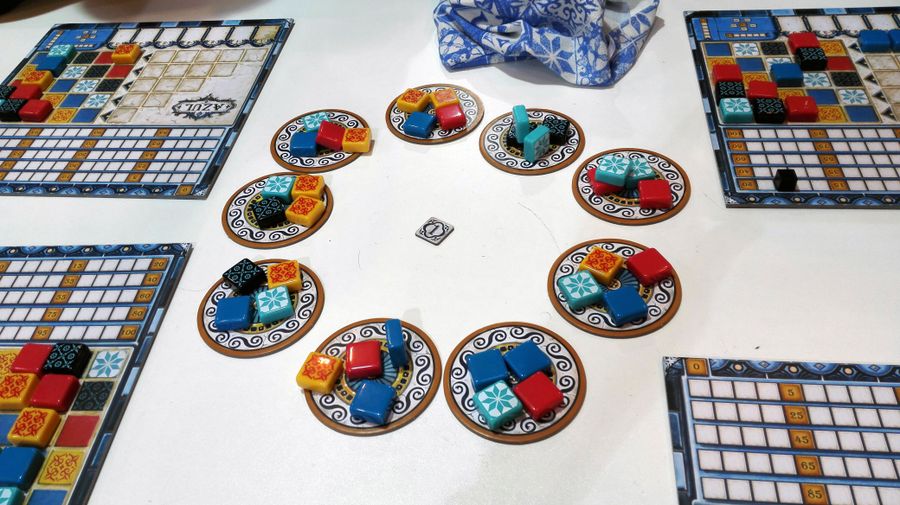 – Image by BGG contributor JackyTheRipper
Each row can only contain one colour, but players may have more than one row with any given colour.  The catch is that each player only has five rows, each with a set number of spaces, one to five.  Players can add tiles to a row later in the round, but once a row is full, any left-overs go into the negative scoring row.  Once all the tiles have been picked up, players evaluate their board, and, starting with the shortest row, one of the tiles from each full row is added to the player's mosaic and scored. Players score one point for a tile that is not placed adjacent to any other tile, whereas tiles added to rows or columns score the same number of points as there are tiles in the completed row (or column).  The game continues with players choosing tiles from the factory displays and then adding them to rows, the catch is that as the mosaic fills up, it is harder to fill the rows as each row can only take each colour once.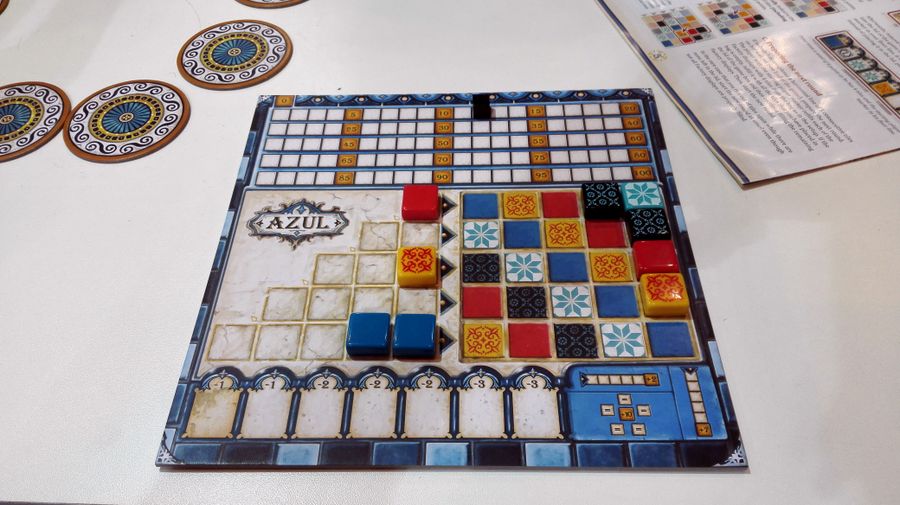 – Image by BGG contributor JackyTheRipper
The game is much more complex to explain than to actually play, and as such is just the sort of game we really appreciate.  There are also end game bonuses which keep everyone guessing right up to the end.  So, although fairly simple to play, it is very clever and gives players a lot to think about.  Blue had played it with Burgundy, Black and Purple at the Didcot Games Club and everyone had enjoyed it, so Burgundy and Purple were keen to share it with Green.  The previous game had been very tight between first and second, with a tie for third, but this time, the game seemed quite tight throughout the game.  In the end, Burgundy finished the clear winner with seventy-eight points.  It remained tight for second place though, but Purple's extra experience showed and she pipped Green by four points.  Both games finished at about the same time, so with Black, Ivory and Green keen to play 7 Wonders, and Purple and Blue not so keen, it was musical chairs while everyone else decided which group to join.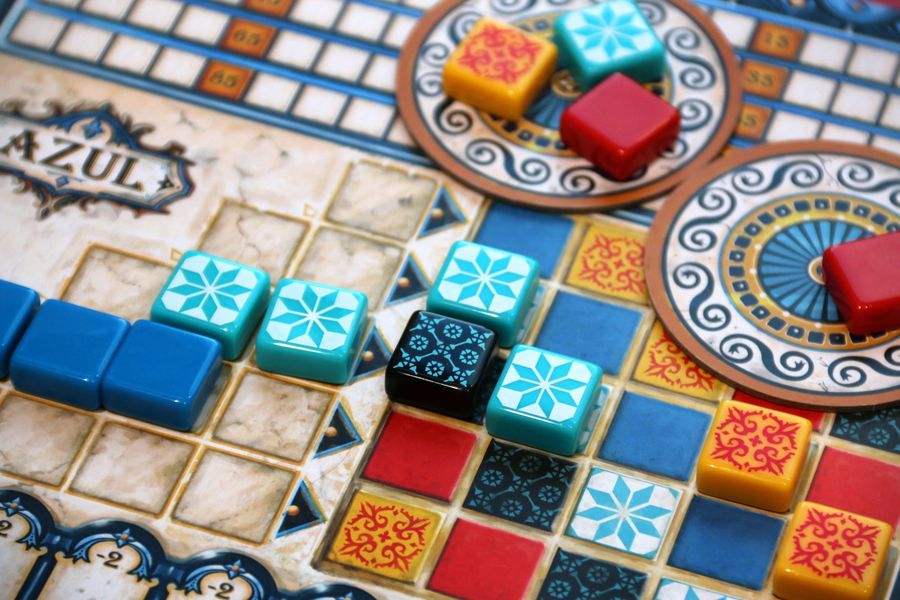 – Image used with permission of boardgamephotos
7 Wonders is a card drafting game similar to games like Sushi Go! or Between Two Cities.  Each player starts with a hand of cards and, simultaneously, each player chooses a card to play, a card to keep and then a passes the rest to the next player. The cards are played with various different aims:  players might try to build up their city and erect an architectural wonder, or attempt to have a superior military presence to neighbouring players. The game consists of three rounds, the first and third passing cards to the left, with the middle round passing cards to the right.  Black and Green went down the military route taking points from both Ivory and Burgundy and picked up additional victory points from blue cards.  Ivory and Burgundy, on the other hand, went for science points, but Ivory managed to take the most squeezing out both Burgundy and Black.  It was a close game with just five points between first place and third place, but it was Green who just finished in front.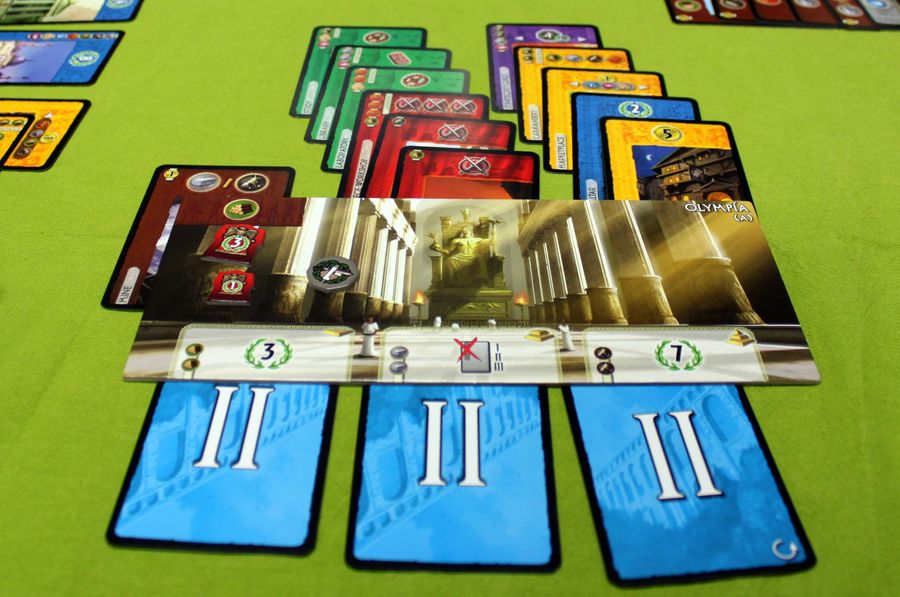 – Image by BGG contributor damnpixel
On the next table, Blue, Purple and Pine played a game of another Essen acquisition, Animals on Board.  This actually belonged to Pink, but Blue still had it in the bag from Didcot Games Club a few days before.  It is a very simple game of set collecting, with elements from Coloretto and 3 Sind Eine Zu Viel!.  Totally over produced, the game comes with fantastic cardboard arcs and thick card animal tiles.  There are five of each animal, and each set includes animals numbered from one to five and a selection are drawn at random and placed face up in the centre of the table.  On their turn the active player either divides one of the groups into two parts (and takes a box of fruit for their pains) or takes the animals from one of the groups, paying for them with boxes of fruit at a rate of one per animal.  At the end of the game (triggered when one player picks up their tenth animal) Noah claims any pairs of animals.  The remaining animals either score their face value if they are singletons, or score five if there are three or more.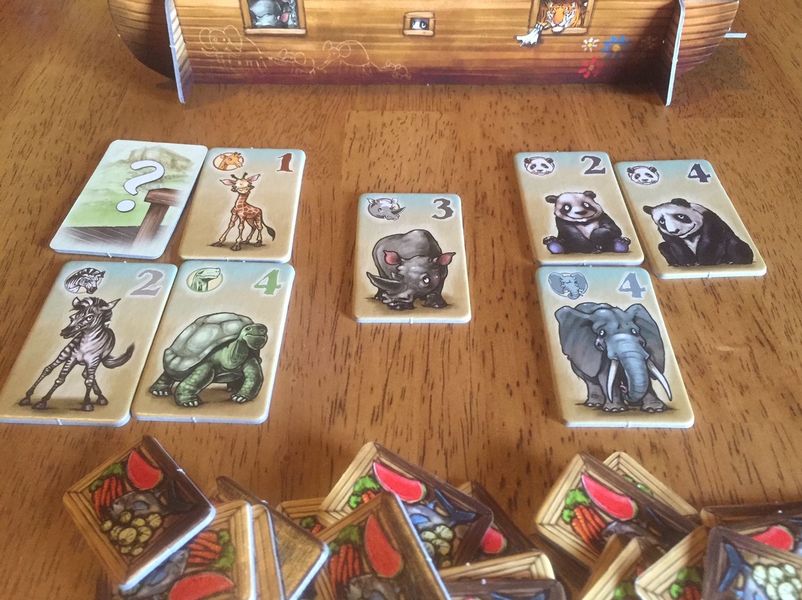 – Image used with permission of BGG contributor chriswray84
Blue began collecting pandas and zebras, while Purple and Pine fought over the tigers, foxes and crocodiles.  It was Blue who triggered the end of the game and everyone counted up their totals in whst turned out to be a very close game.  Everyone had at least one set of three and Purple had managed to take four foxes.  Blue had managed to pick up a total of eleven animals and that extra critter made the difference giving, her the win.  Since it had been so close and 7 Wonders was still going, they decided there was just enough time to play something else and see if revenge could be had.  Since NMBR 9, another game that came back from Essen, needs no setting up, they decided to give it a go.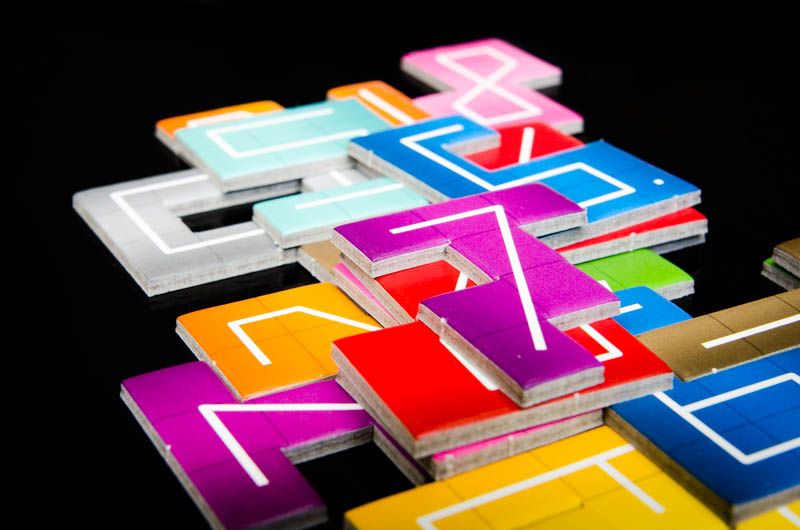 – Image used with permission of BGG contributor punkin312
NMBR 9 is a Bingo-type game like Take it Easy! or Karuba, where  one player calls a number and everyone plays their tile that corresponds to that number.  NMBR 9 takes the number theme one step further, since all the tiles are roughly number-shaped.  The idea is that players will play a total of twenty tiles, numbered zero to nine, with each one appearing twice.  One player turns over a card and calls the number and players each take one tile of that number and add it to their tableau.  Tiles must be placed such that at least one edge touches a previous tile.  Tiles can be placed on top of other tiles as long as there are no overhanging parts, and the tile sits squarely on more than one other tile.  At the end of the game the number tiles are multiplied by the level they sit on minus one.  So, a five on the third level scores ten points (5 x (3-1)).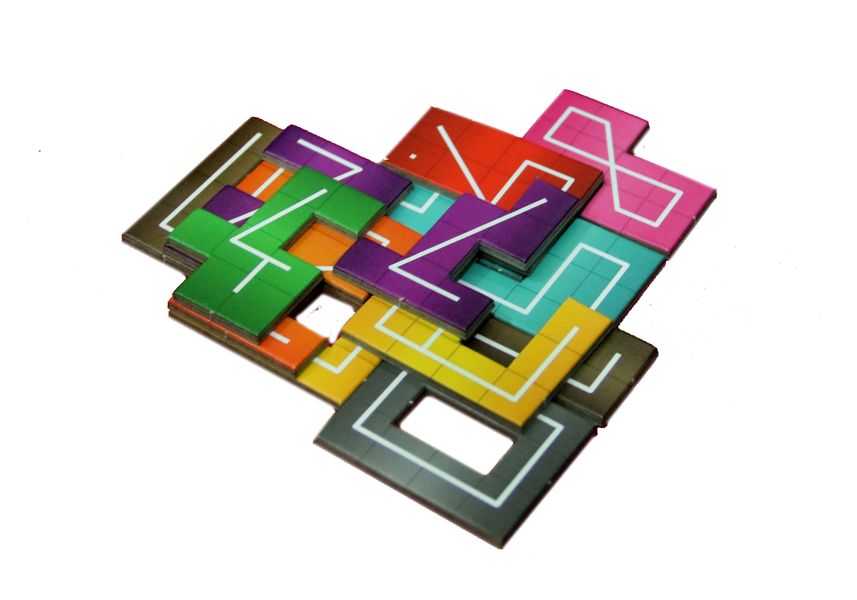 – Image used with permission of boardgamephotos
Blue started off well, which was unsurprising as she had played it before with Pink.  She quickly got herself into a bit of a tangle though, with the plaintive cry, "I've got a hole in the wrong place!"  Pine was steadily making up ground, but concurred, muttering, "There are too many sticky out bits on a four…"  With 7 Wonders finally coming to an end, Black and Burgundy found their curiosity piqued by the strange shaped tiles and tried to work out what was going on.  It wasn't long before the last cards were turned over though and everyone had to take their shoes and socks off to work out the scores.  Pine's smart second level placement had yielded success and he finished with score of sixty-one, a comfortable lead of five over blue in second place.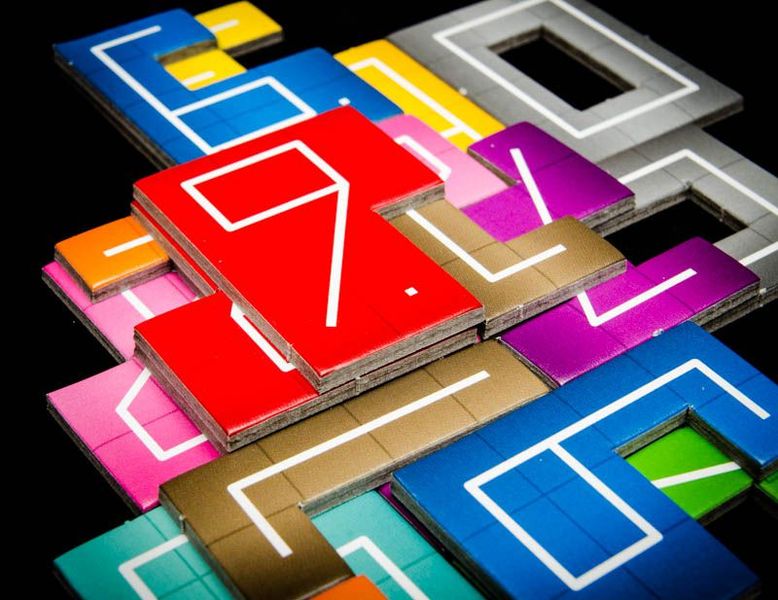 – Image used with permission of BGG contributor punkin312
Learning Outcome:  Some games, make surprisingly good spectator sports.