It was ominously gloomy and empty in pub the when Khaki and Mulberry arrived.  With Blue away for work, she had left the logbook with the landlord and it was sadly sitting on the table waiting for them.  Fearing the repercussions of ignoring the demanding tome, they ordered food and took their places at the table.  They were soon joined by Burgundy, Purple, Black, Lime and Ivory, making it a decent turn-out for a meeting that was very nearly cancelled.
– Image by boardGOATS
Once the feeding was over and done with, it was time to organise people to play games.  Purple, Mulberry and Lime began with the "Feature Game", Ivor the Engine.  This is a great little game with fantastic artwork from the late, great Peter Firmin.  Although it is designed round a the children's cartoon, the cute artwork belies the viscous little teeth the game has.  The idea is that players move their wagon round the board, playing cards to carryout errands which are paid in sheep – the player with the most sheep at the end of the game is the winner.
– Image by boardGOATS
At the start of the game the board is randomly filled with lost sheep. On their turn, the active player begins by collecting a sheep at their current location, if one is available, receiving bonus sheep if they take the last sheep in a location. Then they play cards and move their wagon playing cards before or after they move.  There is one free movement and others can be bought with coal.  The active player can play as many or as few cards as they wish, but there is a tight hand-limit of four cards and only one card can be played at each location. The cards can be used in one of two ways:  they can provide a special action (e.g. extra moves or moving sheep about), or if the active player is at a location where there are no sheep, they can use them to complete a "Job" receiving sheep as a reward.  Finally, players take a card from the face-up display discarding a card if necessary.
– Image by boardGOATS
It seems very gentle at first glance, but there are a couple of things that make the game quite strategic.  Firstly, only one player can be in a location at any one time, which can be surprisingly inconvenient for players who have built a plan and a hand of job cards only to be obstructed by another player squatting in the wrong place.  With cards at such a premium it is also surprisingly irritating when another player takes a desired card.  Managing these is key to being successful, but the nastiest part of the game are the event cards.  At the end of a player's turn, they draw cards from the deck to replace any they have taken and place them face up in the display.
– Image by boardGOATS
If an Event card is revealed, then the actions must be carried out by everyone – some are nice, some are slightly inconvenient, others are downright nasty.  For example, some Events cause players to move their wagon to the other end of the board which can be very helpful or extremely frustrating depending on the player's plans.  Players can also be forced to forfeit sheep, or worse, hard won resources or Job cards.  Like Job cards, Event cards are also dual purpose, and (once the Event has been resolved) can be taken from the "market" at the end of a turn, like Job cards.  They are valuable though, providing a means to score more at the end of the game, so they must be bought using gold, which is very rare and difficult to come by.
– Image by boardGOATS
Purple explained the rules very thoroughly as there are a couple of slightly fiddly exceptions, for example, it costs two coal to move along the main line, but eventually the game got going.  Everyone started on the same side of the board and got in each other's way a bit.  Lime struggled a bit in a game that can be quite unforgiving despite it's cute graphics and child-friendly theme.  Things improved for him as he picked up six sheep on his final turn.  Mulberry's game started well, but in contrast to Lime, fizzled out towards the end.  Purple got lucky as she picked up sheep throughout and cards that were conveniently close to her current position.  Purple's experience ensured she capitalised on her good fortune, finishing five points ahead of Lime, with thirty-three.
– Image by boardGOATS
Meanwhile on the next table, "the boys" were playing Azul: Stained Glass of Sintra.  This was released last year at Essen and uses the market mechanism from the 2018 Spiel des Jahres winner, Azul.  The idea is of this is that on their turn, players take all the pieces of one colour from a market and place the left-overs in the middle, or, take all the tiles of one colour from the middle.  In Stained Glass of Sintra, instead of placing these pieces in a row and moving them onto a grid, pieces are placed directly into the player's window.  This is modular consisting of the double-sided strips laid out at random so everyone has a different starting setup.
– Image by boardGOATS
There are restrictions on how the pieces can be placed though:  tiles must be placed in the strip immediately below their Glazier meeple, or in a strip to its right.  The Glazier is then placed above the strip the tiles were placed in,, so he gradually moves to the right. Instead of taking tiles, players can choose to reset the Glazier's position, moving him back to the left most strip.  Players get points when strips are completed scoring the sum of the score depicted below the strip and any strips to the right that have already been completed. There is also a colour bonus—each round has a colour drawn at random at the start of the game, and any tiles that match the colour for the round score extra.
– Image by boardGOATS
Once a strip has been completed, it is flipped over; after it has been filled a second time it is removed. Any left over tiles that cannot be placed are placed into the glass tower and yield a penalty with players moving along a negative score track which has small steps at the start that gets larger. When the market is empty the round ends and the round indicator tile is also dropped into the glass tower which is emptied when the .  There are also end-game bonus points with two variants available, one colour dependent and the other rewarding completing adjacent strips.
– Image by boardGOATS
Kahki started, but was the only one new to the game and didn't know what he was doing.  Somehow though he managed to build a lead which kept growing. Black and Burgundy weren't far behind although there was a lot of smashed orange "glass" when Burgundy was forced to pick up eight orange pieces but only had space for four.  Ivory struggled and there was yet more broken orange glass when he picked up twelve orange pieces, only having space for two.  As a result, there were a lot of penalty points at the end, and it was only a surprise to Kahki that he was the winner by some twenty points.
– Image by boardGOATS
The Ivor group had barely finished the rules explanation by this point, so the group moved on to play Splendor.  This is one of our most popular games, but has largely degenerated into an exercise in trying to beat Burgundy as he wins every time.  The game is a very simple engine builder, where players can either take "gem" chips on their turn, or use them to buy a card from the display.  Cards then provide a perpetual "gem" allowing players to buy more expensive cards which give points.  Points are also provided by "Noble" tiles which are revealed at the start of the game and are won by the first player to get a certain combination of gem cards.
– Image by boardGOATS
This time, all the Noble tiles needed rubies (red), but very few ruby cards came out.  Ivory started well taking an early lead with a few low scoring cards before Khaki caught up him taking a three point card. Burgundy made a very slow start, reserving a couple of cards while Black picked up a few points here and there.  Ivory took the first Noble and managed to fight his way to fourteen points, but then the inevitable happened.  Burgundy's game suddenly snowballed and a couple of rounds later he bought his last reserved card and, as the last player in the round, brought the game to an end.  Burgundy finished on sixteen points, just two ahead of Ivory who took second place in what was a very tight game where Burgundy was pushed right to the wire, albeit with the usual result.
– Image by boardGOATS
By this time, Ivor was finally finished, and Khaki and Mulberry headed off for an early night, leaving everyone else to play Alhambra.  This, the 2003 Spiel des Jahres winner, is a tile laying game where players are building their city.  Basically, on their turn, the active player may take money from the open money market; purchase a building from the building market and either place it in their Alhambra or their reserve, or engage in construction and re-construction projects with buildings that had been placed in the player's Alhambra or their reserve.  The core of the game is the market, where players buy building tiles with coloured money cards and add them to their Alhambra.  This key purchasing mechanism comes from its predecessor, Stimmt So!.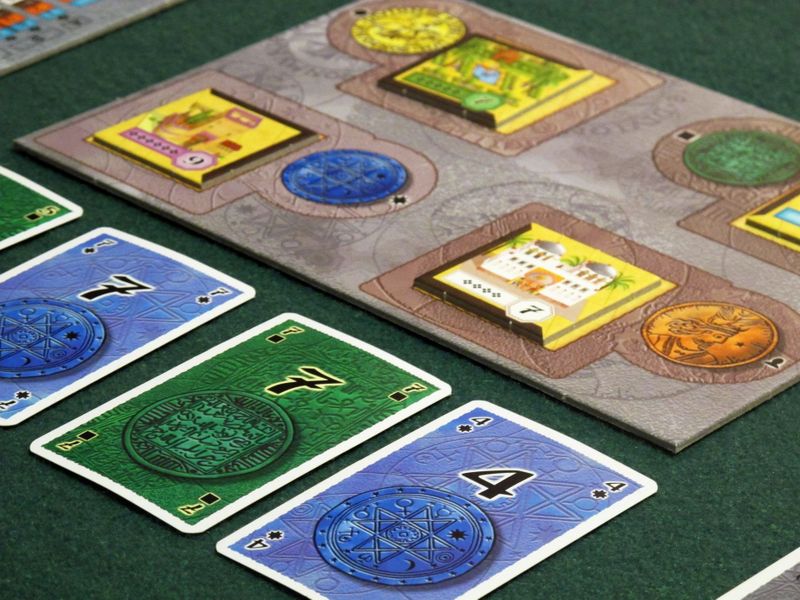 – Image used with permission of BGG contributor EndersGame
There are four different currencies which come in different colours.  At the start of a player's turn, there are four tiles available, each in a different coloured market, which can only be purchased with the currency that matches the market's colour.  If the active player can pay with exactly the correct amount, they can buy another tile, but if they over-pay, they get no change and their turn ends.  While this all sounds simple enough, there is the little problem that sets Alhambra apart from Stimmt So!:  most of the tiles have walls along one, two or three edges, and when placed, these must match up without partitioning the Alhambra.  The walls are critical as poor play in the early stages can mean it is possible to get backed into a corner later in the game.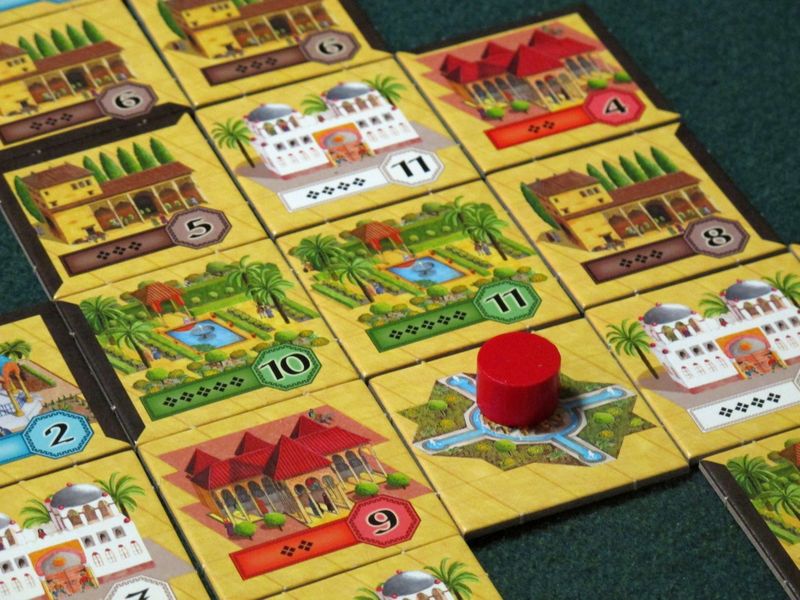 – Image used with permission of BGG contributor EndersGame
There are fifty-four tiles in six different types, each type in a different colour. They are Pavilions (Blue), Manors/Seraglios (Red), Mezzanines/Archades (Brown), Chambers (White), Gardens (Green) and Towers (Purple).  Most tiles have one or more walls around the edges and each tile also shows numerical value from two to thirteen, which is their cost.  Each of the six different building types in a player's Alhambra score in each of the scoring phases, with players receiving points for having the most of each type in the first scoring round.  In the second scoring round the player in second place also scores and in the final scoring round points are also available for third place in each building type.  Points are also awarded in each scoring round for players' longest external "wall" section within their complex.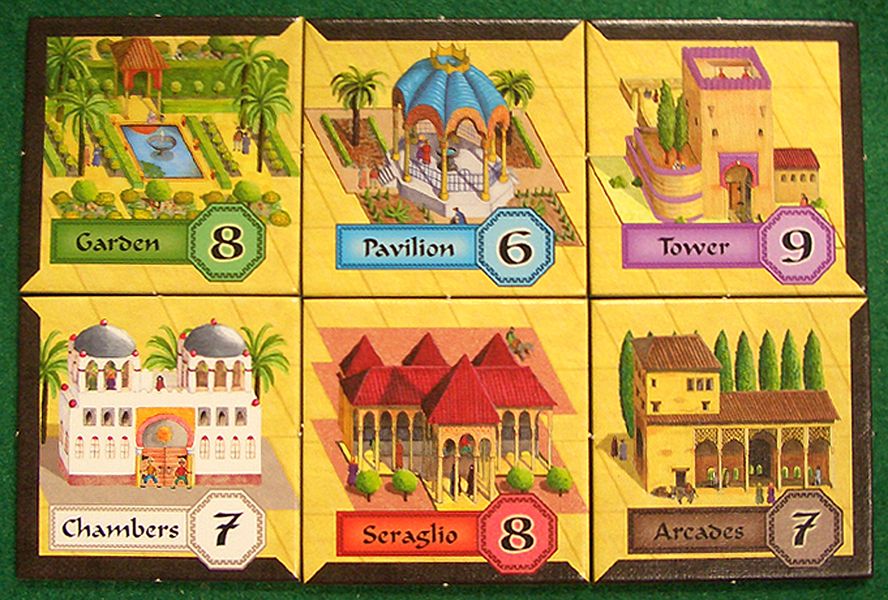 – Image used with permission of BGG contributor mothertruckin
The game ends when the building market can no longer be replenished from the building tile supply, and there is a final scoring, whereupon the player with the highest score wins.  In this game, the distribution of tiles was very uneven, with all the Tower tiles coming out early and and the Manor and Garden tiles coming out late.  Ivory took an early lead after the first scoring round having picked up a lot of the early Towers.  It was not to last though.  Alhambra is a game that rewards efficiency, and Black and Burgundy both made the most of paying exactly the right amount and taking extra turns, while Ivory and Lime fell into the trap of putting tiles into their reserve which cost them an extra turn to place them in their Alhambras.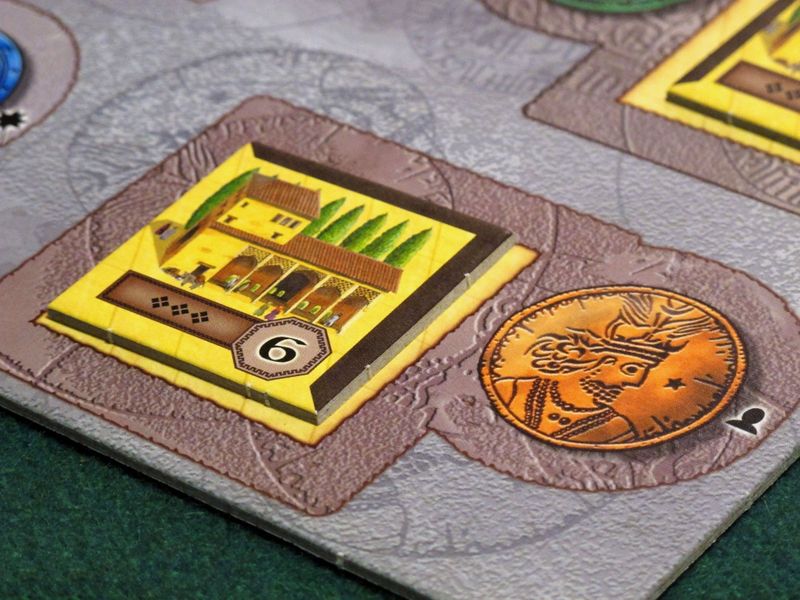 – Image used with permission of BGG contributor EndersGame
While Purple had the most Towers in the second scoring round, others had caught up by the third and final scoring round.  As a result, Towers finished in a three-way tie, so nobody scored well.  Lime finished with the longest wall taking a massive fifteen points in the final scoring phase, but unfortunately he did not have enough points elsewhere to trouble the leaders, Burgundy and Black.  Burgundy also had a substantial wall, giving him twelve points, and with his Gardens and Pavillions, he took a creditable second place, but was some way behind Black who finished with over a hundred points thanks to having the most Chambers and coming second in many of the other buildings and generally being efficient throughout.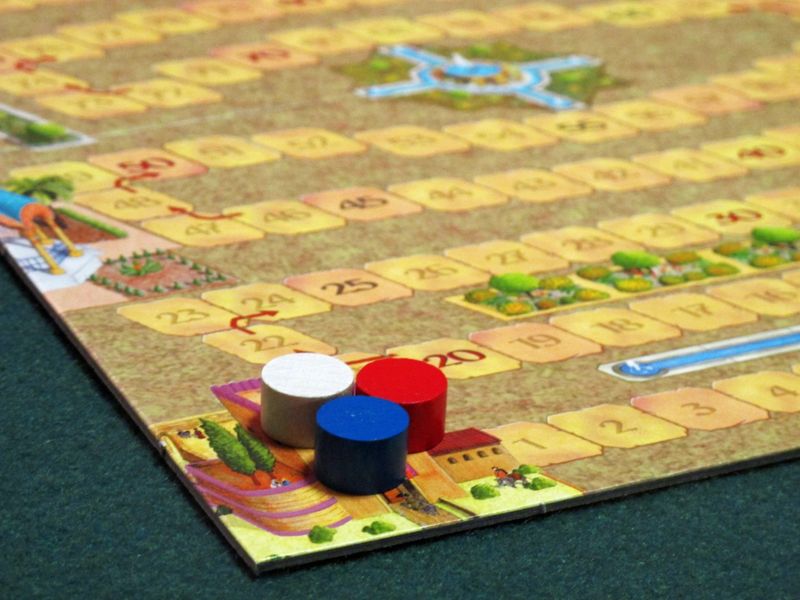 – Image used with permission of BGG contributor EndersGame
Learning Outcome: boardGOATs can survive without Blue and Green as long as Purple is around.