Unfortunately, ordering dinner was delayed due to a birthday party on the other side of the room, so Blue, Pine and Burgundy decided to get in a quick game of NMBR 9 while they waited.  Despite the fact that it isn't a top game for anyone and takes up a lot of room in the bag, it is is rapidly becoming a very popular filler.  This is because it is nice and short, has a enough bite to keep everyone interested for the duration and, as it has almost no set-up time, the activation energy barrier is particularly low (find and open the box, take out the deck of cards and turn over the top one…). The game is a bingo-type tile-laying game where each person plays a total of twenty tiles, numbered zero to nine, with each one appearing twice. The deck of cards dictates the order they appear in and tiles must be placed such that at least one edge touches a previous tile. Tiles can be placed on top of other tiles as long as there are no overhanging parts, and the tile sits squarely on more than one other tile. At the end of the game the number of the tiles are multiplied by the level they sit on minus one. So, a five on the third tier scores ten points (5 x (3-1)).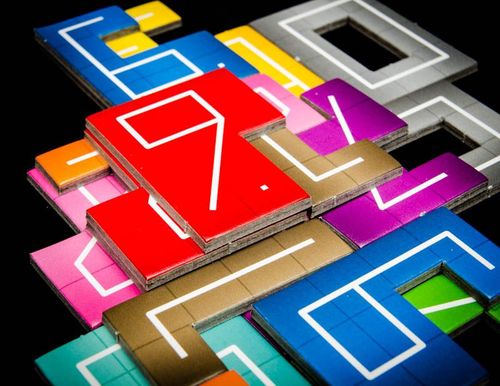 – Image used with permission of BGG contributor punkin312
This time, everyone started off with the same placements albeit in a different orientation.  It wasn't long before first Burgundy and then the other two diverged though, with slightly different strategies.  There is a bit of knack to the game with two basic competing requirements: getting strong continuous layers without gaps, and placing numbers, ideally high numbers, on the highest tiers possible so they score more.  Blue and Burgundy concentrated on getting a really solid zero level with Burgundy even sacrificing his first "nine" to the cause.  Pine on the other hand, succeeded in placing both his "eights" on his third tier scoring a thirty-two points for those tiles alone.  It was a very close game, but the difference was when, towards the end of the game, Burgundy managed to squeeze a "three" onto the fourth layer.  This gave him nine points and victory with a total of sixty-three points, just five points ahead of Blue and Pine, who tied for second place.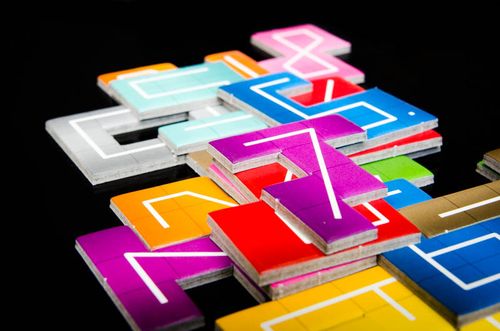 – Image used with permission of BGG contributor punkin312
By the time NMBR 9 was finishing, everyone else was arriving and the group split into two, with one group playing the "Feature Game", Boomtown and the other playing Yokohama, a game which Ivory had been hankering after playing since he first saw it long before Christmas.  With food due for Blue and Burgundy at anytime, Ivory had to wait another twenty minutes or so, and to try to keep his mind off the delay, the trio decided to squeeze in another filler, Coloretto.  This is a light set-collecting card game that everyone in the group is familiar with: on their turn, players can either pick up a chameleon card from the face down deck and add it to a truck, or take a truck (passing for the rest of the round).  The innovative part of the game is the scoring which uses the triangular number sequence (one point for the first card, three points for two cards, six points for three cards etc.), with positive points for three sets and negative for the rest.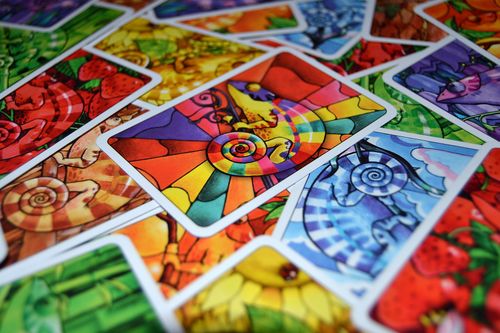 – Image by BGG contributor SergioMR
We'd  just started when food arrived and it quickly became apparent that Blue was concentrating more on her pizza than the game as she just stared collecting almost anything that came her way.  Everyone started collecting light blue/white cards and this was a mistake because it meant that everyone was going to struggle to get lots of them.  In the end, three things made the difference: the jokers that Blue picked up;  the bonus point cards that Blue and Ivory collected, and the negative points that Burgundy ended up with.  As a result, despite her lack of concentration, Blue finished with forty-four points and a sizeable lead, with Ivory in second place.  Meanwhile, the next table had started the "Feature Game", Boomtown, which is a fairly light card game where players are mining moguls and each round is divided into three parts, auction, selection, and production.
– Image by boardGOATS
At the start of the round one card is drawn per person and placed face for bidding. Players then, in clockwise order, take turns bidding for who gets to choose a card first. Bidding continues round the table; when a player passes then they are out of the bidding and the auction continues until there is one person left.  While the auctions are fun, the real twist in the game is what happens as a result of the auction.  Winning the bidding has two consequences:  first pick from the cards available, but also payment of the bid to the other players.  So, the winner of the auction pays his winning bid to the player on his right who then gives half of that sum to the player on his right who, in turn, gives half of that amount to the player on his right, and so on in anticlockwise order, stopping just before the player who won the bidding.  The winning bidder chooses first and selection then passes to the player on his left and continues in clockwise order (i.e. opposite to the order of the money route).
– Image by boardGOATS
There are two types of cards in Boomtown, mine cards and special cards.  The special cards typically provide a one off action that must be used straight away while others can be saved for later in the game.  Some help the owner, but most target one, several or all of the other players destroying or stealing mines, changing dice rolls or the order of a result of an auction.  Mine cards provide victory points and can also be a source of income throughout the game (especially valuable as  money enables players to take control during the auctions).  Each mine card has a number of gold coin symbols on it as well as a number between two and twelve. The gold coin symbols correspond to the number of victory points the card is worth at the end of the game and the number of chips a player will receive should the card's number be rolled during the production phase (like in The Settlers of Catan).
– Image by boardGOATS
Each mine card also has a colour and these can be critical as the player with the most cards takes the mayor who is worth five points at the end of the game.  Perhaps more importantly, the player who owns the mayor receives payment from the other players when they take (build) a mine of that colour.  Mayors can also be a deciding factor in how one bids for first choice in a round and some of the special cards can provide an edge in the contest for mayors, as well.  This means that fights over mayors can get very, very nasty indeed.  The game ends when the deck is exhausted and everyone then adds their number of chips to the value of their mines and any mayor bonuses, the player with the highest total wins.
– Image by boardGOATS
It was a slow start with no-one really bidding very high. Most people were not sure quite how the game would work so did not want to commit too much at this early stage. In the very first round, the "aggressive" nature of the game quickly reared its ugly head when four of the five cards in the auction were mines and one was Dynamite.  Green won the bid and since Red was sitting on his right, she was left with the final card, the Dynamite.  There was really only ever one choice as to who's mine would go…the person who had played it many times before, Green.  A couple more rounds on and the players were still only tentatively feeling their way. Red had chosen to diverge from the other player's tactics slightly by going for a Saloon rather than mines and before long she was able to add the Saloon Girls to double its effect.
– Image by boardGOATS
When Pine won a bid and started the next round of bidding, he did not know what to choose, not really wanting to win the bid at all. So he bet one, When nearly everyone had passed and he looked like he would win the bid on one, he commented that it seemed unfair that he would be forced to pay some money, thinking that if everyone passed he would be the winner anyway.  A quick check of the rules confirmed that indeed the player starting didn't have to bid and could pass, and in the unlikely event that everyone passed, they would win.  So everyone agreed to start the round again. Pine passed, Red Passed, Green, with an eye to the main chance then bid one—Oh the shouts of disgust that followed—he had passed last time so why bid this time?  Well, it wasn't worth two, but it might be worth one, and with that he won the auction.
– Image by boardGOATS
About a third of the way through the game, there were a couple of Mayors out and Red's yellow Saloon was bringing in some income from Pine's growing number of yellow mines.  It was about this time when Pine decided he'd had enough and took the next dynamite card and, much to her disgust, blew up Red's Saloon, taking the girls with it!  In the meantime, Purple was trying to corner the green and red mines, while Black was settling himself strongly into purple mines.  At this point Red decided that she was so far behind in the mining stakes there was little point in switching to that route so decided to stick to the "money by other means" strategy. She managed to get a second saloon and this time chose Black's purple mines to be the target for her custom.  This seemed to regularly provide income, but without the girls it was only two gold at a time, barely enough to cover costs.
– Image by boardGOATS
As the game drew to a close, it was looking like a two horse race between Green's extensive pile of cash and Black's almost as large pile and growing number of mines.  Pine decided he wanted a piece of the action and chose to hold up Black opting for a 50/50 and said he'd try to roll a seven or higher.  He failed, as did Red when she tried the same thing, with Black again the target.  As everyone tallied up the scores, it became apparent that the failed hold-ups had had a significant impact on the outcome. Red's strategy had totally failed and Purple had been unlucky with the mine production rolls, but it was quite close between the other three.  In the end, Black finished just five points ahead of Pine who pipped Green to second by two points—if Black had lost those hold-ups the game could have gone to Pine…
– Image by boardGOATS
On the next table, Yokohama had barely started, so the group found something a little longer to play in Jórvík.  This is a viking re-themed version of The Speicherstadt, which was a very popular game with the the group a few years ago.  Last time we played the expanded version (corresponding to the original game with the Kaispeicher Expansion), but this time we did not want it to go on too long, so played the base game rather than the fully expanded one.  Pine remembered it as the game where Vikings queue up, and called it "The Queuing Game", and that sums it up pretty well.  Players take it in turns to place their meeples in queues next to the laid out cards.  Once everyone has placed their cards, each card is "sold" and the first player who placed their meeple next to the card has first dibs.
– Image by boardGOATS
The snag is that the cost depends on the number of players who joined after them.  So, if the queue consists of three people, the first player can pay two for it, but if they turn it down, the next player can pay one.  This makes the game evil.  It is an auction game in which players can increase the value and, once the other person drops out, can drop out as well, no strings attached. A kind of, "Well, I didn't want it, but I just didn't want you to have it…"  This lack of control didn't go down well with Ivory, who saw the game and commented, "If we were playing "Snog, Marry, Avoid", that would definitely be "Avoid"!"  Curious, Blue asked him whether Yokohama would be "Snog" or "Marry", to which Ivory emphatically responded, "Snog" and added, ""Marry" would require investment…"
– Image by boardGOATS
The cards come in varying types, starting with contracts and goods – contract cards give victory points, but only if they have been fulfilled by collecting the correct goods.  On the other hand, Market Cards allow players to sell goods and get a better return than usual, enabling the owner to build a supply of cash giving them power in the "auctions".  One of the most important cards are the viking fighter cards.  When the "Attack of the Picts" come up at the end of each season, the player with the most viking fighters gets a bonus, but woe betide the player that has the fewest viking fighter cards as they will lose points in a "Devil take the hindmost" mechanism.  The game ends when all the cards have been auctioned and the player with the most points is the winner.  It only took one round for everyone to take up their differing strategies.  Red, having not played the game before, had gone for a couple of market cards, enabling her to sell goods for one coin each rather than the usual two goods for one coin. Green had started a collection of Viking fighters to ward off the Pict raiders, Black collected the only artisan card, Purple went for the feast and Pine wasn't really sure where he was going so had taken another market card.
– Image by boardGOATS
By the end of the second round Red had acquired three of the market cards, Green another fighter, Black and purple both had artisans, and Pine had taken the valuable warehouse.  Black was dubious of Red's strategy for so many market cards, as experience had shown that these cards were generally not that valuable as you did not often have the required resource to sell. Green was reserving judgement thinking that with three she could almost guarantee being able to sell something.  Then  the goods started to arrive.  Everyone seemed frustrated at what they could actually get and money soon ran very low, except for Red however, who always seemed to have more than anyone else; those markets were beginning to prove useful.  Pine's warehouse seemed pretty empty however and although Green's defense of the Picts was mighty, there wasn't a lot he was defending in the early stages.
– Image by boardGOATS
As the game wore on, Green inched up the score track as Pine, Purple and Red slipped back, due to Pict raids.  By the last round, almost everyone was spent up with no more than one or two coins each, except Red who seemed to have a stash of seven or eight. This meant that she was able to hoover up both the end game scoring bonus cards (the ships and the coins) and this left an odd position that didn't seem to be covered in the rules.  The very last card in the Winter deck was the attack of the Picts card, which meant that all the other cards had been out and selected, and only two cards remained, both attack of the Picts cards.  Normally, the Attack of the Picts card would have been enacted as soon as it was revealed and then discarded, which is why the cards fit the slots perfectly.  Pine felt the game should end there without activating them, but since we did need to have the final attack card everyone else felt that the game probably meant both attacks should happen, one after the other.  Considering that there is a one in fifteen chance of this happening, it really should have been mentioned in the rules.
– Image by boardGOATS
It quickly became clear why Pine wasn't keen on activating the Pict cards:  he had seven points to lose and Green had seven to gain!  It didn't matter though, because in the final scoring Red trounced everyone, proving that some cards are more powerful than we could ever imagine. Black and Green were tied in second place, much to their chagrin, as both had thought it would be one of them in first place; checking the tie breaker, it was Green took a somewhat Pyrrhic victory.  While all this was going on, after some four or five months, Ivory was finally getting personal with Yokohama, and it seamed he was finding that it had been worth the wait.  It had taken quite a while to set up and was quite a "table-hog", but it looked much more complex than it appeared to the players on the neighbouring table.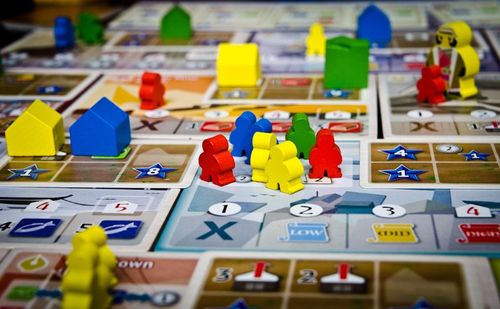 – Image used with permission of BGG contributor punkin312
Yokohama has a lot in common with Istanbul—although it is unquestionably a deeper game, the principle is very similar.  In Istanbul, players take it in turn to move their Merchant around the bazaar to locations where he can carry out specific actions.  Merchants can only carry out actions at locations where there is one of their Assistants or where they can drop off one of their Assistants.  Yokohama has a similar travelling Merchant mechanism, but before he moves, the active player places Assistants, three in different locations or two together at the same location.  The difference is that in Istanbul the distance the Merchants can travel is limited, whereas in Yokohama, they can travel as far as they like, but can only travel through locations that are occupied by one or more of their Assistants.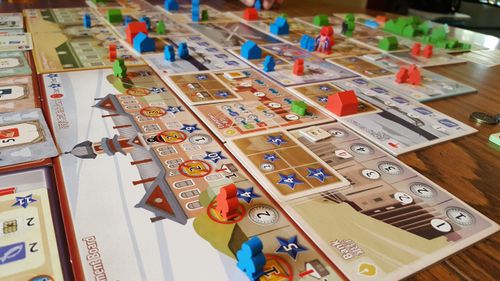 – Image by BGG contributor cmarie
One of the most significant differences between the two games is that the action a player can take depends on the "Power" they have at their Merchant's location.  The Power is the sum of the number of number of Assistants, Stores and Trading Houses present, plus one for the Merchant.  The nature of the locations are more complex too, some just provide resources or money, but others provide opportunities to get Contract cards, victory points or even technology cards that can be used during the game.   Another key difference is that each player is provided with a small number of Assistants at the start of the game.  Although any Assistants are returned when their Power is used to carry-out out an action, players inevitably need more, which they must obtain by visiting the Employment agency (where players can also buy Stores and Trading Houses).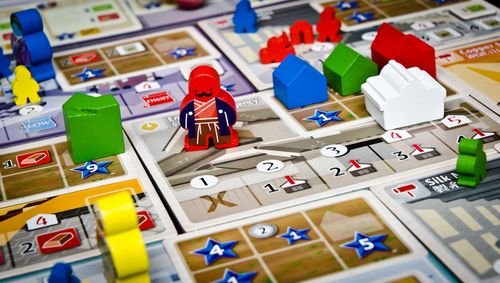 – Image used with permission of BGG contributor punkin312
Despite the similarities, the games have a very different feel about them, though they are both very smooth to play with very little down-time.  Yokohama has a number of end conditions, including drawing the last contract card, filling a given number of spaces in the Church, or Customs locations, or if one or more players has built all their Trading houses or Stores.  In this way, it is up to the players how long the game goes on, which was definitely something that affected the way Blue, Burgundy and Ivory played.  The game began with Blue picking off the highest scoring Contracts while Ivory decided to build some technology, in particular the ability to place a fourth Assistant, something that proved it's worth as he used it extensively throughout the game.  Burgundy followed Blue with the Contracts, but was generally beaten to the most valuable cards.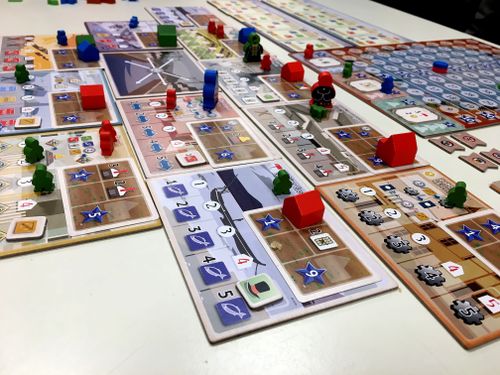 – Image used with permission of BGG contributor HedgeWizzard
As the game developed, all three players began to get into their stride a bit more, and when pine looked on in horror at all the pieces and commented that it definitely looked like an "Ivory sort of game", all three agreed that it was no where near as complex as it looked.  And that was just as well, because Yokohama has a lot of fiddly pieces and does look especially complicated.  Up to this point though, everyone had been hitting the Contract cards quite hard, when Burgundy suddenly pointed out that there weren't many left and if we continued that way, the game would be over quite soon. Clearly nobody wanted that, because everyone switched their attention to other sources of points.  It quickly became clear that all three players had spotted the value the Customs house could provide, and since everyone was beginning to build up a small stack of valuable "Import" crates, it became a race to get there first.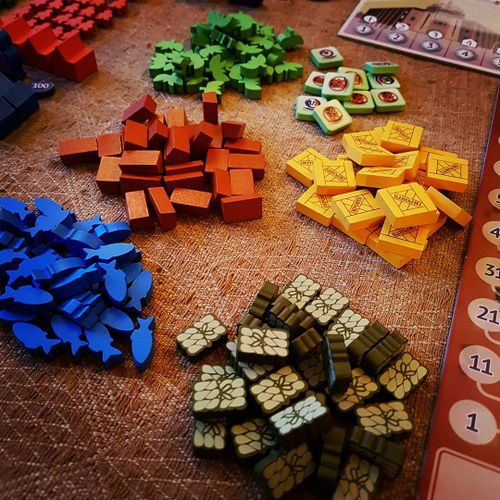 – Image by BGG contributor Roger_Jay
Inevitably, Ivory got to the Customs house first, followed by Blue and Burgundy.  Blue had more Import crates though and was able visit several times and hold the majority.  Ivory spotted that there were points to be had by visiting the Church, which the others had completely neglected and Burgundy took one of the achievement bonuses for having built in three commercial and two production areas.  This was something that everyone had tried to go for, but had been sidetracked from.  Ivory snaffled the bonus for being the first to achieve six bundles of silk with an extremely clever move, while Blue who had always had more money than anyone else picked up the bonus for being the first to have ten Yen.  It was clear that the game wasn't going to go on much longer, but everyone was concentrating on trying to eke out those last few points in what felt like a close game.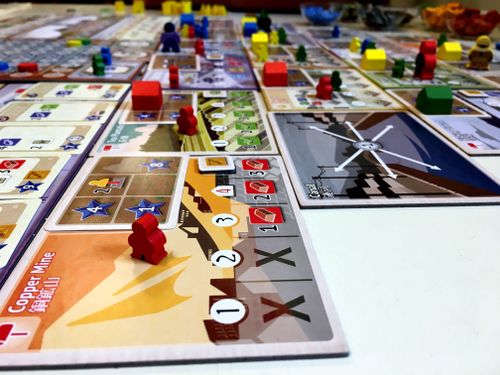 – Image used with permission of BGG contributor HedgeWizzard
It was about this point that Red asked to borrow Blues car keys, only to return a few minutes later, much to everyone's amusement, asking how to use them as she had been pushing the car boot open button without success.  Obviously that wasn't the right button, so with new instructions she tried again, only to return after another couple of minutes still defeated.  In the end, Green went to her rescue, though even he took several tries to get it to work.  On their return Yokohama was coming to a close and the players were working out the final scores.  It was close, but despite Blue's obstructive tactics at the end, Ivory still finished five points clear with one-hundred and twenty-two.  It was clear that everyone had enjoyed the game:  Burgundy's comment was that he'd struggled from start to finish, but loved every minute.  Ivory had clearly enjoyed it too, and was making appreciative comments about variable setups as he helped pack away, though it remains to be seen whether he will invest in an engagement ring…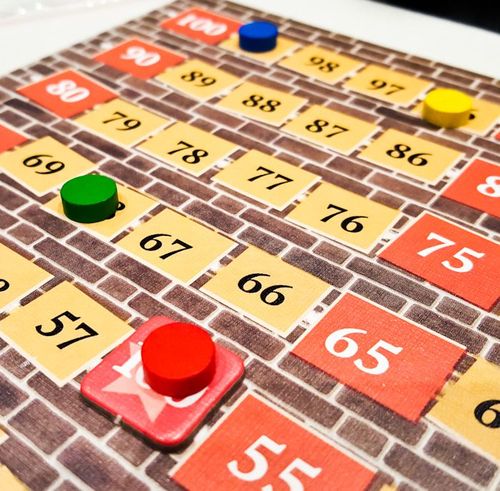 – Image used with permission of
BGG contributor punkin312
Learning Outcome: Some games are worth the wait.