Green and Burgundy were the first to arrive, and were stood on the doorstep at 7pm on the dot.  This was possibly just because they were punctual, but may have been because they knew the first people to arrive would get the chance to set up the track for the evening's "Feature Game", the gorgeous, dexterity car-racing game, PitchCar.  Everyone had played it before except Azure, so he had a quick run of the track while Blue put out snacks and Pink sorted everyone out with drinks.  Like last year, Green and Burgundy designed a single, long, winding path with the idea being that it was a simple sprint to the finish rather than several circuits.
– Image by boardGOATS
Building the track is always a challenge, but Green and Burgundy had decided to maximise the difficulty by trying to use every piece of expansion in the box, including both crosses and the new double jump.  This made the track really quite complex, featuring a wide bridge/tunnel and a couple of jumps (for those brave enough to give them a go).  Rather than the usual "flying lap" to see who starts, each player had a single flick with the longest going first.  Blue took pole, but didn't make it as far on her second attempt and within a few turns was in the lower half of the placings.  Similarly, Purple who had started second on the grid quickly began to move backwards too.  In contrast, Pink and Green who had started at the back of the grid, began a rapid rise through the field.  There were some really spectacular flicks, some that were successful, others that were almost successful, and a few that were horrific failures and received suitable opprobrium.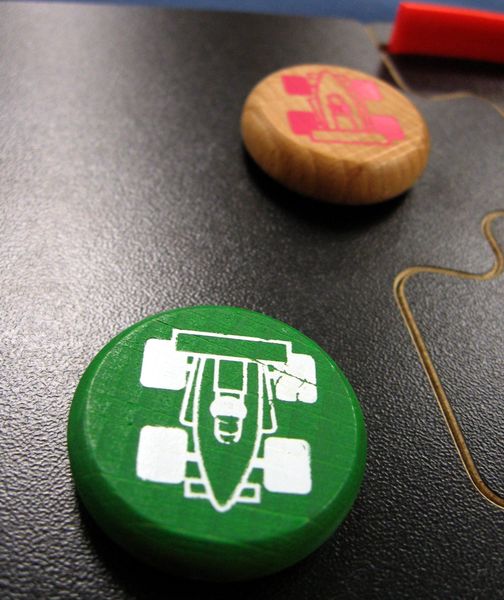 – Image used with permission of
BGG contributor kilroy_locke
The final bridge proved to be one of the greatest sticking points though as it was built from pieces that weren't really intended to be used in that way, making joins quite difficult to traverse.  Blue, who had gone from the front to the back and back to the front, was the first to get stuck, but was forced to watch as Pine cruised past her showing her how to do it.  She proved a slow learner, however, as Green and Pink followed a couple of rounds later, while she struggled to make it over the step.  With the bridge so close to the finishing line, it turned out to be the discriminating factor in the race, and Pine finished the clear winner, with Green finishing a short nose ahead of Pink.  Meanwhile, the rest of the field passed Blue who by now had finally made it onto the bridge, but who seemed to have run out of fuel and limped home in last place, a couple of flicks behind Burgundy, who had been convinced no-one would be challenging him for the wooden spoon.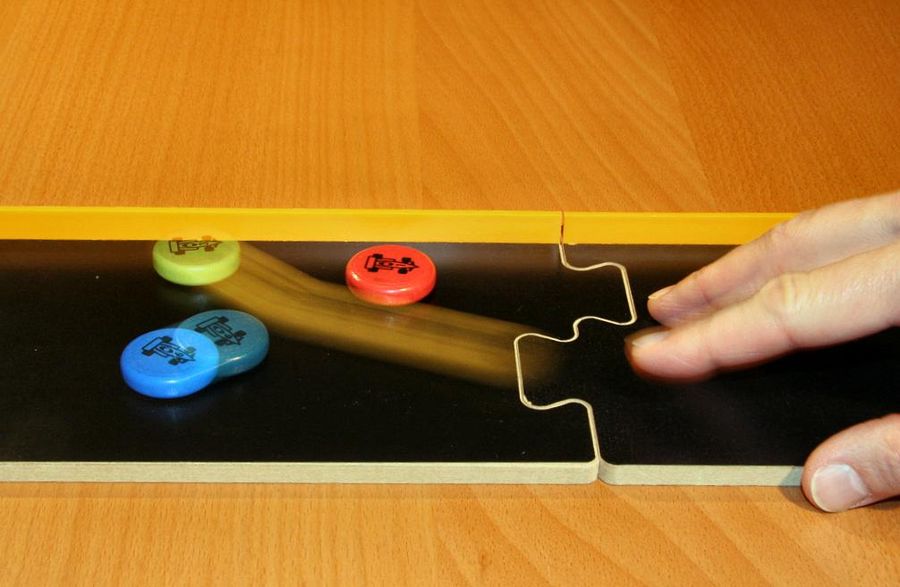 – Image used with permission of BGG contributor garyjames
While everyone else participated in the game of cooperative Tetris that is packing the track back into its case, Blue put the finishing touches to the supper of Cheesy Pasta Bake with fresh vegetables and a side order of Christmas trimmings.  These included "Pigs in Blankets" (or rather "Boars in Duvets"), "Devils on Horseback" and home made crackers that went off spectacularly and sent a shower of tiny pieces all over the room. With food finished, there was a quick game of "Musical Chairs" before everyone settled into two groups for the next round of games.  The first group, Green, Pine, Purple and Burgundy, fancied a bit of piratin' and went for Black Fleet, a fairly simple, but thematic game.  The idea is that each player has a fleet consisting of a Merchant ship and a Pirate ship; there are also two Naval ships which players also control.  So, on their turn, players choose one action card which enables them to move their two ships round the archipelago depicted on the large and sumptuous board.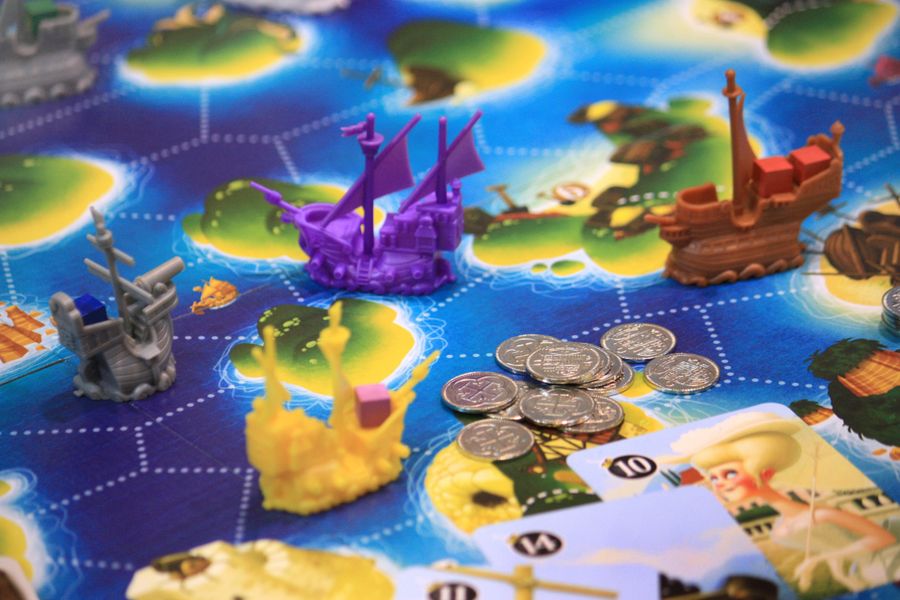 – Image used with permission of boardgamephotos
Before, during or after moving, ships can carry out an action.  Merchant ships can can load or sell goods at an appropriate port, while Pirate ships may attack an opposing Merchant vessel in a neighbouring space and steal one cube of cargo (earning two Doubloons for its trouble) or bury some cargo they've stolen.  Ships can only carryout one action on their turn, so Pirates can only steal or bury on their turn, not both.  And they must avoid the Navy frigates as they do it because they can sink Pirate ships (also earning two Doubloons).  In addition to the Action cards, players can also play as many fortune cards as they like; these break the other rules of the game and and make play a little more unpredictable.  Finally, there are the Development cards, which both give players extra powers and act as the game timer, with the game finishing when one player has paid to activate all their Development cards.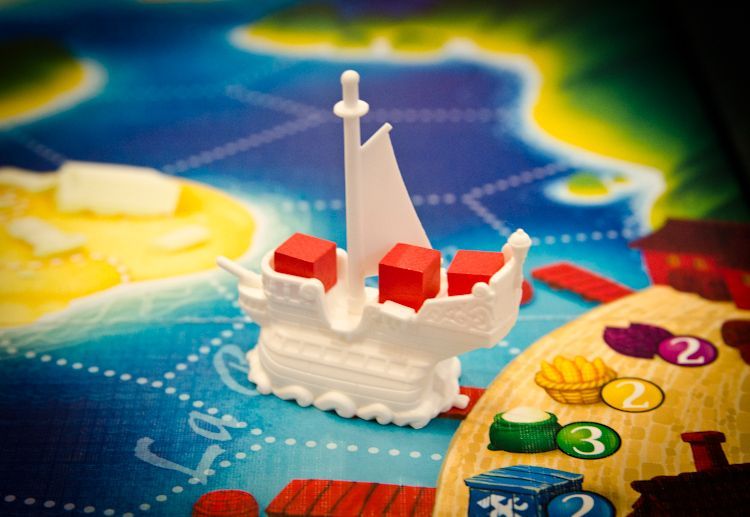 – Image used with permission of BGG contributor punkin312
There was much piratin', tradin' and policin' of the ocean waves. Purple was an unfortunate early target simply for being in the wrong place at the wrong time. Green tried to target Burgundy, but a wily Merchant, he maintained his distance. Initially a lot of action took place on the western side of the board, and while Green began to bring in the money, Pine and Purple struggled to gain traction. Green was the first to activate a Development card, but he was followed by Burgundy on the next turn. By now Purple and Pine were complaining loudly that they were being picked upon, but that's the trouble with this game, it tends to reward the leaders. Green and Burgundy activated their second cards in the same turn, but Green's was of a higher value, meaning that he then activated his third card (the one with the lowest value) the following turn.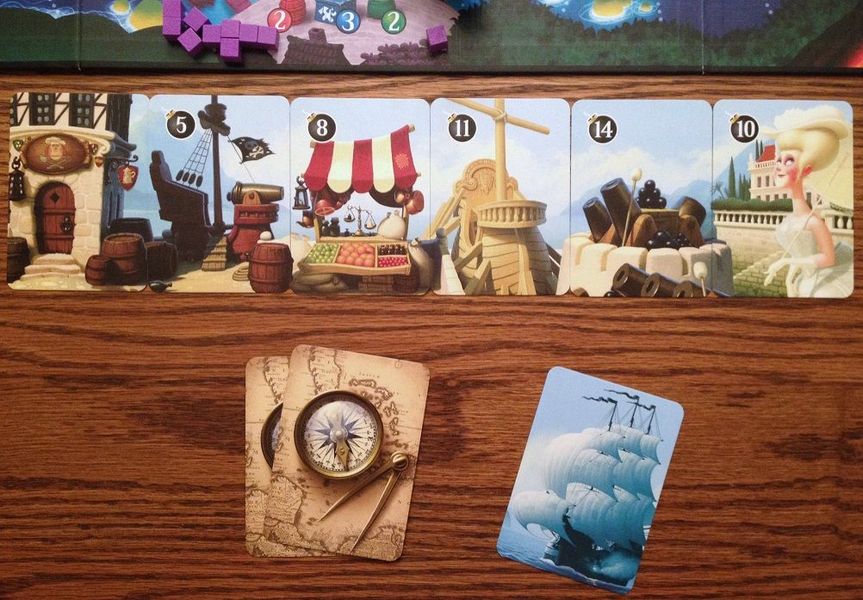 – Image by BGG contributor spielemitkinder
By now the action had shifted to the east, Purple and Pine had finally managed to earn enough to activate a card, but by this time they were so far behind their chances of winning were almost zero and so their tactics changed to "get Green and Burgundy". Unfortunately for Burgundy his ships were closer to Purple and Pine than Green's were so he bore the brunt of their attack. His merchant ship was attacked and raided by both their pirates in the same turn and his path was blocked. Burgundy abandoned his plans to move it and opted to becalm his ship instead taking compensation for his lack of movement.  Green and Burgundy activated their fourth cards in the same turn, but Green had eight Doubloons left while Burgundy only had two. The next turn played out as expected with Green landing a load, activating his final card with four Doubloons left. Burgundy could gain nothing on his final turn, so couldn't activate his final Development card. Unfortunately, the reward mechanism of gives bonuses to those who activate their Development cards first, which often leads to a runaway winner that the others are unable to catch.  That said, it is a fun game and doesn't last overlong, so is a good game when players are in the mood.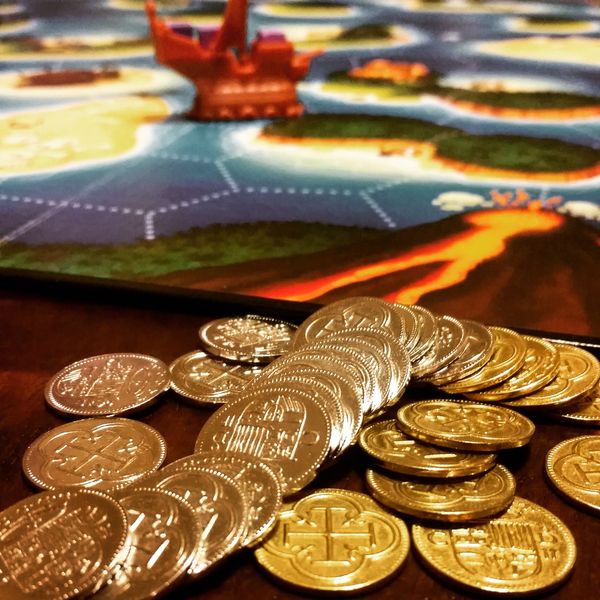 – Image used with permission of BGG
contributor The_Blue_Meeple
Meanwhile on the nearby table Black, Pink, Blue and Azure we trying out a new game, Sagrada.  This is a relatively new game, that we've only played once in the group before, as part of a "Monster Games" session some months ago.  A bit like Terraforming Mars, it is a game that has proved very popular, but was produced by a very small company who did not have the infrastructure or commercial clout to satisfy the demand which vastly exceeded expectation.  In the case of Sagrada, however, the game is one of those games with simple rules, but lots of complexity.  Players build a stained glass window by building up a grid of dice on their player board. Each board has some restrictions on which colour or shade (value) of die can be placed there and players take it in turns to take dice from a pool and add them to their window.  Depending on the difficulty of the starting grid, players start with a small number of favour tokens which act as "get out of jail free" options and allow them to use special tools to rearrange some of the dice, either during "drafting", or sometimes those already in their window.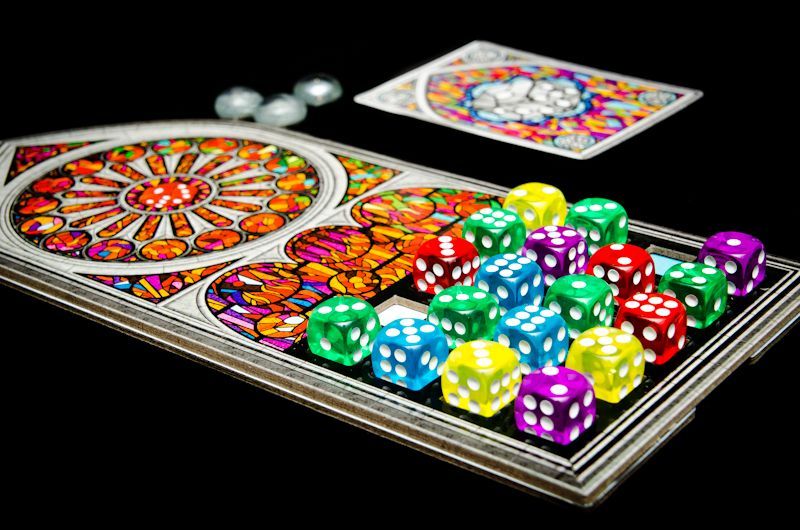 – Image used with permission of BGG contributor punkin312
Points are awarded for fulfilling certain criteria, depicted on cards drawn at random at the start of the game.  Although completing the window can be challenging in its own right if the dice don't roll well, it is the objective cards that are the key to the game.  Each player has their own private objective which scores for the number of pips displayed on dice of a given colour in that player's window.  The public objectives are much more complex though.  In this case, the three objectives were:  six points for every row with all five colours; two points for every pair of dice showing one and two; four points for every set of five different colours in the final window.  Black quickly spotted the synergy between two of the objectives, noting that each row that contained all five different colours would score a massive ten points.  Meanwhile,  Blue had drawn starting grid cards that were very challenging and was forced to make the best of it, and Pink and Azure, struggled to get to grips what they could and couldn't do.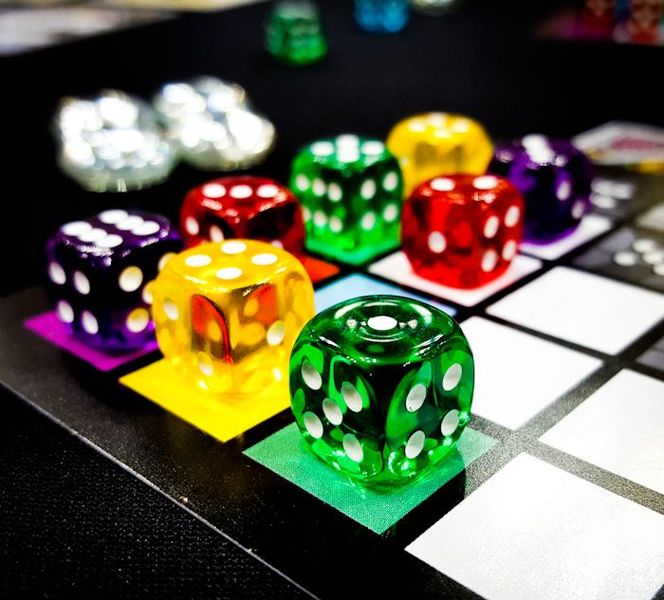 – Image used with permission of BGG contributor punkin312
Each round, players draw two dice from the pool in "Settlers starting order" (i.e. 1, 2, 3, 4, 4, 3, 2, 1).  This was something we really struggled with for no very good reason, and things weren't helped by Blue who got herself into a mess, aggravated by the fact that she kept knocking the dice in her window with her sleeve.  Through it all, Black sailed serenely, finishing with a perfect set of five rows, each with five different coloured dice giving him a massive starting score of fifty which he went on to top up to a final total of sixty three.  Nobody was going to catch him, but Azure finished in second place with a highly creditable fifty-six, some way clear of Blue and Pink.  Both games finished almost simultaneously, and just in time to toast the New Year in and admire the spectacular fireworks in the general direction of our erstwhile gaming home, The Jockey pub.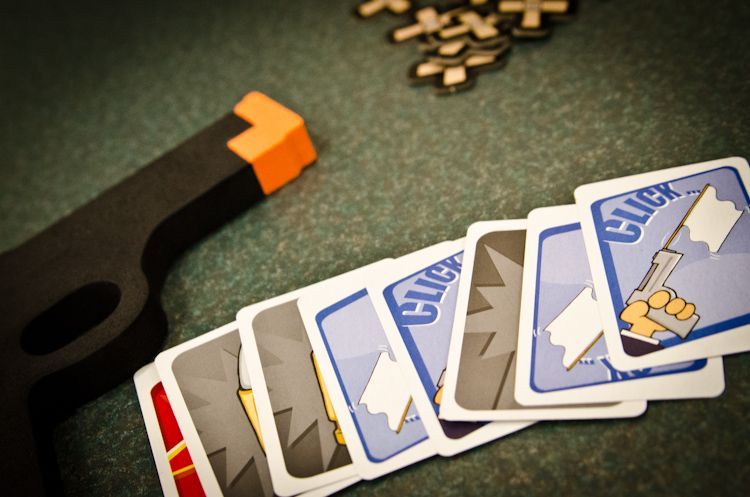 – Image used with permission of BGG contributor punkin312
With the festivities over, it was time to choose our first game of 2018, and we picked Ca$h 'n Guns.  This is a great party game, that we've played at the last couple of New Year parties.  This game combines gambling with a little chance and a dash of strategy, based round the theme of gangsters divvying up their ill-gotten gains by playing a sort of multi-player Russian Roulette.  Although we used some of the standees from the Expansion, this time we didn't use the special powers and stuck to the game play of the base game.  This is very simple:  on the count of three, each player points their foam gun at one other player; the Godfather can then ask one player to change their choice before there is a second count of three giving players a chance to withdraw from the confrontation.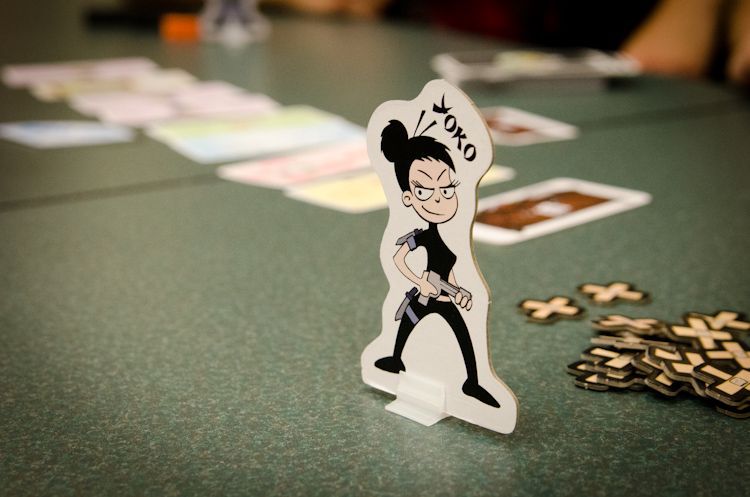 – Image used with permission of BGG contributor punkin312
At this point, everyone still in the round who has a target who has not backed out, reveals whether they chose to load their gun with a blank or a bullet.  The game is played over eight rounds and each player starts with three bullets and five blanks, all of which cannot be reused.  Anyone who gets shot is out of the round and anyone who receives three wounds is eliminated from the game.  We were all quite cagey at the start, so the loot was shared out among the whole group.  This didn't last of course, and it was amid much hilarity that Azure decided to brave the three guns pointed at him only to take three bullets and retire from the game.  It was a few more rounds before the next casualty expired, when Black took his third shot and gracefully slid down the curtain to join the choir invisible.  Meanwhile, Green and Blue were somewhat hampered by being repeatedly targeted, leaving Pink to collect a large pile of artwork and Purple a huge pile of diamonds.  The only real question which of the two was worth the most.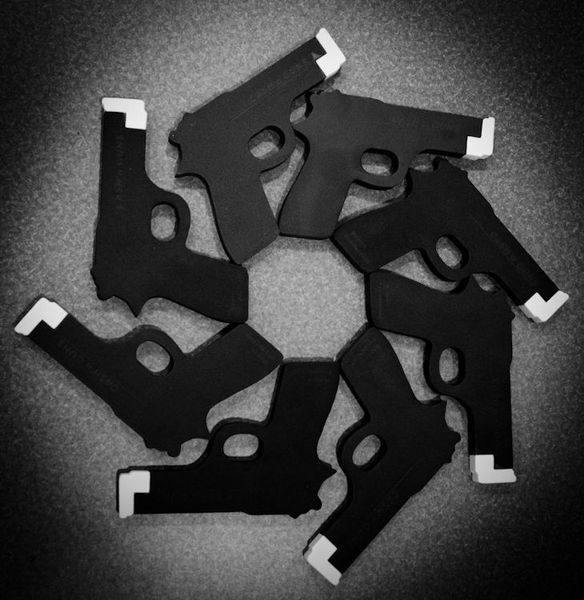 – Image used with permission of
BGG contributor punkin312
Despite picking up the bonus for the most jewels, giving her a total of $122,000, Purple had to settle for second place behind Pink who finished with a fortune of $175,000.  Pink, highly satisfied with his success decided to do some washing up, and Green who had to prepare a roast for the next day decided it was time for him to go to leave.  Nobody else wanted to go though, so it was only a question of what we would play.  It was gone 1am, and nobody was in the mood for anything deep, so we decided it was a good time to introduce Azure to 6 Nimmt!, one of our favourite light, filller games.  A very simple "Cards with Numbers" game, 6 Nimmt! gives players the illusion of control while everything is going well, and shatters that illusion when it all goes wrong.  We usually play the game over two rounds and it is remarkable how differently they can go.  In this case, Azure and Blue came off worst in the first round, however, Purple and Black did particularly badly in the second round, so Azure finished joint second with Burgundy, just two points behind the winner, Pine.  By this time, the rain was pouring down, but it was definitely "late"; it had been a great way to say goodbye to 2017 and welcome in 2018.
– Image by boardGOATS
Learning Outcome:  It is a great way to start the year, with a foam gun in hand and a group of friends to point it at.