As food was being dealt with, Red introduced a new gamer, Olive.  Olive is not new to Eurogames, but was unfamiliar the "Feature Game", Colt Express: Marshal & Prisoners.  This is the second expansion to the train robbing game, Colt Express, and one nobody around the table had tried before.  Pretty much everyone said, "I really like the game, but I wouldn't mind playing something else depending what that is…"   This inevitably led to a lot of debate as to who would play what, but in the end, Blue, Magenta, Pine, Black and Olive settled down to play Colt Express.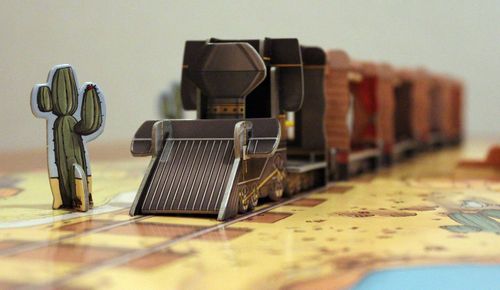 – Image used with permission of BGG contributor lacxox
Colt Express is a programming game where players take it in turns to choose the cards they are going to play (sometimes in the open, sometimes in secret) and then, after all the cards have been chosen, players take it in turns to action the cards.  The cards enable players to move their robbers along the train, onto the roof of their carriage, shoot or punch each other and pick up loot, the ultimate aim of the game.  The thing is, by the time players come to actioning the cards they chose, they have forgotten what their plan was, and usually the game state is completely different to what they thought it would be.  This ends up with lots of people taking a wild swing at empty space, or shooting someone they hadn't intended to target.  The Marshal & Prisoners expansion makes things even more complicated as one of the players is the train Marshal instead of a robber, and has different objectives during the game.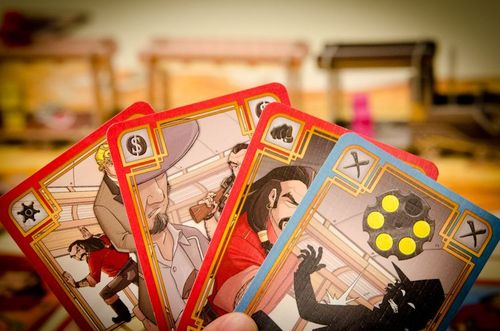 – Image used with permission of BGG contributor Punkin312
Black took the role of the Marshal, who starts the game with five objective cards.  Two of these are to capture other players (drawn at random), and all of them are placed face down to be revealed to the Marshal one at a time, one per round.  He also got a hand of special action cards and two clips of bullets.  Everyone else got the same action cards as in the base game, but additionally got a Brilliant Ideas card.  This card affects how players interact with the other new component, the Prison Car. Basically, its effect depends on the character's location:  if they are not in the prison car then they repeat the previous robber's actions, otherwise they have a choice of freeing a captured robber or rescuing a prisoner who will then work for them.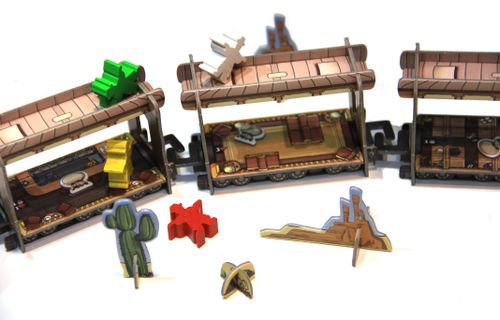 – Image used with permission of boardgamephotos
It took us a little while to remember some of the finer details and also get to grips with the changes caused by the expansion.  Marshal Black quickly captured Olive, a move everyone felt was a bit harsh on her fist visit.  Fortunately for her, Pine was in a chivalrous mood so instead of freeing a prisoner (and getting the associated special power), he liberated Olive from her cell, at a cost of course.  Meanwhile, Magenta had started out as she clearly meant to carry on, by being violent and shooting Blue.  Inevitably, she retaliated in the next round and from there bullets flew in all directions.  Magenta wasn't only busy being a brutal murdering psychopath, she was also busy collecting.  Pine was slightly more gentlemanly about it, but was also making free with the available loot.  Blue's game ended when she too was caught by Marshal Black and nobody saw fit to let her out.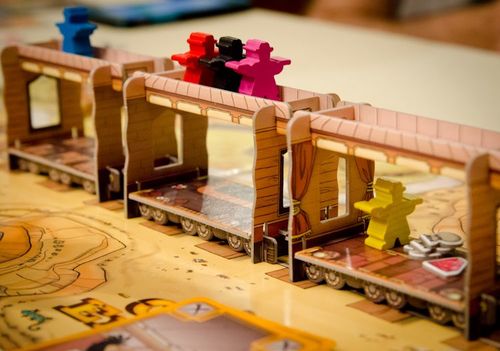 – Image used with permission of BGG contributor Punkin312
Eventually the game came to an end, and Marshal Black was first to declare whether he had achieved his goals.  To win, he had to succeed in four of the five challenges, but unfortunately for him, he'd only managed three of them.  He'd managed to shoot all four people and capture Olive (which was one of his goals), but he'd failed to nab Pine and one of his other tasks was nearly impossible.  This meant everyone had to reveal their stash.  While locked in her prison cell, Blue had been reading the rules and discovered that the Brilliant Idea card would enable her to escape on her own, but by that time, the game was nearly over and the damage was done.  Magenta, Pine and Blue had all managed to empty their clips so scored $1,000 as gunslingers.  Pacifist Olive had managed to pick up the strong box and some other loot, but getting captured cost her $500.  Pine finished second with an excellent $2,200, but it was a long way behind Magenta who finished well ahead with $3,150.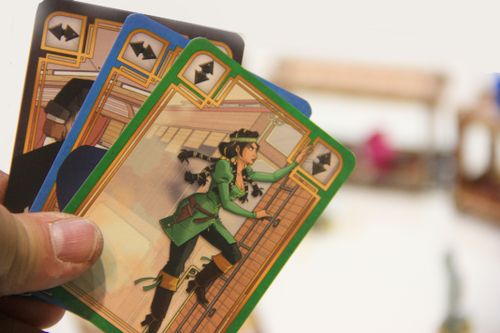 – Image used with permission of boardgamephotos
Meanwhile, after some discussion, everyone else settled on playing Port Royal (with the extra cards from the Expansion).  This is a very simple game; on their turn the active player turns over the top card of the deck.  If it is a Ship that they want, they can take it to give them income, alternatively, they can repel the Ship if they don't want it and have sufficient cutlass cards to do so.  If it is a Character card that they want and can afford, they buy it and put it in front of them.  If they do not want the card they place it face up in the display in front of the draw-deck and draw another card.  The active player continues in this way until they have taken a card, or a Ship is drawn that is the same colour as a ship already in the display and cannot be repelled, in which case, they go bust and play passes to the next player.
– Image by boardGOATS
The clever part of the game is that it uses the same dual use cards trick as Bohnanza, where the cards have one meaning when face up and are coins when face down.  This means some cards get buried in the money piles and may never appear face up, making each game slightly different.  The other clever part of the game is that if the active player buys or takes a card, then everyone else has the chance, in turn, to take or buy a card until there are none left in the row, however, it will cost them one coin, paid to the active player.  In general, each Character card has a special power, but is also worth victory points at the end of the game which is triggered when someone reaches twelve points.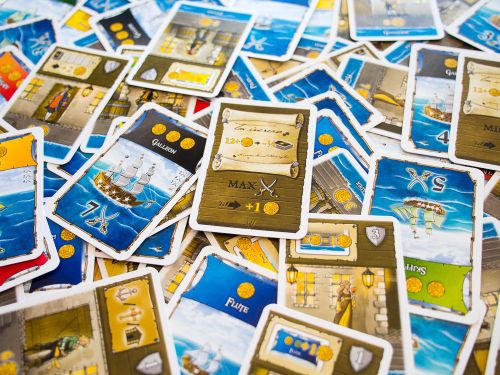 – Image used with permission of BGG contributor msaari
It had been a little while since we last played this and we all felt a little rusty, and Ivory was entirely new to it.  So, the first few rounds were a little tentative but as we got into it, Burgundy opted for his tried and trusted strategy of gaining the Admiral Character card that would give him two extra coins (taken from the draw deck) if there were at least five cards in the row when it was his turn to choose. This worked very well for him initially, so that when the option to get a second came along he took it for a potential gain of four coins when there were five cards in the row just be fore he could choose one.  Whether it was just luck or that the rest of us made an extra special effort, he immediately stopped getting his five card chance after this and only rarely managed his four coins.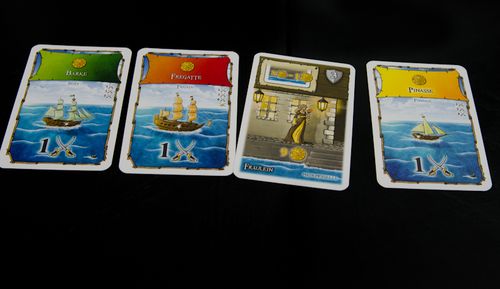 – Image used with permission of BGG contributor Punkin312
After the first couple of rounds we were still finding our feet and everyone really needed more money so we were all trying to get some higher scoring pirate ships. Green was the first to go bust when the third he pulled out was a second green pirate.  Tom was next up and he also bust and so it went on round the table for an (almost) fully busted round, with only Burgundy bucking the trend.  The game was generally bereft of the Expedition Cards (which allow players to exchange some people for more points), and unusually there were only two available in the whole game.  This meant that for Green, Purple and Red who were pursuing and Expedition card based strategy it was a real struggle.  Despite Burgundy's frequent large haul of coins, it was actually Purple that fell foul of the Tax Man first, and Burgundy (by way of having a solitary soldier), kept winning the extra coin for largest defense force when the taxes were due.
– Image by boardGOATS
In the past, Green had done well with Pirate and Sailor strategy, but unfortunately this time he struggled to get the fighting cards he needed.  Ivory was getting a feel for the game and took two red Trader cards that would add to his coin haul whenever he took a red ship.  However, these cards are not as powerful in this game as they at first appear, as it's rare that you get to choose which colour ship you take. Since he had this double bonus, the rest of us made sure he didn't get to use it.  In the end Burgundy made his strategy work and as everyone else struggled to gain traction he sailed to victory finishing with twelve points with everyone else in a very tight game for second place.  It was not clear how long Colt Express was going to go on, but as they were about half way through, a shorter five player game was in order.  This was not an easy choice with the games available which were either way too long or rather too short.  It ended up being Red's favourite, Bohnanza.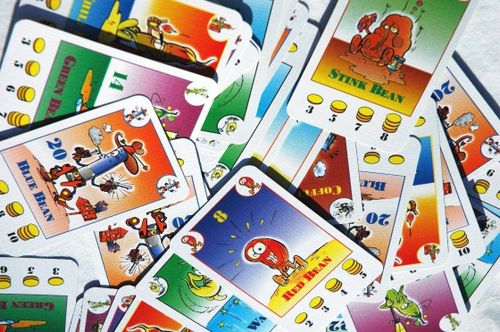 – Image used with permission of BGG contributor spearjr
Bohnanza is a very popular game within the group, but somehow Ivory had managed to avoid playing it.  Everyone else were old hands with it though, so after a quick summary of the rules we had a discussion of the key points of the game.  As far as the rules go, the key part is for everyone to suppress all natural instinct and NOT sort their hand of cards.  This is something that is surprisingly difficult given the OCD nature of most gamers, but is is the crux of the game as the cards must be played in the order they are received.  The only way to work round this is to trade away the cards in hand, which means they must be played straight away, but by another player.  There was a short discussion on this point as the fun of the game is in the trading and if people refuse to trade it becomes tedious.  That wasn't going to happen here though.  Our group are usually fairly free and easy with our trades, but that's not to say we are push-overs. We trade, but we trade hard. Occasionally we might let someone have an exceptionally good deal, but only on the condition that they remember for next time!
– Image by boardGOATS
In many ways this was fairly typical game of Bohnanza.  Green was the first to go for a third bean field (often none of us do), and that was because he wanted to plant his Garden Bean while not getting in the way of his normal game.  There are only six Garden Beans in the game, but if you can get at least two, that gives you a point per bean card.  Although Ivory had already planted and harvested three Garden Beans, Green felt it was worth the gamble that at least one of the others was going to turn up sometime.  He was right about that.  They both turned up in Burgundy's hand and he wasn't trading!  Ivory followed shortly after planting his third bean field, largely for the same reason: he did not want to harvest an incomplete field just yet for a low yield, high scoring bean.  Like Green however, ultimately, the strategy failed.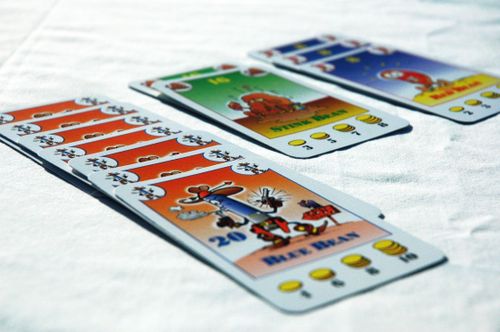 – Image used with permission of BGG contributor spearjr
By this time, Colt Express had finished and since Bohnanza was going with such a swing the "train robbers" decided to join in with their own "Game of Beans" using a second copy.  In many ways it was a mirror of the first game; a case of different people, same game.  So, Blue picked up a third bean field quite early in the hope that it would ensure she could capitalise on some of the rare, but valuable beans she had in her hand, in particular her Garden Bean.  Everyone else tried to manage without, though Olive decided to pick one up in the late stages—a controversial decision in the eyes of the spectators.  Like Green and Ivory, the third bean field didn't help them either though, in Blue's case, largely because it spent the almost the whole game with one solitary bean in it because the rest all ended up in Pine's coin stash. Both games were quite tight, so much so that when the first group couldn't find someone to trade with, they tried to see if anyone on the next table could help.  Red, The Bean Queen, came out on top in the first game with sixteen, with Ivory finishing in second with fifteen and each place thereafter one coin behind the one above.  The winner on the second table also finished with sixteen and was a tie between Pine and Black who'd had a quiet, but obviously effective game.
– Image by boardGOATS
Learning Outcome: Sometimes violence pays.