Blue, Black, Purple, Burgundy and Mulberry were just trying to squeeze in a quick game of No Thanks! before eating, when Green arrived with his parents.  They were quickly followed by the first round of food, so it wasn't until they had finished that the carefully counted piles of chips finally got put to use.  The game is very simple:  players take it in turns to either take the card on the table or pay a chip to pass the problem on to the next player.  If they don't have any chips left they must take the card when it is their turn (and any chips that are on it).  The game ends when the deck has been depleted and everyone scores the sum of the face value of the cards minus any remaining chips—the player with the lowest score is the winner.
– Image by boardGOATS
Last time we played this, Pine dropped a chip, but a thanks to the kind generosity of the people at  Amigo Spiele, it had not only been very swiftly replaced, but they had kindly sent spares in case the something similar happened again.  And they were almost required straight away, when Black managed to send a couple of chips flying.  Having learnt our lessen from last time, we immediately took a quick intermission to play "Hunt the Game Piece", finding one quickly, while the other perched precariously over the same large gap that the had been so disastrous last time.  The rogue chip was rescued without further calamity, but for the avoidance of other mishaps, we might have to put tissue paper down the hole for next time…
– Image by boardGOATS
The game of No Thanks! was a bit incidental around all that excitement.  Burgundy took the first card in an effort to get ahead, but it wasn't the best card to build from.  Purple and Blue were forced into trying to build runs from the ends, which is always risky, but can yield huge rewards.  This wasn't going to be one of those times though and Purple's problems were compounded by the fact that she only discovered the twenty-three in the middle of her long run was missing when it came to scoring.  Mulberry was very tempted by some if scoring cards, but despite the fact she was pushed to her last chip, she managed to avoid getting herself into a mess.  Black played a very canny game building a small medium value run, not tempted to take a chance on gaps.
– Image by boardGOATS
With everyone finished eating, it was time to decide what to play.  Black had suggested that Dixit might be suitable for Green's parents.  However, Green was keen to play the "Feature Game", Celestia (a remake of the older game, Cloud 9), and as Black was the only one who knew the rules, that meant he was up for that too.  Burgundy was less keen, so in the end, as Celestia is better with more players, and to avoid too much shuffling of seats, Blue, Mulberry and Burgundy left everyone else to board the airship.  In this game there is no board, instead there are nine city tiles making a path.  Players then take on the roles of adventurers exploring the cities of Celestia by airship.  At the beginning of each journey a new captain is identified and they begin by rolling the dice to discover the challenges they will face.  Before the Captain faces these challenges, however, however, each player must decide whether to stay on board, or leave the airship.
– Image by boardGOATS
At each city there is a pile of treasure cards (mostly just victory points) which get better as the journey progresses.  When a player leaves the ship, they take a treasure card at that city, forfeiting the potential riches to come.  Once everyone has made their decision, the Captain has to deal with the challenges by playing equipment cards.  If the Captain is successful, the airship moves on to the next city where a new captain is identified who rolls the dice and so on.  If the Captain is unable to deal with the challenges they face, the airship crashes, returning to the first city and none of the passengers on board get any treasure.  Those passengers who left the ship then get back on board for the start of the new journey.  When one  player has a total of fifty points the game ends.
– Image by boardGOATS
This time, the group added the A Little Help expansion which adds cards that players can use to help out the Captain.  There are a few extra cards like The Bandit and The Mooring Line as well, which players who are not on the ship can use to make life harder for those trying to get to the next city.  The group also added the lifeboat from the A Little Initiative expansion, which enables players to continue on their journey alone.  One of the key parts of Celestia is hand management as cards are scarce.  Players start with a hand of cards, six cards in a four or more player game and only get to draw a card when the journey ends, either due to a crash or arriving at the ninth city.  With the inclusion of the expansion cards, there seemed to be quite a bit to remember when learning the rules, but as ever, once underway the game flowed and the rules became clearer. Even so there was still a lot of double checking of which cards could be used when. Black and Purple had both played the game before and knew how quickly things could get difficult.
– Image by boardGOATS
So Black and Purple cashed in their travel tickets early in the first round and hopped off the airship quite early on, leaving everyone else wondering if they were missing something as they sailed onwards. In contrast, Green and his parents (who had not played before) stayed on board and as a result took a lot of points.  This all seemed a little too easy and on rechecking the rules it became apparent that something was wrong. Players had been drawing cards after arriving at each city as the Captain changed rather than after it crashed, which meant everyone was awash with cards.  From then on the group played correctly, but the damage had already been done.  The balance of cards had been destroyed, and Green and his mum had an unassailable lead.  Green came out he victor with some canny play that allowed him to hop on and off the airship, but it was a hollow victory as those first twenty-five points were not fairly won.  The game definitely deserves another try though as it is a clever and fun game when played correctly.
– Image by boardGOATS
While the airship was being filled, Blue, Mulberry and Burgundy debated what they were going to play.  Orléans was very tempting, but as Celestia was supposed to be relatively quick, the trio decided to play the shorter Tokaido instead.  This is a simple, but very clever game where players are traveling the East Sea Road from Kyoto to Edo (Tokyo), meeting people, tasting fine food, collecting beautiful items, discovering great panoramas, and visiting temples and wild places.  The winner is the player who discovers the most interesting and varied things and is the most initiated traveler.  The really clever part of the game is the turn order, because the player at the back goes first.  Although this is an unusual mechanism, it is not unique and is also seen in Glen More, an out of print game that is getting a face-lift and reprint this year as Glen More II: Chronicles.
– Image by boardGOATS
The idea is that each location on the road can only be occupied by one player.  Players only ever move forward and the player at the back has a free choice of which empty location they move to.  They can choose to stop at the first empty location which means they will be able to maximise the number of locations they can visit, or they can choose to skip a few locations potentially gifting these to their opponents, but ensuring they stop at the locations they will profit most from.  Thus the game is all about optimising movement, compromising visiting the best locations, visiting the most locations and preventing opponents visiting the locations they want by getting there first.
– Image by boardGOATS
Each player starts with a character card which gives them a different start condition and a special power.  Burgundy was positioned at the front playing Yoshiyasu enabling him to draw a second card whenever he encounters someone, and choose which one to keep Encounter cards give a one-off bonus, so being able to choose instead of relying on random draw is a nice advantage.  Mulberry started in second position on the track and as Kinko, was able to pay one Yen less for her food at mealtime.  There are several stops for food along the way and money is always scarce so anything that saves money is always good.  Blue began at the back (and therefore started), playing Sasayakko who gets the cheapest souvenir for free whenever she buys two or more when visiting the Village.
– Image by boardGOATS
In this game, it is essential that players make the most of their special powers, so Blue visited as many Villages as she could, collecting as many sets of souvenirs as she could.  To do this though, she need lots of money and money is not easy to come by.  Similarly, Burgundy stopped to make as many encounters as he could and coupled this with visiting the Hot Springs.  Hot Springs simply give a two or three point card drawn at random from a deck, with the three point cards depicting monkeys playing in the spring.  Somehow, every time Burgundy drew a Hot Spring card, it featured monkeys, while Blue and Mulberry received no monkey-love; after his fifth card it was something they really began to resent.
– Image by boardGOATS
Mulberry was the first to score points and Burgundy wasn't far behind.  Blue was slowest off the mark, but eventually caught up and overtook the others, romping into the lead, helped by Burgundy who persisted in moving Blue's token when he scored points.  That wasn't the full story, however.  At the end of the game points are awarded to the players with the most Hot Spring cards, the most Encounter cards, the most Souvenirs, for donating money at the Temples, and for the player who spent the most on food.  With Burgundy taking the vast majority of these points, he caught up and, after several recounts, both Blue and Burgundy finished on eighty-one points with Mulberry not far behind.  With more achievement cards, Burgundy was the clear winner, but he'd tried to be generous with his points throughout the game and insisted on sharing victory with Blue (to go with the lack of sleep they shared).
– Image by boardGOATS
Celestia was still going and wasn't looking like it was going to be finished very soon, so Blue,  Burgundy and Mulberry decided to try something else.  After a bit of discussion, they opted for a new game by the producers of the Spiel des Jahres and Deutscher Spiele Preis winner, Azul, that had been brought back from Essen late last year.  Blue had played Reef with Pink, Black and Purple after The Gallerist during a recent "Monster Games" session, but otherwise it hadn't made it to the table.  It isn't a complex game though and is very quick to teach:  on their turn, players can either take a card from the pool of face up cards, or play a card, adding the pieces of coral depicted in the top half to their reef and then scoring the pattern shown in the bottom half of the card.
– Image by boardGOATS
The reefs are a three by four grid and the pieces of coral can be played anywhere and can stack up to a maximum height of four.  Scoring the patterns is as viewed from above, and each one can be scored several times with different patterns worth different numbers of points.  This means there are two approaches to the game, scoring low but frequently, or building to one large score.  Mulberry opted for the first approach and facilitated this with single colour piles of coral.  Blue tried the alternative strategy, building to a large twenty-plus point score, while Burgundy tried a mixture.  As a result, Mulberry quickly built up a healthy lead, and the question was whether the others would catch her or not.  It was close, very close, with just four points covering all three players.  This time though, little and often was the winner, and Mulberry finished with forty-two points, one more than Burgundy.
– Image by boardGOATS
Celestia was still going, so Mulberry stayed to play one last game, San Juan.  This is an old game from the Alea Small Box Series that is sometimes referred to as the card game of Puerto Rico.  The idea is that on their turn, the active player chooses a role, Builder, Producer, Trader, Prospector, Councillor and then everyone takes it in turn to carry out the associated action.  The person who chose the action gets to use the privilege of the role (pay one less for building, trade or produce one extra item etc.).  One of the clever things about the game is that cards have multiple purposes, similar to Bohnanza where cards can be money or beans.  In San Juan, each card can be played onto the table as a building, but when in hand they can be used as payment, and during the game they can be used as produce as well.  Each card has a value when built and there are a small number of special buildings whose score depends on the other buildings in play.  The game ends when a player builds their twelfth building.
– Image by boardGOATS
Mulberry was tired and really struggled, so Blue and Burgundy tried to help explain what she could do, certain she'd get the hang of it.  They stressed the importance of not getting left behind on the building, a message Mulberry took to heart, building at every opportunity.  Blue made life difficult for everyone though, building a Guardhouse reducing everyone else's hand limit to six.  Burgundy saw one of the valuable six point plus violet building cards early in the game, but that was it, so he ended up building lots of production facilities.  Blue on the other hand built lots of violet buildings and with it a City Hall giving her one point per violet building.  In the meantime, Mulberry kept building so when Blue failed to spot she had eleven buildings she accidentally triggered the final round.  It was very, very tight, but somehow, Blue just kept her nose in front finishing with twenty-three points, one more than Burgundy and two more than Mulberry.
– Image by boardGOATS
In the meantime, Celestia had finally come to an end.  With Green and his parents wanting to leave and Pine finally putting in an appearance after a long day bird watching in the West Country, the group we went for a very short game, one about birds: Pick Picknic.  This game combines simultaneous card selection with bluffing and a slice of luck.  The idea is that there are six farm  yards of different colours, if someone plays the only chicken card of a given colour, they get all the grain at that coloured farm.  If multiple players go for the same coloured yard, then players can either agree to share the corn in any way that is mutually acceptable or roll the die for all of it.  Foxes don't eat corn, however, they only eat chickens, so if someone plays a fox card, they will eat any chicken cards of that colour.  This time there seemed to be a lot of hungry foxes, and lots of fighting birds.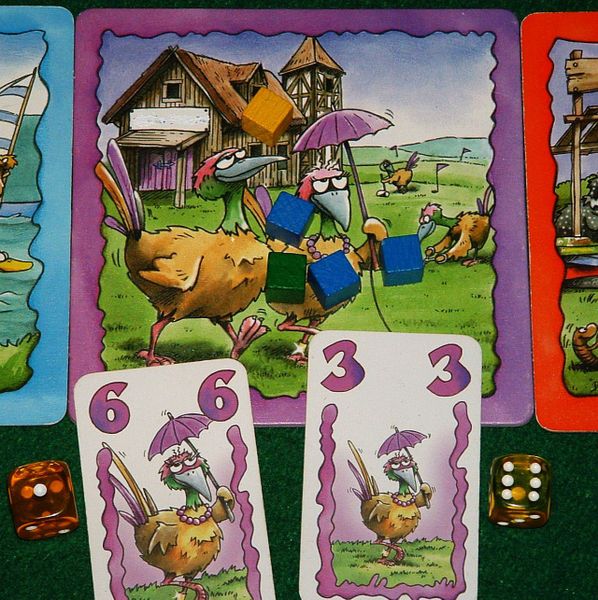 – Image used with permission of BGG reviewer EndersGame
These were accompanied by the usual exclamations as people realised that their attempt to grab a pile of corn was stymied by someone else's decision.  It was a close game, with four players within four points of each other.  It was tight at the front too with just a handful of points between first and second place, but it was Purple who just edged Green's father into second place.  With that over Family Green headed off and, as Burgundy was still occupied playing San Juan, everyone else felt it was a good opportunity to play Splendor as someone else would have a chance to win.  Splendor is a game we've played a lot and it is ideal for late in the evening when everyone is tired because it doesn't need too much thought.
– Image by boardGOATS
Splendor is very simple:  players take it in turns to take gems (chips) or use the gems to buy cards from the display.  Cards can be used to buy other cards, but some of the cards also give points, and collecting certain combinations of cards allows players to claim a Noble tile giving more points.  Essentially, it is a race to fifteen points, though as players finish the round (so everyone gets the same number of turns), it is the player with the most points who wins.  This time the game started with everyone evenly matched.  There was a lot of overlap in the colours required to claim Nobles tiles, so they were claimed at much the same time.  Then Black took the lead and although both Purple and Pine were close to adding to their respective totals, Black's score of nineteen was unassailable.
– Image by boardGOATS
Learning Outcome:  Close Games are Good Games.