The evening began with Blue handing out Essen orders to Red (Sole Mio!, a relative of Mamma Mia!), Green (Thunderbirds and all the expansions), and Burgundy (lots of Concordia and Orléans bits).   Just to make sure Ivory and Pine didn't feel left out, she had also brought a whole flock of boardGOATS to pass round – all suitably decorated.  There was a lot of discussion of the games at Essen, but Spiel has grown so much over the last few years that it was impossible to see everything as was evident when Green trotted out the fruits of his research and what was "hot".  Altiplano, Clans of Caledonia, Photosynthesis, Gaia Project, Charterstone, and Noria were all completely missed for various reasons, but Pink and Blue had managed to look at Agra, Meeple Circus, and Kepler-3042 and had picked up copies of Keyper, Queendomino, Mini Park, Montana, Captain Sonar and Azul (Blue's tip for Spiel des Jahres next year) among other things, all of which will no doubt appear over the coming weeks.
– Image by boardGOATS
With the chit-chat and pizzas over, it was definitely time to play something.  With six of us, it was almost certainly two games which was fortunate as Green wasn't keen on anything Halloween themed, which ruled out the "Feature Game", Dead of Winter: A Crossroads Game. That wasn't a problem though, as Pine was keen to play and everyone else was happy to be a third.  In the end, it was Blue that joined them as she hadn't played it before.  With two novices, that meant a full explanation of the rules.  Dead of Winter is a semi-cooperative game.  There are a number of things that make it different from other, older cooperative games like Pandemic.  For example, there is a group objective, but each player also has a secret, personal objective:  players must achieve both to win.  There is also the addition of a traitor, who's objectives are counter to everyone else.  Both Pandemic and Shadows Over Camelot have this mechanism integrated as part of an expansion, and in Dead of Winter, this is also optional, or (like another of our favourites, Saboteur) can be played in such a way that there may, or may not be a traitor present.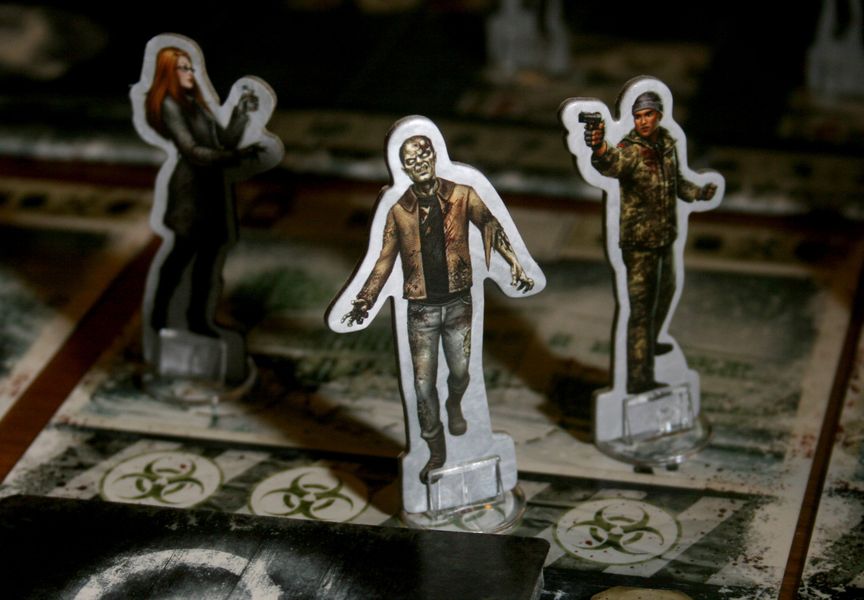 – Image used with permission of BGG contributor mikehulsebus
Perhaps more significantly than these though, is the nature of the ticking clock.  In Pandemic there is a deck of cards that which dictate what happens and, ultimately, how long the game is going to go on for as the game ends if they run out.  The situation is similar in the other Matt Leacock games like Forbidden Island and its sequel, Forbidden Desert.  In contrast, Dead of Winter, is played over a set number of rounds.  There is still a deck, the "Crisis deck", but this sets the tone of the round and provides the "team" with a task that must be completed before the end of the round otherwise nasty things happen.  In general, the Crisis sets a tithe of cards that must be forfeit by the "team" during the round.   Of course, as in real life, the "team" consists of people who have different agendas, and one who may be out to sabotage the colony…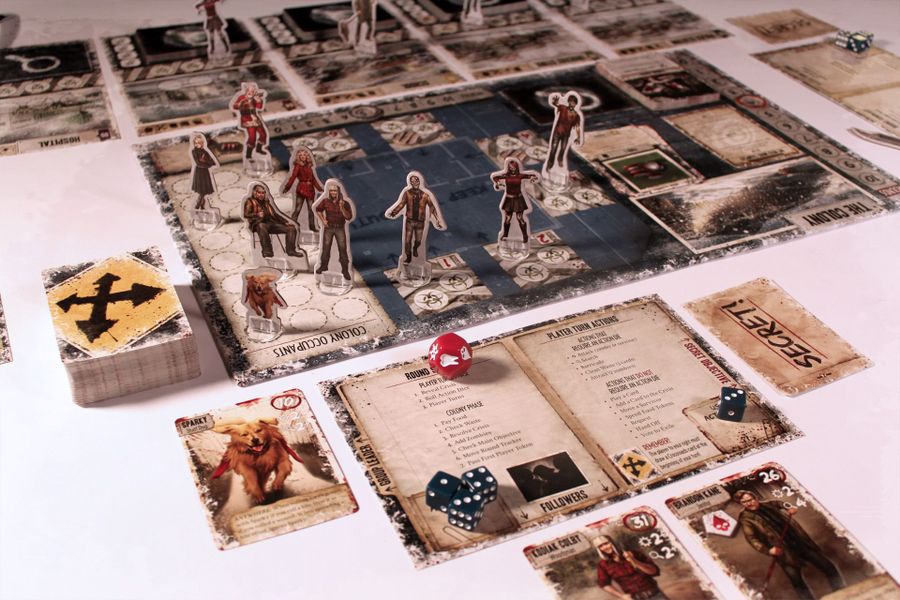 – Image used with permission of BGG contributor adamfeldner
So, at the start of the round, a card is drawn from the Crisis deck and then everyone rolls their dice and the first player takes their turn.  This begins with another player drawing a card from the Crossroads deck.  This player is supposed to read only the first line, unless the condition is fulfilled in which case they read the rest of the card.  These are quite clever, as they end with two options—the eponymous "Crossroads". The text on these cards adds a lot of atmosphere as well as adding to the sense of impending doom as sometimes the card might be activated by something the active player does.  Each player starts with two Survivors and the active player has one die per character and an extra one.  The Survivors have special abilities and the dice are "spent" by them carrying out actions.  For example, a player could attack a zombie which costs one die, but the value of the die needed will depend on the character:  James Meyers who is a bit of a wuss, is rubbish at fighting and needs a six, on the other hand Thomas Heart is a violent sort who loves a good brawl and anything at all will do.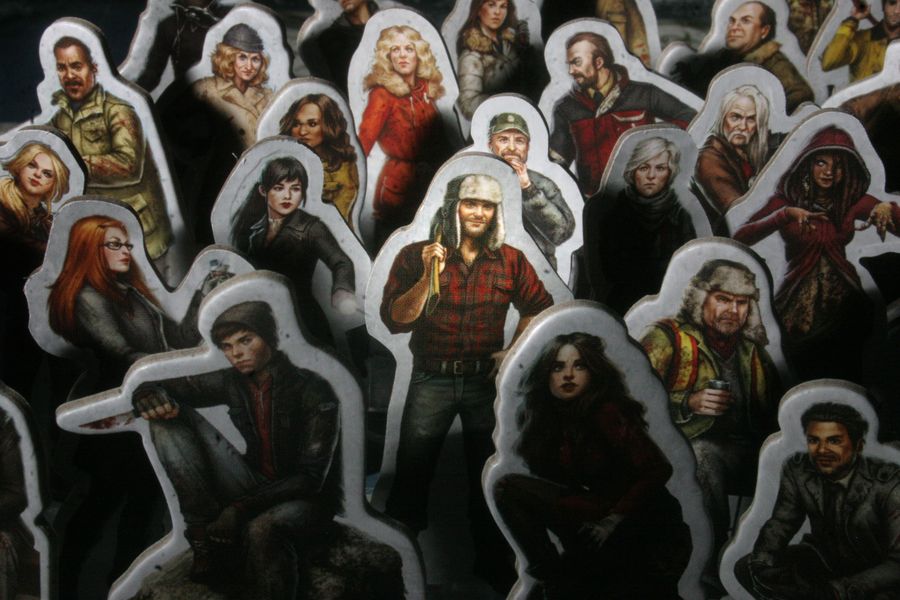 – Image used with permission of BGG contributor mikehulsebus
As well as attack a zombie, there are a number of other actions that require a die, including search a location, clean the waste, and build a barricade.  Searching is the only way players can get Item cards.  Around the central game board, there are a number of special locations and each one of these has a pile of Item cards.  The distribution of the different types vary and depend on the location, for example, weapons are unlikely to be found a the hospital, but medicine is quite prevalent.  Like attacking zombies, ability to search depends on the different characters and some Survivors have a special ability which means they are good at searching in a particular location.  In contrast, anyone can build a barricade or take out the bins, so these actions can be carried out by anyone with any dice, as long as they are in the right place.  In addition to actions that require a die, players can also play a card, help deal with the crisis, move a Survivor, turn food cards into food tokens, request cards from other players, hand cards to other players or initiate a vote to exile someone.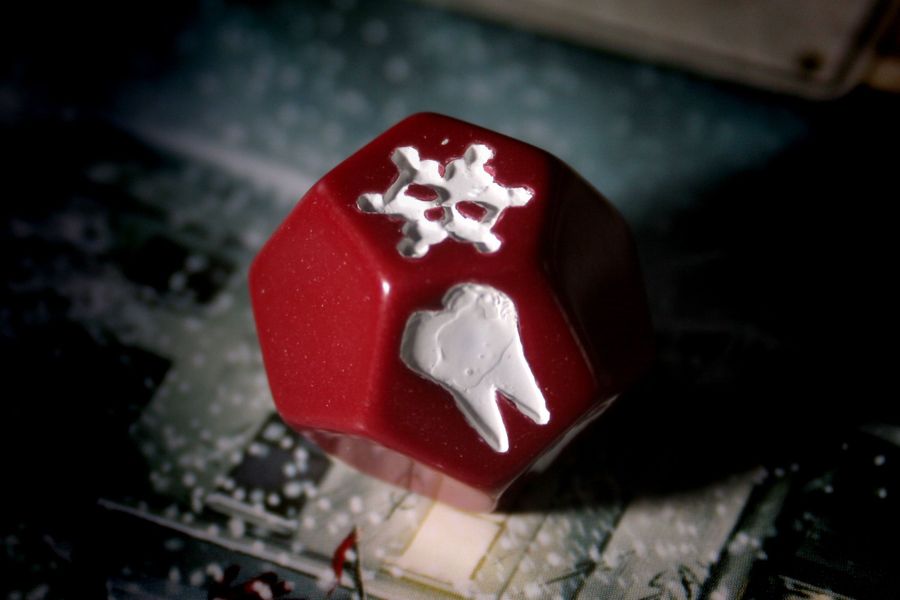 – Image used with permission of BGG contributor mikehulsebus
While there are lots of things players can do, there are also hazards along the way.  For example, moving from one location to another is risky, so the Survivor must roll to see what damage the exposure did.  It may be that they were well wrapped up and nothing happened, but it is also possible that they were wounded in the attempt, or caught frostbite which is nasty because the effect progresses in later rounds.  Worst, of course, is getting bitten because the Survivor dies straight away and the effect spreads to other Survivors at the same location (who also have to roll the exposure dice).  Once every player has taken their turn, the zombies swarm, arriving at each location that where there are Survivors, with extras attracted by noise.  If a location gets overrun by zombies, they start killing Survivors.  Every time a Survivor dies, they Colony's moral drops.  The game ends moral gets to zero, the requisite number of rounds have been played or if the main objective has been completed.  Our main objective was simply to survive the five rounds we were to play.  Blue began with a serious lack of practical ability in David Garcia (accountant) and James Meyer (psychologist).  Fortunately that was made up for by Ivory and Pine who began with Thomas Heart (soldier), Andrew Evans (farmer), Janet Taylor (Nurse) and Edward White (chemist).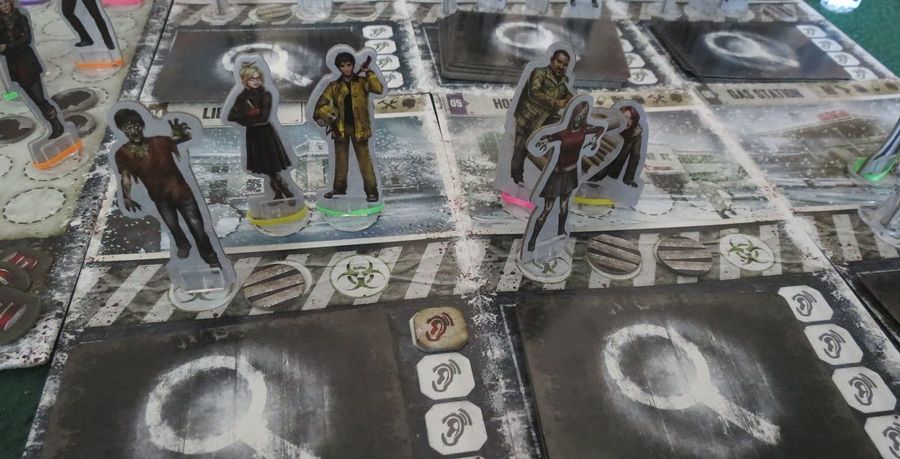 – Image by BGG contributor The Innocent
Andrew Evans, Janet Taylor, Edward White and David Garcia all had special abilities when searching and Thomas Heart was excellent fighting off zombies, while James Meyer just had an especially uncool anorak.  We started well and for the first couple of rounds, the zombies were only faintly annoying and the biggest issue was fulfilling the requirements of the Crisis Cards.  Early on, Ivory armed Andrew Evans with a rifle which enabled him to take out any one of the undead, something that proved very handy and made up for the enormous amount of noise Andrew Evans had been making during searching.  During the second round, Blue gained an extra couple of characters (Buddy Davis and Harman Brooks), which gave her extra dice and more special abilities she could use, but the downside was they came with a load of extra helpless survivors (folk that are a bit of a dead-weight and just need a lot of feeding).  It seemed like a gamble, but in the third round, Ivory "found" Sophie Robinson (a pilot) as well.   By the end of the third round, it was clear the message had got out to the zombie hoards and they were coming to get us (possibly due to the racket that Ivory had been making with Andrew).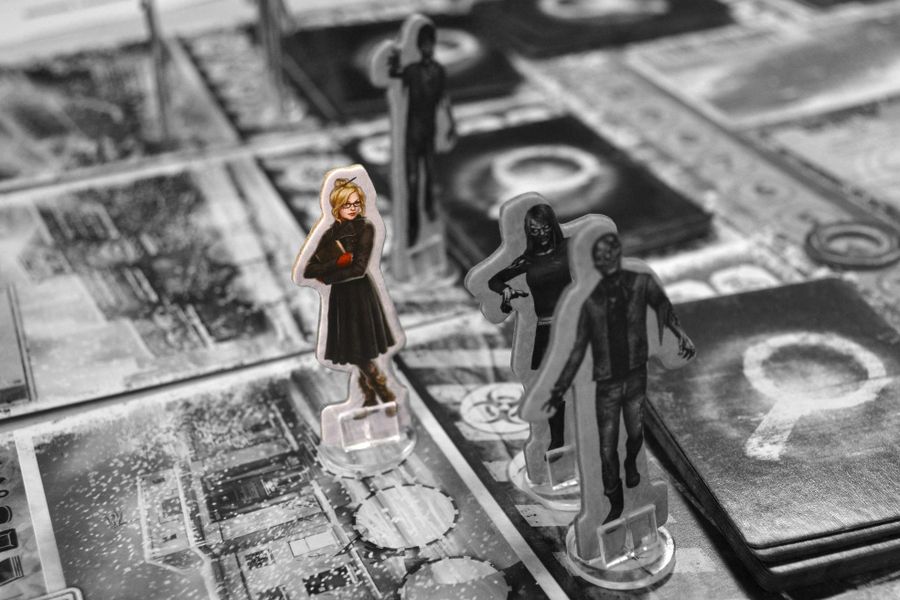 – Image used with permission of BGG contributor kilroy_locke
The fourth round was tight especially as everyone's attention began to turn to their secondary goals.  The otherwise fairly useless James Meyer suddenly found himself some courage and a baseball bat and set about the un-dead with great gusto.  Pine decided that he really, really wanted that extra character that he'd been persuaded out of earlier in the game and acquired Alexis Grey, a librarian with an ability to search the library efficiently.  Going into the final round, we had to be a little careful in a couple of areas and moral was low, but it was clear that unless one of us turned out to be a traitor, the game was won.  And so it turned out: there was no traitor and it was just a question of who had succeeded in their secondary goal.  At the start of the game, Pine had been highly conflicted, needing medicine for Edward White's special power, but also having a goal of needing to finish with two at the end of the game.  Since he started his final turn with no medicine, he thought the boat had sailed, but with his very last action, he happened to draw two medicine cards to satisfy his second objective.  Ivory also needed two medicine cards for his goal and had managed to hoard these throughout the game.  Blue's challenge was more difficult as she needed the colony to have lost three members to the hoards.  Despite her best efforts to kill off some of her own Survivors, Pine and Ivory had generously helped keep them alive, so she failed dismally, the only one not to complete both victory requirements.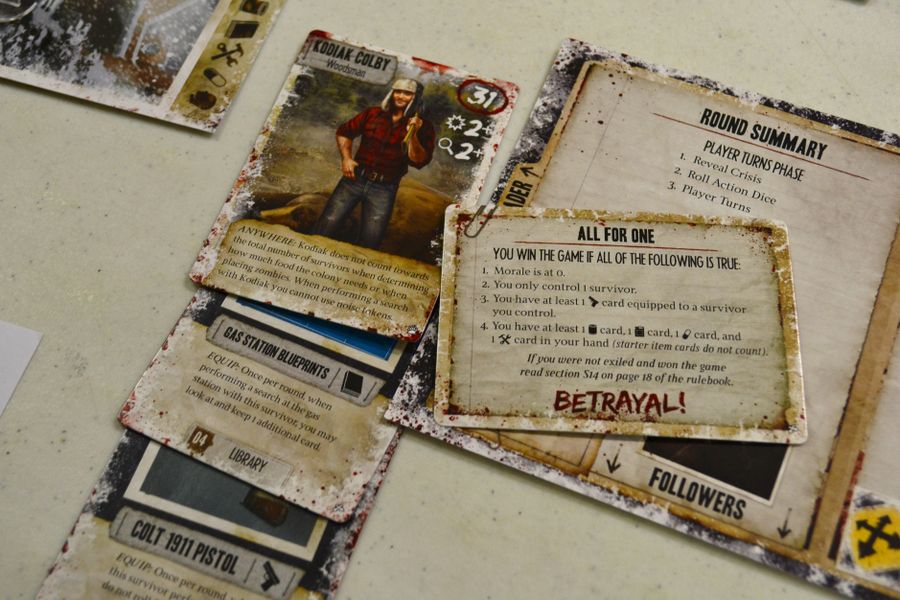 – Image used with permission of BGG contributor kilroy_locke
Although we had all enjoyed the game, it was unfortunate that there wasn't a traitor as the lack of an enemy within meant it felt a bit like communal puzzle solving.  It was also unfortunate, that so very few of the Crossroads Cards actually had an effect as they mainly affected characters we weren't playing with.  This wasn't helped by our habit of forgetting to draw them and/or reading too much of the card.  We felt the Crossroads Cards would have been more interesting with extra players, but it was already a long game and we felt the down-time would really drag with more.  Certainly, some turns, especially as Blue and Ivory acquired additional Survivors, seemed to take an unbelievably long time already.  Certainly four would probably be the maximum we would want to play with, though we would also increase the likely-hood of a traitor as we felt we'd missed out on half the fun.  In conclusion, Red and Burgundy's comment at the start now made sense, "It's a good game, but if there's something else more interesting about…"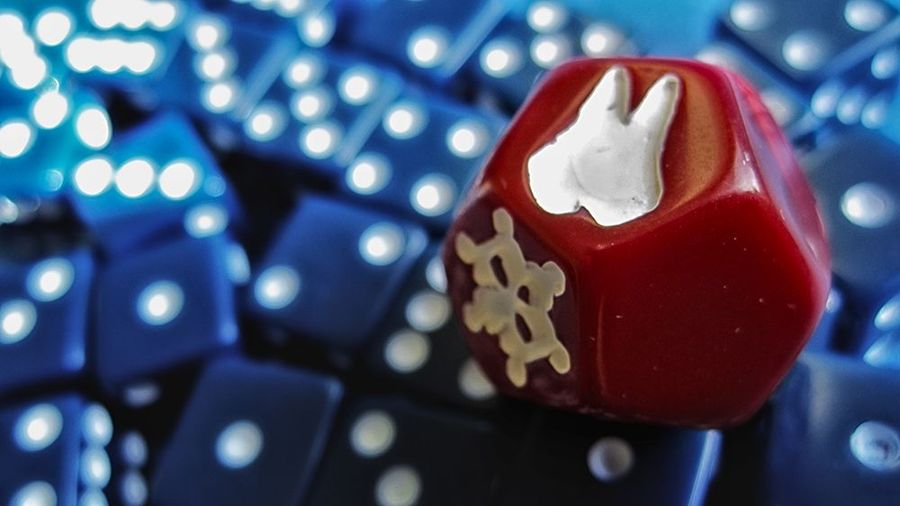 – Image used with permission of BGG contributor zombiegod
Meanwhile, on the next table, Green and Burgundy were teaching Red how to play Puerto Rico.  This is a much older game which was the highest rated game for many years and is still well regarded.  Red had never played it and it was a very long time since Burgundy or Green had played it as well, so they were keen to see how it held up against some of the more modern games.  In Puerto Rico, players are plantation owners in seventeenth century Puerto Rico growing up to five different kind of crops: corn, indigo, sugar, tobacco, and coffee. Each plantation owner must try to run their business more efficiently than their competitors. First they must grow their crops then they must store them efficiently. Finally, players must sell their crops at the right time or ship their goods back to Europe for maximum benefit. In order to do this most effectively, the plantation owners must make optimal use of the arriving colonists and develop the capital city, San Juan, building useful amenities.
– Image by boardGOATS
The flow of the game is quite straight-forward in that on their turn, the active player chooses a "role" then everyone takes it in turns to carry out the action associated with that role. Each role has a "privilege" which the active player gets which gives them a little bonus (as well as the opportunity to take the action first. Once everyone has chosen a role, the remaining role cards are "improved" by the addition of money, the used role cards are returned to the pool and the start player (The Governor) moves one player to the left before the new Governor starts the next round. The aim of the game is to get victory points which are awarded for buildings and for shipping goods. However, to build, players need money, and before they can ship goods, players need to be able to produce the goods with a plantation (and where necessary process them in the appropriate building).
– Image by boardGOATS
Each building/plantation has a special bonus, but for a player to receive this, the building needs to be occupied by a "colonist". All these activities are carried out through the role cards. For example, the Builder enables players to construct a building, but the player who chooses the role gets the privilege of paying one doubloon less than they would have done otherwise. Similarly, the Craftsman is used to produce, but the privilege allows the player who chose the role to produce one extra item (of those they had already been able to produce). Other roles include the Captain (enables players to ship goods); the Trader (allows players to sell goods for money); the Settler (players can take a plantation tile and add it to their island); the Mayor (the ship of "Colonists" arrives and they are divided among the players), and the Prospector (everyone does nothing except the person with the privilege who takes a doubloon from the bank).  The game ends when either, one player has built their twelfth building or the supply of victory points or colonists has been exhausted.
– Image by boardGOATS
The first few rounds were a little tentative. Green started with the Governor (through random selection) and chose the build action first. Burgundy chose Mayor using his extra citizen to occupy both indigo plantation and production building. Red needed a little help to suggest that she place her citizen on her Corn rather than her small market since this would enable her to produce something, whereas in the market she would have nothing to sell. So inevitably Red then chose craftsman. This gave Red a two corn, Burgundy an Indigo and Green nothing as he only had indigo and one citizen.  From there, the game progressed as you might expect, with each player following a different strategy.
– Image by boardGOATS
Green relied on his indigo resources and built a Small Market and an Office (so he could sell multiples of the same type of goods), dug a couple of quarries, and clearly went for a money and buildings strategy. When he started losing out in the Captain (shipping) phase he was able to very quickly buy a Wharf and always managed to ship something and thus stay in the running on victory points. He was the first to buy a big building of course and chose the one which gave him extra points for production buildings believing he could fairly easily add to his already reasonable tally. Burgundy went for a diversified portfolio of goods and as able to add a factory building which started to really rake in the money with four different types of goods. He was only missing corn, which he easily added to make an extra five doubloons every time craftsman came up. As a result he was not far behind Green at buying a large building.
– Image by boardGOATS
Since he had been shipping regularly and gathering victory points Burgundy took the building that would give him an extra point for every four points he had, however about half way through the game he began to struggle with his shipping. Red had begun to regularly take Captain, which meant that he was last to load and would often miss out being able to load all his goods—without any kind of warehouse was regularly losing all his stock of two or three goods each time.  Eventually, he had enough of this and decided to do something about it.  The choice was between a Wharf and a Harbour:  increasing his victory point income every time he shipped, or gain an extra ship he could always ship to.  It was a tough choice, but in the end he chose Wharf only to then discover he did not have quite as much money as he thought and so had to settle for Harbour after all.  This nearly proved his undoing in the end, as with two or three more captain actions happening he still found himself unable to ship everything, losing several goods in the process—Red and Green made quite sure of that!!
– Image by boardGOATS
Red's game was a little more tentative, as she found her feet, trying to figure out how the game all hung together. She struggled a bit with getting the buildings and plantations all occupied in the right way to produce what she needed. She ended up with a lot of Sugar, but her small warehouse meant that early on she did not have to discard it and was able to make a large shipment later on, locking out Burgundy, the other Sugar producer in the game.  In the end she ended up with more citizens that she had spaces and so for a while had an occupied Indigo Production building but no Indigo Plantation. It seemed it didn't really matter though, as she had a good thing going on with the Captaincy, shipping large amounts of Sugar regularly giving her a regular supply of points. With everything else that was going on, Red didn't get round to buying a large building.
– Image by boardGOATS
As the game neared conclusion, we thought we would run out of Citizens first, but selection of the Mayor slowed and Captains became a more regular feature so the victory points dwindled fast. Green was worried that he might not get his large building occupied before the victory points ran out, so when he became Governor for the last time, he chose the Mayor in an effort to extend the game, much to Red's chagrin.  She claimed that it was allowing Burgundy to get his large building occupied and thus gain more points, which is true, but it helped Green too.  In the end it was Red's Captaincy that ended what proved to be an incredibly close game; Puerto Rico is not a game we usually think of as being so well balanced that the scores are always close. The hidden victory points and various other ways to gain points tend to keep players guessing right til to the end and it is usually possible for one player to quickly build an efficient engine which wipes the floor with everyone else.
– Image by boardGOATS
That wasn't the case this time.  Although the actual game play is quite simple, Puerto Rico can be a challenging the first time as it is hard to really work out the best way to play, and things only become clear after two or three rounds.  So Red did really well, not only to keep pace with two experienced players, but especially to take second place against two players, scoring fifty points.  Green's lack of resources to ship, even with his wharf, let him down and it was Burgundy, who scraped a win with fifty-three points.  While packing up, there was a lot of discussion about the game:  did Green really hand Burgundy victory by choosing that Mayor? We concluded probably not, as if Burgundy would have chosen it if Green hadn't.
– Image by boardGOATS
Puerto Rico used to be the gamers' game of games for quite a few years, until Agricola elbowed its way to the top. Since then that top spot has been fiercely fought for and, as in Formula 1, (where everyone now talks about Schumacher, Vettel and Hamilton), everyone seems to have forgotten poor old Juan Manuel Fangio, the unsurpassed master for decades. Once in a while it's good to bring out the old tapes and watch the old master at work though, and so it is with Puerto Rico.  After so many years it was interesting to see how it stacked up against the newest masters of the gaming world.  We concluded that it still competes very well: it has variety and simplicity at its heart, great interaction and just enough complexity to make it a challenge without needing a PhD just to understand the rules.
– Image by boardGOATS
Dead of Winter was still going and it sounded like there was another half an hour play, which meant there time for another, shorter game, and the group settled on Coloretto. Everyone knew it quite well it was a quick start.  On their turn the active player either draws a coloured chameleon card and places it on a "truck" or, they take a truck and its chameleons (which means they're out for the rest of the round). The idea is that players are collecting sets of cards, but only three will yield positive points, with the rest scoring negatively.  There are some "special" cards as well, including multicoloured joker chameleons and "+2" cards which give an extra two points at the end of the game.  So, everyone was shocked when  a "+3" came out of the pile came.  Clearly there were some expansion cards in the deck and nobody had noticed despite having played with it several times before.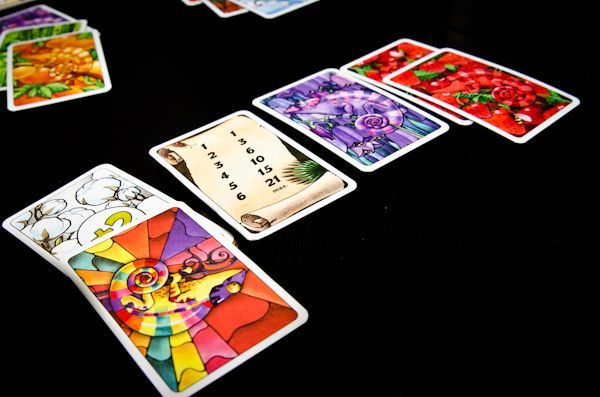 – Image used with permission of BGG contributor punkin312
The first round was also remarkable in that first a yellow card was pulled, then a purple (placed on a different pile), then another yellow, which was placed on the purple pile, then a purple, which was placed on the yellow pile, to make two identical piles. So, what were the colours of the next two cards? Yes, yellow and purple! Burgundy and Red bailed at this point but Green decided to see where if he could get a second yellow or purple and ended up with a red instead giving him three singletons.  From there, the game progressed in the usual way. Green collected more new colours each with only one card, but that meant he had a wide choice to specialise in. Eventually he chose green as his primary colour, which the others found difficult to prevent him from getting. Burgundy was trying to keep his number of colours down, concentrating on just brown and yellow, but Red and Green kept ganging up on him to make sure he had to take something else very time.  To get round this, he ended up taking single cards several times, but that meant he didn't get as many cards as he might otherwise have collected.  Red was the lucky one who took the rainbow joker and otherwise went for blues and purples.  She was forced to collect too many other colours though.  In the end, it was again Burgundy who managed to eek out the best score, despite Red and Green's combined best efforts.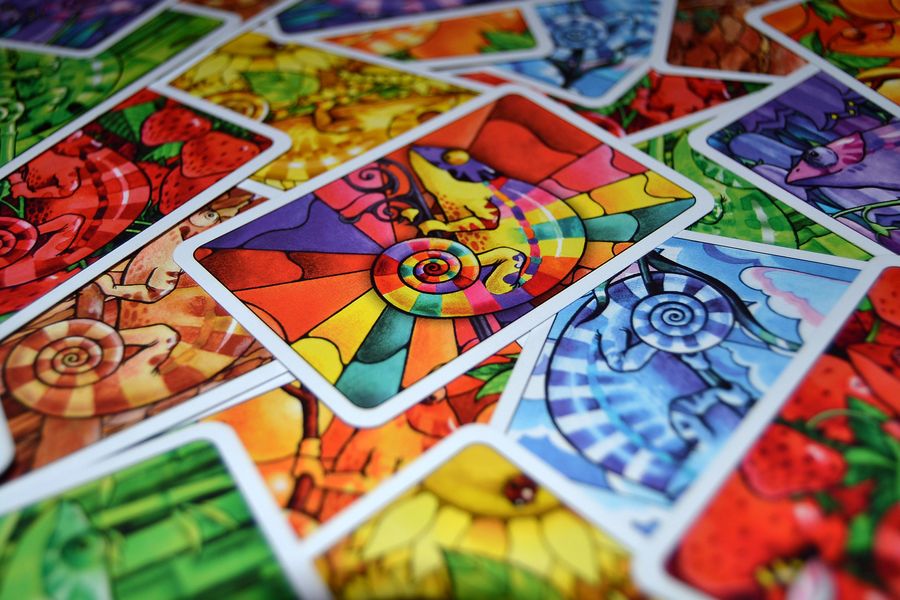 – Image used with permission of BGG contributor SergioMR
Learning Outcome:  Sometimes winning is impossible, even with teamwork.